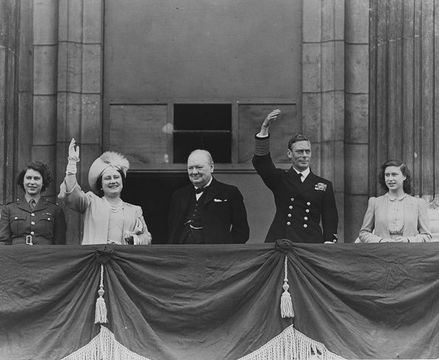 The summer of 1951 was a special one in the United Kingdom. Why? The Festival of Britain.
The Festival of Britain was a national exhibition held in the summer of 1951 that reached millions of Britons and really helped to lift the mood in the country.
Funded by the government, the festival focused on Britain and everything the country had achieved. 
The festival's main event was held at the South Bank along the Thames River and would go on to become a 'beacon for change' across the UK. The festival was contemporary and colorful, which was unlike anything that had been seen in the country before.
King George himself opened the festival, which can be seen in some of this stunning footage from British Pathé.
A procession can be seen making its way across Trafalgar Square, with the King, the Queen Mother, and Princess Margaret all visible.
Have a look at the footage below, courtesy of British Pathe
British Pathé's full description of this footage reads: 
"LV. Towards, procession with King's coach leaving Buckingham Palace. SV. Pan, King George VI, Queen Elizabeth (later the Queen Mother) and Princess Margaret in landau - they are going to open the Festival of Britain. GV. Household Cavalry. GV. Back view, procession going across Trafalgar Square, mass crowd watching. LV. Towards, King's landau drawing up at Temple Bar. SV. Carriage comes to stop and Lord Mayor of London Alderman Denys Lowson presents sword, King returns it. SV. People looking from balcony. SV. Pan, royal carriage leaving Temple Bar. SV. Dome of St. Paul's Cathedral. LV. Royal carriage arriving at steps of St. Paul's. SV. King, Queen and Princess Margaret alight from carriage. King is greeted by Lord Mayor. SV. Princess Margaret alighting from carriage. SV. King and Queen, led by Lord Mayor with sword, walking up steps to cathedral. King stops to shake hands with Mr Herbert Morrison, Leader of the House of Commons. CU. Coat of Arms over canopy. SV. Pan, King and Queen walking up steps. King is greeted by the Dean of St. Paul's Cathedral, Reverend Walter Robert Mathews, the Queen is also greeted. SV. Dome of St. Paul's, pan down to general view of crowds around St. Paul's. SV. Cabinet minister and other dignitaries waiting on steps - Winston Churchill, and Clement Attlee among them. SV. Princess Elizabeth (later Queen Elizabeth II), Prince Philip the Duke of Edinburgh, Princess Margaret and other members of Royal party standing. LV. King walking from cathedral to make speech. King standing at mike ready to speak. King speaking (natural sound): 'Two world wars brought us grievous loss of life and treasure, and through the nation has made a splendid effort towards recovery, new burdens have fallen upon it and dark clouds still overhang the whole world. Yet this is no time for despondency, for I see this Festival as a symbol of Britain's abiding courage and vitality. Let us welcome to our shores the many members of our British Commonwealth, and all the visitors from other lands who have come to see what this old country can do. I declare the Festival of Britain open and wish it universal success.' A the King speaks, camera pans along dignitaries and the members of the royal family. SV. State trumpeters. LV. King and Queen, proceeded by Lord Mayor, walking down steps. SCU. Yeomen of the guard. LV. King and Queen getting into carriage. SV. Gentlemen at Arms. SV. Pan, King, Queen and Princess Margaret driving away. SV. Lord and Lady Mountbatten looking on. General view of procession making its way through crowds down Ludgate Hill."
* Originally published in March 2020.