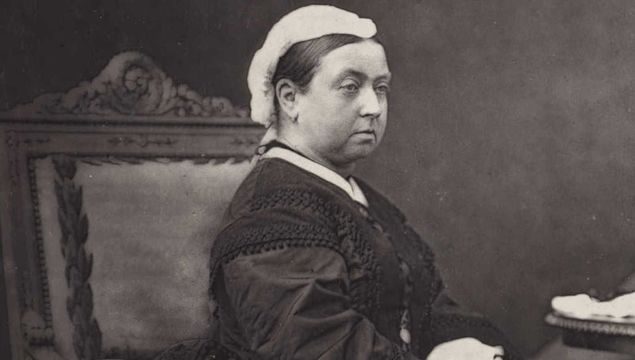 A stern Queen, overcome by grief, who oversaw 63 years as the Monarch of the UK, Britain, and Ireland, who would have thought that Victoria was so sentimental.
On Jan 22, 1901, Queen Victoria passed away at the incredible age of 81, surrounded by her family and personal physician, Dr. Reid, on the Isle of Wight. The massively influential monarch, on her deathbed, dictated 12 pages of notes surrounding what she wanted for her burial and funeral.
Among her demands was a list of rather sentimental items Queen Victoria is buried with. It was Dr. Reid who carried out her final demands. 
Here are the items that Queen Victoria is buried with:
Prince Albert's hand
In 1861, Prince Albert, the Queen's beloved husband passed away from typhoid fever, at the age of 42. The Queen never recovered from her loss. She shut herself away, wore black, and allegedly slept with this plaster cast of her lover's hand. 
The royal coffin also included one of Albert's dressing gowns.
Wedding rings
Queen Victoria was also buried with both her and her husband's wedding rings.
A photo and hair of John Brown
John Brown was a Scottish personal attendant and favorite of Queen Victoria for many years. While her son, King Edward VII removed all mention of Brown at royal properties she took his memory to the grave with these mementos to a friend.
Princess Alice
In memory of her departed daughter Alice, Queen Victoria requested that she be buried with an elaborate cape the young Princess had made for Prince Albert.
Of all her children, Victoria had been the closest to Alice. The Princess died in 1878 from diphtheria. She was the first of the Queen's daughters to die and, following the death of Prince Albert, the grief only added to the queen's many sorrows.
Her lace wedding veil
Queen Victoria that she be laid to rest with the lace wedding veil she wore when she married her German cousin, Prince Albert, in 1840.
While we mostly remember Victoria as the grieving Queen, dressed all in black it's believed that including this symbolic white veil signified that finally in death her days of sadness were over. Queen Victoria also requested that the public not wear black in their mourning for her, preferring them to wear white!
Her jewels
In what could be seen as an ancient throwback the Queen asked that she be buried wearing as much of her jewelry as could be fit on her body. One wonders if she was preparing to cross the River Styx. 
She was buried with a ring on every finger, bracelets stacked along her wrists, and her neck layered with necklaces.
A symbol of Scotland
Lastly, the Queen requested that a small bouquet of Scottish heather be included in her coffin. This was an ode to her beloved Scottish castle, Balmoral where she spent so much time.
Watch this British Pathé newsreel footage of Queen Victoria's funeral:
* Originally published in August 2020.