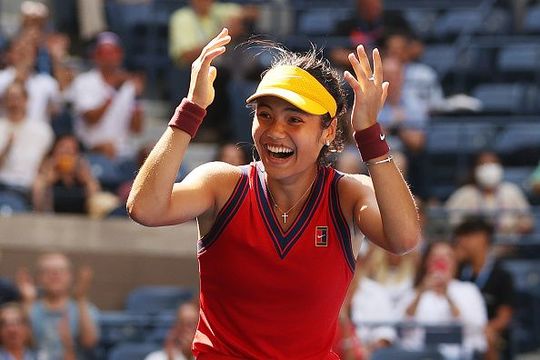 Emily Raducanu pulled off a stunning win at the US Open this weekend
18-year-old Emily Raducanu went into the US Open ranked 150th in the world and was considered a heavy underdog.
Raducanu shocked the world and managed to become one of the youngest tennis players to ever win a major tournament. The young Briton managed to work her way through the entire tournament without losing a single set.
Raducanu was born in Canada to Romanian and Chinese parents, but, having lived in the United Kingdom since the age of 2, represents the UK in a sporting sense.
Emma Raducanu's history-making three weeks in New York got the ultimate fairytale ending as she beat fellow teenager Leylah Fernandez 6-4 6-3 to win the US Open 👏

— Sky Sports (@SkySports) September 11, 2021
The British Royal Family are known lovers of tennis and can regularly be spotted enjoying Wimbledon from the Royal Box.
Following Raducanu's win, the family took to social media to congratulate the young champion.
Catherine, Duchess of Cambridge, shared a personal message on Twitter, praising both Raducanu and her opponent Leylah Fernandez. She said ''Huge congratulations @EmmaRaducanu on your stunning performances and historic Grand Slam victory! Incredible –we are all so proud of you. @LeylahFernandez well done on your amazing achievements at this year's #USOpen, it's been a pleasure to watch. C''
Queen Elizabeth also issued a statement on the Royal Family's website congratulating Raducanu on her win. She said ''I send my congratulations to you on your success in winning the United States Open Tennis Championships. It is a remarkable achievement at such a young age, and is testament to your hard work and dedication," the Queen wrote. "I have no doubt your outstanding performance, and that of your opponent Leylah Fernandez, will inspire the next generation of tennis players. I send my warmest good wishes to you and your many supporters.''
Prince Charles and Camilla also made sure to offer their support.
Congratulations to @EmmaRaducanu on your #USOpen win - what a fantastic achievement! 🇬🇧 We are all so proud.

Well done to @LeylahFernandez 🇨🇦 today too. An outstanding match between two inspiring young women - we can't wait to see where you go next. 🎾 pic.twitter.com/54tE6WYbZW

— The Prince of Wales and The Duchess of Cornwall (@ClarenceHouse) September 11, 2021
Clearly, Raducanu's win captured the imagination of not just the Royal Family but the whole of the United Kingdom.
Congratulations to her.