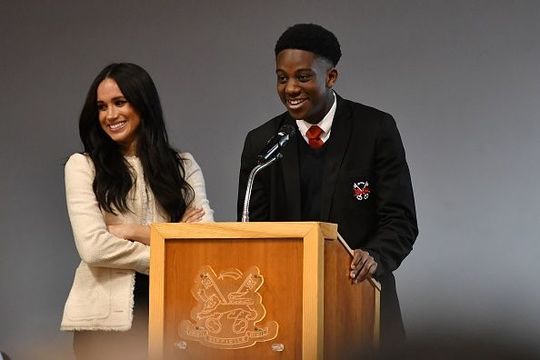 The Sussex's are back in the UK finishing up with their final Royal commitments
Meghan Markle made a surprise appearance this weekend at Robert Clack Upper School in Dagenham to address the students in honor of International Women's Day.
In her speech, she emphasized the importance of making sure that men become involved in the quest for equality across all genders.
Read more: Your Royal Roundup
In her speech, Meghan had this to say
Continue to value and appreciate the women in your lives and also set the example for some men who are not seeing it that same way. You have your mothers, sisters, girlfriends, friends in your life, protect them. Make sure that they are feeling valued and safe and let's all just rally together to make International Women's Day something that is not just on Sunday, but frankly feels like every day of the year.
A strong message indeed. Meghan's appearance had been kept completely under wraps by all involved in organizing the event, so needless to say that the students were completely taken aback.
In comes Aker Okoye. The 16 year old is Head Boy of the school, and was invited on stage by Meghan Markle to say a few words. Safe to say the young man grabbed the opportunity with both hands, and really stole the show.
The cheeky Londoner had the crowd wrapped around his finger as he said 'She really is beautiful, innit?'
Have a look at the footage below, courtesy of The Telegraph