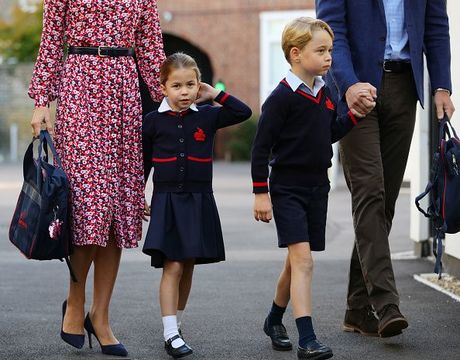 Princess Charlotte and David Attenborough have struck up a friendship!
Sir David Attenborough has taken the time out of his day for an interview with none other than Princess Charlotte, Prince George, and Prince Louis.
The Duke and Duchess of Cambridge's children were their usually bubbly selves as they asked Attenborough, who is considered an icon in the UK, all about the natural world.
The video was recorded at Kensington Palace back in August and has now been posted to social media for the world to see.
Attenborough revealed to the children that his favorite animal is the monkey. Prince Louis, who was speaking for the first time in public, asked Attenborough what his favorite animal was. He replied 'I like monkeys best because they are such fun. Mind you, you can't have monkeys sitting around the home because that's not where they live.'
Read more: Prince Philip tells jokes over the years
Prince George, as ever, was asking the important questions. He asked 'What animal do you think will become extinct next?', to which Attenborough replied 'Well, let's hope there won't be any, There are lots of things we can do when animals are in danger of extinction. We can protect them.'
Clearly, Attenborough is passionate about the environment and has devoted the last few years of his life to encouraging others to protect the ecosystems around us.
Like her brother, Princess Charlotte, five, began her question with a confident: 'Hello David Attenborough!'
'I like spiders, do you like spiders too?' she asked
'I love spiders. I am so glad you like them!' said Sir David. 'I think they're wonderful things.'
'Why is it that people are so frightened of them? I think it's because they have actually got eight legs, which are much more than us. And if you've got eight legs you can move in any direction - so you can never be quite sure which way that spider is going to go!'
'But spiders are so clever. Have you ever watched one try to build its web? That is extraordinary. How does it make this circular web like that... how do they do it? Try and watch and see how they do it - it's marvelous.'
Have a look at the charming clip below, courtesy of The Telegraph