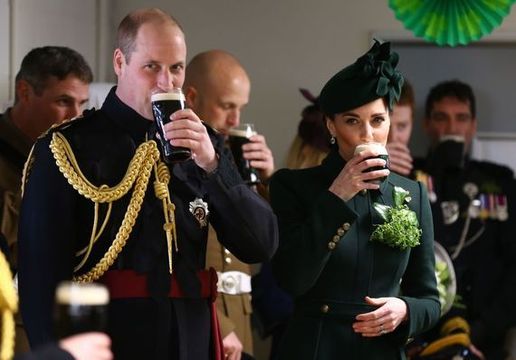 William and Kate have a set of St. Patrick's Day traditions that they make sure to carry out every year
St. Patrick's Day falls on the 17th of March every year and is a holiday celebrated all over the world.
Cities worldwide paint the town green and get the Guinness out for parades, song and dance, and a celebration of all things Irish.
While the Royal Family has a mixed history with Ireland, in recent years tensions have eased, and now, Kate and William make sure to mark St. Patrick's Day.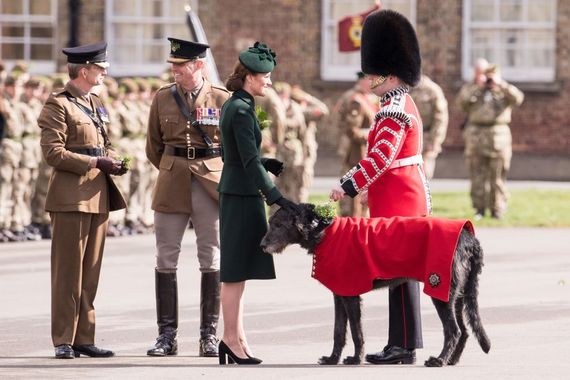 2
Usually, there is an annual event to celebrate the Irish Guard that William and Kate will attend. Of course, due to the pandemic, last year's event was unable to go ahead and this year will be the same.
Every year, the Royal couple visit Parade Square at the Cavalry barracks, where around 350 soldiers from the Guards will march, led by their mascot, a bloodhound named Domhnall.
In 2019, the Duchess famously sported a forest green Alexander McQueen coat that she topped with a matching fascinator. She also pinned a beautiful shamrock pendant to her left shoulder as she and Prince William enjoyed two pints of Guinness.
The Irish Guards, who recruits mainly from Northern Ireland, was founded by Queen Victoria in April 1900 to commemorate the Irishmen who died fighting during the Boer War.
2019 saw Kate and William travel through Ireland, visiting Dublin, Galway, Belfast, and several other notable spots in Ireland. 
The Covid-19 pandemic put a halt to any traditions last year, as well as the fact that the Royal Irish Guard were deployed in Iraq and South Sudan at the time of St. Patrick's Day.
It remains to be seen what kind of shape the 2021 celebration will take. The pandemic is still raging on, and much of the United Kingdom is under a strict lockdown.
There may be potential for a virtual celebration, so keep your eyes peeled for some virtual pints of Guinness doing the rounds on social media.