[caption id="SingingatWiltonsaNewTakeonMikadoandDarwinsDown_img1" align="aligncenter" width="323"]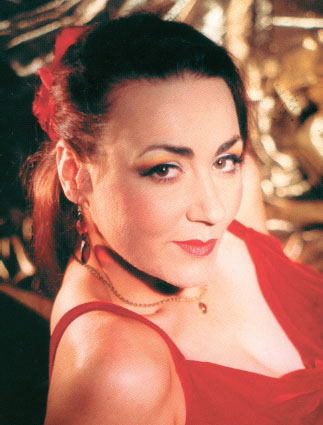 5
[/caption]
IT'S BEEN A LONG, COLD WINTER. There's always plenty going on in the capital if you know where to look. If there's ever a quiet time, though, it's the early months of the year, when the heavens are iron-gray—matching most Londoners' moods. Staying warm and keeping cheerful have been the themes of the past few weeks, while the city waits for those cheery blocks of daffodils and artificially blue skies found on souvenir postcards.
The last time I mentioned Wiltons, it was of mainly academic interest. The world's oldest surviving music hall, where the original Champagne Charlie strutted his stuff, was hardly ever open due to the fact that it was falling down pretty much literally around your ears. Hardly a week went by when they didn't have a major collapse somewhere in this stunningly beautiful, but scarily fragile building, and the Health & Safety guys finally deemed it a hazard. Since then, though, a group of dedicated volunteers have managed to find the money to stabilize it (they were keen not to "refurbish"; the charm is in its very fragility). They open it on a more regular basis and conduct guided tours of the building's delicate barley-sugar columns, original murals, dainty balcony and magnificent plaster work. As part of the theater's gradual rehabilitation, they've started having music every Monday night. It was a true pleasure to be invited as one of the first acts of the season.
[caption id="SingingatWiltonsaNewTakeonMikadoandDarwinsDown_img2" align="aligncenter" width="625"]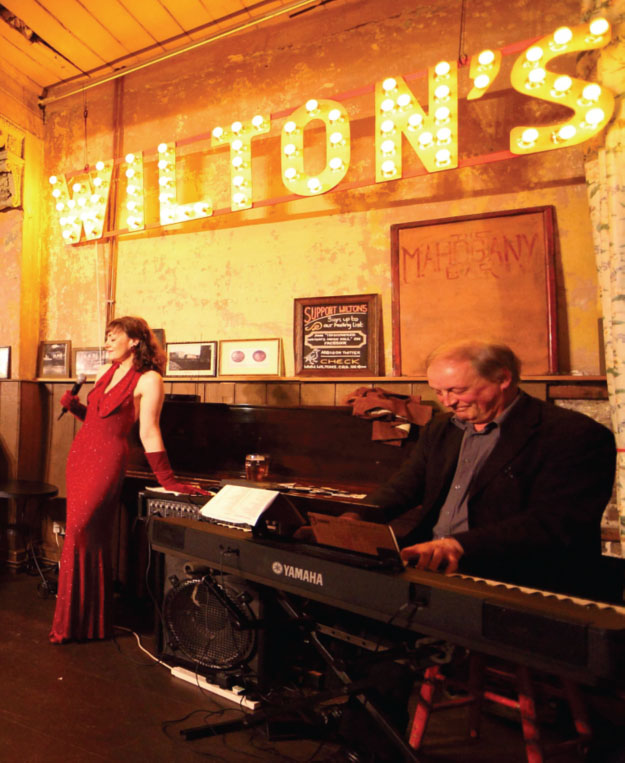 5
SANDRA AT WILTON'S
[/caption]
My accompanist, Phil, and I were in the wonderfully bohemian Mahogany Bar, a delightful space where the bar itself is fashioned from the royal box of another, now sadly defunct, theater. The atmosphere is relaxed. So relaxed, in fact that, not having a kitchen of their own, the they apparently have no objection to people bringing in Chinese takeaway food from round the corner, sitting with their drink and listening to jazz. The night I was there it was jam-packed to the gills, and I had one of the most enjoyable gigs I've known in ages. A stone's throw from St. Katherine's Dock and a 10-minute walk from Tower Hill tube, this sleeping beauty is just about to wake up, and I'm delighted to have been there for the kiss.
I SPENT MUCH MORE TIME listening to singing than actually doing it this month, though. Jonathan Miller's extraordinary production of The Mikado is back on the repertoire at the Coliseum, and Tony and I were determined to get our sticky paws on some tickets—no easy feat, despite this being the production's 10th outing. We took a special trip to the box office to buy in person—no real reason, but then who needs a reason to go to the West End?
Clutching our newly-purchased tickets, we nipped round the corner from the theater to William IV Street where Les Deux Salons is making some serious waves just now. The restaurant serves traditional French food in a style that would not be out of place in some of the more upmarket arrondissements of Paris, although the ingredients are sturdily British—Hertfordshire snail and bacon pie, Scottish beef, Cornish sardines and Burford eggs. In a climate that seems to revel in the clatter of bare tables and minimalist chic, Les Deux Salons is unafraid to use tablecloths, and that's my kind of restaurant.
[caption id="SingingatWiltonsaNewTakeonMikadoandDarwinsDown_img3" align="aligncenter" width="625"]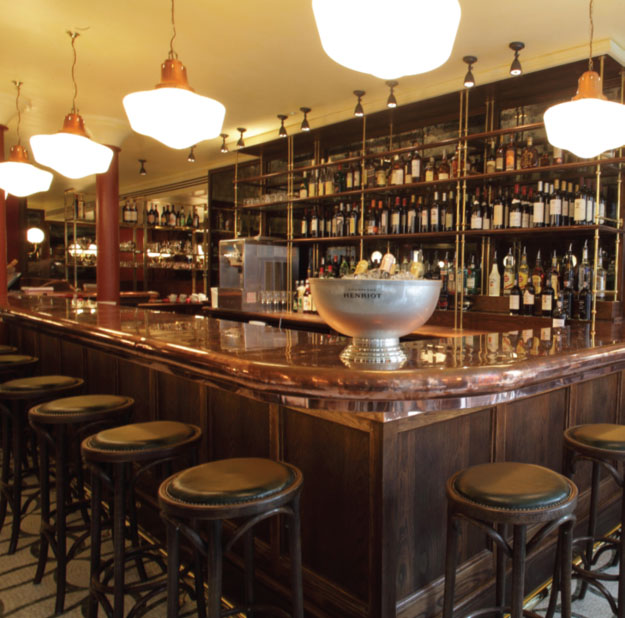 5
LES DEUX SALONS
[/caption]
Downstairs, the décor is pure brasserie—dark, brooding wood, low-slung pendant-lights and louche curtaining. Away from the bustle of the main floor lurk cozy, velvet-cocooned nooks and age-spotted mirrors. Upstairs is more intimate still. But it's the food that's putting this place on the map just now. Although it caters for the solid foodie, with extraordinary combinations of newly-rediscovered "old" British cuts of meat and French techniques, there are lighter dishes to choose from, too. Since it was lunchtime, we opted for the traditional Mediterranean Fish Soup and a salad each. Both tasted exquisite, and though I confess I prefer my fish soup to be a little less pureed, the flavor was probably the stronger for that extra whiz in the blender. The salads—duck and beetroot—were thoughtful and beautifully presented. The place is instantly one of my favorite West End restaurants, but has been the cause of somewhat of a domestic dispute, since Tony has returned there twice since, neither time with me….
WHEN WE FINALLY RETURNED a week or so later with American friends keen to eat Indian food, we went to the Punjab (about which many column inches have already been writ, but it's on Neal Street, if you're wondering), before moving onto The Mikado.
It's intriguing that Gilbert and Sullivan have reached the lofty elevation that previously Shakespeare alone seemed to enjoy – where their work is so familiar that new productions can use different settings, time or place to vary the original. Jonathan Miller's version lives in a monochrome 1920s British world of flappers, cheeky bellhops, saucy maids and crafty old gents, sitting perfectly with the frivolity of the original work.
The singing, as might be expected from the English National Opera, is superb, but it's the acting, much of it physical, not something one routinely expects from opera, that really makes this show. Richard Suart, as Ko-Ko, the Lord High Executioner, is sidesplitting, as is his specially rewritten "little list," albeit one definitely designed to tickle Brits; our Stateside pals seemed a little nonplussed at most of the allusions to British politicians, impresarios and TV celebrities. I think W.S Gilbert would have giggled, though. And at the curtain, one last treat. Doctor Miller himself was called onstage to rapturous applause.
TRYING TO FIND country houses open in the dark months is hard work, but Down House, home of the scientist Charles Darwin for 40 years, just south of Bromley in Southeast London, is one of the few that remains open throughout the year.
THIS MONTH'S CONTACTS
Wiltons
www.wiltons.org.uk
Mikado
www.eno.org
Les Deux Salons
www.lesdeuxsalons.co.uk
Down House
www.english-heritage.org.uk
Swiggers Games Club
www.pevans.co.uk/Swiggers
Soho game
www.home2.btconnect.com/smoke/PAGES/SOHO/sohohome.html
The house itself is a nice little country home, but that's all. A little battered around the edges, with some odd corners and a couple of strange modifications made by Darwin (not all scientific; I particularly loved the contraption he rigged up so he could see who was at the door), it would be unremarkable but for the remarkable man who lived there. Everyone knows of Darwin's work, but it was only when I began walking around the extremely good exhibition that I realised I knew virtually nothing about him as a person. I had no idea, for example, that he was closely related to Josiah Wedgwood, the pottery giant.
[caption id="SingingatWiltonsaNewTakeonMikadoandDarwinsDown_img4" align="aligncenter" width="625"]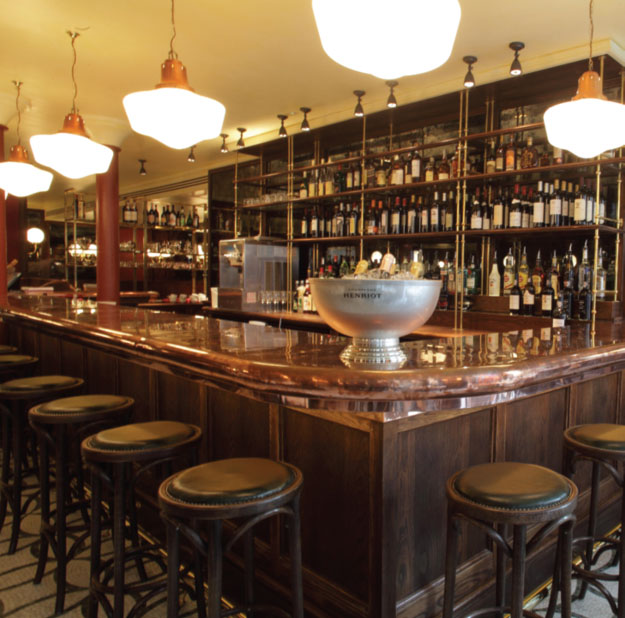 5
DOWN HOUSE
[/caption]
What I gleaned most from Down House, though, was the sheer humanity of the man. By all accounts, he was A Good Egg. He loved his family to distraction. He enjoyed a pinch of snuff from time to time. He put a slide on the main staircase so his children could play. And he didn't tell anyone about his theories for years because he didn't want to offend anyone. That he did offend people was a source of sorrow to this deeply sensitive man whose life I understand just that little bit better now. I intend to return just as soon as the weather allows me to walk around the extensive gardens without being blown into an icicle.
ULTIMATELY, THOUGH, staying in has become the new going out. Many pubs that have been looking for ways to entice customers away from their armchairs have started keeping traditional board games behind the bar. Monopoly, Cluedo and chess sets are enjoying a minor revival in pubs, but for some people the big-hitters just don't cut it. I love some of the more unusual board games and although I don't often make it to Swiggers Games Club at the Shipwrights Arms in London Bridge any more (where every Wednesday evening people gather to play games such as Puerto Rico, Settlers of Catan and Ticket to Ride), I still love to play. I was utterly delighted when the guys at the underground literary magazine Smoke—A London Peculiar brought out Soho the Board Game based on the pubs of Soho. I had to have a copy.
Each player is the editor of an underground literary magazine (naturally) whose writers have all gone AWOL, holed-up, Jeffrey Bernard-style, cadging drinks, food and cigarettes in various hostelries of Soho. The aim of the game is to track down the errant writers, using a combination of cabs, walking and Boris-bikes, extract copy from them and be first to put together an edition. Of course, it being Soho, there are all manner of things that get in the way, not least pesky road works, ever-changing one-way systems and the Fuzz. At my pal Gary's birthday party, where we tested it out, we discovered the game itself is rather lovelier to look at than to play, since it is every bit as frustrating to get round the board as it is to navigate Central London when there's major water main replacement going on. But as a work of art it's a must. Forty-six gorgeous cards depicting the (46!) pubs of Soho, a giant, rolled board, and of course, two jokers, Boris Johnson and Ken Livingstone. It's a collector's item in the making. I'm going to frame mine.
Next time, I'll be wearing a lot of tweed, jumping up and down for the London Marathon and trying not to get locked in the Tower of London.