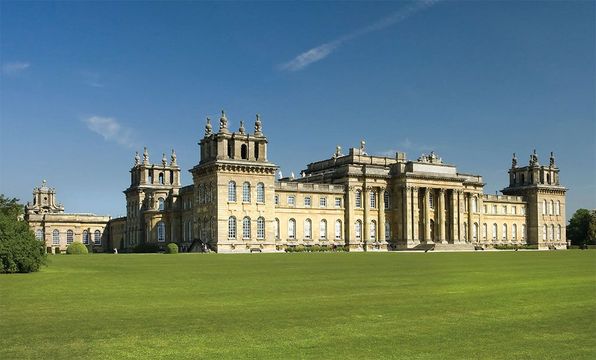 A British Heritage tour with Sandra Lawrence
F

rom the moment we enjoyed a welcome drink at our hotel near Windsor on the very first evening of British Heritage Travel's Stately Homes of Oxford and the Home Counties tour 2017, I knew it was going to be a good one. Andrew, our ebullient tour director, was already in good form, raising a glass—and our spirits—as he described what was to come: Royalty, fantasy, whimsy and grandeur, all in castle-form, with a few added extras along the way. The weather was set fair; all we needed was our own company. I love traveling with small groups and ours—12 folks from the USA and Canada, plus Andrew, myself and another splendid chap I'll mention in a moment—was an ideal size
.
[caption id="StatelyHomesofOxfordWithSandraLawrenceandtheHomeCountiesABritishHeritageTour_img1" align="aligncenter" width="1024"]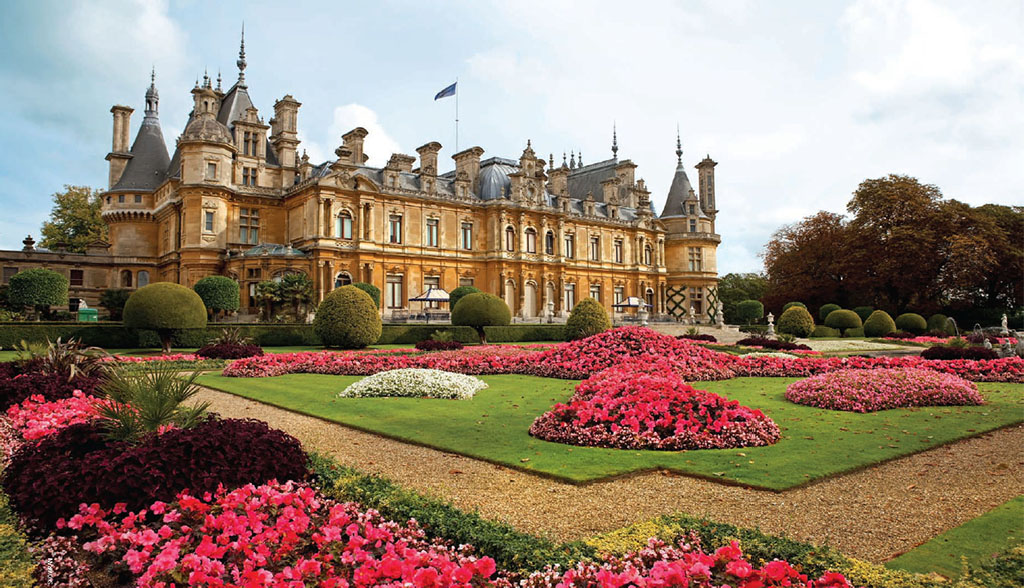 6
If Waddesdon Manor looks like a French chateau, that's no accident. Designed in the late Victorian era, the "manor" was built by Baron Rothschild as a weekend retreat and set piece for house parties.
[/caption]
When we gathered the next morning Mike, our driver, who was to become a much-loved member of the team, was already waiting. Mike is from the area and knows it intimately. Not only did we never sit in one of the hideous traffic jams the news was screaming about, we saw some magnificent countryside in the bargain. Our company was small, but we had a proper-size coach, so everyone got their own double seat and there was plenty of room for all. Mike and Andrew would make a fantastic double-act, always up for a chuckle and providing photographic duties when required.
We arrived early, to enjoy a private, out-of-hours tour of Waddesdon Manor, home to the British branch of the famous Rothschild banking family. Baron Ferdinand de Rothschild created his fabulous, French chateau-inspired fantasy at Waddesdon between 1874 and 1889, and although the family still lives there, much of this extraordinary stately home is open to the public, presented as it would have been used for the Baron's many country house parties. We learned about billiards and breakfasts, banquets and balls as we toured the staterooms, bedrooms and even the bachelor wing, learning curious tidbits about Victorian society along the way. The rose "hedges" along the magnificent dining table, for example, were originally created to prevent guests talking to the people opposite them—something considered extremely rude in those days. I was amazed that the seemingly endless tunnel of bottles in the wine cellar was not a mirror—it really is that large.
Outside, on the grounds, we discovered where the roses for that hedge came from—gorgeous formal gardens, complete with 80,000 bedding plants, still replenished twice a year.
In the afternoon, we visited Ascott, a less well-known, but equally charming, house, donated to the National Trust by the Rothschilds in 1949. At its core, As-cott is a 17th-century hunting lodge, but it was vastly enlarged in the 19th century. Where Waddesdon is grand, Ascott feels cozy, despite the fact that it is still pretty huge. Perhaps this is because of the way the house was extended, lending it the atmosphere of a rambling, Tudor manor house, with several wings and uneven-looking stories. Several of us agreed it was the kind of place we could imagine living in—in our post-lottery dreams, of course.
Dinners at the hotel were jolly affairs. We all sat at a single table and shifted around to talk with different folk at each meal. We ranged from people on their own (like me) to couples and grown-up families. Everyone came from different areas and had such disparate lives there was always much to chat about.
A prior engagement prevented my joining everyone on the following day's visit to Windsor Castle, but later that evening I was regaled with tales of wonder. Windsor is steeped in history, and its association with Royalty, even to the present day, makes its ancient walls both mysterious and majestic. It was a huge hit. Kew Palace, in the Royal Botanic Gardens, is also associated with the Monarchy, albeit in somewhat sadder times, as the home of King George III during his difficult years. It retains the melancholy beauty of a rare flower preserved in aspic; the kitchens are especially evocative.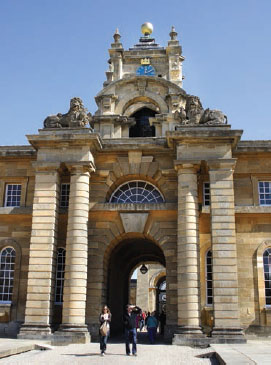 6
If Kew is quietly understated, the same cannot be said for Blenheim, the only non-Royal/non-ecclesiastical building in England permitted to call itself a palace. Everything about this honeyed-stone baroque masterpiece is monumental, from the gigantic Corinthian columns to the majestic promenades, the resplendent Italianate gardens to the immense landscape beyond. Built for John Churchill, 1st Duke of Marlborough, as a reward for his military achievements, Blenheim was—and remains—home to successive Churchills. The most famous, Winston, was to outshine even his towering ancestor during the hour of Britain's greatest need.
Few things could outshine Blenheim; the best thing to do was find an equal. The university city of Oxford fits the bill perfectly. We were treated to a private tour of Worcester College, one of the university's most prestigious, in the company of David, a splendid tour guide, supremely well-versed in just the kind of detail that makes history interesting.F
[caption id="StatelyHomesofOxfordWithSandraLawrenceandtheHomeCountiesABritishHeritageTour_img3" align="aligncenter" width="675"]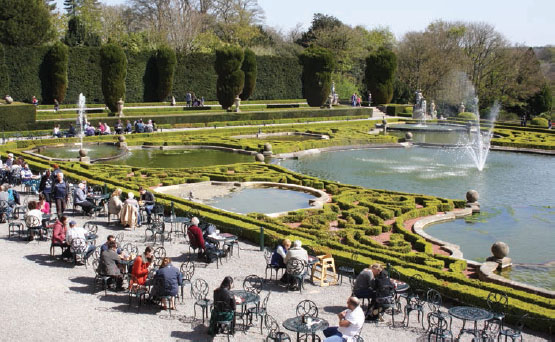 6
On a sunny day, the terrace surrounding the formal gardens and fountains of Blenheim Palace near the village of Woodstock makes a perfect place to have lunch or afternoon tea.[/caption]
Alongside David's explanation of how the college system works, a discussion of the long feud between "town and gown" and a fascinating tour of the city, we saw dinosaur footprints, the site where martyrs were burned at the stake, the pub where J.R.R. Tolkien and C.S. Lewis discussed alternative worlds and some of the most beautiful seats of learning in existence. Later, it was free-option dining. We opted to eat together, at Quod, a restaurant inside a fine Tudor building. As we sat down, Mike quietly disappeared. By the time we had ordered, he had reappeared, having brought the coach almost to the door to avoid a lengthy walk afterward; much appreciated after a very enjoyable, but long, afternoon.
[caption id="StatelyHomesofOxfordWithSandraLawrenceandtheHomeCountiesABritishHeritageTour_img4" align="aligncenter" width="863"]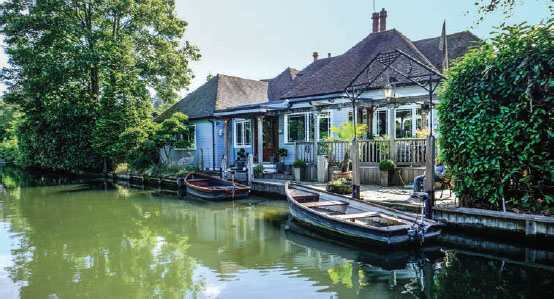 6
The center of British rowing, Henley-on-Thames is the quintessential English riverside town.[/caption]
Could it possibly be the last day? Surely not! We'd only just met! Highclere Castle, aka Downton Abbey, didn't open until midday, so we spent a delightful hour or so in the currently sleepy town of Henley-on-Thames. I had only ever seen Henley during the madness that is the annual regatta, when chaps in blazers and straw boaters take over the entire place, much Pimms is drunk and rowing races punctuate a raucous riot of up-per-crust revelry. This morning, however, the bunting flapped gently in virtually empty streets and we were able to enjoy Henley's quintessentially British architecture and quietly lapping waters at their quiet best.
[caption id="StatelyHomesofOxfordWithSandraLawrenceandtheHomeCountiesABritishHeritageTour_img5" align="aligncenter" width="752"]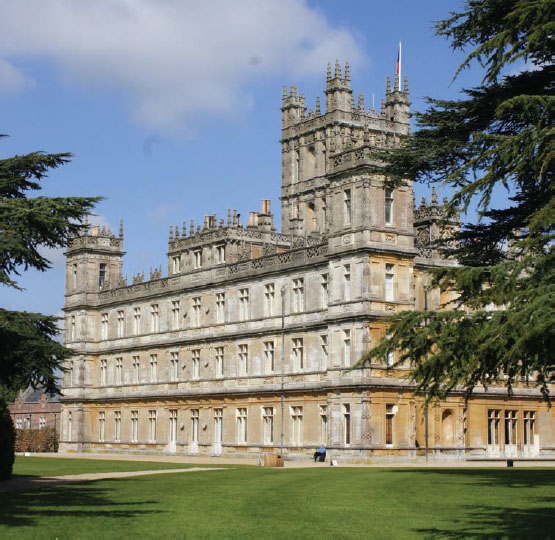 6
Home of the Earl of Carnarvon, Highclere Castle is a recognizable sight to most
BHT
readers.[/caption]
After a coffee and croissant and a short stroll, we continued on to what was, for many, the highlight of our tour. Even the long lines of people waiting to get in to Highclere didn't dampen spirits as we excitedly discovered Lady Edith's bedroom or Cora, Countess of Grantham's, dressing room. Highclere is so much more than a TV stage, though. My personal favorite part is the exhibition exploring Highclere's real owner, Lord Carnarvon's, involvement with early Egyptology, most notably the discovery of the tomb of Tutankhamun. Two particularly evocative moments involve the visitor peeping through "letterboxes" to get a feel for the excitement Howard Carter must have experienced espying such riches for the first time. Wonderful things, Carter said at the time. He was right.
Our final dinner, tinged, of course, with a little sadness, was an opportunity to discuss all the wonders we'd seen. We had enjoyed a brief, but magical moment together, a treasure as important as any of Carter's gold. Certainly for me, our tour and the people I met on it will linger long in the memory.