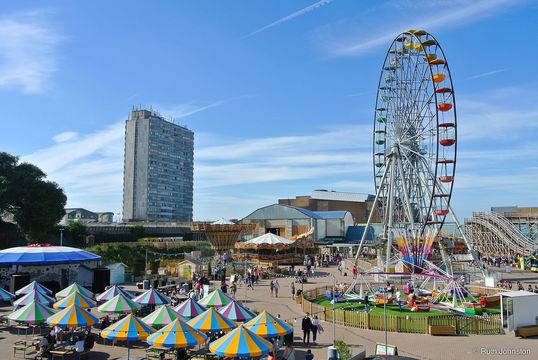 Making merry once more at the classic amusement park, Dreamland! Margate's lost soul was reborn.
Margate has many claims to fame, not least one J.M.W. Turner, who endlessly painted the curious, ever-changing light. Then, T.S. Eliot wrote much of The Waste Land while convalescing in Margate and more recently young British artist Tracey Emin defiantly nailed her colors to the until-recently unfashionable town's artistic mast.
Most people, however, associate Margate with traditional British, kiss-me-quick, bucket-and-spade seaside fun. The beach is perfect golden sand within a natural harbor, and the fine Georgian and Victorian architecture tells the story of its heyday as a prosperous holiday destination before the advent of cheap foreign package deals. Starting with the late 18th-century sea-bathing craze (the 1791 Royal Sea Bathing Hospital building still exists), the town's popularity grew with the arrival of the railway.
The entrepreneurs were ready. The Barnum of Britain, circus proprietor, lion tamer and showman "Lord" George Sanger, built a garden with grand crenulations, a menagerie full of exotic beasts and the Hall by the Sea for music and dancing pleasure.
In 1919 John Henry Iles wanted to develop it into an American-style amusement park, heralding a new world after the horrors of World War I. Of course, somehow "American cool" never really happened. Like a stick of gaudy seaside rock, Britishness runs right through Dreamland.
The first thing Iles built was a mile-long wooden rollercoaster, the likes of which had never been seen before in the UK. When it opened in 1921, 500,000 people sampled its delights in the first three months. Gentle by today's white-knuckle standards, it was designed to show off Margate rather than terrify holiday-makers.
The 1920s and 30s brought an art deco cinema, along with more rides and a ballroom, and, after a brief hiccup during World War II, when it was requisitioned for use as a hospital for wounded Allied soldiers, Dreamland went from strength to strength. Its heyday was the 1950s and 60s when, among many others, Bill Haley, Gerry, and the Pacemakers, the Rolling Stones and the Drifters all played here.
In the 1970s, however, Margate began to flag. Dreamland suffered facelift after facelift, relaunch after relaunch, but nothing could stop the crowds from disappearing to the more reliable Mediterranean sun. Slowly the park disintegrated until, finally succumbing to the inevitable, it closed.
From the steep hill leading to Margate's mysterious Shell Grotto, it's easy to imagine the body blow sustained at Dreamland's demise. The sheer size of the dead fun fair's footprint saw a huge tract of land in the very center of a town abandoned by all but the vandals. No wonder a 'Save Dreamland" campaign by locals was so passionate.
The campaigners' first move was canny indeed, petitioning for listed building status for the scenic railway, instantly rendering the land worthless to developers hovering with wrecking balls. The cinema was also listed Grade II, and historians were intrigued to find rare Victorian flint animal cages from the park's days as a pleasure ground; delicate, tiny—and significant enough for English Heritage to step in. The campaign was building nicely.
In April 2008, the unthinkable happened. Images of the scenic railway, engulfed in a sea of flames, flickered across TV screens. Arson was suspected and the nation was shocked. Dreamland represented all seaside towns harboring hopes of regeneration.
If the developers thought their moment had come, however, they reckoned against the people of Margate. In a brave leap of faith, Thanet Council bought the even more decrepit park on behalf of the townsfolk and the fundraising began.
It was with lip-quivering pride that the mayor of Margate rode fully-restored 1922 gallopers in June 2014, in a fur-lined red coat, tricorn, and chain of office. The ribbon was cut by descendants of George Sanger and Henry Iles—and 93-year-old George Weston Wright, scenic railway brakeman back in the 1940s. Dreamland was a work in progress, but it was open for business once more, and Margate's lost soul was reborn.
From the start, it's been no normal restoration project. Money was tight. Yet financial constraints have bred creativity. In a stroke of genius, Dreamland has been re-imagined as a renaissance of all British funfairs. Instead of installing new rides, the cash-strapped organizers have collected, collated, and lovingly restored historic rides from defunct amusement parks around the country. Pinball machines, sharp-shooter games, and video arcade attractions are twinned with a roller rink, vintage memorabilia, and advertisements from across the 20th century. An amnesty for "souvenirs" liberated when the park was derelict has yielded all manner of original features, returned by red-faced locals, who had assumed the funfair had gone forever. Dreamland has become a "theme park" theme park and a visit takes the reveller on a nostalgic journey from the early 1900s through to modern-day.
Every decade is represented. The 1930s have a lolloping caterpillar, the 1940s a double-decker merry-go-round. The 1950s see Hurricane Jet rides and the Cyclone Twist, while spinning teacups from the 1960s have had a Wedgewood blue and white makeover. The 80-year old Wall of Death, run by the daredevil Messham family, now in its fourth generation of stunt riders on 1920s Indian Scout bikes, rattles away behind nasal squeaks and thwacks from the authentic Punch and Judy booth.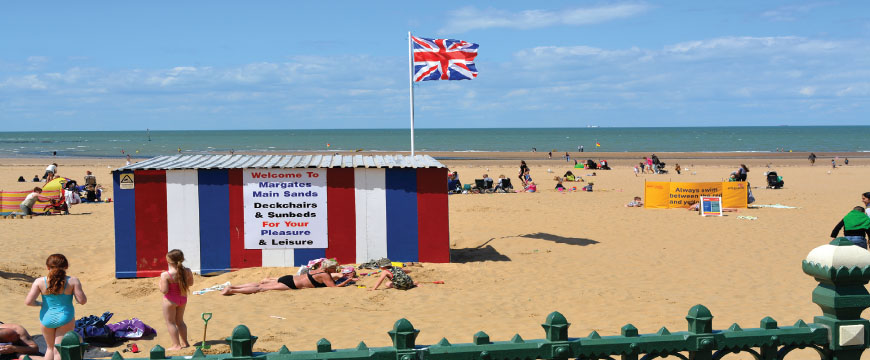 3
The Chair-o-Plane Waveswinger is straight out of the 1970s. It swivels. It tilts. It swings out. It makes you very queasy indeed. The 1980s and 90s have a Ferris wheel, caterpillar coaster, and pirate boats. Old rides are arriving all the time. Crazy Mouse, swing boats, and a mirror maze are all being tested. What was already a health-and-safety challenge with the antique rides became much more complex after an unwelcome headline-grabbing accident at a modern amusement park, Alton Towers, days before Dreamland's reopening.
The next phase will see the full restoration of the small, 400-person ballroom, Marine Terrace, but Margate's thrill-seekers will have to wait until phases three and four for Screamland and the gigantic, 1200 capacity 1950s ballroom.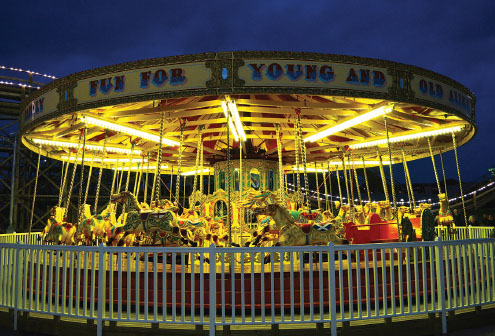 3
The UK's oldest rollercoaster is also its newest. Not a single nail of the original scenic railway remains; every plank, every rail, and every bolt has been replaced with exact replicas, yet it remains a historic listed building. The cars are operated by a traditional brakeman just as they were in 1921. Nothing has been wasted. Every last splinter of the original rollercoaster has been saved, used to build furniture around the funfair. Tiny charred shards have been made into jewellery and souvenirs by local artists and are selling like hotcakes. Perhaps Dreamland will have its happy ending after all.
Getting there
Margate's railway station is in the center of town, an easy journey from Victoria Station. By road, it's a straight run down the M2/M20 motorways.
While you're in Margate don't miss
The Shell Grotto
A true oddity, this underground cave, richly decorated with seashells was discovered in 1835. No one knows how old it is or why it was built, but it's been a curious tourist attraction ever since.
The Turner Contemporary
The opening of this much-lauded contemporary art gallery on the very edge of Margate's beach has heralded the town's new, trendy status.
The Tudor House, King Street
Almost destroyed, the Tudor house was hidden under layers of unpromising render. It was only when it was about to be demolished that workmen realised it was a Tudor masterpiece. It has been restored to its former glory and is a must-see.
Margate Old Town
A fabulous mix of old buildings and trendy uses, this compact quarter sees beach balls and hula hoops, windmills, and shrimp nets jostling for position with cool craft stores, trendy bars and antique shops along the seafront.
Morgans
This lovely café and dance hall on the seafront serves the best pies in town, home-made and delicious. Portion sizes are generous.