[caption id="BeyondtheBookshelf_img1" align="aligncenter" width="1024"]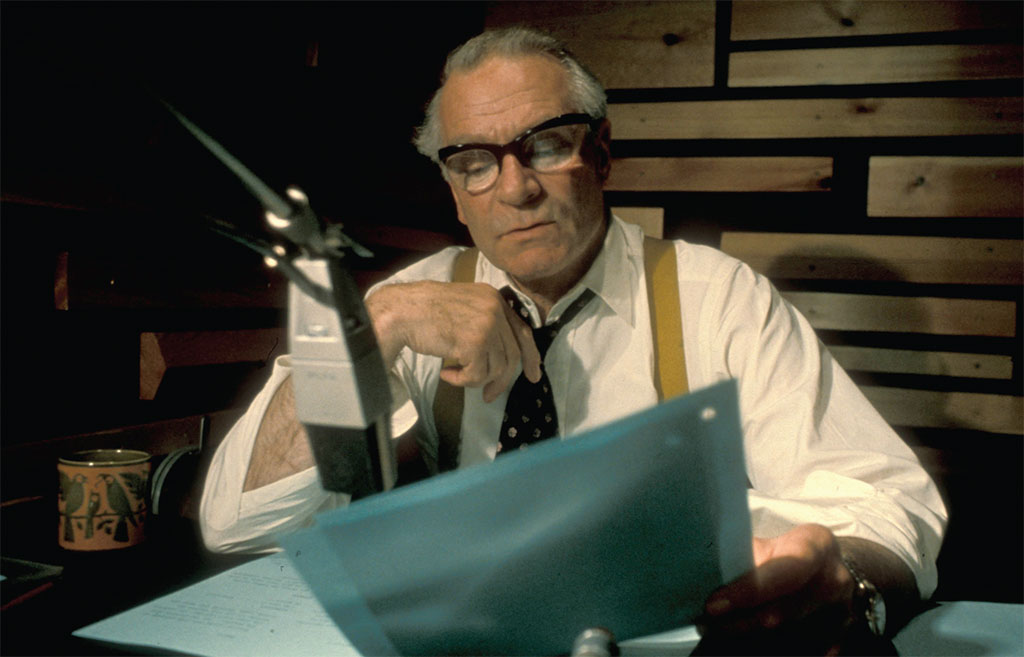 8
The late great Sir Laurence Olivier narrated each of the 26 episodes of this famous documentary.
[/caption]
WHEN THE ITV SERIES The World at War came out in 1973, many people thought it marked a signal change in television documentary, with its extensive archival footage, talking-head interviews and sweeping, panoramic vision of World War II. But while many have imitated the 26-hour, Sir Laurence Olivier–narrated tour de force, nothing has really come anywhere near to equaling it in sheer scope and depth, let alone quality.
Timing was everything and the makers managed to hit that magic sweet-spot in retrospective—the point where the event is far away enough to present it dispassionately, but not so long ago the people who witnessed it are no longer with us.
Producer Sir Jeremy Isaacs and his team trod new ground in the series as well as interviewing some of the serious movers and shakers of the time; generals, commanders and politicians that shaped the various aspects of the war, they also talked to ordinary folk whose lives were changed forever by the events of the mid-20th century. Even further than that, the luxury of distance meant that they could also talk to people from "the enemy," such as the Luftwaffe pilot who seemed slightly surprised to hear that he had taken part in "The Battle of Britain." Like every conflict, World War II was a war of many sides, each with its own perspective—and battle names.
There are many reasons why a series like The World at War will never be made again, not least the hope that we'll never have to witness another world war. Production methods, costs and the commercial way the media is run these days mean that such bold programming, taking up so much air time, would never be green-lit. No collaboration today could raise the kind of money for a single project (even in 1973 the production costs broke records), which makes those series we do have gems to be treasured.
From the rise of Nazi Germany, through Pearl Harbor, and the war in the Pacific to Hitler's chilling "final solution," The World at War has never really left us. Even today, you can switch on some obscure channel and find reruns of the series, and it's long been out on video. But the original Thames Television source material was getting tired, and it's a mark of just how special a series pushing 40 years old is when the decision is made to remaster it frame by frame for today's high-definition, widescreen DVD and Blu-Ray technology. An average of 140,000 "fixes" have been made for each of the 26 episodes, ranging from basic cleaning through to audio remastering, presenting the best-looking print since the films were first shown.
DVDs
The World at War—The Ultimate Restored Edition
is available in both DVD and Blu-Ray.
[caption id="BeyondtheBookshelf_img2" align="alignright" width="257"]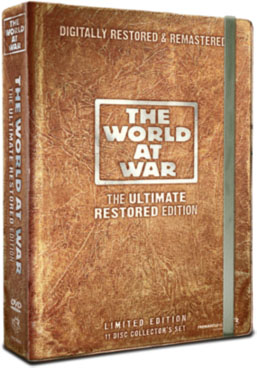 8
[/caption]
There have been some mutterings from film fanatics that the technology used to create a widescreen version from the original 4:3 format has lost some data. The restorers have countered by pointing out that they carefully judged each scene individually, so as not to lose anything significant. Watching it on a big screen, I didn't notice any losses at all. And there is something very comforting to see a "proper documentary" that relies on the strength of its material, rather than cheap gimmicks, to fill all those hours. I suspect The World at War has lasted as it has is because it has no celebrity presenter whose ego comes before the story, and it's totally free of those really annoying "dramatic reconstructions" that modern documentaries seem to use merely to pad-out thin material.
Of course, there will always be things that any series misses. In 1973, many documents that have been made public now were still very securely locked in the box marked "Top Secret." Witnesses have come forward, diaries have been found and archaeology has discovered new information. There will always be revisions to be made as new evidence comes to light, new stories are told (such as the remarkable Enigma Code tales from Bletchley, whose tellers were still tight-lipped in 1973) and as a new generation adds its own layer of mythology to the strata of world war history, but this seminal, groundbreaking, dare I say "definitive," series can still hold its own against legions of younger contenders.
—Sandra Lawrence
Cadfael shines through gloomy times
IT HARDLY SEEMS
possible that a dozen years have passed since Brother Cadfael first made his smashingly popular appearance on PBS
Mystery
! This series was a real change of pace, even for passionate fans of English mysteries. We are accustomed to seeing clever, eccentric 20th-century characters, or at the least a late-Victorian icon like Sherlock Holmes. A 12th-century monk as hero and detective was something different indeed.
Unlike many of the best British series,
Cadfael
never made a return appearance on television. The rerelease of the entire 13-episode collection by Acorn Media offers a new opportunity to relish the series again—or discover for the first time what remains one of the most engaging mystery series ever.
Set in the mid-1100s against the backdrop of England's civil war between King Stephen and his cousin the Empress Matilda, the historical context itself was new and unfamiliar to viewers—as it was to the readers of Ellis Peters' best-selling novels on which the series was based. After all, this is just barely the Middle Ages, less than a century after the Norman Conquest. There is no shining armor or jousting, no courtly love, no wealth of the wool trade. Apart from the sturdy remnants of pavement built by Roman legions a millennium earlier, there aren't even any roads—mere tracks worn through woodlands and over the moors.
The premise is simple enough. As a young man, Cadfael served as a soldier of the cross in the Crusades. Returned from the Holy Land after a career of violence, he joins the small community of monks in the Benedictine abbey of Shrewsbury near the Welsh border. Though a man of the world, he is humbled and softened and becomes the herbalist and de facto medic for the abbey and the town. He also becomes the court of last resort, using his botanical knowledge, intuition and wisdom to pursue justice beyond the sword—and solve the crimes and mysteries that in inevitably plague Shrewsbury during a particularly violent era of history.
DVDs
Cadfael: The Complete Collection,
13-disc boxed set, Acorn Media, Silver Springs, Md., 13 episodes, app. 975 minutes, $99.99.
[caption id="BeyondtheBookshelf_img3" align="alignright" width="281"]
8
[/caption]
Derek Jacobi plays Brother Cadfael to perfection. Tough, yet tender; assertive, yet submissive to his calling; confident of his vocation, yet unapologetic for his worldly past, Cadfael would be a challenging role for any actor. Jacobi brings great sensitivity to the part, and, perhaps most refreshingly, convinces us that he is an exemplar of the Church as it should be rather than what it was through most of medieval history.
[caption id="BeyondtheBookshelf_img4" align="aligncenter" width="1024"]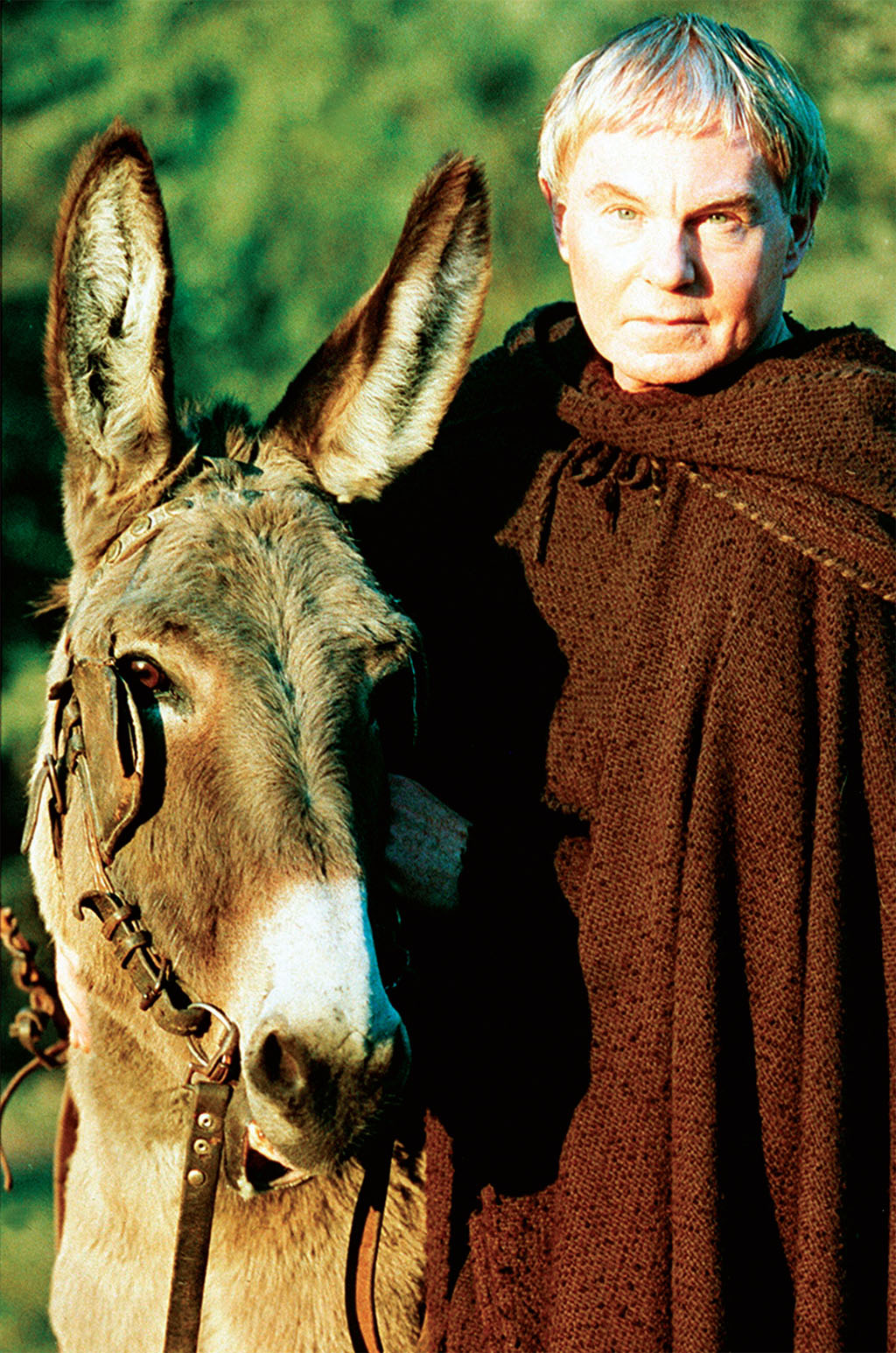 8
Worldly wise and world-weary, Brother Cadfael embodies the fruits of the Spirit in a time known to history as "The Anarchy." Starring as the eponymous 12th-century monk, Derek Jacobi brings to the screen perhaps the most endearing detective in the genre of great British mysteries.
[/caption]
Everyone playing in such a setting must be a character actor, and the supporting cast surrounding Jacobi is equal to the challenge—from the dim young Brother Oswin who assists Cadfael in the herbarium to the sniveling, churlish Brother Jerome and the pragmatic, but essentially just Deputy Sheriff Hugh Berringer.
These are engaging mystery stories and a well-crafted look at a little-portrayed period of English history; it doesn't get any better than Cadfael.
Shedding light on Dark Ages
BOOKS
Britain After Rome: The Fall and Rise, 400 to 1070
by Robin Fleming, Allen Lane, London, 458 pages, hardcover, £25
[caption id="BeyondtheBookshelf_img5" align="alignright" width="266"]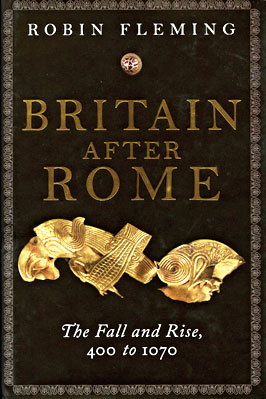 8
[/caption]
THEY AREN'T CALLED, "The Dark Ages" for nothing. After the departure of the Roman legions and Roman administration from Great Britain, the historical record grows quickly and eerily silent. Written sources for six centuries are scanty and often suspect. Indeed, what archaeologists have uncovered of the period, particularly during the last generation, have often proven at odds with the texts that do survive.
Painstakingly piecing together the physical evidence that continues to emerge with contemporary technology, however, Britain After Rome sheds new and fascinating light on life in Britain as the Romano-British world gave way to Anglo-Saxon settlement and eventual hegemony over British life, and which, eventually, in its turn was challenged by Viking incursions and territorial ambitions.
Robin Fleming has spent an academic career piecing together the jigsaw puzzle. Taking the archeological evidence and turning it into physical and social anthropology, Fleming has developed perhaps the best picture we have to date of how society developed over these silent centuries and how people actually lived. This is a dense and detailed, if highly readable, narrative. The results are a fascinating look at Britain between the collapse of Roman society and the coming of the Normans. In the process, the book provides a superb picture of how archaeological finds and the raw data they reveal translate into historical conclusions.
[caption id="BeyondtheBookshelf_img6" align="aligncenter" width="226"]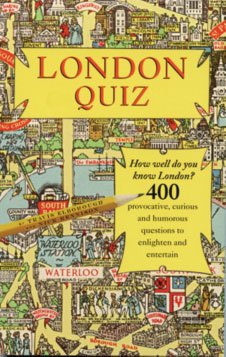 8
The Anglo-Saxon Hoard tells much of Mercia.
[/caption]
Teasing tidbits on the great city
BOOKS
London Quiz
by Travis Elborough and Nick Rennison, The Little Bookroom, New York, 240 pages, softcover, $14.95
[caption id="BeyondtheBookshelf_img7" align="alignright" width="242"]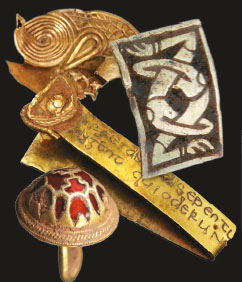 8
[/caption]
"HOW WELL DO you know London?" asks the cover, "400 provocative, curious and humorous questions to enlighten and entertain." Indeed. And the answer is: not very well. No matter how well you know the city and its history, don't expect actually to have the answers to most of the interesting multiple-choice questions posited herein. The 20-question chapters on such topics as "Literary London," "Crime and Punishment" and "London Churches" range far and wide across the 640-odd square miles of the metropolis. This isn't a volume to be read, but to be dipped into and played with. Enlightening and entertaining the book certainly is; why do cabbies sometimes call the intersection of Kensington Gore and Exhibition Road "Hot and Cold Corner?"