The sleepy hilltop town of Rye looks almost chokingly picturesque. Chocolate-box-charming, the old cobbled streets, half-timbered cottages, elegant Georgian town houses, olde-worlde shops and Norman church are steeped in bucolic Englishness and sugar-coated nostalgia. It's hard to imagine that this land-locked paradise was once the bad boy of the southern realm: the 18th-century smuggling capital of England.
At its height, pretty much the entire town was involved in smuggling in some capacity or other. Even today many of the buildings have interconnecting attics, and dozens of alleys and passageways, so illicit goods (and humans) could slink between houses under the very nose of His Majesty's bailiff, tasked with the nigh-on impossible job of trying to stop the "trade."
From medieval times until silting clogged its harbor to marshland, Rye was a thriving port—so much so that in 1336 it was named an "Antient Town," affiliated with Edward the Confessor's Cinque Ports, a trading confederation originally intended as a defensive measure. It didn't work; the French burned it down in 1377.
The rebuild included massive stone walls and heavily defended gates. The only entrance at high tide, Land Gate, still exists. The shoreline gradually receded, however, and by the 16th century the thriving port had become a wealthy merchant town, with fine civic buildings, pomp and ceremony—and a healthy disregard for customs and excise.
On a foggy November day, standing by 13th-century Ypres Tower looking down onto the marshes hundreds of feet below, you can really get a favor for those times. Fog lingers over low, fat land; modern wind turbines poke out from the swirling mists like eerie sentinels. It's easy to imagine jolly locals ferrying illicit cargoes via paths the King's Men had no hope of following, but the romance of smuggled brandy and silks can overshadow the unpleasant truth. People got rich through this, and they preserved their power through whatever means necessary, whether bribery, intimidation or violence.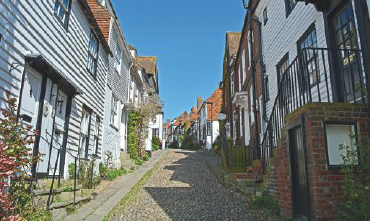 6
The Ypres Tower is now a museum where, among the more grisly artifacts can be seen the gibbet that held the corpse of John Breads. Breads plotted to kill the mayor, but accidentally stabbed the dignitary's brother-in-law, who'd borrowed his cloak for the evening. Breads was hanged then gibbeted as an example, but it did little to discourage the anarchy.
Center of all illegal goings-on, the Mermaid Inn, (rebuilt in 1420; the cellars date back to 1156) was headquarters to the notorious Hawkhurst gang, so brazen they would leave their loaded pistols on the table as they drank. The inn is still a mustsee, if not a must-stay, its roaring fires and ancient timbers welcome on a cold night. The fish stew is excellent. With an alleged revolving cupboard and a tunnel running between it and the nearby Old Bell pub, no magistrate dared interfere.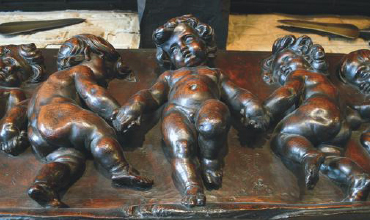 6
Cash continued to pour into Rye. Some of it was even lawfully acquired. Much of the gains, however gotten, were spent on beautifying the town. Climb to the top of St. Mary's church tower and enjoy the ornate roofs, fancy pilasters, wroughtiron curlicues and fine chimneys of Rye's confidently wealthy. Below, fat, gilded cherubs known as "Quarter Boys" because they chime the quarter, not the hour, have been bonging their bells on the church clock since 1760.
These days it's hard to believe Rye was so lawless. It's as respectable as they come and a magnet to visitors and would be residents alike. From late-17th century Jeake's House hotel to the old grammar school on the High Street, built in 1636 and now a fascinating second-hand record shop, virtually every building is worth a second glance. The funny little pipes sticking out of many frontages on the high street are flagpole holders. There's nothing Rye likes more than a spot of pageantry, dating back to the time when the town hosted Queen Elizabeth I for three days.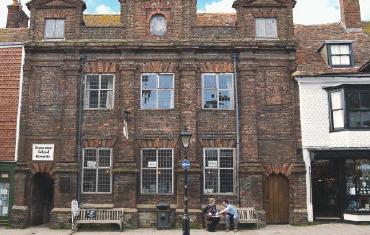 6
Watch out for quirky house names—"The House with Two Front Doors," "The House with the Seat," "The House Opposite"—and curious artistic endeavors, from carved planks to bizarre mosaics and quirky displays in people's front-room windows. The odd-looking 18th-century brick domes scattered around the town belong to an early piped water scheme, proof of just how well-off Rye's inhabitants had become. The original stocks, up near the Ypres Castle pub, clinging to the hillside and overlooking the distant sea, provide more evidence that Rye was not always the upstanding community it is now.
One building in particular, Lamb House (National Trust), has had a succession of famous residents. When George I was stranded during a storm in 1726, James Lamb invited him to his newly-built home. The king stayed three days, though he spoke no English and his hosts no German, and even though Lamb's wife gave birth the first night. The child was named George, of course; His Majesty, the rather regal godfather.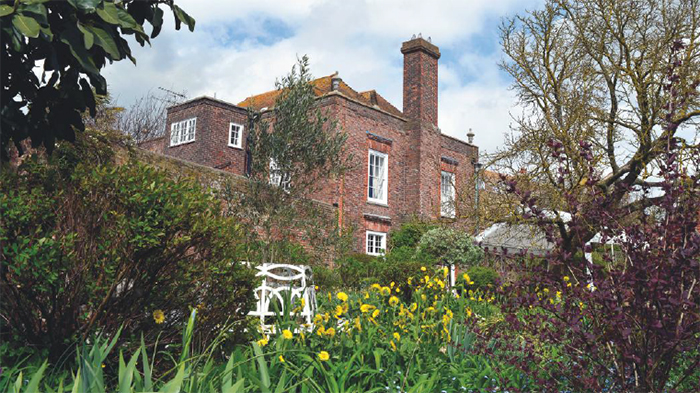 6
In 1897 novelist Henry James moved in and stayed until his death in 1916. In the 1920s comic writer E.F. Benson lived there, and wrote his famous Mapp and Lucia books, set in "Tilling," a barely-disguised Rye. Miss Mapp's home, Mallards, is very obviously Lamb House, and recently found fame once more in a BBC TV adaptation. In much the same spirit as the books, the whole town must have got involved in the filming, as several of the exteriors—and their attendant interiors—are clearly recognizable.
Rye is compact. The tiny Victorian railway station is just 40 minutes away from St. Pancras, and the whole town is easily walkable, if a little hilly, in a weekend. Before you make your way up to the town proper, do take a moment to look around what is left of old Rye Harbour and the strand (an archaic word for "beach") where old, clapboarded warehouses now house antique and craft shops, tea rooms and restaurants.
From there, wend slowly up the hill, taking the time to poke around, peeking down passageways and through a maze of creeper-clad gateways. Enjoy the jumble of period styles from Dutch-gables to Queen Anne hooded doorways, half-timbered Tudor gems to magnificent Georgian fanlights.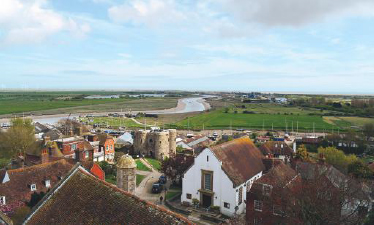 6
Unlike most modern British towns Rye has managed to maintain a relatively firm stand against chain stores; the majority of its shops remain independent. Even the supermarket is a local, family-run business. An excellent cook store boasts pottery you won't find elsewhere and a musty basement full of unique basket ware. Bow-fronted bakeries tempt with iced cakes and fruity buns. Rows of lead soldiers march across the bull's-eye window of an antique model shop. A stationery store in the High Street appears not to have changed at all since the 1950s, with a fascinating jumble of magazines, general goods, fancy wares and an old-fashioned toy department.
Don't miss what is, perhaps, the best hot chocolate shop in Britain. Knoops is up by the Land Gate, creating heaven to order. Choose your percentage of cocoa, from entry-level 34 percent all the way through a terrifying 99 percent, and any extras, from marshmallow and cream to chilli and salt, then swoon as a sublime beverage is ground, swirled and crafted before your very eyes. If you have enough room for lunch after that, Edith's in the high street is a fine, old fashioned café complete with armchairs, chintz, wind-up gramophone and excellent home-made food.
An old, reformed rogue who still carries a twinkle in his eye, Rye is genteel enough to be a charming slice of Olde Englande, yet naughty enough to retain that slightly dangerous edge. It's worth lingering to savor the town's many layers, however they were acquired.
WHILE YOU'RE IN THE NEIGHBORHOOD…
A proper castle, complete with towers, battlements, portcullis and the best moat in England, Bodiam Castle dates back to the 14th century. Although you can drive there, a fabulous alternative is to go to nearby Tenterden, and travel by steam engine on the heritage Kent and East Sussex Railway.
Also at Tenterden lie the famous Chapel Down vineyards, which host guided tours, though do book in advance. Flower fanatics should look no further than Great Dixter, the family home of groundbreaking plantsman Christopher Lloyd. The 15th-century property is still home to wonderful borders, seasonal displays and some extraordinary color combinations.