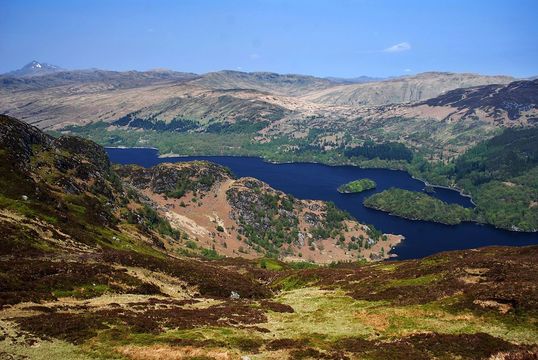 Bring British literature to life by visiting the setting of one of your favorite novels, from Jane Austen to D.H. Lawrence we take a look at ten of the best. 
Every story has a setting, and the famed novels of British literature find theirs across the country, from Cornwall to the Scottish islands. Not every such scene is recognizable today, however, or equally worth pursuing. Here is an eclectic, geographically representative collection of literary settings, though, that is a delight to discover in their own right—and magical for those who have read the novels set in them.
Brideshead Revisited 
10
While Waugh did not explicitly set Brideshead Revisited at this Yorkshire estate, the ancestral Howard mansion has been inextricably identified as Brideshead since the epic series of the novel filmed here in the early 1980s. And Castle Howard hasn't changed a bit since Lady Marchmain, Sebastian and Charles wandered the galleries and lawns.
The Darling Buds of May
10
The delightful idylls of Pop Larson and The Darling Buds of May clan in the pastoral innocence of the Kentish countryside found their film expression, at least, in the rural village of Pluckley and market town of Tenterden, Kent. Scenes from the stories abound and are a treasure to explore.
Sons and Lovers
10
The collieries that ringed D.H Lawrence's hometown village of Eastwood in Nottinghamshire until the 1980s have disappeared without a trace, though his birthplace museum remains. Fans can still walk through the many scenes of his great autobiographical novels such as Sons and Lovers and take a pint at the Three Tuns.
Rob Roy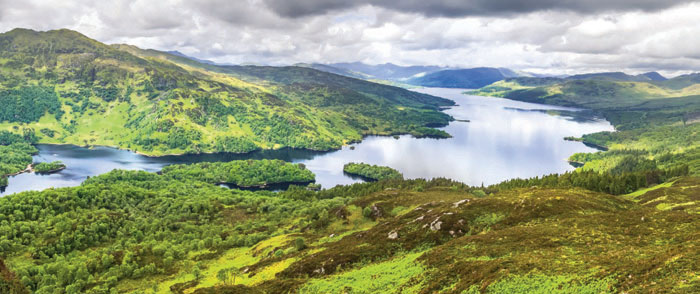 10
Among the most famous (and readable) of Sir Walter Scott's historical novels is the story of Rob Roy MacGregor, brigand and folk champion of the early 18th century. The eponymous hero lived and died in the exquisitely beautiful countryside of Loch Katrine and The Trossachs; where his marked grave lies beneath the Braes of Balquhidder in Stirling.
Jamaica Inn
This desolate moor feels a world away from pretty Cornish fishing villages, but the smugglers' haven of Jamaica Inn in Bodmin Moor, Cornwall, is easily recognizable as the setting of one of Daphne du Maurier's most enduring stories. Stay the night at the old stone inn and visit its museum devoted to the novelist's life and work.
Northanger Abbey
10
The incomparable Georgian spa city of Bath in Somerset is so popularly identified with Jane Austen that its inclusion here might seem too obvious. Austen set parts of Northanger Abbey and Persuasion here, however, and though they present very different looks at the town, its street and public buildings would be quite recognizable today to the author and her heroines.
Dracula



10
Bram Stoker's famous vampire, Dracula, came from Transylvania to victimize Whitby, where Stoker spent many of his summer holidays. With its romantic clifftop abbey ruins, ancient harbor, dark coastline, and surrounding barren North Yorkshire moors, it is not hard to imagine why this was the vampire's chosen landing spot in England.
Peter Rabbit
10
Hilltop, Beatrix Potter's small farm above Coniston Water, is lovingly preserved as she would have known it by the National Trust. Strolling to the door up the garden path, visitors would never be surprised to see Peter Rabbit, Flopsy and Cottontail poking their heads out from behind a cabbage leaf.
Swallows and Amazons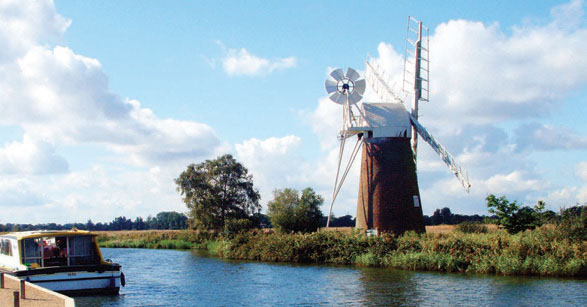 10
One of Arthur Ransome's much-loved children's series Swallows and Amazons, The Coot Club, champions wildlife conservation in Norfolk's interconnecting network of navigable rivers known as The Broads. Take a sail or broads cruiser through the unforgettable landscape in the bird-watching capital of Britain.
How Green Was My Valley  
10
Richard Llewellyn based his 1939 novel, How Green Was My Valley, on interviews with folks in Gilface Goch, South Wales. This small village is near the Rhondda Valley. His poignant tale of the Morgan family in the rugged coal fields of South Wales can be palpably felt today throughout the Rhondda and at the Rhondda Heritage Park near Pontypridd.
* Originally published in 2018.