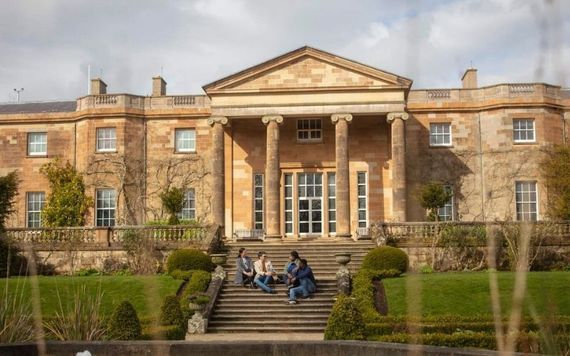 Dr. Christopher Warleigh-Lack is filled with stories of Hillsborough, and not just ones about its artifacts and artwork.
Editor's note: This article was originally published in 2018.
As its curator, Warleigh-Lack was on a five-year mission to open Her Majesty's home in Northern Ireland to the public. In doing so, his organization, Historic Royal Palaces, planned to give Hillsborough "a future as valuable as its past"—just as it has for both the Tower of London, Hampton Court Palace, "and the other palaces in our care."
Like those iconic places, Hillsborough has become a must-see for tourists and historians alike. "It plays a pivotal part in Irish and English history, and even a bit of American history as well," says Warleigh-Lack, referring to its (alleged) role in sparking the American Revolution. "Connecting history to where it happened," he adds, quoting HRP's mission statement with a grin.
Warleigh-Lack chatted with us about the great Georgian country house and the challenges of welcoming visitors when Royals could arrive at any moment. But to hear the full versions of his wonderful stories—including that one about the smoke break that nearly burned it all down—you'll have to attend one of his lectures, or just visit the castle during your next trip.
British Heritage: Tell us a little bit about the Historic Royal Palaces organization.
Dr. Christopher Warleigh-Lack: We're an independent charity, caring for five uninhabited British royal palaces, initially. As of April 2014, we've been looking after Hillsborough Castle, the official residence of the British Monarch in Ireland, and the official residence of the Secretary of State for Northern Ireland. Although called a castle, it's a Georgian country house.
BH: What is the history of the castle? It was built in the 18th century?
CWL: It was the third residence of the family that built it, and it was there by 1789. It's very common in Ireland to have a house that's called a castle but is actually an 18th-century Georgian country house. The people building them tended to be English descendants and they were trying to emphasize their link to the land. Sometimes, as is the case at Hillsborough, it was replacing an earlier building that was fortified.
At Hillsborough, for instance, there is an earlier building that was named Hillsborough Castle. We now call it Hillsborough Fort, which is a 17th-century fort. That's described by travel writers in the 18th century, and they call it Hillsborough Castle. Mary Delany, a very famous travel writer in the 18th century, talks about Hillsborough Castle, the original, what we now call a Fort. She referred to it as falling into decay, this 17th-century building.
BH: And the family who built it?
CWL: The Hill family came over from England in the 1590s as part of Queen Elizabeth I's army to oppress the Irish rebels. Within about 50 years, they ended up a prominent land-owning family, so they moved to what was then known as Kilwarlin, which became known as Hillsborough. That's where the name comes from. Through the generations, they became powerful in government, and they served the Royal family. In the 1750s and '60s, we had a chap called Wills Hill. He was rewarded for his service with the royal family with the title Marquess of Downshire. We still have a Marquess of Downshire now. We're on the ninth one, but Wills Hill is also important in American history because he was Secretary of State for the American colonies within the British government, and in that role, he hosted Benjamin Franklin at Hillsborough. You know Benjamin Franklin?
BH: Not personally.
CWL: The myth goes that they got along so badly that Franklin came home and declared independence for America. The autobiography that Franklin wrote, which was published, I think in either 1903 or 1908, describes a rather different relationship between him and Wills Hill.
BH: Is today's greater security part of the reason the house can open now?
CWL: The Peace Process has lessened the need for the security precautions that were in place. During the 1970s and 1980s, it was a very secure space. All of the windows are bulletproof to stop snipers. For that reason, Hillary Clinton and George Bush have been to Hillsborough—because it is a secure space.
BH: The Belfast Agreement talks took place there, right? 
CWL: Pretty much all of the talks were at Hillsborough for the Anglo-Irish agreement of 1985 between Margaret Thatcher and Garret Fitzgerald. He was the Taoiseach—that's Irish for prime minister. That brought in various other agreements. Bush and Blair presented another agreement in 2003, and the last was in 2011.
BH: You've worked for the National Trust and others. What's the biggest challenge for preserving and displaying these kinds of spaces?
CWL: In Hillsborough, one of the biggest challenges is that it is still a working Royal residence, so at any moment, the Queen or Prince Charles could come into a room. The objects in the room have a museum standard of care, but the antique furniture is still used, which in any other national trust property, in any other palace, wouldn't happen. Also, we need to present that museum space, tell the stories, tell the history but do it in a way that doesn't mean we have ropes everywhere and "Do Not Sit" signs and boards of interpretation. We have to find other ways of telling the stories.
For more information about visiting Hillsborough Castle, click here.