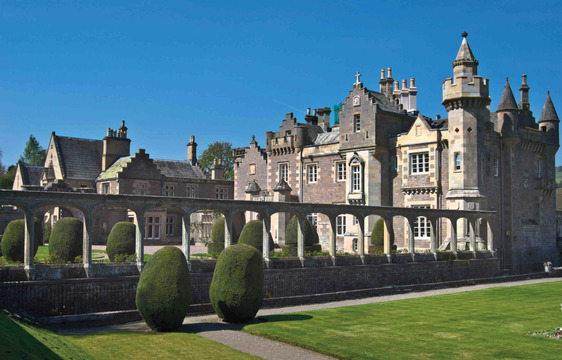 The places that inspired some of Britain's most legendary writers.
The most influential of Britain's many historic legacies to the world is the English language. The literature created in and by our tongue over the last 700 years expresses universal human experience in the circumstances and challenges of particular times and places.
Our sceptered isle is peppered with scenes from the lives and works of our justly beloved poets, playwrights, and novelists. Most evocative and influential of these, not surprisingly, are their homes. If you happen to be in the neighborhood, here are some fascinating home visits that bring their famous residents to life.
Newstead Abbey, Mansfield, Nottinghamshire
7
Not all poets were starving artists. George Gordon, better known as Lord Byron, inherited Newstead Abbey with his title from a great uncle while still a boy. Byron (and his mother) lived periodically at the impressive estate, though the flamboyant romantic poet was inevitably drawn to the excitement of London.
Dove Cottage, Grasmere, Cumbria
7
Poet William Wordsworth lived in the heart of the Lake District from 1799 to 1808 with his sister, his wife, Mary; and a growing family. Here Wordsworth penned most of the works that made him the best-loved poet of his generation and chieftain of the school of English Romantic poets.
Abbotsford, Melrose, Borders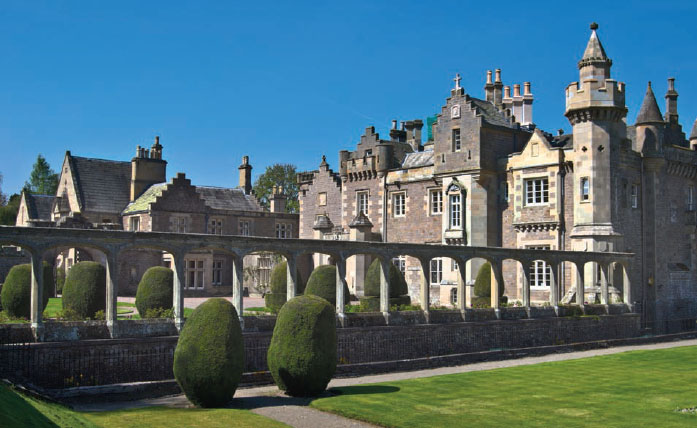 7
The first great historical novelist, Sir Walter Scott was already the most influential Scotsman of his day when he built this lavish manor suitable for a Border laird. Just as the prolific writer knew it, the house today feels like a living museum of the Scottish romanticism and history Scott created and popularized.
Jane Austen's House, Chawton, Hampshire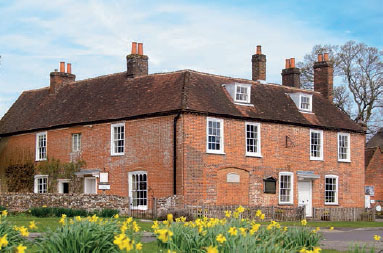 7
Yes, Jane Austen's House is one of the great literary visits. You can really get a sense of her life in the village with her mother and sister. From her writing desk, Jane could look out on the village street and tuck her manuscripts under the blotter when visitors came to the door.
Hilltop, Near Sawry, Cumbria
7
In this farmhouse above Coniston Water, Beatrix Potter found the life and inspiration for many of her most beloved books and characters. Walking down the garden path to the door into Potter's flagstone floor kitchen, you are very apt to spot Peter Rabbit hiding in the cabbage patch.
Shakespeare's Birthplace, Stratford-upon-Avon, Warwickshire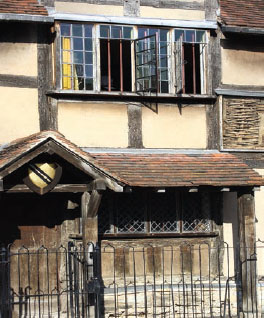 7
The Bard of Avon dominates this pretty Midlands market town, but his birthplace is still the best place to start your visit into Shakespeare's Elizabethan world. Real fans of the playwright can follow on to New Place, Trinity Church, Anne Hathaway's Cottage, and a host of themed sights—including the Royal Shakespeare Theatre.
Alf Wight's Surgery, Thirsk, Yorkshire
Far better known by his nom de plume, James Herriot's veterinary surgery in the gritty Yorkshire market town was also his home. All Creatures Great and Small become real with a visit to this period-correct office and residence just off the market square, closely surrounded by the bare hills and dales of the agrarian countryside.
Max Gate, Dorchester, Dorset
The heart of "Thomas Hardy Country" and the great novelist's fictional Wessex, Dorchester was the writer's birthplace and home. He was trained as an architect, and Hardy's success as a novelist enabled him to design and build this comfortable Victorian home on the outskirts of town in 1885 - just a few miles from his thatched-cottage birthplace.
D.H. Lawrence's Birthplace, Eastwood, Nottinghamshire
When Lawrence was born here in 1885, Eastwood was a rural mining village a few miles from Nottingham. Today, the collieries are gone from the landscape and the city has swallowed the suburb. Starting with this brick miner's cottage, however, fans can trace the scenes of his early life and his autobiographical novels.
Greenway, Galmpton, Devon
Everyone's favorite mystery writer, Agatha Christie, grew up here on the English Riviera of Torbay. When her fame and income provided, she bought Greenway in 1938 as a holiday and summer house, much loved until her death in 1976. The estate also featured in several of her novels.
* Originally published in July / Aug 2017.