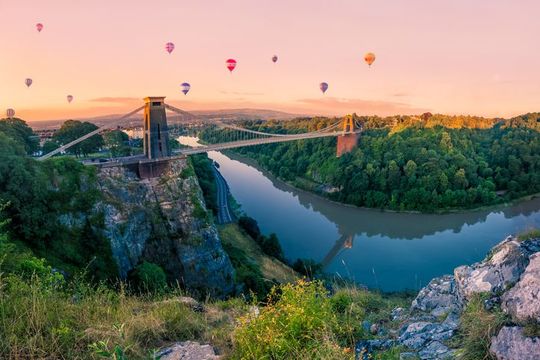 This exciting former seaport melds a wealth of arts and history. A day in Bristol is a day well spent
For 500 years, Bristol was one of the largest cities, seaports and commercial centers in England. Trade goods from Spain and the Mediterranean flooded its harbor.
Early explorers charted the North Atlantic and the New World through the 16th century from its port. Then, for more than 200 years, settlers and manufactured goods made their way from Bristol to the young American colonies.
Today
Today, Bristol is a thriving mid-sized city of 440,000. Its maritime importance and national influence fled to Liverpool, Manchester, Southampton and elsewhere during the industrialization of the 1800s. With modern shipping requirements, the port moved down river to Avonmouth.
Bristol and its harbor's rich heritage remains, however, and its bustling old city center displays a colorful tapestry blending a proud history and the best of contemporary urban life.
Unjust though it may be, as a visitor destination, Bristol has long been lost in the shadow of its smaller, more famous neighbor, Bath. A day well-spent in Bristol, however, will make any of our savvy readers wonder why they ever passed it by.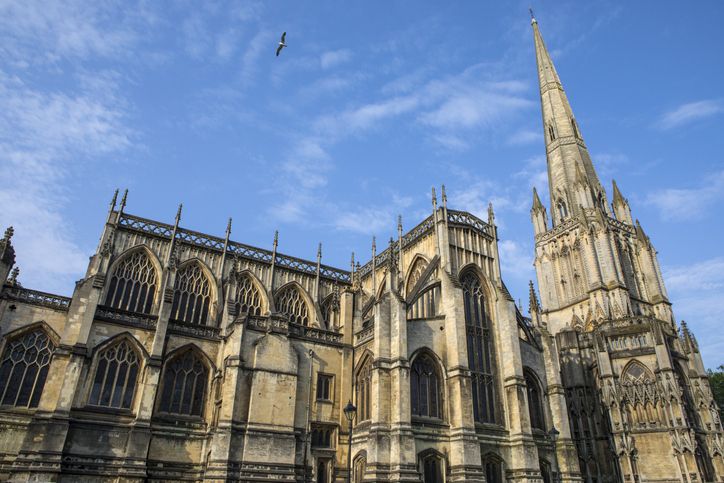 4
It couldn't be easier
By road from London and the airports, Bristol is roughly two hours west on the M25. You pass just north of the city en route to the Severn Crossing into Wales. Be not deceived, it's not a terribly easy place to drive in and out of the city center.
After all, Bristol is one of England's oldest cities. It's a far easier journey by rail. Catch a West Country train at Paddington Station to make Bristol in just over an hour. This makes Bristol a great destination for a day excursion from London, as well as a stop along a western itinerary.
Exploring fashionable Bristol
The place to start is the Bristol Tourist Information Centre on the Waterfront, at the heart of everything you want to explore. Maps, local transport, current events and friendly advice abound at this well-done visitor center.
Of course, you can plan ahead at their website.
Both the website and visitor center can help with a range of accommodations. Hotels in every price category are abundant around the Harbourside neighborhood. Then, it's time to explore the city.
Right around the corner on College Green, Bristol Cathedral began as an Augustinian monastery in 1140, and became the cathedral seat of the Bishop of Bristol in 1542. Much of the magnificent church today is 14th-century English Gothic in style, with soaring windows and a light, open nave.
High on most lists of priorities, and one of the top 10 visitor sites in Britain, Bristol's star attraction is the SS Great Britain. Built by Isambard Kingdom Brunel in 1843, Great Britain was the world's first steam, screw-prop ocean liner. Completely restored to its Victorian greatness, the history-making ship berths in a protected drydock at Great Western Dock where it was built.
Another famous ship (considerably smaller) moors afloat at Princes Wharf. Board the Matthew, a replica of the ship sailed by John Cabot on his discovery of Newfoundland in 1497–built to commemorate the voyage's 500th anniversary. If the timing is right, take a harbor sail with a fish and chip supper aboard.
Bristol's whole fascinating 2,000-year-old story is displayed at M Shed–the city's creative history museum on Harbourside, transformed from a 1950s transit shed. Nearby, Bristol Aquarium explores maritime life under the sea, and the adjacent At-Bristol Science Centre includes Britain's only 3D Planetarium for a more distant, amazing experience.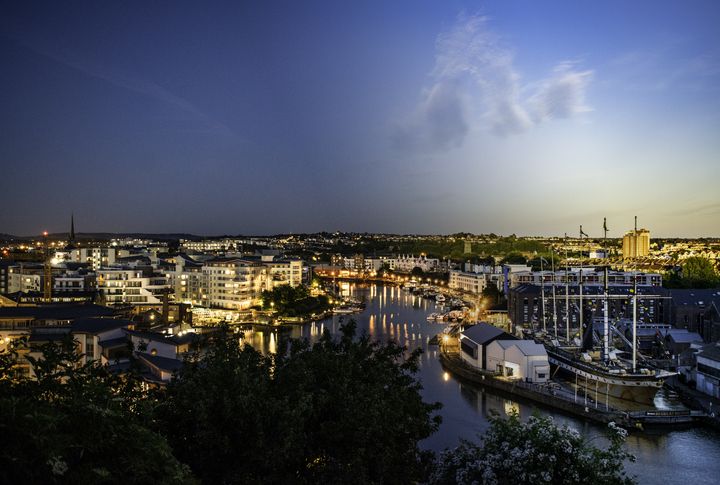 4
Across the city
The Horsefair and Broadmeade Shopping Centre are the busy, contemporary commercial heart, with all the High Street shops and eateries. Tucked quietly away, you might visit the New Room, the first Methodist chapel established in 1739.
The Wesley brothers lived in rooms upstairs, and Charles Wesley wrote a number of his most famous hymns here.
Bristol's Museum and Art Gallery includes 19 galleries on three floors, taking visitors from dinosaurs and diamonds to the paintings of Renoir, Sisley and Pissarro.
Bristol Zoo Gardens introduces 400 species of the animal kingdom in 12 acres of highly renowned gardens. The city's performing arts are vibrant as well. The most famous of several major venues is the Old Vic, Britain's oldest continuously running theater.
We've hardly introduced Bristol's attractions, including Brunel's 19th-century Clifton Suspension Bridge and the magnificent parish church of St. Mary Redcliffe, but the conclusion is easy: this isn't a place easy to see in a day. You would certainly be justified in planning to linger another day.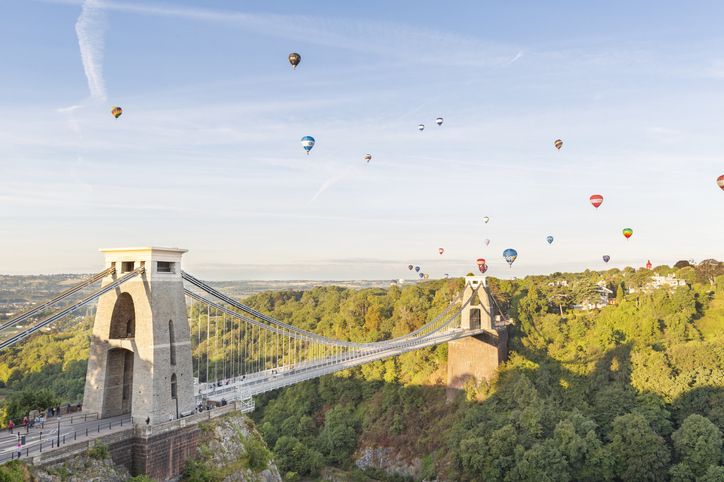 4
Moving on from Bristol
By road or train, Bristol is at a crossroads leading everywhere.
Take the M4 into South Wales, follow the M5 south to Exeter, Devon and Cornwall–or north to the Midlands and beyond.
Follow the same routes by rail as well, or return to London if you must. With just another day or two, take the A38 south 20 miles and route through Cheddar Gorge and the Mendip Hills to the charming small cathedralcity of Wells.