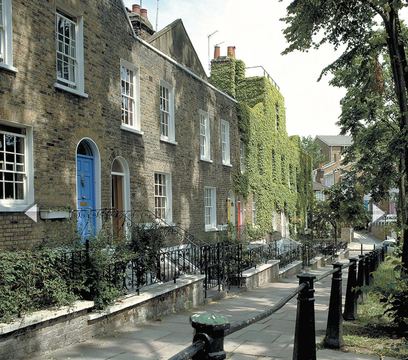 Just a few Underground stops from the West End, heath and village are a world apart.
Hundreds of years ago Londoners flocked to Hampstead, then a rural village, to escape various plagues that permeated the congested inner-city neighborhoods. At the beginning of the 18th century when clean water was scarce, water from the hills around Hampstead was collected, bottled, and sold at a local pub then known as the Thatched House. In 1874 the Thatched House at 14 Flask Walk was demolished and replaced by the Flask Tavern, which survives as a pub today. When the tube system was extended in the late 19th century, Hampstead and the heath became a destination for day outings for those wanting a retreat from the noise and pollution of the city center.
Alight at Hampstead on the Northern Line, the deepest underground station in the London tube system, to explore this neighborhood that includes Hampstead Heath, 800 acres that comprise the highest open space in the city. Perched on a hill, Hampstead retains the air of a peaceful village with its rows of Georgian houses, tree-lined streets and lanes, and mews paved with cobblestones. While just off the top edge of most tourist maps of London, it is only four miles from Trafalgar Square and eight tube stops from Leicester Square.
Hampstead has long been, and remains, a neighborhood popular with artists, writers and actors because of its tranquility, hilly terrain, and the heath to fuel the imagination. Over the years, Charles Dickens, Florence Nightingale, John Keats, John Constable, H.G. Wells, D.H. Lawrence, Barbara Hepworth, Henry Moore, and other well-known figures have made their home in Hampstead. More recent residents include Peter O'Toole, Emma Thompson, Jeremy Irons, Judi Dench, and Glenda Jack-son, the former actress who has represented Hampstead as a member of Parliament since 1992.
'You will have a pleasant walk today. I shall see you pass. I shall follow you with my eyes over the Heath'
—John Keats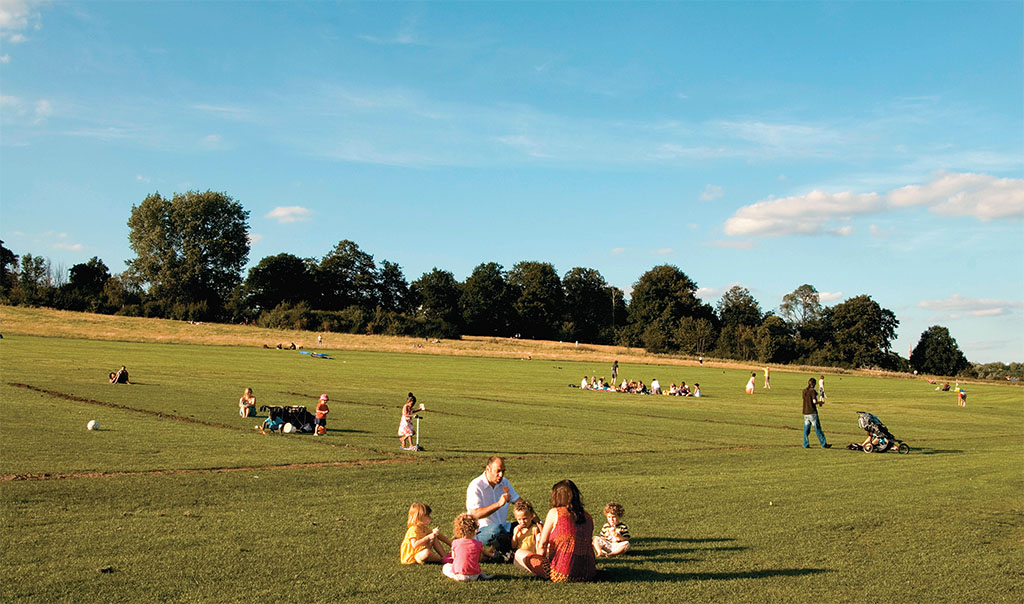 5
Steep Hampstead High Street leads into Heath Street, and together they form the principal road through the center of Hampstead. Hampstead's shops reflect the artists and professionals who live here, with a number of art galleries, bookshops, and antique stores.
Keith Fawkes, at 1-3 Flask Walk—a side alley off Hampstead High Street—is crammed from floor to ceiling with used books, making it difficult to leave without a discovered volume or two. Vintage and limited edition teddy bears dominate the shelves at the Hampstead Teddy Bear Emporium in The Courtyard at 12 Heath St. Within the same courtyard is Recollections Antiques, with a wide and varied assortment of collectible items. Tom Merrifield at 84 Heath St. makes and sells sculptures in bronze, many with dance themes.
Graceful trees line Hampstead's picturesque streets. Church Row, one of Hampstead's most beautiful streets, leads to St. John-at-Hampstead Church. The quiet cemetery at St. John-at-Hampstead contains the grave of the artist John Constable, who lived at Number 40 Well Walk two centuries ago. Within the pretty church are a number of memorials to famous Hampstead citizens, but perhaps the most notable is the bust of John Keats, carved by an American and donated in 1894 by American admirers of the poet.
Between 1818 and 1820, Keats lived in a little white house halfway up the street on what is now called Keats Grove. Keats was not well when he moved into this house at the age of 23, and he spent most of his time in bed. It was here that he met, fell in love with and became engaged to his next-door neighbor, Fanny Brawne.
In an 1820 letter to Fanny, he wrote: "You will have a pleasant walk today. I shall see you pass. I shall follow you with my eyes over the Heath." The presence of a young man in ill health fills the rooms, and one can almost picture him looking out the window at the tree where that nightingale sang, immortalized in "Ode to a Nightingale." His friend Joseph Severn was with Keats at his death in Rome in 1821, and Severn's portrait of the poet is one of the treasures of the Hampstead Museum.
Hampstead's history from prehistoric times to the present is exhibited at the museum, housed in Burgh House a Queen Anne structure, on New End Square just off Heath Street. Nearby No. 2 Willow Road, built by Erno Goldfinger in 1937-39 for his family, is considered one of the best British examples of a Modernist house. Author Ian Fleming and other local residents objected, to no avail, to the destruction of a number of cottages to make space for this house, and to the appearance of the concrete building itself. Legend has it that Fleming later named one of the villains in his Bond books after its architect and owner.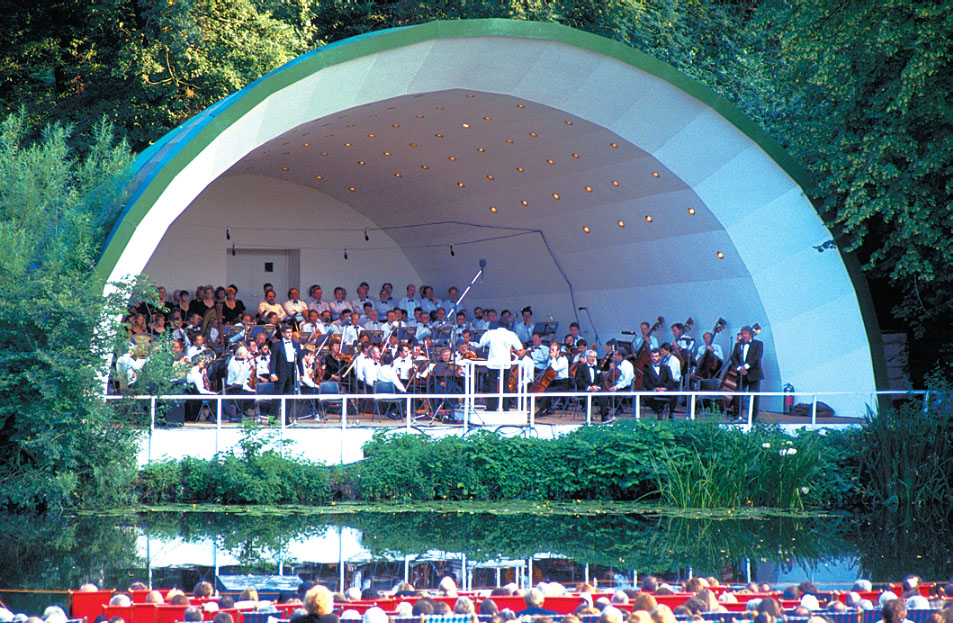 5
Dating from the 17th century, nearby Fenton House on Hampstead Grove has a beautiful walled garden with a 300-year-old apple orchard. The house has a wide collection of musical instruments on display, and musicians may apply in writing one month in advance for permission to play on the early keyboard instruments.
Walk up the Spaniard's Road, one of many routes that climb to Hampstead Heath. Along the way, the Spaniards Inn, an atmospheric garden pub dating to the 16th century, remains a favorite place for food and drink. The heath was first mentioned in the Domesday Book of 1086. Dick Turpin, the notorious 18th-century highwayman, was closely identified with it; he would often escape capture by disappearing on horseback into its wilderness.
Today we take Hampstead Heath for granted, but local residents in the 19th century fought hard to preserve the area and to stop a Victorian housing development from being built upon it. An Act of Parliament in 1872 made Hampstead Heath available "for the use of the public forever."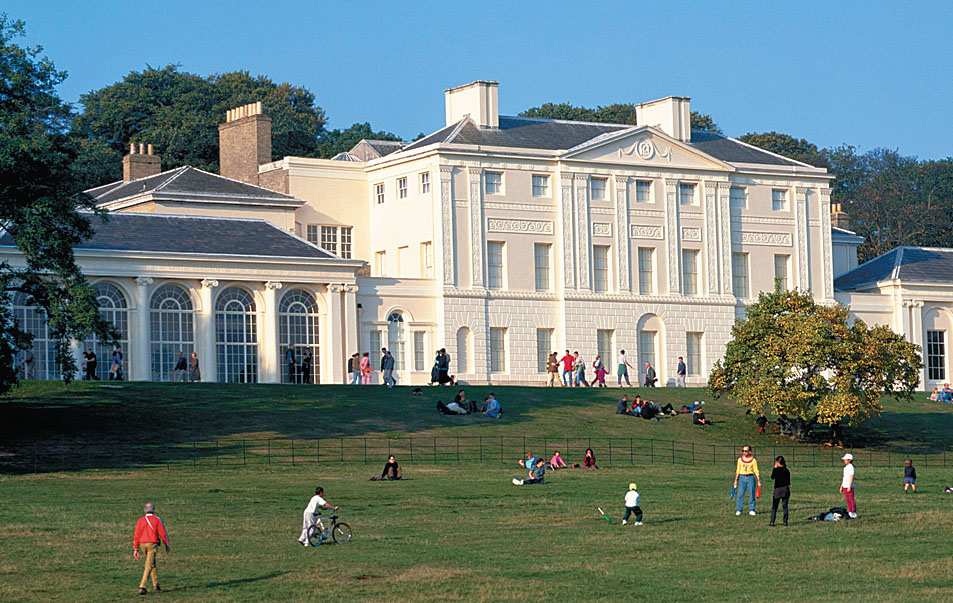 5
Hampstead Heath is said to be the inspiration for the magical land of Narnia that C.S. Lewis created in his books. It offers a retreat from the hustle and bustle of life, with various nooks and crannies calling attention to nature and the outdoors. The Water Garden is filled with tropical plants, while the Hill Garden is the epitome of a beautifully maintained English garden. At the Hill Garden's far end is a little alcove that offers solitude and stunning views. Many ponds fed by the now underground River Fleet spread across the heath. The Whitestone Ponds used to be a regular place for carriages from London to pass through to cool their wheels.
Almost like a mirage, beautiful Kenwood House with its cream-colored façade and landscaped English gardens appears on the heath to form a stark contrast to the rugged terrain of the heath itself. Remodeled by Robert Adams in the early 18th century, Kenwood House is considered one of the finest country houses in North London. It has a brilliant interior with lots of gold leaf, and a magnificent blue-and-white library with paintings on the ceiling. The house was originally built for the first earl of Mansfield and remained in that family until it was sold to Edward Cecil Guinness, the beer magnate, in 1924.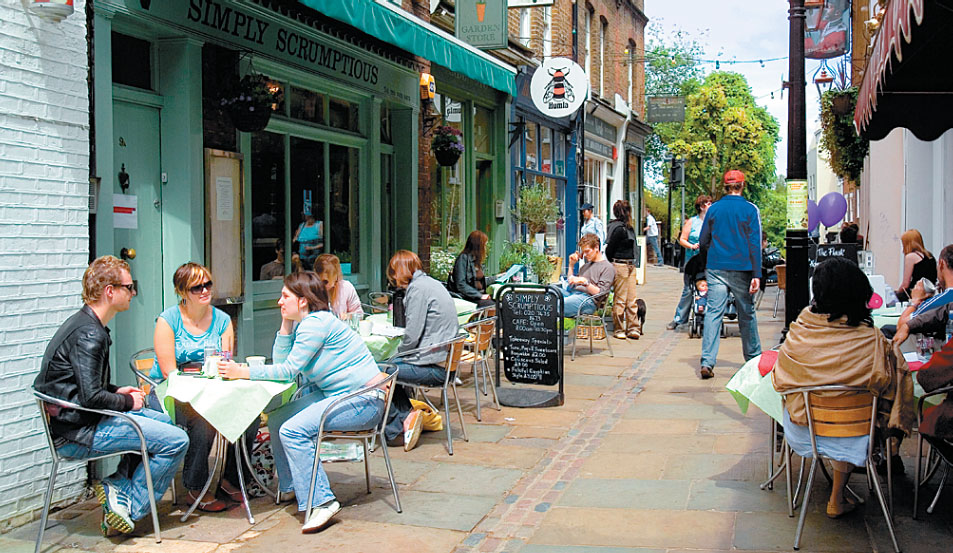 5
Upon his death in 1927, Guinness left Kenwood with its extensive collection of paintings, known as the Iveagh Bequest, to the nation. The collection includes masterpieces by Reynolds, Turner, Gainsborough and Vermeer, but perhaps the most famous work is the self-portrait by Rembrandt done late in his career. An Act of Parliament in 1929 assured the longevity of Kenwood House and its gardens, and today this property is protected and cared for by English Heritage. During the summer months, audiences flock to the lake on the grounds of Kenwood House for outdoor concerts that have become an annual tradition. On certain evenings, the concerts are followed by exquisite firework displays that light up the heath with color.
At the far end of Hampstead Heath is Parliament Hill, which offers stunning views of central London in the distance. Parliament Hill is as high as the spire on St. Paul's Cathedral, which can be seen on a clear day against the London skyline—along with the Post Office Tower, the ornate façade of St. Pancras Station and other city landmarks. This part of the heath is populated with people flying kites and tossing Frisbees. Just to the side of Parliament Hill sits The Writer, a huge table and chair created by the Italian sculptor Giancarlo Neri in June 2005 to honor the many writers who have walked across the heath for inspiration.
Reluctantly leave the heath and walk down to Heath Street for a pastry and coffee at Louis Patisserie. This old-fashioned tearoom with a Hungarian flavor is a fixture in Hampstead.
Waitresses walk around with trays of elaborate cakes to tempt customers into making their selections. Sit and dream about what it would be like to live in this part of London and to be able to take daily walks on the heath. Stop into a local estate agent and perhaps the sale and rental prices for this area, the most expensive neighborhood in London, will bring you back down to earth. The heath and Hampstead, however, are still there to be enjoyed.
* Originally published in Nov 2008.