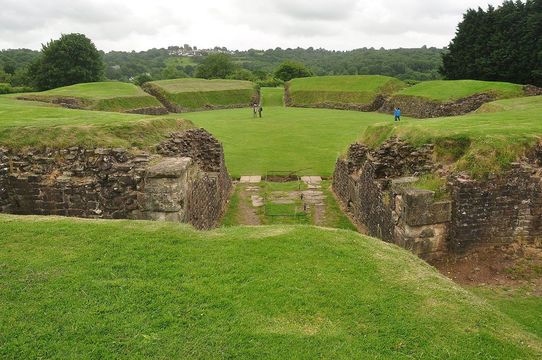 Exploring the castles, mountains, winding roads, and valleys of the mystical Wales where so many tales of princes, heroes, villains, and saints live on.
There is a tale that 5th-century King Vortigern, escaping the Saxons, sought to build a fortress at Dinas Emrys in Wales. But at every attempt, the walls would fall. Eventually a child—a young wizard called Merlin—suggested the cause of the shaky foundations to be a subterranean pool with two sleeping dragons. Sure enough, the pool was found and drained, awaking the dragons—one red, one white—who began to fight. When the red dragon triumphed, Merlin prophesied the future victory of the Britons (for which read Wales) over the Saxons (or England). And that is how the red dragon became the emblem of Wales.
Historians may suggest that Roman custom played its part in the adoption of a dragon as the nation's icon. But in Wales, the lilting voices of its bards intertwining reality with myth persist: their ancient stories of Arthur, Merlin, beasts and battles passed down in the lyrical Welsh language; saved in medieval manuscripts and popularized in English in the 19th century by Lady Charlotte Guest's Mabinogion translation.
As to the legend of the red dragon, 20th-century excavations of the wooded hillside of Dinas Emrys at Beddgelert in Snowdonia did find a pool and ruins of a fortress. Of course, Welshman Henry Tudor's accession to England's throne as Henry VII in 1485 had already realized Merlin's prophecy. Far-fetched?
As famous Cardiff-born storyteller, Roald Dahl once said: "Those who don't believe in magic will never find it."
In 2017, Wales declared it the Year of Legends. This was the perfect time to explore the castles, mountains, winding roads, and valleys where so many tales of princes, heroes, villains, and saints live on. Look out for the following epic highlights.
KING ARTHUR'S COURT, CAERLEON
More legends spin around King Arthur than any other hero, based on a quasi-historical British warlord—or a composite of such figures— who fought against the invading Saxons in the 5th and 6th centuries. He is everywhere and nowhere, but the Welsh at least can claim his stories were first written in Brythonic—the language from which Welsh descends—and he features strongly in the ancient tales collected into the Mabinogion.
Our legendary trail could lead all around Wales: to the hill fort and ruins of Castell Dinas Brân, Llangollen, where the Holy Grail is reputedly buried; to the mountains of Snowdonia where the "once and future King" slew a giant, was mortally wounded and now slumbers.
Above all, do visit Caerleon near Newport, where 12th-century writer Geoffrey of Monmouth sited Arthur's court. Today you can tour the impressive 1st-century remains of the Roman fortress and baths of Isca (as Caerleon was called) and ponder the claim that the impressive amphitheatre later served as Arthur's Round Table meeting chamber.
Visiting: Caerleon Amphitheatre, Roman Fortress, and Baths cadw.wales.gov.uk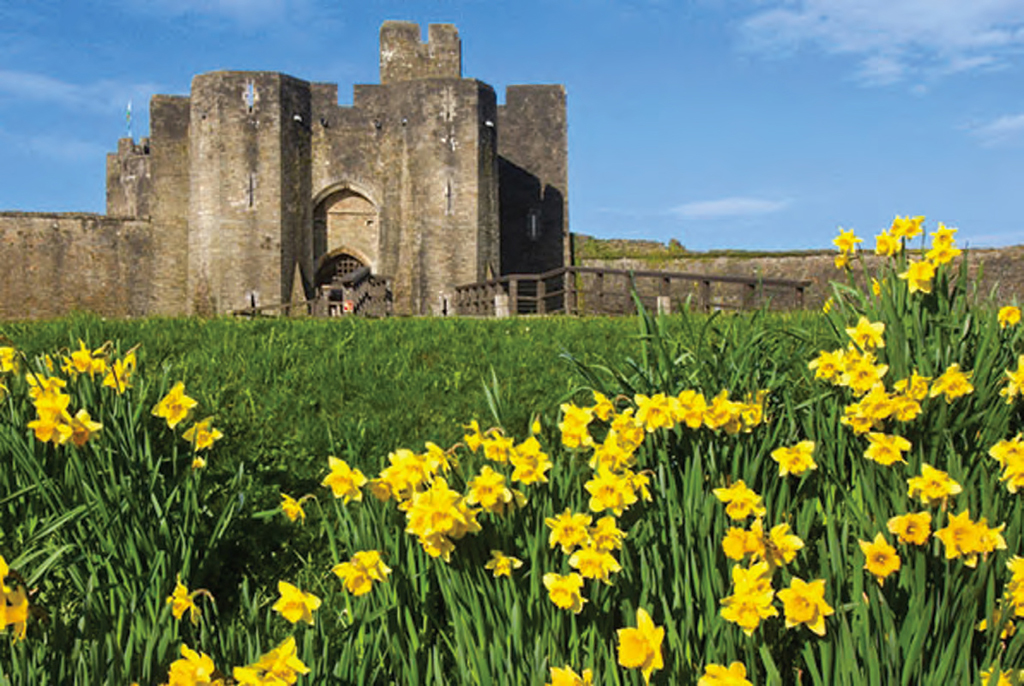 5
THE GREEN LADY OF CAERPHILLY CASTLE
WALES BOASTS 641 castles, more per square mile than any other country, and a sure sign of a turbulent past. Caerphilly Castle, surrounded by a series of moats and watery islands, is the country's largest, its mammoth walls, ramparts and towers a breathtaking marathon to explore.
Gilbert "the Red" de Clare, a kinsman of William the Conqueror, built the fortress despite the best efforts of his Welsh enemies. But it seems Gilbert's bloodthirsty ways left his wife, Alice, somewhat cold, because she fell for the amorous attentions of the Welsh Prince Gruffudd the Fair of Brithdir. Understandably outraged, Gilbert had Gruffudd killed and Alice died of a broken heart.
Happen by on a moonlit night and you might just glimpse an ethereal figure dressed in green on the castle's ramparts, looking longingly toward the hamlet of Brithdir for the lover who would never again hold her in his embrace.
Visiting: cadw.wales.gov.uk
TWM SIôN CATI, TREGARON
England has its Robin Hood; Wales has Twm Siôn Cati, born in Tregaron, midwest Wales, circa 1530. Rascally Twm—real name, Thomas Jones—robbed the rich, but apparently forgot to give to the poor. Nevertheless, he treated his victims "kindly," firing an arrow to pin them to the saddles of their horses before taking their valuables, thus leaving them helpless but unharmed.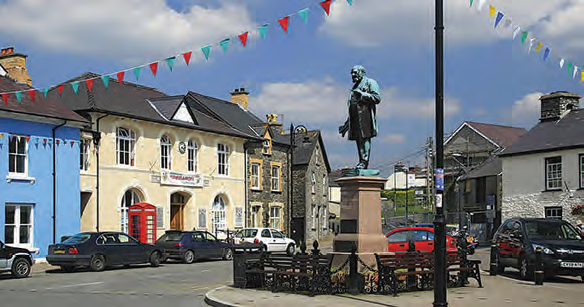 5
Strange to say, age mellowed Twm and he mended his ways, receiving a pardon from no less a person than Queen Elizabeth I. He married an heiress and even became a Justice of the Peace, well qualified perhaps to sit in judgment on other scallywags.
Tregaron celebrates its notorious son with a woodcarving on the square and a Twm Siôn Cati Trail. The cave where the trickster hid his booty overlooks the lovely RSPB Gwenffrwd-Dinas nature reserve. Also peek into the Rhiannon Centre on the square, where internationally-renowned local goldsmith Rhiannon Evans' handcrafted jewelry is inspired by Welsh myths and themes.
Visiting: discoverceredigion.co.uk
A SAINTLY CITY, PEMBROKESHIRE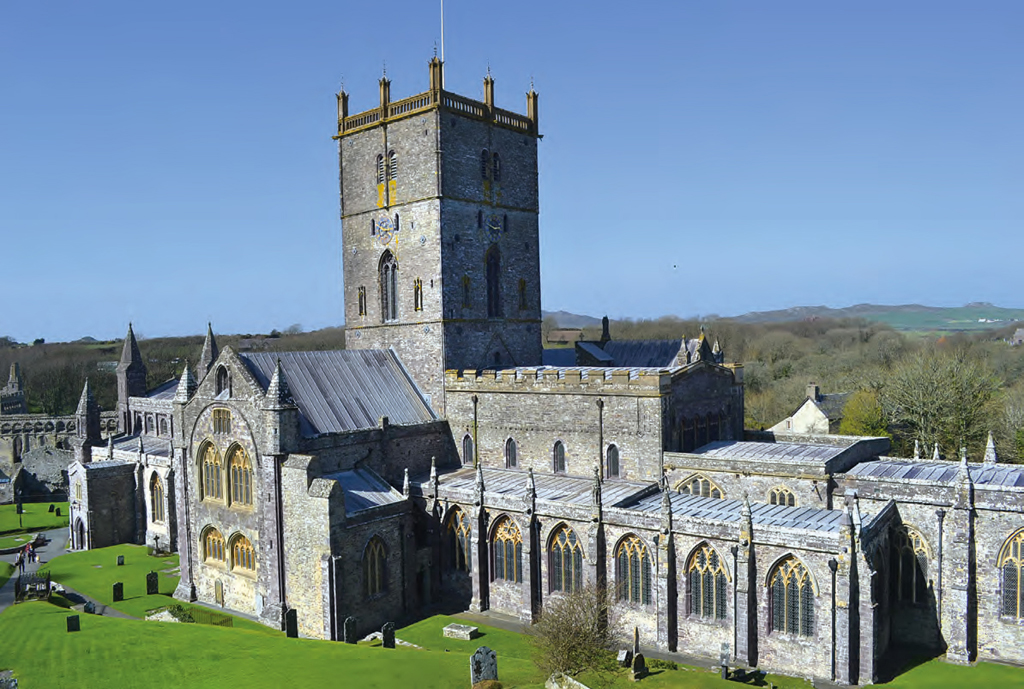 5
Few sights are as surprising as the sudden appearance down a village lane of a purple-stone 12th-century cathedral and ruins of a 14th-century Bishop's Palace. St. Davids, its sacred grandeur sitting amid quaint pastel-colored cottages and teashops, is a gem.
Wales bristles with saints—more than 800 holy men and women are recorded, many from its Age of Saints that kept the Gospel alive through the Dark Ages after the Romans left. David, celebrated each March 1 as Wales' patron saint, established his 6th-century monastery where St. Davids Cathedral now stands. Pilgrims flocked and Britain's smallest city grew on Pembrokeshire's coastal edge.
A great missionary, David cured the blind and lame, raised people from the dead and called forth wells to provide water. It's said he died in either 589 or 601, at the age of 147.
Along the cliff, a tiny well and chapel are named for St. Non, the beautiful nun raped by Sant, King of Ceredigion, who gave birth to David here during a thunderstorm. The elements can still roar in winter, but summer breezes and waves below the flower-fringed cliff whisper deep peace.
Visiting: stdavids.co.uk
LAST WELSH PRINCE OF WALES, MACHYNLLETH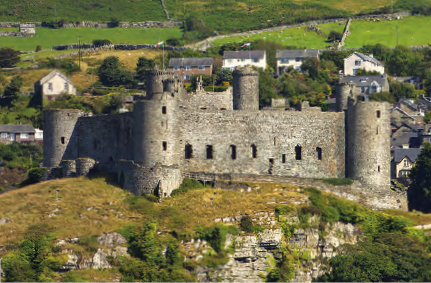 5
Who was the real man painted as the "irregular and wild Glendower" in Shakespeare's Henry IV, Part I? Drop into the Owain Glyndr Centre in the market town of Machynlleth in mid Wales and displays will help you unravel fact from fiction. The medieval building stands on the very site of the parliament of 1404 at which Glynd r was crowned Prince of Wales.
Descended from Welsh princely blood, Glynd r fought beside and lived alongside the English—until a neighborly squabble over land escalated in 1400 into a national uprising. Suddenly, the vision of an independent Wales that had seemed to die with Llywelyn the Last in 1282 revived, with charismatic Glynd r leading the way. Harlech Castle—a magnificent visit northwest of Machynlleth—became a rebellion headquarters, while Wales and the borders were devastated by battle.
In the end, this last Welsh Prince of Wales was crushed, a fugitive in hiding from 1410. His final fate remains something of a mystery, but Wales' newly rediscovered national spirit sparked a flourishing of the arts, and so the deeds of its heroes lived on.
Visiting: machynlleth.net/canolfanglyndwr.org
LLYWELYN'S FAITHFUL HOUND, BEDDGELERT
Not content with its legend of the red dragon of Dinas Emrys, the picturesque village of Beddgelert in Snowdonia, North Wales, also lays claim to perhaps the most famous folklore tale. To find out more, take the footpath along the River Glaslyn to Gelert's Grave, allegedly final resting place of the favorite wolfhound of Prince Llywelyn the Great.
Llywelyn had his palace at Beddgelert in the 13th century, and one day he went out hunting, leaving Gelert behind. On his return, the Prince found a horrifying scene: the cradle of his baby son overturned; the child nowhere to be seen; Gelert with blood dripping from his jaws. Mad in the belief that the hound had killed his heir, Llywelyn plunged his sword through Gelert's heart—only to hear his son cry out. The child lay unharmed nearby, a wolf, slain by faithful Gelert, next to him.
Full of remorse, Llywelyn buried Gelert by the river, and that is why Beddgelert—Welsh for "Gelert's grave"—is so named today. You might hear that an entrepreneurial 18th-century pub landlord keen for trade helped the tale along a little, but don't let that spoil your visit.
Visiting: beddgelerttourism.com
THE HOLY MOUNTAIN OF ABERGAVENNY
If you fancy a country ramble and fabulous views, head for the market town of Abergavenny, gateway to the Brecon Beacons National Park. And now hear how the nearby Skirrid mountain split in two.
The clue lies in the Skirrid's name, in Welsh, Ysgyryd, meaning "shiver." For so great was nature's anger at the crucifixion of Jesus that even this distant Welsh mountain shuddered, then broke, creating Ysgyryd Fawr (the Great Shiver) and Ysgyryd Fach (the Little Shiver). Earth from the holy mountain, considered sacred, was often scattered in the foundations of churches. On the Skirrid's summit, you will find a ruined chapel.
Whether you climb the Skirrid or not, The Skirrid Mountain Inn at Llanvihangel Crucorney is an atmospheric stop for hearty meals. Ensconced beside the log fire within its thick, rugged walls, listen to yarns reaching back to 1110, when there was a court here and felons were swiftly despatched on the spot by hanging from an oak beam. Needless to say, the inn is haunted.
Visiting (including walking the Skirrid): abergavenny.org.uk
* Originally published in 2018.