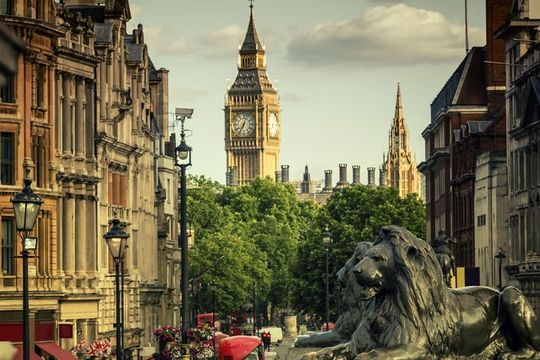 Taking the family to London is undoubtedly one of the finest trips you will ever take.
Years ago it was Miroslav Sasek's classic children's picture book that first inspired my husband and me to visit the capital city with our toddler son.
The book was, and still is, a unique children's guide, with its exquisite drawings of London's landmarks, including the Queen's guards in their tall, black, bearskin hats, the tower of Big Ben with its famous clock and the Tower of London with its Crown Jewels.
As our son grew, we often returned to London, finding it an ideal place for a family vacation. London is a child-friendly city with interesting neighborhoods, free museums, and numerous parks, from Hyde to St. James's to Battersea to name a few.
Where to stay?
An apartment hotel such as The Clearlake, or a furnished private apartment rented from an established short-term rental agency, offer more space than a regular hotel room, your own kitchen for breakfasts, and those meals when the family might want to just stay "home." Best of all, in the case of The Clearlake, the magnificent Kensington Gardens are just across the road.
While it is a good idea to have a plan for your stay in London, it is also wise to be flexible enough to toss it out if it's not working for everyone. It takes time to settle in and explore this world-class city, and the suggested itinerary below might give you a good start.
Keep in mind that young children seem to enjoy something as simple as riding on top of a red double-decker bus, or going up and down the long escalators in the tube stations.
Older children will delight in walking around the eclectic Covent Garden area with its various buskers or street performers. All children will appreciate spending time in one of London's parks.
Day One
Children seem oblivious to the time change and jet lag, so head to one of London's many parks this first morning to give them a chance to work off some energy.
Kensington Gardens has a statue of Peter Pan that children love to climb on, the Serpentine for them to sail a toy boat upon, or to feed the ducks and an innovative playground named after the late Princess Diana. She lived on the grounds at Kensington Palace all the years after her marriage to Prince Charles.
Another fun place is Regent's Park in north London, home to the London Zoo with its aviary for birds of all kind and a specially designed pool for penguins. Its Children's Petting Zoo is home to free-roaming gentle goats that like to nudge slowpokes along and feed out of children's hands. Another option and one not often visited by tourists is Coram's Fields, a short walk from the Russell Square tube station.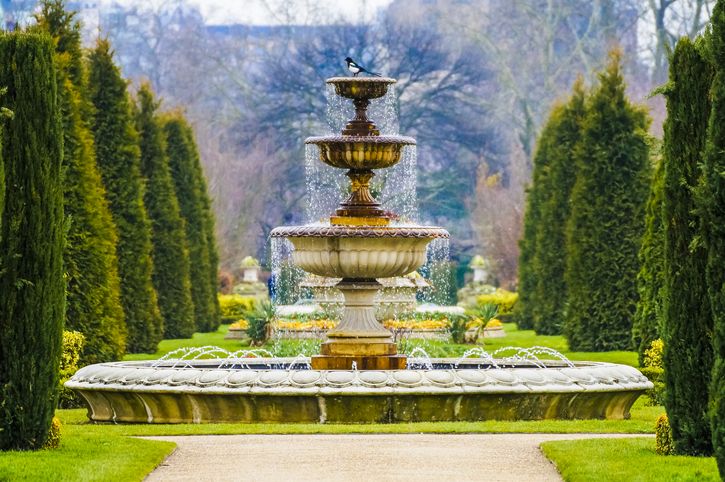 4
This seven-acre playground and park are filled with many age-appropriate activities, and adults are only allowed onto the grounds with a child in tow.
Should the weather be wet, the Natural History Museum and the Science Museum on Exhibition Road in South Kensington provide interesting child-friendly exhibits and lots of hands-on activities to keep everyone busy and happy.
Westminster
When you're ready, make your way to Westminster for a look up at Big Ben and the Houses of Parliament. Walk along Whitehall and stop to see the Horse Guards, two mounted cavalry troops on horseback, who are posted outside an official though seldom used entrance to St. James's Park and Buckingham Palace.
The actual Changing of the Guard ceremony takes place outside Buckingham Palace. But jockeying for a good viewing spot among the usual crowds that gather there makes the Horse Guards with its intimate setting and chance to get up close an easier option. Continue along Whitehall to Trafalgar Square to see its towering pedestal with a statue of Lord Nelson on the top.
The National Gallery faces the Square, and even young children will not be bored if you make a game out of a visit there. Just inside the main entrance, go straight to the gift shop and have your child select several postcards of works that are on display within the museum.
Then the hunt starts to find these pictures, and as you race through the gallery takes a fast peek at other works on the walls of the various rooms. Just across from the gallery in St. Martin's-in-the-Fields. The basement crypt houses a Brass Rubbing Center where children can create "works of art" with materials on hand to take home as lasting reminders of their trip to London.
You won't have to go far to find family-friendly restaurants for lunch or dinner. With its blaring rock music in the background, the Hard Rock Café is a favorite with preteens and teens. The Spaghetti House has several branches in central London, and who doesn't like to eat pasta? London's Chinatown offers numerous restaurant choices on Gerrard and Lisle Streets, but somehow my family always ends up in the Golden Dragon.
Day Two
The Tower of London with its centuries of history is the most famous castle in the world. Dressed in colorful uniforms, the Yeoman Warders, also known as Beefeaters, live within the tower and lead tours throughout the day of its grounds.
With much theatricality, they share amusing, sometimes eerie, tales about the tower. Be sure to also see the Crown Jewels exhibitions and the White Tower, dating to 1078, which makes it the oldest building here. Children like to look out over the tower's parapets at the bridges and boats up and down the Thames River.
While it is interesting to see the Tower of London during the day, there is something special about being within its gates late at night. Every evening a small group of people is allowed in for a special ceremony that has been taking place for centuries.
The question "Halt! Who comes there?" with the response, "The Keys," sets the stage for this unique event. At least two or three months before your departure for London write for free tickets for the ancient Ceremony of the Keys, giving several possible dates that will fit your schedule. While the locking of the tower for the night takes only a few minutes, the ceremony is filled with the pomp and circumstance that will make it a memorable event especially for the younger members of your family.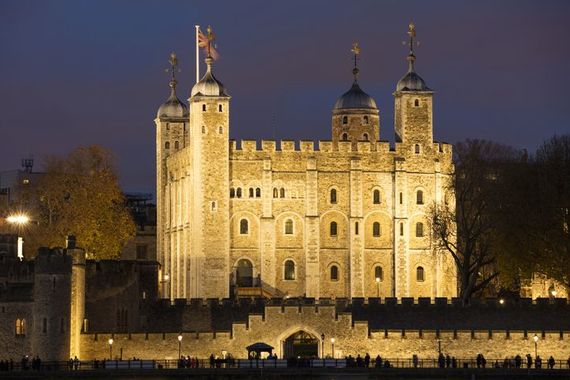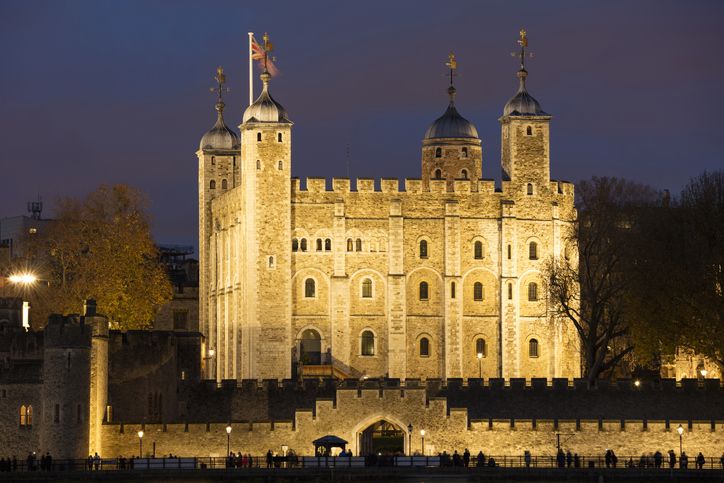 4
One of London's spacious black taxis will quickly get you to Christopher Wren's St. Paul's Cathedral with its spectacular dome top. Climb up and up and up the 530 steps to the Golden Gallery for open-air views of the city below.
On the way up, stop off at the Whispering Gallery, which fills the dome's interior. Stand at one side of the dome and whisper at its wall. Whoever is at the other side of the dome will hear the whisper as clear as a bell through the wall.
Walk across the steel and aluminum Millennium Bridge to the Tate Modern Museum and look back for a grand view of the cathedral. The Tate Modern with its enormous inner space is the home of modern art. Here again, use the postcard treasure hunt plan for the children.
A special treat is the English tradition of afternoon tea. Many hotels offer finger sandwiches and buttered scones with clotted cream. The Orangery in Kensington Gardens not only offers a lovely afternoon tea in a comfortable setting that will suit even young children, but it does so within the splendor of gardens with royal credentials.
London is known for its theater, and an unforgettable experience is a play in its West End. One of London's musicals like The Lion King, which has been drawing audiences for 10 years now, will delight even the youngest family members, and half-price tickets are available for many different shows on the day of the performance at the special booth located in the middle of Leicester Square.
Day Three
There are so many places to discover beyond London. Take a boat ride along the Thames to nearby Greenwich, with its rich nautical history and the oldest Royal Park.
Another destination could be Legoland, which will enchant anyone who is acquainted with the popular colorful building blocks. This amusement park is adorned with London's well-known landmarks re-created with Lego blocks in scaled-down models, as well as fun rides. Perhaps you want a day by the sea, and, if so, Brighton with its beaches, piers, boardwalk, and Sea Life Centre, the oldest working aquarium still in existence, comes readily to mind.
However, a favorite day trip for my family has always been to the fairytale redbrick Hampton Court Palace with its pretty riverside gardens and sprawling grounds. No matter the age, everyone enjoys trying to find their way out of the palace's famous maze with its high hedges, twists and turns, and false routes and dead ends.
Costumed actors wander the courtyards and inhabit the palace rooms re-creating and answering questions about the Tudor era. Today, Hampton Court Palace sits in a peaceful setting and represents a scene out of a storybook, but it was once a thriving center of royal life dating back to the days of Henry VIII.
Say goodbye or "cheers" to London with a ride on The London Eye. This giant Ferris wheel on the south side of Westminster Bridge is one of London's most popular tourist attractions. Once home, savor the photos and souvenirs acquired on your trip and the fact that you will have seen London differently through a child's eyes. Introduce, or reintroduce, your children to the stories of Peter Pan, Mary Poppins, and Harry Potter, all of which take place in England. Another look at those drawings in This Is London will bring that special city alive again long after your visit here.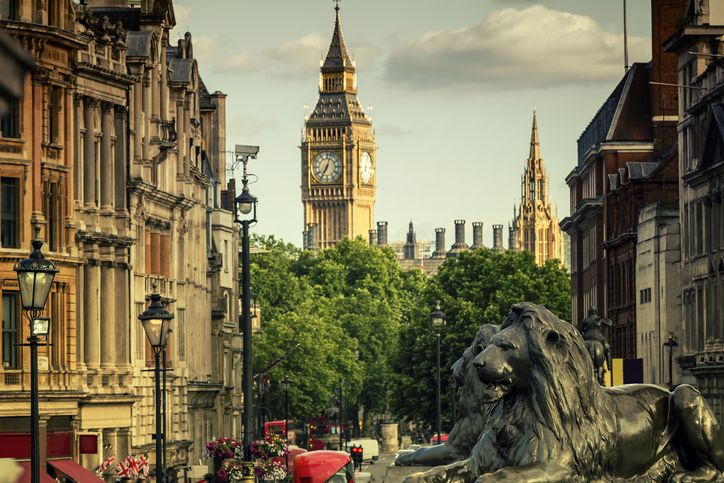 4
* Originally published in March 2010.