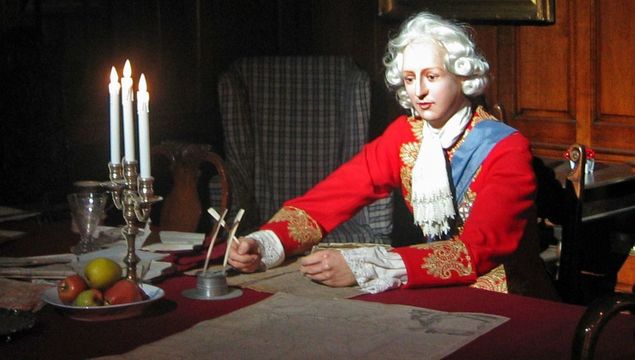 Taking the High Road from Inverness to the Isle of Skye
Culloden Moor, outside Inverness, is an emotive place. The final battle to be fought on British soil occurred here, on April 16, 1746. In one hour, the Jacobite rebellion of Bonnie Prince Charlie was crushed. More than 2,000 Scots perished in the battle, and with that defeat, the Highland Clearances have spawned: a pogrom that irrevocably altered Highland life and initiated the Scottish diaspora to Britain's distant colonies. Many Americans make a pilgrimage to Culloden's Avenue of the Clans, to stand reverentially before gravestones whose clan name is linked to their personal heritage, or before simple headstones that mark mass graves.
Culloden is a dignified space of remembrance, where informative plaques and flags help visitors envisage how the battle unfolded and understand why so many Highlanders courageously charged into oblivion. The Visitor Centre, amid its displays of battle artifacts, endeavors to give a balanced interpretation of this brief civil war.
Read more: Take a virtual tour of Britains top tourist attractions during quarantine
Despite Culloden's tragic aftermath, Bonnie Prince Charlie is regarded as a romantic hero partly because of his adventurous escapades to elude capture after the battle. His furtive journey through the Highlands and Islands serves as an intriguing road map for travelers exploring this region's landscape, culture, natural history, and its ancient and modern history. With this in mind, I pulled out of the Visitor Centre's car park and set out for the Highlands.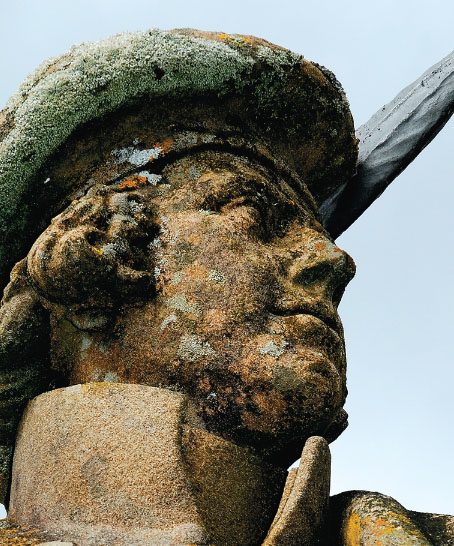 5
Immediately the road takes me to Clava Cairns—a Neolithic site consisting of three burial chambers surrounded by a stone circle. The monument offers me unfettered access, a delight that is common at many of Historic Scotland's sites, permitting me to enter the chambers and touch the stones—tactile experiences that enhance appreciation of these monoliths erected 3,000 years ago.
Unlike Prince Charlie who was running for his life, I make a stop at Fort Augustus because it is a good base for exploring Loch Ness, The Glens of Shiel, Affric and Garry. These places epitomize the Highlands, where the mountains, glens and lochs are dramatic backdrops to history.
Read more: A Scottish road trip in search of Brigadoon
FORT AUGUSTUS IS at the southern end of Loch Ness, a small town serving the tourist industry and users of the Caledonian Canal. Watching boats pass through the town's six locks is a pleasant way to while away an hour. Engineered by Thomas Telford, the Caledonian Canal passes through the Great Glen linking Fort William and Inverness, its 22 miles of constructed canal tying together 45 miles of lochs to provide a rapid transit between Scotland's Atlantic and North Sea coasts.
Lacking time for a leisurely four-day cruise along the canal, I opt instead for a day cruise on Loch Ness to Drumnadrochit Drumnadrochit. The excursion provides spectacular vistas of the loch and mountains, though the highlight is the slow passage below the ruined Norman ramparts of Urquhart Castle. Unsurprisingly, I dony't spot the loch's eponymous monster in the water.
With two centers dedicated to the mythical beastie and an abundance of souvenir shops, Drumnadrochit is "monsterville." The Exhibition Centre, through a series of mini light and sound shows, explores the biological evidence for the monster's existence. Meanwhile the Visitor Centre, with interesting historical artifacts and photographs, examines the history of monster sightings and explorations.
The glens of Garry, Shiel and Affric could be explored in two days, but this would lessen the Highland experience. When the weather is suitable this is ideal walking and picnic country and, as the Scottish Forestry Commission has created many easy circular routes in the glens, the walks need not be mountain expeditions.
'PRINCE CHARLES' ESCAPE ROUTE SERVES AS AN INTRIGUING ROAD MAP'
The Highland Clearances resulted not only in the removal of economically unviable tenants, but also in deforestation as the hills were cleared of trees to make space for profitable sheep farming. Numerous 3,000-foot mountains loom above the road as I pass through Glen Shiel. At Loch Cluane, the mountains are notably bare of forest, so it is mystifying why Prince Charles was not captured in this open terrain.
Glen Affric, a remnant of the preindustrial Scottish landscape, is the quintessential glen: open, native Caledonian pine forest with a thick understory of fragrant heather and gorse. Trout-filled lochs are connected by tumbling brooks and thunderous waterfalls. I feel like I am walking into an Edwin Henry Landseer landscape. I even see soaring eagles and antlered deer and flushed grouse from luxuriantly deep heather, such that would hide a renegade prince.
Read more: John Knox - the Scottish religious reformer
Shortly before reaching Fort William I turn off to Achnacarry, where an old thatched croft houses the Clan Cameron Museum. Cameron of Locheil was a Jacobite, and after Culloden he and his clan suffered greatly from destruction and confiscation of their property, exile and executions, enslavement and forced emigration. With period artifacts, the museum displays these horrors and tells how the clan reestablished itself through military prowess.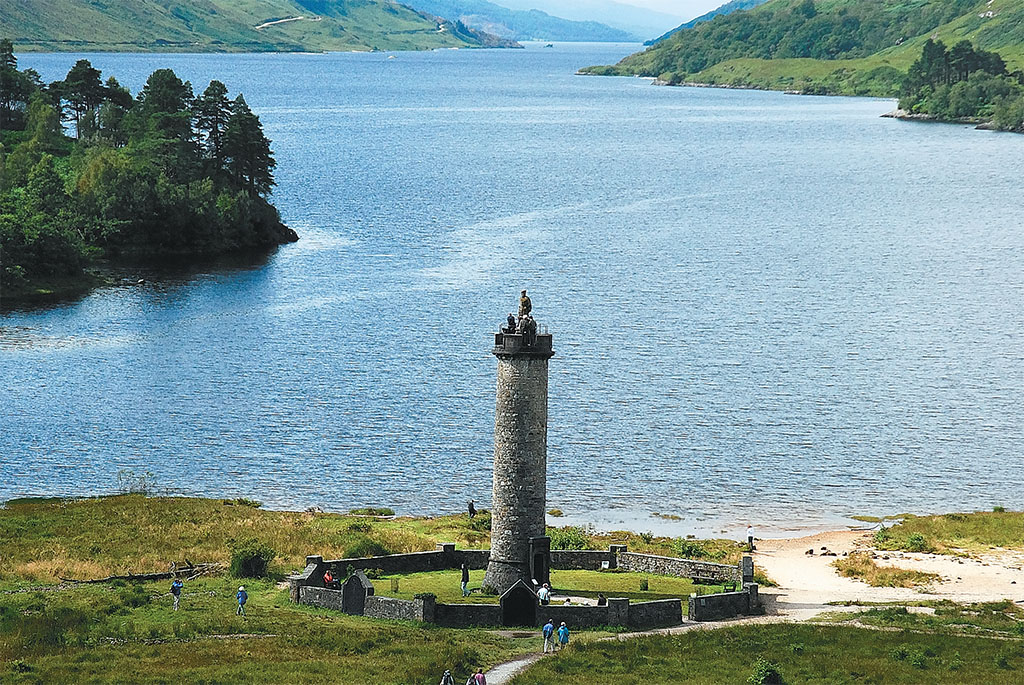 5
Skirting Fort William, I drive along the scenic and romantically named Road to the Isles. Two noteworthy stops are Loch nam Uamh and Glenfinnan, where a Victorian monument to Bonnie Prince Charlie and a distinctive viaduct dominate the landscape. The monument commemorates the prince's August 1745 arrival and welcome by the Camerons. His proclamation of his father as king and its tragic consequences are well presented in the Visitor Centre. Behind it, a short path leads up a knoll offering a stunning view down Loch Shiel and the viaduct, which Harry Potter fans will recognize from scenes involving the Hogwart's Express.
A few miles from Glenfinnan is Loch nam Uamh, a peaceful, islet-dotted sea loch. Here a cairn commemorates the prince's departure from Scotland in September 1746, to France and a life of exile and squalid alcoholism. But before arriving here, Charlie journeyed around Skye and the Western Isles of the Uists, Harris and Lewis.
Read more: Gateway to the Scottish heartland - River Tay
ON SKYE, A 50-MILE-LONG ISLAND composed of jagged mountains, heather moors and a fjord-like coastline, I enter the Gaelic-speaking world. Driving here is more interesting as the roads are mostly single track where the use of passing places is appreciated, and usually acknowledged by a friendly wave.
I find Portree, the island's principal town, a good place to experience Highland music, dance and games. Many bars have local singers entertaining appreciative audiences; a haunting Gaelic lament or a foot-stomping ballad is a good accompaniment to a whisky and conversation with new friends. Several hotels have regular evenings of traditional music and dancing know as ceilidhs, which are fun even for the rhythmically challenged. Serendipitously, my early August visit coincided with the Portree Highland Games, a fun celebration of traditional events such as piping, caber tossing and dancing.
Skye's population was ravished in the 18th century by the clearances, and last century by unemployment. Fortunately, tourism and an influx of artisans is reversing this decline. Artists are attracted by Skye's tranquility and the quality of its light—the Impressionists would have loved it here. Touring Skye's galleries, studios and other sites such as Dunvegan Castle—and tasting a tipple of fermented peat water at the Talisker Distillery—is a fine way to pass a day, or three.
One place not to miss is Kilmuir, with its Museum of Island Life and the imposing Flora MacDonald Memorial. The museum comprises seven thatched crofts filled with artifacts; the collection is so rich you might believe the crofters were comfortable and wealthy.
As the museum shows, however, theirs was a hard life, subject to the caprice of weather, tide, and landlord. A particularly interesting display traces Skye craft techniques into such places as Cape Breton, Kentucky, and the Carolinas.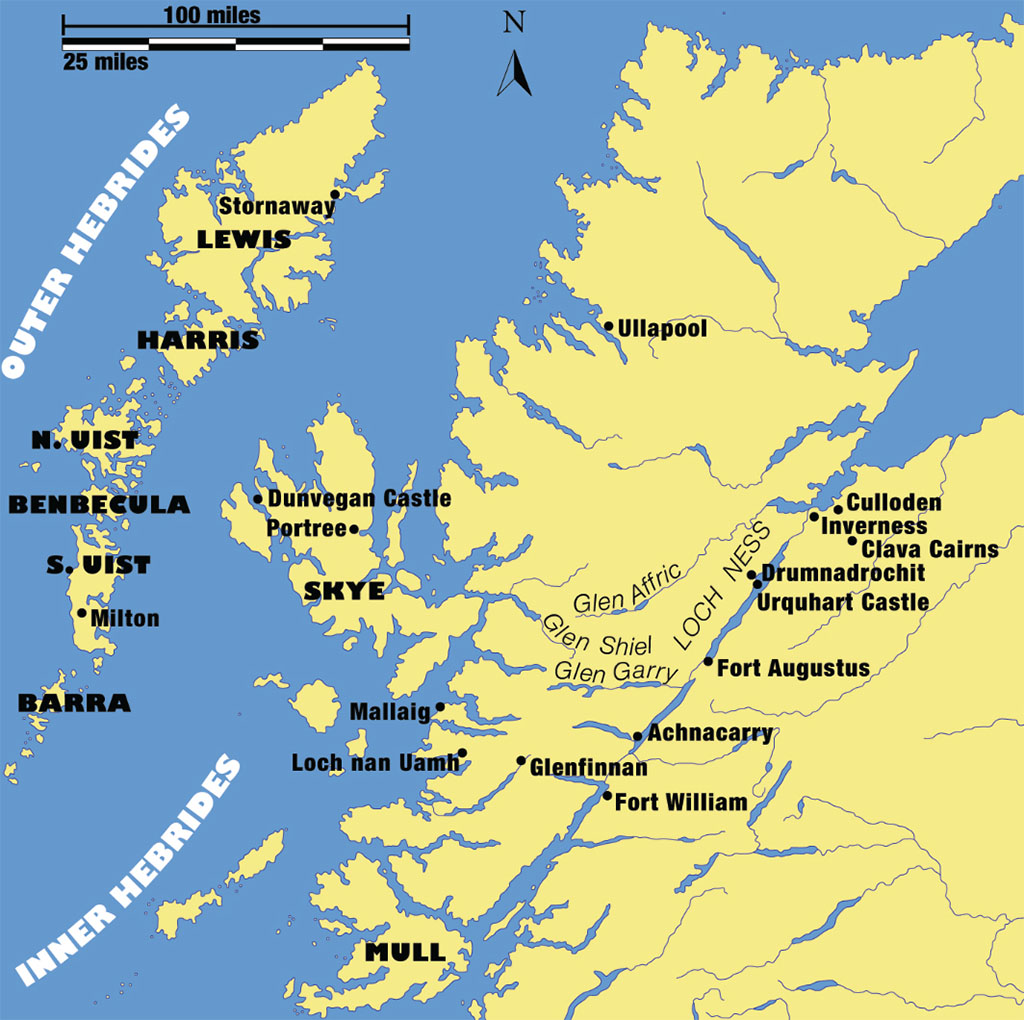 5
Flora MacDonald aided Prince Charles' escape by dressing him as her maid Betty Burke. For her role in this subterfuge, she was arrested and briefly jailed. After her release, she immigrated to North Carolina but returned to Skye after the American War of Independence. For her Jacobite loyalty, she was considered a heroine and supposedly more than 3,000 people attended her funeral in 1790.
The attractions of the Outer Hebrides are many: a slower pace of life, panoramic seascapes, turquoise bays, white beaches, good seafood, prodigious archaeology and Hebridian hospitality. The Hebrides are perfect for those who enjoy wild places and open spaces. Here you just have to marvel at how changes of light cause sublime variations in the landscape's appearance.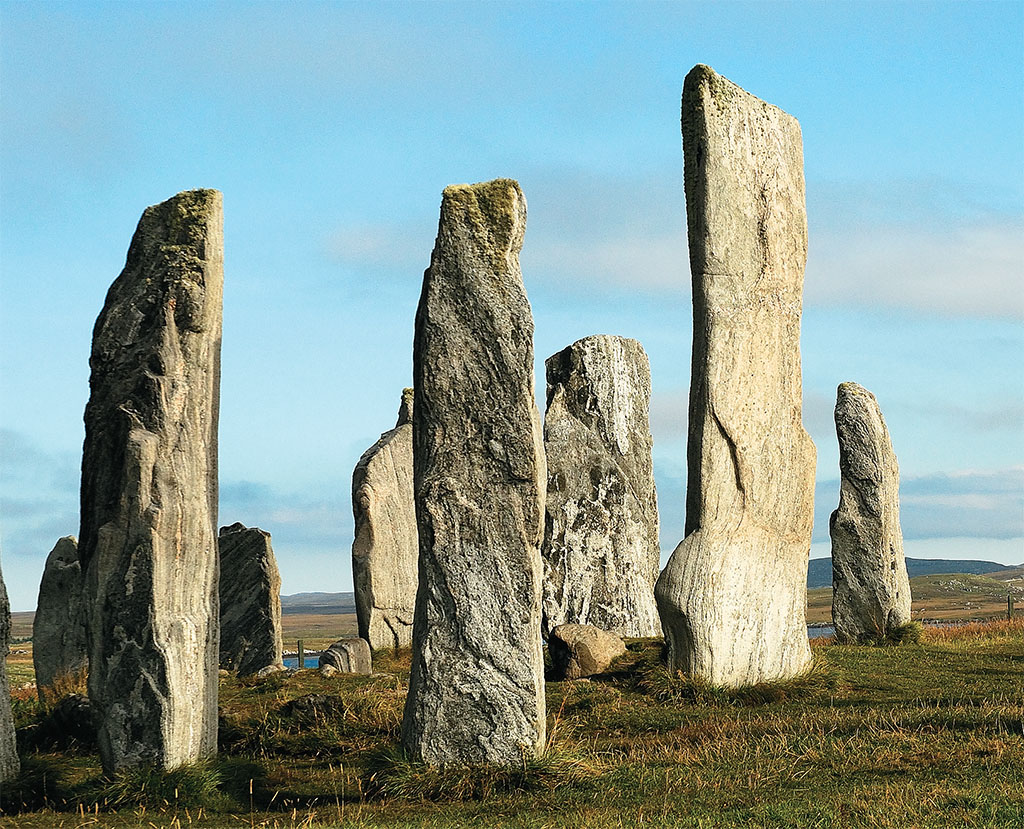 5
South Uist is 20 miles long and much of its western shore is machair, a unique Scottish habitat of grassland enriched by generations of crofters adding humus to shell sand and practicing crop rotation. In spring and summer the machair is a gloriously rich floral carpet. Man settled on the Hebrides about 7,000 years ago. At Clad Hallan, South Uist, shifting sand dunes recently exposed several roundhouses that you can now sit in and contemplate the fact that they were continuously occupied for about 900 years.
'THE HEBRIDES ARE PERFECT FOR THOSE WHO ENJOY WILD PLACES AND OPEN SPACES'
Flora MacDonald was born at Milton, South Uist, where her birthplace is marked by a simple cairn amidst the tumbled walls of old crofts. The nearby museum's exhibits strip away nostalgia and portray life as it was for many crofters: inherently poor and grim.
After he failed to find safe passage from Stornoway, Lewis, Bonnie Prince Charlie hid in Uist's coastal hills near Loch Uskavagh and eventually made his way back to Skye.
He was rowed across the Minch, a stretch of treacherous water between the two islands, and it was this eastward flight—not westward from mainland Scotland as is commonly thought—that is the origin of the song, "O'er the sea to Skye." His precise departure point from Uist is unknown.
THE ISLE OF HARRIS IS A RUGGED LANDSCAPE of bare mountains. Primitive man settled along the coast at beaches, like that at Seilebost, sweeping, wild swathes of white sand and botanically rich dunes. Modern man will find these are great places to walk and picnic.
Harris is famous for its tweed—a finely woven woolen cloth. The weaving is a cottage industry, and a drive along the eastern seaboard between Tarbet and Rodel leads me to several weavers' crofts where the looms still clang. The weavers welcome visitors, not only for the possible trade, but also for the company and to share their culture.
Several Harris weavers, such as Katherine Campbell, are islanders who left when they were young but have returned because they missed the island's quaint quality of life. I find one aspect of this quality can be a problem for visitors: The Sabbath is still for religious observance, and most businesses and secular places are closed. "I enjoy Sundays," Campbell tells me. "As a youth I didn't, but now it is a day of rest and family, fine values I think."
Lewis' Black House Village is a restored crofting community that emphasizes how the inhabitants struggled to survive in the early 1900s. Survival frequently meant that men left for the military or merchant navy, and women followed the annual herring migration, as far south as Great Yarmouth in England, working as gutters and packers. A striking feature about the houses here is their similarity to the Iron Age House at Bosta where the sweetly pungent peat smoke reveals how well insulated they are.
Lewis' outstanding visitor attraction is the Callanish Standing Stones: a central circle of 13 enormous stones approached along an avenue of another 19 stones. Walking freely amid this enigma I could truly appreciate the monoliths' sizes and textures and how their colors change with the light. The fact that modern mathematicians have calculated that the stones' placements coincide with the 18.6-year lunar cycle still fails to clarify their real purpose, which remains a mystery that enhances many a speculative conversation.
While Bonnie Prince Charlie failed to find safe passage from Stornoway, it's not a problem now. As I drive onto the Caledonian MacBrayne ferry to Ullapool, I can see a decal on the car in front of me: "Hebrides—been there, will be back"; not a bad sentiment to end a Highland and Island sojourn.
Read more: Scotland's mysterious Rosslyn Chapel
* Originally published in July 2016.