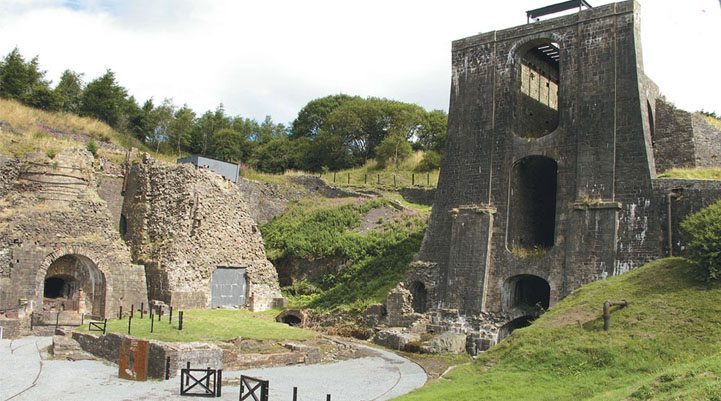 A trip along the Heads of the Valley road certainly unwraps a rich story, of visionary ironmasters and hard-grafting workers, who forged industrial, social and political revolution.
"The side of the mountain had dissolved into a single fire; a maze of individual furnaces that blended their flames into an orbit, and along the flaming rim of the cauldron the stone cottages of the workers withered and shrank into strange shapes."
So wrote Alexander Cordell in Rape of the Fair Country, his compelling best-selling 1959 novel about 19th-century ironworking in South Wales. It's a picture of a turbulent time, and the drama is recounted at historic attractions around the area: Blaenavon World Heritage Site and ironmasters' homes at Cyfarthfa Castle and Bedwellty House are just three that make an easy tour from the "Heads of the Valley" A465 road leading west from Abergavenny.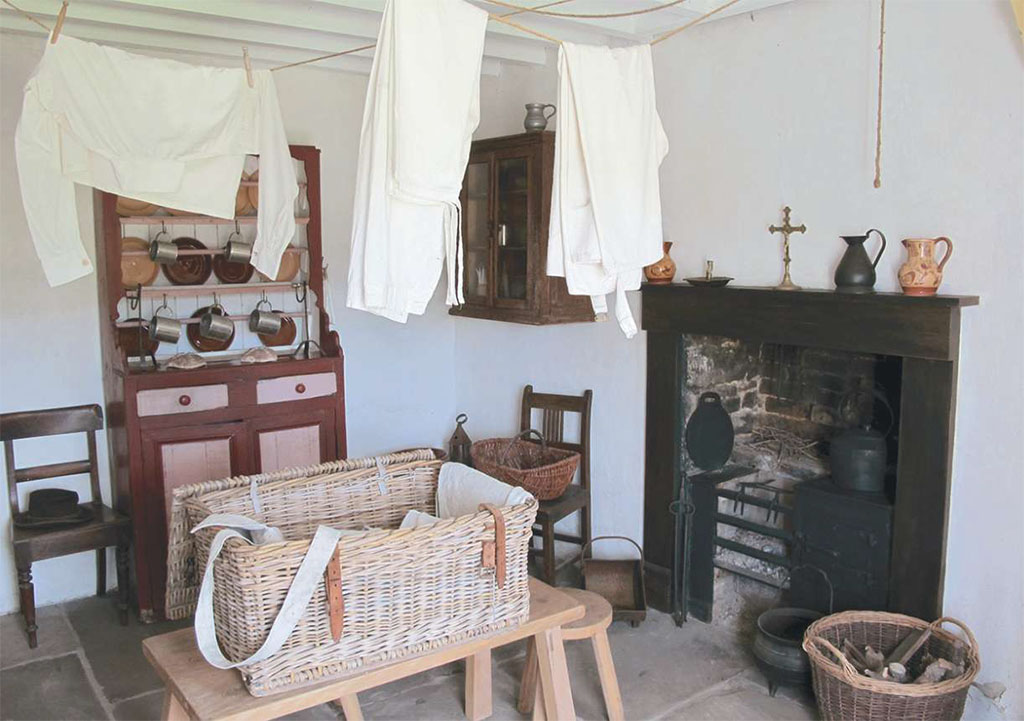 6
Until the mid-18th century, this upland strip where the coalfield meets the mountains and moorlands of the Brecon Beacons was home to only a scatter of folks. By the 1840s, 150,000 people had flocked there, lured by jobs in the ravenous new collieries and ironworks that leaped to the forefront of global coal, iron, and steel production.
Lives and landscapes were transformed: By 1851, more Welsh people were employed in industry than agriculture, giving Wales a claim to be the first-ever industrial nation. But while storming change made fortunes for some, it brought squalor for many, creating "them and us" divisions from which swelled a social and political activism that shapes South Wales to this day.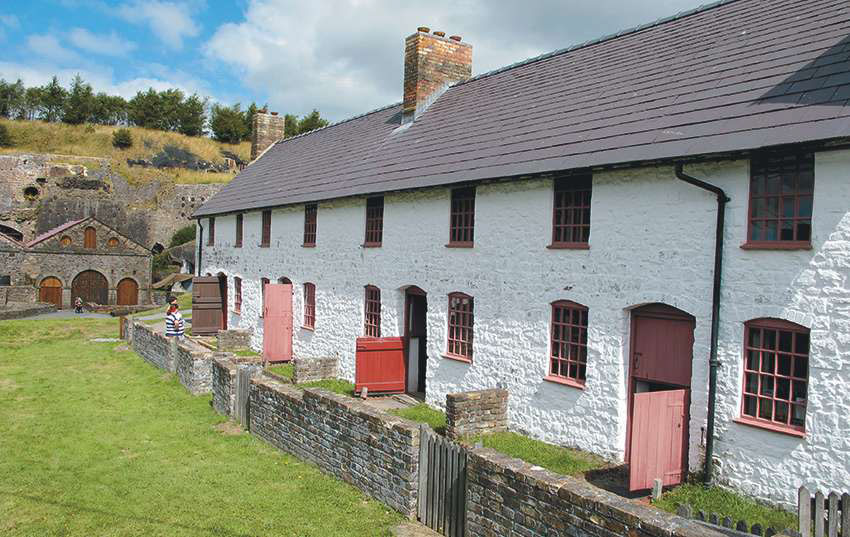 6
Iron was the key material of the Industrial Revolution, for engines, ships, and railway lines. The pioneers who set up in South Wales found there all the natural resources—coal, limestone, and iron ore—needed to produce it. They plundered with mines and quarries and built horse-drawn railways and canals to transport their goods. Houses were thrown up and raw new communities jostled around pub and chapel. You'll find all these elements at Blaenavon World Heritage Site, spreading below the Heads of the Valley road with a panoramic swoop over the Blorenge Mountain.
First, visit Blaenavon Ironworks, the world's most advanced ironworks when it opened in 1789. Hulking remains of furnaces, chimneys, and cast house confront you with the gigantic scale of operations, all glowered over by the monstrous-magnificent balance tower that, powered by the weight of water, lifted wagons 80 feet to the upper yard. Rare surviving workers' cottages, crowded around a now-vanished chimney, are popular for period TV and re-enactments. When I visited, World War II "Tommies" were depicting "a Welsh town at war."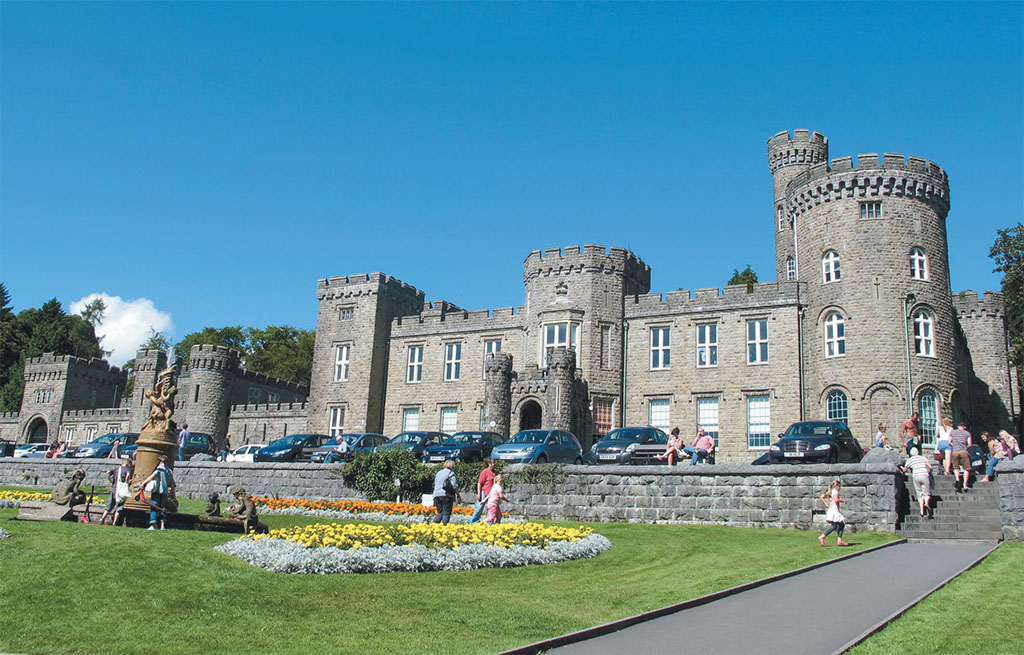 6
Setting aside any such incongruities, a guidebook from visitor reception in the former ironworks' pay office will give you all the back story you need about the ironworks and the latest technology it used.
The three Midlands businessmen—Thomas Hill, Thomas Hopkins, and Benjamin Pratt—who set up at Blaenavon were quintessential ironmasters, quick to spot the potential of local mineral resources and gutsy enough to risk breathtaking investment. It paid off big time; pig iron that had been in demand to cast cannonballs and weaponry for the American War of Independence was again required for the Napoleonic wars with France (1792–1815) and increasingly for iron rails.
Displays in the lime-washed workers' cottages tell another side of the story. Homes on Engine Row were built in 1788 to attract skilled workers to the barren moorland and, though small to modern eyes and with no water supply, were perfectly des res at the time with downstairs parlor and bedroom, and two bedrooms upstairs.
A second cottage, as occupied by a lower-paid laborer in 1840, is rather more miserable: Eight or nine people squeezed in here, with only basic furnishings like a mattress on the floorboards. Government reports from 1842 reveal that 185 children under the age of 13 worked 12-hour shifts at the ironworks to help families eke a living. Typical was 10-year-old Thomas Macarthy who pushed barrows to the top of the furnace; he wore a home-made truss for a rupture and his father is quoted saying, "The little chap does very well now." Accidents from fire and falling were not uncommon.
The lot of workers is given further color in the Truck Shop, the company shop that supplied food, clothing, and other essentials. The "truck system" by which workers were paid in tokens redeemable only at these overpriced outlets was a cause of huge resentment.
Yet despite everything, iron and coal towns offered workers higher wages and hopes than the poverty of agricultural or domestic labor, and so they flooded in. Blaenavon Heritage Town, just down the road, reached a peak of 13,000 inhabitants. Some ironmasters at least wanted to better the lives of their workers and families: See St. Peter's Church, a gift to the town from ironmaster Thomas Hill and his nephew Samuel Hopkins in 1805. Next door is St. Peter's School (now the World Heritage Centre with exhibition and café) built with money donated by Samuel's sister in his memory in 1816 to provide an education to workers' children.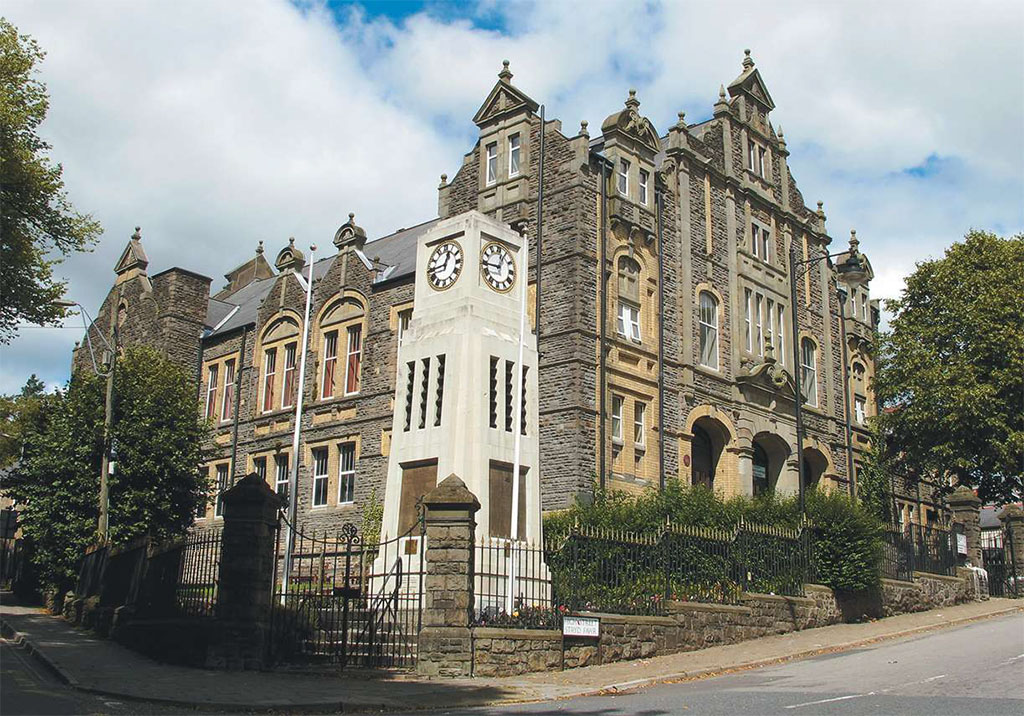 6
Today, Blaenavon is a town rediscovering its way, but a sense of the strong community created by its ironworkers is still apparent in pubs, chapels, and churches. The magnificent Workmen's Hall of 1895, built by contributions from iron and coal workers to provide a social and educational hub, represents a high point of their aspirations.
There's much more to see around the World Heritage Site—underground tours at Big Pit: National Coal Museum, walks on the Iron Mountain Trail, a dally beside the Monmouthshire and Brecon Canal built in 1812 to carry Blaenavon iron. Or continue on west along the Heads of the Valley road for Cyfarthfa Castle on the outskirts of Merthyr Tydfil.
This swaggering castellated mansion was built by the Crawshay dynasty, dominant partners in Cyfarthfa Ironworks, which employed more than 2,000 men at its high point in 1847. There were four major ironworks in Merthyr, the Iron Capital of the World, and their story (alongside the Penydarren locomotive 1804, the world's first steam railway locomotive) is told in the castle.
Morning Room, Dining Room, and Red Drawing Room: All conjure the social whirl of "upstairs" life. Go down into the former wine cellars, and exhibitions take up the tale of the workers—of unsanitary living conditions, cholera, and typhoid epidemics, and pay cuts when iron markets suffered periodic slumps.
Unrest erupted in the Merthyr Rising of 1831, during which troops were deployed to restore order. Twenty civilians were killed and a further 70 injured, and local man Dic Penderyn, undoubtedly a scapegoat, was hanged. The events became a symbol of working-class struggle, and thereafter unions and friendly societies flourished; story panels unfold Merthyr's later political history and its return of the first-ever Labour Member of Parliament, James Keir Hardie, in 1900.
These days you get the feeling of the citadel having been stormed as people enjoy scones in the tearoom, wander the park or fish in the lake that once fed water to the ironworks. It's a feeling that's even stronger at Bedwellty House and Park, a few miles back along the Heads of the Valley road and down to Tredegar.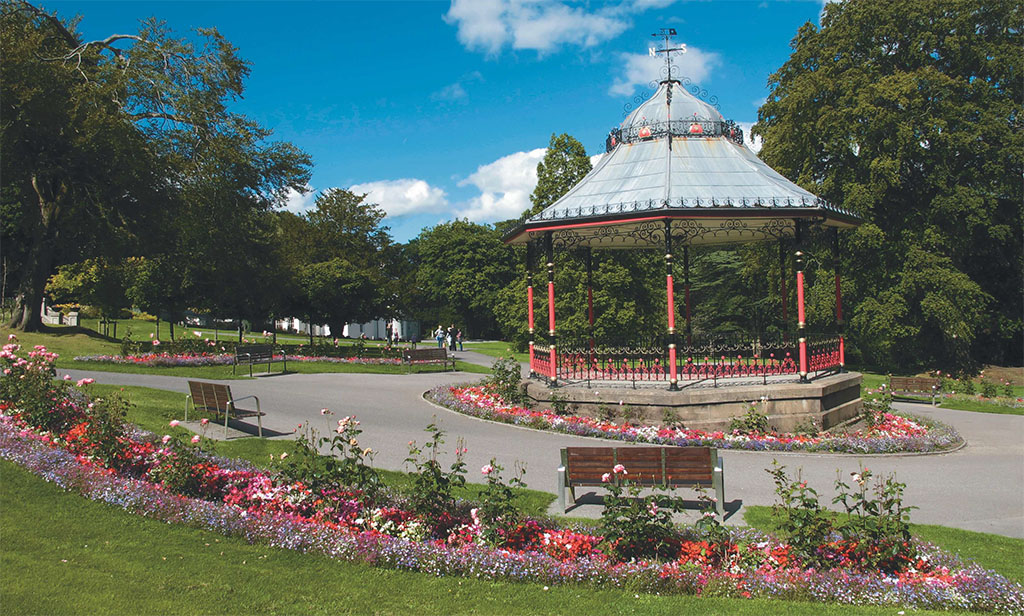 6
When the Regency villa was built in 1839, to keep the Homfray family who co-founded Tredegar Ironworks in fine style, the town was also re-planned so that the main street runs straight into the park. Naturally, townsfolk were excluded from entry. Information panels around the house tell a familiar story, of the sudden influx of workers, unrest and social problems, and how Tredegar became a hotbed for the Labour movement. After Tredegar Iron and Coal Company ceased in 1900, Lord Tredegar gifted Bedwellty House and the parkland to the townsfolk, and they transformed it into a still-popular recreational amenity with seating and bandstand.
Tredegar Town Council has its chamber in the Bedwellty House and a film recounts how Aneurin Bevan, the architect of the National Health Service introduced by the Labour Government of 1945, began his political career here. Inspired by Tredegar's Medical Aid Society, a community health service that had been established by workers and the iron company in 1890, Bevan declared to the rest of Britain: "We are going to Tredegarise you."
As technology changed, Blaenavon, Merthyr, and Tredegar lost their competitive edge. The eclipse of ironworks and later coal left a huge void and much deprivation, but also a legacy now recognized to have increasing currency in modern tourism.
* Originally published in March 2014.