From Shakespeare to Conan Doyle, this southern county has known the poets and storytellers of England's past.
In Hampshire County, rolling wooded hills preside over a rich agricultural landscape punctuated by picturesque villages. It is essentially a rural county, where stately homes and bustling market towns reflect the land's fecundity. For centuries Hampshire also has been fertile soil for many of England's greatest writers: Austen, Dickens, Trollope, Keats, and Conan Doyle, to name a few. Today its meandering byways invite the visitor on a literary sojourn to locales associated with these celebrated authors.
Given the county's size and numerous places to visit, it is difficult to know where to begin, though a reasonable starting place would be the tiny hamlet of East Worldham near the market town of Alton. The name derives from Anglo-Saxon Wae-hyll-ham, which translates as Waterhill Village. On top of the hill is St. Mary the Virgin, a 12th-century church constructed over Roman foundations. Entering the church, it is worth looking for medieval graffiti in the form of sword scratch marks left by pilgrim knights.
Those knights are a clue to the church's literary associations. In the south aisle's wall, there is a funereal effigy of Phillipa, wife of Geoffrey Chaucer. Their son, Thomas, was lord of the manor here from 1418 to 1434, and the church was on the Pilgrim's Way from Winchester to Canterbury. Whether Chaucer drew on any characters or events here for his Canterbury Tales is a matter of conjecture. Certainly, the pilgrims visiting East Worldham were not as richly attired as Chaucer's characters; most pilgrims simply carried the scriptures, a staff, and a blanket.
A few miles south of East Worldham is Selborne, a place of pilgrimage for lovers of natural history. This village of thatched cottages was home to 18th-century naturalist Gilbert White, whose observations were collated into The Natural History and Antiquities of Selbourne in 1789, a very popular book reputedly surpassed in sales only by the Bible, the Oxford English Dictionary and Charles Darwin's The Origin of Species, published in 1859. White's work, still in print, shifted natural history from a subject of academic conjecture to empirical science.
Gilbert White lived in "The Wakes," a country house with gardens designed by him. Now it is a museum dedicated to White and Captain Lawrence Oates, a polar explorer who died on Robert F. Scott's fateful expedition to the South Pole. The museum's rooms have been restored to their appearance in White's time and include various artifacts from his life.
For many, the real pleasure in Selborne is to walk in White's footsteps around the garden, the village and up Selborne Hangar (a chalk hill capped by beech woods). Arriving at the Hangar via the zigzag path, visitors are struck by both the view and the path's handiwork.
White's simple grave in St. Mary's churchyard is encrusted with lichens that almost obliterate his name, an ecological succession that he'd probably approve. Inside the church, two stunningly simple stained-glass windows, both redolent with wildlife images, honor White; one was erected in 1920 and another in 1993, to commemorate the bicentenaries of his birth and death.
Near Selborne is Steep, a village that was home to the World War I poet Edward Thomas. Around Steep there are many walks associated with Thomas. For the energetically inclined there is a walk up the intriguingly named Shoulder of Mutton Hill; upon arriving at Thomas' memorial stone the walker can empathize with lines in his poem, "When First I Came Here":
"Fast beat/My heart at the sight of the tall slope…" The narrator unfortunately was too breathless to relate the magnificent view that is the hiker's reward. Less energetic visitors can enjoy in All Saints Church two lancet windows whose panes have exquisitely fine etchings, which appear to move in the changing natural light. They are a wonderful commemoration of Thomas'poetic imagery.
From Steep, the literary route makes for Portsmouth, but detours down country lanes to Hawksley, Droxford and Butser Hill are worthwhile. Respectively these places are associated with William Cobbett, Izaac Walton and Charles Dickens. Cobbett owned several Hampshire farms, and much of his Rural Rides is set in Hampshire where he had gained personal experience of the farm workers'terrible living conditions. At Butser Hill, Dickens'Nicholas Nickleby and Smike join Mr. Crummels'theatrical company.
Portsmouth has associations with Jane Austen, Charles Dickens, Daniel Defoe and Arthur Conan Doyle. Unfortunately, World War II bombing destroyed most of these connections. One outstanding exception is 393 Commercial Rd., where in a four-poster bed on the third floor on February 7, 1812, Charles Dickens was born.
The house, in a peaceful cul de sac, is now a small museum furnished in an early 19th-century style that reflects Dickens' parents' comparative, though brief, affluence. Charles Dickens'father was a well-paid clerk in the Navy Pay Office, but also a spendthrift—a habit that condemned the family to years of financial hardship and the harsh realities of impoverishment in early 19th-century England. These included debtor's prison, the poor house and the employment of Dickens in factories that notoriously exploited child labor, and became persistent themes in his writings.
Among the artifacts in the museum's possession are the elegant four-poster Georgian bed, the couch on which Dickens died in 1870 and numerous contemporary trinkets used to market his literary success. (Interesting comparisons with current marketing strategies of popular authors is unavoidable.) Entry to the museum is through the original kitchen and servants' quarters (his parents employed two servants), where it is easy to be distracted by current Dickens souvenirs that have replaced orderly rows of plates on an authentic built-in dresser. It is a fine example of a Georgian fitted kitchen.
From Portsmouth, it is a short distance to Titchfield Abbey. Following the dissolution of the monasteries, Titchfield Abbey was given to the first Earl of Southampton. The third Earl, Henry Wriothesley, was a patron of William Shakespeare's. In Wriothesley's dining room, guests would have been lavishly dined and then entertained, possibly with the first performance of Shakespeare's As You Like It.
Despite its name, the New Forest is one of England's most ancient woodlands. William the Conqueror applied the appellation "new" when he declared the woods to be his new hunting ground. Within the area's forests and heaths, many authors have lived and found inspiration, including Austen, W.H. Hudson, Captain Frederick Marryat, and Sir Arthur Conan Doyle.
Several authors have used Buckler's Hard as a location, now a tastefully preserved 18th-century shipbuilding village where Lord Horatio Nelson's ship Agamemnon was built. Jane Austen, with family and friends, took pleasure cruises from Southampton to Buckler's Hard while en route to social events at Beaulieu.
Today, Buckler's Hard is a quiet haven. Sixty years ago, however, the waters were filled with landing craft, Mulberry Harbors, and other paraphernalia of war being readied for D-Day's Operation Overlord. Kingsley Amis and Nevil Shute were stationed there and involved in those preparations. Shute uses the setting in several of his stories, particularly in the poignant Requiem for a Wren. The story's heroine is stationed at HMS Mastadon in Exbury. "Mastadon" was the code name for Exbury House, which is affectionately referred to as the "stone frigate."
Before leaving the New Forest, Sherlock Holmes aficionados must visit Minstead's All Saints Church where, below an oak tree, Conan Doyle is buried. A devoted spiritualist, his presence in the churchyard is a minor embarrassment to the church. As a compromise, he was buried near the church's boundary. Curiously, lightning has twice struck the oak tree; divine displeasure perhaps?
Eventually, Hampshire's literary roads lead to Winchester, John Keats' "exceeding pleasant town." Literary explorations might start at the Hospital of St. Cross and Almshouses of Noble Poverty. Built in 1132, the almshouses provided shelter for 13 poor men; today they provide a home for 25 men. The tradition of giving a ration of ale and bread to wayfarers is still maintained upon request. Ralph Waldo Emerson was unimpressed by the parsimonious ration.
Anthony Trollope, who attended Winchester School, knew of the St. Cross Hospital, and it is probably the basis for his novel The Warden. Historically, the men of "noble poverty" included one John Watson, M.D., who practiced in India. Conan Doyle, as a doctor in Winchester, often visited St. Cross and possibly took this name for the chronicler and companion of Sherlock Holmes.
Keats frequently walked from St. Cross to Winchester. The path follows the River Itchen to Winchester Cathedral. Following this path in the fall has a particular piquancy as it inspired Keats' "Ode to Autumn. "In Winchester, a minor detour passes the house, now a private residence, where Jane Austen died.
Within Winchester Cathedral, Keats paced the great nave reading and composing letters to his lover Fanny Brawne. In the appropriately named Fishermen's Apostle Chapel, Izaac Walton is buried. A commemorative window depicts The Compleat Angler's author quietly reading by a river. The cathedral is synonymous with Jane Austen's grave, which curiously makes no mention of her literary genius. Her memorial window, though, is full of allegorical references to writing.
The literary trail continues north to Wherwell, a pretty village by the River Test. Walton, unsurprisingly, fished there, and W.H. Hudson used neighboring Harewood Forest as the setting for his story "Dead Man's Plack" and in his Hampshire Days.
At Kingsclere, the route comes onto chalk downland, the setting for Richard Adams' Watership Down. A stroll along the escarpment is always rewarding, with good views into the Thames Valley. Rabbits will certainly be seen.
The route turns southeast to places associated with Jane Austen. At the end of a narrow lane in Steventon is St. Nicholas Church where Austen's father was rector for 25 years. Austen was born in the rectory, now destroyed, in December 1775. Here she wrote Northanger Abbey, Sense and Sensibility and Pride, and Prejudice, though they were not published until much later. Much of her incisive social writing was gleaned from her full social life that included dancing at many large houses in the neighborhood, such as The Vyne. The Austens' associations with the church are marked by the unusual weather vane, a quill pen, and the family graves.
In 1801 the Austens moved to Bath and then in 1806 to Southampton. This was a sterile time for Jane Austen's writing, though within the social milieu of those cities she was making pertinent observations for her novels. In 1809 Austen, her mother, sister Cassandra and friend Martha Lloyd moved to Chawton. From the beginning, Austen was happy at Chawton, writing:
Our Chawton home,
How much we find, Already in it, to our mind;
And how convinced that when complete
It will our other houses beat.
Within this contentment, she quickly revised Sense and Sensibility and Pride and Prejudice and obtained her first literary success.
Austen and her sister Cassandra both enjoyed walking, and it is pleasant to follow in their footsteps. They were particularly fond of a walk into Farringdon, an easy stroll that can be extended to Gilbert White's Selborne, bringing the tour of Hampshire's rich literary heritage full circle. Most visitors to Chawton, though, are content to walk to the local church, St. Nicholas, wherein a quiet corner of the yew-studded churchyard Austen's mother and sister are buried.
In the neighborhood 
Among the myriad delights of Hampshire is the 90,000-acre New Forest, given its name Nova Foresta by William the Conqueror. The NEW FOREST MUSEUM AND VISITORS CENTRE in Lyndhurst ("Capital of the New Forest") offers a short audiovisual show that leads to displays on forest management, native flora and fauna, traditional livelihoods, local history and the ancient rights of forest dwellers. The right of pannage, for example, allows a cottager to turn pigs loose in the autumn, to fatten during winter on the abundant acorns from New Forest oak.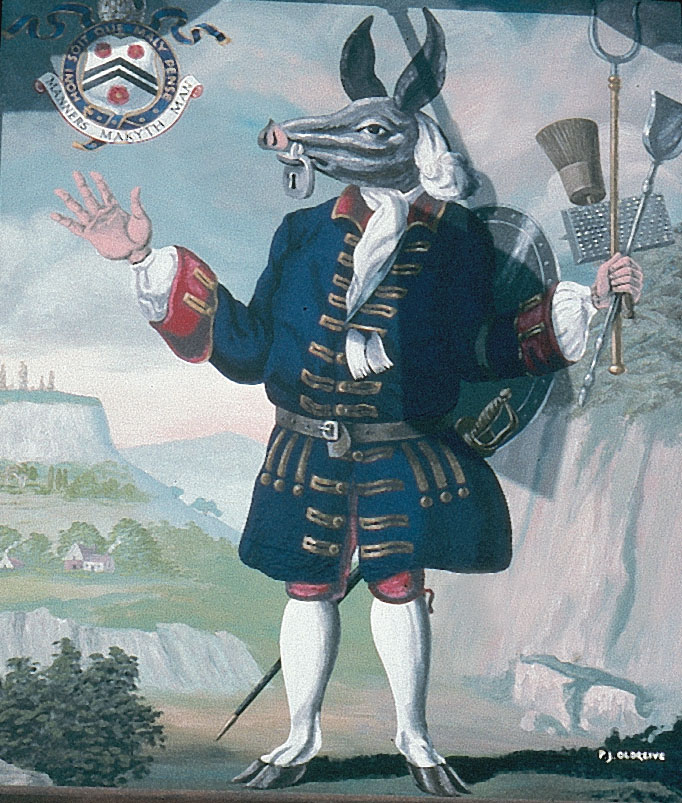 2
In Minstead, a tiny village in the heart of the New Forest, the
TRUSTY SERVANT
is a famous old public house with an unusual sign that belies the genial simplicity of the pub's name. It depicts a man with a pig's snout, the ears of an ass and the feet of a stag, and a16 th-century saying believed to have originated from Winchester College in the days when pupils there had personal servants:
A Trusty Servant's portrait would you see This Emblematic Figure well survey The Porker's Snout not nice in diet shows The Padlock shut no secrets he'll disclose Patient the Ass his Master's wrath will bear Swiftness in errand the Staggs feet declare Loaded his Left hand apt to labour saith The Vest his neatness Open hand his faith Girt with his Sword his Shield upon his arm Himself and master he'll protect from harm.
Get the picture? And the pub food is reckoned quite good.
* Originally published in July 2005.