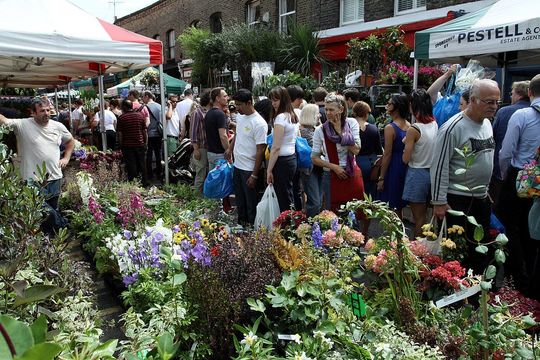 London city's markets date back to Roman times and today's markets filled with energy surrounded by wonderful architecture and bountiful with treasures will not disappoint.
I've loved sharing some of London's quirkiest small museums over the past few months. I'm nowhere near even describing half of them to you but I figured a pause might sharpen our appetites for more history, and what better than a little retail therapy?
Leadenhall Market
London has had markets since Roman times – one, selling imported goods like olive oil and garum (fish) sauce, was held a stone's throw from where the glorious Leadenhall Market now stands. But markets move, change function, wax and wane over the years. You won't find many barrows on Cheapside anymore, for instance, the road literally synonymous with London's medieval street-sellers (named after the Saxon word "ceap" or "market"). Likewise, the aforementioned Leadenhall Market, so beautifully built in Victorian High-Gothic style it stood in for Harry Potter's Diagon Alley, is far too smart for a market anymore. You'll more likely find a fancy fountain pen or a vintage wine there now.
Covent Garden Market
The Eliza Doolittles of this world departed old Covent Garden Market more than 40 years ago, and even the antique/craft stalls that replaced her are now reduced to a token few. The mighty chain stores outnumber independents now. The Jubilee Market Hall, slightly to the south of the square, still has stalls and is worth a browse.
The Clocktower Market
Stalls used to sprawl across a massive part of central Greenwich, my own, local town. There are now just three sites. The Clocktower Market, next to the Picturehouse cinema, operates at weekends, selling second-hand goods, while a small cluster of stalls opposite the Mitre pub sell a range of oddities I've never quite worked out. The main, Regency-style, covered Greenwich Market mainly sells crafts and street food these days, but there are still antique stalls on Thursdays and Fridays.
Columbia Road Market
Columbia Road Market, in London's now super-fashionable East End, clings to the edge of the City, a cough and a spit from Spitalfields and Brick Lane (both of which have markets of their own). Every Sunday the street, a shortish walk from Hoxton Overground station, is transformed into a garden of flowers, exotic and homespun, cheap and cheerful, expensive and elegant. Noisy, friendly, and tuneful - it's a favourite haunt for buskers – it's certainly the best smelling market in London.
In Victorian times, the market was housed in a purpose-built hall, but the locals never took to it and it was demolished in 1960.  Traders used to bring plants from local market gardens by handcart and sell them on to individuals and florist shops. These days they arrive by van, from much further afield but the sheer variety and quality can't be matched.  The market has changed but has managed to ride with the times instead of being taken over by them. Here the chain stores are, for the moment at least, held back by over 60 independent shops: art galleries, vintage clothes emporia, antique stores, delis, cafés, and enough cupcake shops to supply a tea party at Buckingham Palace. For the best selection turn up around 8am; grab last-minute bargains between 2-3pm as traders sell off their perishable stock.
Petticoat Lane Market
It used to be said of Wentworth and Middlesex Streets' famous market that you could have your underskirt stolen at one end and sold back to you at the other. Petticoat Lane Market, close to Liverpool Street station, has cleaned up its act these days and although it doesn't have quite the colour of previous days – you'll no longer see barrow-boys juggling entire sets of crockery – it still has energy others have lost. It dates back to the 17th century as a textiles and clothing market, often selling very cheap or second-hand, reflecting the poverty of the area. Respectable Victorian types avoided the area – this was, after all, the haunt of criminals, gangs - even Jack the
Ripper – and they changed the street name in the late 19th century, allegedly so they didn't have to mention underwear.
The best day to catch it is Sunday (9.00am-2.00pm) where you'll still find clothing, toys, electronic goods and bric-a-brac. A smaller version is held Monday to Friday.
Portobello Road Market
Portobello Road Market, a ten-minute walk from Notting Hill tube, has to be the most famous antiques market in the world. It's so smart these days it's hard to imagine that as recently as 1970s Notting Hill was a poor area - but it was well-connected. In the 1940s 'rag and bone' men congregated there to sell their wares, picked up from the wealthy streets of Kensington and Chelsea. One resident's junk was another purchaser's antique and word got around that this was the place to find bargains. The area started to become fashionable in the 1980s and the quality of the antiques improved as expert dealers arrived. Today it's a great place to browse (the market is divided up into areas specialising in different goods, from fruit and vegetables to the famous antiques). It's open Monday to Saturday from 9.00am – 6.00pm, with late trading to 7.00pm on Fridays and Saturdays, also the best days for finding antiques. Saturday is the day when everything is in its fullest swing. Thursdays are "half-market" days and close at 1.00pm.
Camden Market
Located in north-central London, not far from the tip-top of Regents Park, Camden Market is the relative new kid on the market block. It's actually a series of several, slightly different markets, at their busiest on weekends.
Camden Lock, up where Regents' Canal (also celebrating this year, its 200th anniversary) changes depth no fewer than three times, is filled with crafts, antiques and vintage stalls. It has been a mecca for young people for the past 45 years; the place that took over from Carnaby Street. After the flower-power of the 1960s, this was where the new cool cats went and it was, if not the birthplace, at least the cradle of British punk rock.  It is still home to the world-famous Dingwalls music venue. Up the road, the even-more-famous Roundhouse also brings in big names.
Buck Street Market
About 200 stalls make the maze of tiny alleyways called Buck Street Market. Here you'll find cheap t-shirts, jeans, costume jewellery and strange hats.  The Stables were once exactly that – stables for the horses used in the gigantic Camden Goods Market. This one's great if it's raining as it's mainly covered. About 700 tiny shops sell alternative fashion, vintage clothing, furniture, jewellery and fancy goods. The food stalls just outside ensure no one goes hungry. It's a toss-up whether Camden Road or Chalk Farm tube stations are best.
Walthamstow Market
Finally, a shout for one of the least-glamorous street markets in London, but possibly, as a keen dressmaker, my favourite. Walthamstow Market, at the very northern end of the Victoria Line, is the longest outdoor market in Europe. It is also fantastic for cheap fabric.
There are a few fabric/haberdashery stalls on the market itself but, even better, there are about 20 superb textile shops lining the street, each tiny but packed to the ceiling. The further downhill you get the cheaper the material becomes, until you're looking at £1 a metre for some. There are also two excellent haberdashery shops – one is beautifully laid out; the other an Aladdin's cave you have to sift through to find anything at all. Both are ridiculously cheap. Happy bargain hunting!