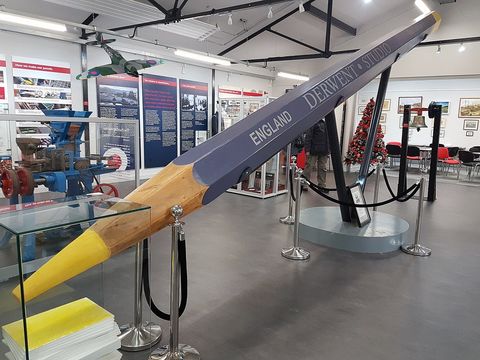 Look outside the Victoria & Albert and The British Museum to some of England's quirkier museums and you may be very surprised by what you discover. Here are eight of Britain's most underrated museums.
The British Museum, the Ashmolean, the National Museum of Scotland: All world-famous institutions that rightly sit atop most visitor itineraries. A host of smaller museums, however, reside just off the beaten path. Look away from the prestigious museums we know and love and you'll find a myriad of private and independent museums with curators just as caring and passionate.
Often stemming from private collections, these museums usually focus on niche subjects and interests. Some are quirky, others downright bizarre.
They may not be the primary destination of choice to any apart from the specialist collector, but if you happen to find yourself in the area, you can spend a surprisingly informative and entertaining hour or two browsing through these eclectic collections. Who knows, you may even leave with a newfound passion for lawnmowers or bubblecars!
Fan Museum London
13
Find yourself in Greenwich and chances are you'll be heading to the National Maritime Museum, Royal Observatory, or Cutty Sark. Tucked away on the corner of Greenwich Park is a much less famous establishment, but one that is equally interesting. The Fan Museum celebrates the history of, well, fans. These are not just functional objects with which to keep cool; fan makers have made their trade into an art form for at least 3,000 years. That makes the nearby 150-year-old ship seem positively modern.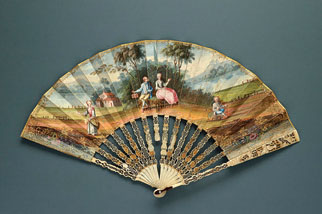 13
The Fan Museum's own extensive collection ranges as far back as the 12th century. Highlights are an exquisitely detailed fan depicting the 20th birthday celebrations of Louis the Grand Dauphin dating to the end of the 17th century and a fan-shaped painting by Paul Gauguin, showing how fans inspired Impressionists and post-Impressionists alike. After your visit, take a seat in the Orangery and enjoy a cup of tea, scones, and cakes—at just £8 per person, it has to be London's best value afternoon tea.
For more information visit thefanmuseum.org.uk.
Morpeth Chantry Bagpipe Museum, Northumberland
13
Bagpipes may provide the soundtrack of the Scottish Highlands, but the best museum dedicated to the fiendishly difficult instrument is located over the border in the lands of the Auld Enemy. Here you'll discover that there are actually many variants of bagpipes, including the local Northumbrian small pipes. You can compare 150 sets from around the world, most of which were collected or constructed by clockmaker William Alfred Cocks. It's also free to visit, a rare thing in the world of small, independent museums.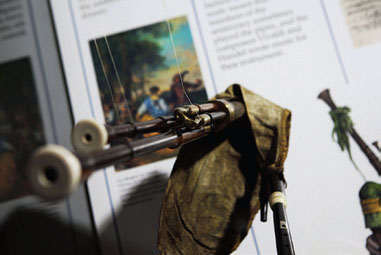 13
Even if you don't enjoy the skirl o' the pipes, you may find something of interest in the building itself. The collection is housed on the upper floor of a medieval chapel that has as fascinating a history as the bagpipes. Having survived the ravages of Henry VIII and, his Reformation, it subsequently became a grammar school, cholera hospital and factory before housing the museum and the town's tourist information and craft center.
For more information visit morpethbagpipemuseum.org.uk
Dog Collar Museum, Kent
13
Here's another niche museum housed in an impressive medieval setting. Leeds Castle is a must-do destination for anyone in the Maidstone area, a residence favored by Edward I and Catherine of Aragon among others. But don't pass by the door of the Dog Collar Museum as you chase the royal history. Those who do, don't know what they are missing.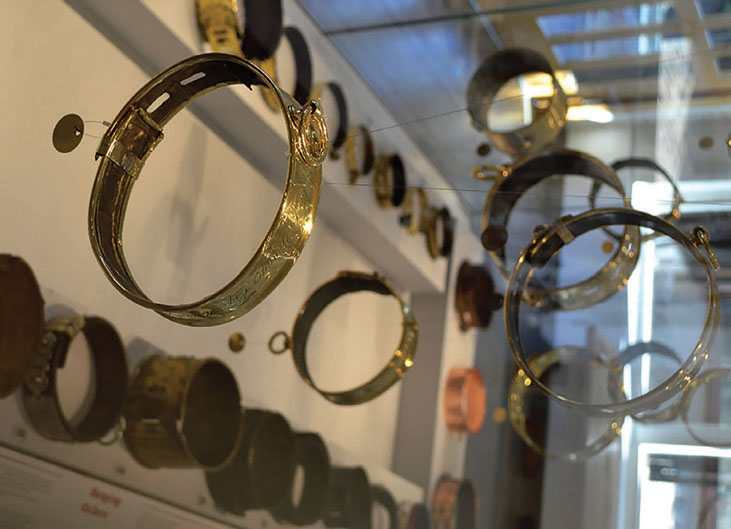 13
With more than 130 collars on display, this quirky canine collection takes visitors through the surprisingly engrossing history of dog ownership over the past 500 years. Although we might now think of dog collars as a functional item to attach a leash to, the earliest item in the collection is an imposing piece of spiked armor designed to protect hunting dogs from bears and wolves. A few centuries later, pampered pooches were being blinged up with ornate silver decorative bands. However, don't take your own four-legged friend—dogs are not allowed in.
For more information visit leeds-castle.com/attractions
British Lawnmower Museum, Merseyside

13
Whether cutting the grass is a chore you dread or you strive to put perfect stripes on your home turf, the Lawnmower Museum provides an interesting and informative hour on horticultural history. The first lawnmower was actually designed to trim cloth in a textile mill and, when the inventor tried to use it to cut grass, he had to experiment at night in case people thought him a little mad! Some 200 years later, the Lawnmower Museum holds many examples of Victorian and Edwardian machines.
The galleries include lawnmowers of the rich and famous, including one owned by Charles and Diana (though whether they themselves actually pushed it up and down the lawn at Kensington Palace is doubtful) and an exhibit on the crazy sport of lawnmower racing. Among the past lawnmower racing champions is Brian Radem, the owner of the museum. Chances are you'll meet him at the front desk and he can tell you how his niche interest has evolved into one of Britain's quirkiest museums.
For more information lawnmowerworld.co.uk
Derwent Pencil Museum, Cumbria
Whereas some of Britain's eclectic museums grew out of the specialized collections of individual collectors, others have industrial roots. One of the best-known examples of the latter is the Derwent Pencil Museum located in Keswick, the site of a graphite mine and factory that made this small town the world's pencil capital for more than 170 years. While mine and factory have since closed, much remains to draw visitors to this fun museum, especially when wet and windy days dampen the allure of the Lake District's magnificent scenery.
Enter the museum through a replica mine and view the development of the pencil from humble shepherd's tool to a modern-day artist's instrument. As you'd expect in the land of the pencil, there isn't a fancy touchscreen computer in sight, but there is a wealth of fascinating displays, from the largest color pencil in the world (yellow, if you must know) to pencils containing hidden maps given to World War II airmen.
For more information visit derwentart.com/en/gb/7523/derwent-pencil-museum
Laurel and Hardy Museum, Cumbria
13
The Laurel and Hardy Museum opened in Ulverston when its founder discovered that Stan Laurel was not born in North Shields, as was always thought, but in his own grandparents' house close to the Lake District. Suitably located in the town cinema, the museum contains much information about Stan's early life in northern England, his first years in the music hall as understudy to Charlie Chaplin, his emigration to America, and stunning success once he teamed up with Oliver Hardy.
It's only a small place, but there are still a vast amount of posters, statuettes, letters, and other memorabilia about the stellar careers of the duo, and a cute 15-seat screen brings the performers back to life in some of their classic movies. Don't miss Stan Laurel's bowler hat, one of the most iconic pieces of costume in Hollywood history. You can still see its wearer's birthplace on Argyle Street, a few minutes walk from the museum, while the nearby Stan Laurel Inn serves a decent selection of pub grub.
For more information visit laurel-and-hardy.co.uk
Land of Lost Content, Shropshire
13
The galleries are so packed here that your first reaction will be to breathe a sigh of relief that you're not the cleaner. Described as "obscure objects and ordinary things from the pre-digital era," the Land of Lost Content is a dusty romp through the ordinary lives of Brits in the 20th century—stuffed with toys, kitchen appliances, clothes, packaging and a whole lot more. Visitors of a certain age will relive their youth, while those of Generation X and beyond will marvel that Britain only had three television channels as late as 1981. Stateside visitors may not recognize all the brands but will still have a colorful journey through social history.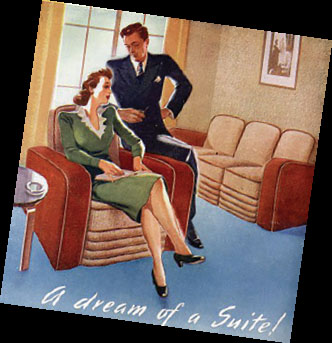 13
Given its location in Craven Arms, a small town nestled between Shrewsbury and Ludlow, the museum is appropriately named from a line in A.E. Housman's The Shropshire Lad. Once you've done the displays, keep discussing times past and listen to a few old tunes in the cafe afterward—no silver service here, just a coffee machine, a few buns and an honesty box. If you get the chance, chew the cud with owner Stella Mitchell. She first started collecting the memorabilia that make up the Land of Lost Content some 50 years ago and is a fascinating character.
For more information visit lolc.co.uk
Bubblecar Museum, Lincolnshire
13
The Bubblecar Museum grew out of one couple's love of the microcar, a radical and futuristic design born in the austerity of post-World War II Britain, an iconic symbol of the nifty fifties and swinging sixties. To be included in the collection, the cars must have an engine size of less than 700cc, though many are much smaller than that. Don't miss the Inter Autoscooter, an odd-looking automobile that's more like an aircraft without wings. The aviation link continues with the pair of Messerschmitt KR200s, produced by the German manufacturer after they were banned from building planes in the postwar settlement.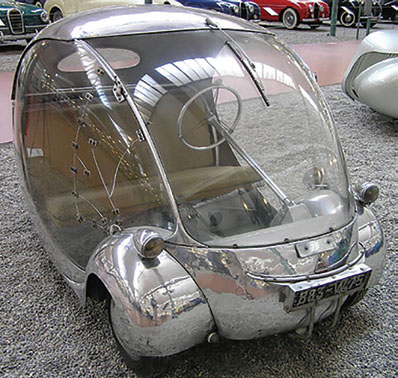 13
Some of the cars are based in themed galleries showing a 1950s living room, a workshop, a garage and a series of shop fronts, too, providing a bit of context on the mini autos and their era. There's often a chance to squeeze inside one for a 10-minute ride. Summer weekends there's a good chance one of the local classic car societies will have made the drive to Boston in their own wheels, so you can sample some more old vehicles in the car park!
For more information visit bubblecarmuseum.co.uk.
* Originally published in 2018.