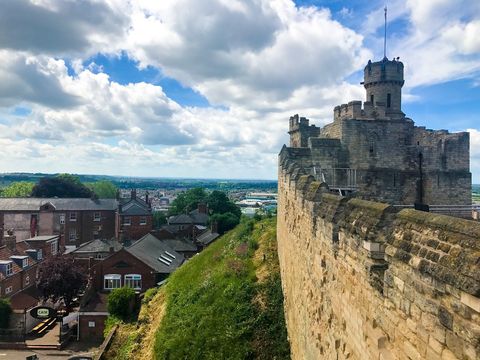 Once a center of ecclesiastical and political power, the modest modern city lives comfortably with its history.
Why go to Lincoln?
Think of an English city with a magnificent cathedral, castle remains, ancient walls, and medieval architecture, and chances are that York comes readily to mind.
However, Lincoln, a bit off the beaten path, just 55 miles south of York, is every bit as impressive and definitely worth a visit. With its cathedral on a hill, its well-preserved medieval castle, charming cobblestone streets, something interesting around every corner, and many restaurants, public houses, and shops, Lincoln is a gem.
How to get to Lincoln?
Trains leave London's King's Cross station throughout the day with a change of trains in Newark, a predominantly Georgian market town whose origins date to England's Civil War. The entire journey takes about two hours. Train timetables and costs can be found at 
Where to stay in Lincoln?
The upscale White Hart Hotel, considered one of Lincoln's premier hotels, is located next to the cathedral and close to the castle at the top of Steep Hill. Named after the emblem of Richard II, it is surrounded by historical landmarks and family-owned shops and restaurants. It has its own highly regarded restaurant on its premises.
The Tennyson, named after Lincolnshire's own poet laureate Alfred Lord Tennyson, is located at the southern end of the long High Street. A quick bus ride or a leisurely long walk past interesting small shops to the cathedral and castle, the Tennyson offers comfortable bed and breakfast accommodations at a moderate price. 
How to spend the morning in Lincoln?
The hill location of Lincoln Cathedral means that it can be seen from miles around. Jane Harrison, the project officer at the cathedral, drives to work every day from her home in Newark, 10 miles away, and relishes seeing the cathedral at different angles.
"Its majestic towers reaching into the skyline can be very haunting in the mist and on a cold winter morning," said Jane, who finds any opportunity to walk through the cathedral (on a pretend errand). "After four years it still takes my breath away when I walk in," she said.
Visitors there can view the beautiful stained glass, the medieval carvings, and the Wren Library on their own, or take one of the cathedral's traditional floor tours or roof tours. The famous Lincoln Imp sitting with one leg crossed over the other has become the logo of the city.
Lincoln Castle houses one of only four remaining copies of the Magna Carta. The building has been used as a castle, a prison, and a court for over 900 years. Its ancient walls offer outstanding views. Discover the bust of King George III, which is located on the Castle's grounds. The sculptor has made Mad King George look like a character from Alice in Wonderland.
Where to have lunch in Lincoln?
Café Zoot opened a decade ago just across the road from the White Hart Hotel. Open from morning to late at night, it is a popular place to stop for a cup of coffee, afternoon tea or a three-course meal. All-day lunch and dinner specials are on the menu at moderate prices!
Lovers of cheese will be in paradise at The Cheese Society at 1 St. Martin's Lane where all sorts of lunch entrees featuring cheese are on the menu.
Where to stop for an afternoon treat?
Depending on the day and everyone's particular cravings, visitors might pop into Dennett's Ice Cream Parlour at 3 Bailgate for one of their delicious ice cream sundaes, or take afternoon tea at Lesley's On The Hill in a historic building with lots of atmosphere at 39 Steep Hill.
What to shop for in Lincoln?
Ruddocks of Lincoln, the oldest shop in the city, first opened its doors as a print shop and stationery store in 1820. In the same family since 1884, the shop has been at its present location at 286/7 High Street since 1904. It continues to sell stationery, pens, notebooks, arts and crafts materials, maps, travel guides, games, and jigsaw puzzles.
Henry Ruddock, the great-grandson of John William Ruddock, who bought the business from Charles Akrill in 1884, sums up what it feels like to be the oldest store in Lincoln. "Wonderful, of course! We try to retain the traditional atmosphere, and we have just had a full makeover to de-modernize us! We have seen changes in the city. Recently a university has been established, which has, I think, helped the local economy."
Goodies Sweet Shop at 5 The Strait is a traditional candy store that sells Old English treacle toffee in vintage tins. Other sweets are displayed in large glass jars to easily tempt customers.
What else to see in Lincoln?
The medieval Bishop's Palace in the shadow of Lincoln Cathedral was once one of the most important buildings in England. Completed in the early 13th century, the palace offers a chance to explore the vaulted undercroft and to climb the steps into the Alnwick Tower. A garden inspired by the cathedral's medieval vaulting, with trees shaped like spires, is also worth one's attention.
Scheduled to reopen in the fall of 2010 after extensive renovation, the Usher Art Gallery, set in the grounds of the Temple Gardens close to Steep Hill and next door to a free museum about the history of Lincoln, houses a superb collection of fine and decorative arts.
Where to have dinner in Lincoln?
Brown's Pie Shop at 33 Steep Hill serves a variety of pies as main courses for lunch and/or dinner. Lincoln locals recommend the steak and ale pie at this family-owned restaurant.
Footsteps from Lincoln Castle, the father and son team of Mario and Gino own and operate Gino's Ristorante Pizzeria Italiano, which offers pizzas, pasta and other entrees at moderate prices. A superb cappuccino is accompanied by a complimentary homemade cookie. Gino's offers spectacular views of the castle from its windows.
The Wig & Mitre in the heart of historic Lincoln at 30/32 Steep Hill is one of the city's best pubs. Aside from the downstairs bar, it also has a dining room on the second floor that serves quite tasty food.
How to spend the evening in Lincoln?
The Lincoln Ghost Walk is a must. Margaret Green has been leading these walks for 13 years and never tires of them because "each group is different; they ask different questions." There is no need to book the tours, which take place in any weather on Wednesdays, Thursdays, Fridays, and Saturdays at 7 p.m. Just meet in Castle Square opposite the Magna Carta pub.
Margaret says that her tours are usually made up equally of locals and tourists. She includes the Greestone Arch, a medieval gateway that is located halfway up Greestone Stairs. Her tour reveals why she believes the Arch is the most haunted spot in Lincoln. 
What is one thing you may not know about Lincoln?
The popular films The Da Vinci Code and more recently Young Victoria were filmed within Lincoln Cathedral. When the production companies could not get permission to film within London's Westminster Abbey, the locale for both stories, they received approval from Lincoln Cathedral, and the cathedral made some internal alterations to make it look like Westminster. Casts and crews took up residence in Lincoln for the filming.
* Originally published in July 2016.