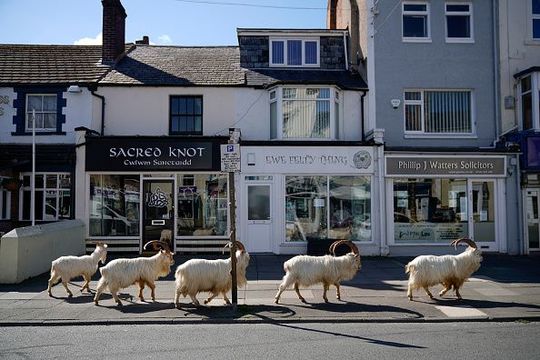 For a walkthrough Welsh history, pay a visit to St Fagans National Museum of History says Siân Ellis 
One of Europe's leading open-air museums and Wales' most popular heritage attraction, St Fagans National Museum of History celebrated a recent £30 million revamp by winning Art Fund Museum of the Year 2019, referred to as the most prestigious museum prize in the world.
The museum, near Cardiff, stands in the grounds of St Fagans Castle, which were donated to the people of Wales by the 3rd Earl of Plymouth in 1948. Since then, more than 50 authentic buildings from diverse periods of history have been saved and brought from across the country to be painstakingly re-erected in 100 acres of parkland. You can quite literally walk through several thousand years of Wales' everyday heritage reflecting the lives and culture of "ordinary" people.
CYMRU… 
Get an introduction to the story of Wales in the galleries ("Yr orielau" in Welsh – you'll easily pick up phrases during your visit). The Cymru… / Wales is… gallery ranges from the remains of a Neanderthal boy alive some 230,000 years ago, via Vikings and Romans right up to the Welsh devolution referendum in 1997 that voted to create a National Assembly. 
The Bwy a Bod… / Life is… gallery pokes into everyday lives and shows how extraordinary the "ordinary" can be: share the pride of Rhys ap Thomas who had his bed decorated to commemorate his role in the Battle of Bosworth (1485); or listen to William Vizard's heart-wrenching recollection of surviving the Senghennyd mining disaster that killed 439 miners in 1913.
You can't squeeze everything into a day so now's the time for a quick "paned" (cuppa) in the café by the galleries while you browse your guidebook and map and plan your next move.
Home, sweet home
Just outside the galleries is Kennixton Farmhouse, painted a striking red that was believed to ward off evil spirits. This was the home of the Rogers family who farmed the rich land of the Gower Peninsula for hundreds of years and built their house in stages from 1610.
They smoked meat above the fireplace and, Glyn Rogers recorded as late as 1983: "I slept in a cupboard bed… up to the age of 13. It was very comfortable… you undressed by the fire in the night, then there was always a good fire in the morning." The down-to-earth detail and real people behind St Fagans' buildings are what bring them alive.
Around the site you can explore home comforts (or lack of them) through the ages and social echelons: Bryn Eryr Iron Age Roundhouses reconstructed from archaeological excavations on Anglesey; colorfully decorated Llys Llywelyn, the recreated medieval royal court of the Princes of Gwynedd; a Tudor Merchant's House from Pembrokeshire which, luxuries for the time, had a chimney for the fireplace and garderobe (indoor toilet) that emptied into an outside gutter.
Most evocative of Wales' more recent history is Rhyd-y-car Terrace: six homes built in Merthyr Tydfil around 1800 by ironmaster Richard Crawshay to house some of his mineworkers as the south Wales town boomed to become a world leader in iron production.
Displayed to show six different periods of habitation (1805 to 1985) the houses reveal how facilities slowly improved over time with the addition of piped water and communal toilets, while cramped families built sheds in their gardens to provide more living space.
Nearby is another icon of industrial south Wales, the Workmen's Institute: this one from Oakdale, built in 1916 by local coal miners to provide educational and leisure facilities – library, reading room, concert hall, billiards room – for workers and their families. Everyone from choirs to pigeon fanciers met here.
Tuck into the 1900s
If you're at Oakdale Workmen's Institute when lunch pangs strike, the Gwalia Stores is on hand. Dating from 1880, it was a general store typical of the south Wales industrial valleys and sells food and drink you could put in a picnic. Alternatively, enjoy a light-lunch served off vintage crockery in the 1930s Gwalia Tea Room, or beer-battered fish-and-chips served in a traditional cone in PysgOdyn, harking back to street corner fish-and-chip shops of the 1920s.
There's also Derwen Bakehouse (c. 1900) where housewives brought their homemade dough to be baked into loaves for a penny or less by the Jenkins sisters in their huge ovens. Today you can buy freshly baked cakes and bread. Or
relax in the restaurant Y Gegin back in the main building at the museum entrance, while the Castle Buttery is good for sandwiches and cakes.
Worship, work, and play
There's plenty to explore in the afternoon on the themes of worship, work and play: brightly painted St Teilo's medieval church and an 18th-century chapel; an 18th-century tannery and smithy; a Victorian corn mill, tailor's shop, clog-maker's workshop and country school.
Among still-working buildings is Esgair Moel Woollen Mill (1760) where raw wool continues to be transformed through dyeing, combing, spinning and weaving into traditional shoulder shawls and Welsh "carthenni" or blankets. For centuries sheep farming in the wet Welsh hills made woollen goods Wales' most important industry, including exports of "White Welsh plains" to the USA to clothe slaves.
Water to power the mill's water wheel on its current site is pumped from the erstwhile swimming pool of the Earl of Plymouth, and it makes a fitting finale to your day to wander St Fagans Castle and Gardens – where the story of the museum began. The castle was built circa 1580 and is one of the finest examples of Elizabethan architecture in Wales, though it underwent major interior refurbishment in the Victorian era when the Earl, a major landowner in the area, used it as a summer home. Immersing yourself room-to-room in the elegance of the era and enjoying the beautiful gardens, from fishponds to the Rosery and Italian Garden, you suddenly feel a world away from farmhouses and miners' cottages.
Staying longer
Cardiff is just four miles down the road, offering a full range of accommodation options from modern waterside hotels on Cardiff Bay to boutique and budget beds (see www.visitcardiff.com).
The historic and modern sides of the Welsh capital are worth exploring, from Cardiff Castle to Wales Millennium Centre for world-class entertainment. Visit more castles – Wales has lots – at fairytale Castell Coch and Caerphilly. Or savor more culture at St Fagans' nearby sister museums: the National Museum in Cardiff for art and natural history; Big Pit National Coal Museum at Blaenafon; the National Roman Legion Museum at Caerleon. 
https://subscribe.britishheritage.com/I**HICB