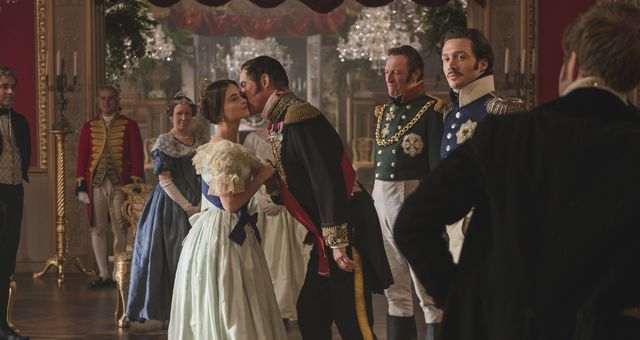 The early reign of Victoria marches on this January, only now the young Queen (Jenna Coleman) has her royal consort, Prince Albert (Tom Hughes), by her side—or possibly just behind her. "It's honestly a more difficult, complicated marriage than perhaps people thought," says Daisy Goodwin, the show's creator and writer. "It is hard for an alpha male, which Albert definitely was, to be the junior partner in a relationship."
Last year revealed the woman "underneath the corset and tiara," but Victoria now features this couple—young parents handling enormous responsibilities within a very unequal power dynamic. "It's also about the problems of family life, managing to have a public and a private life and all those difficulties while you're also the monarch," adds Goodwin.
The woman responsible for television's new Victorian age talks to BHT about her research, the horrors of the Potato Famine and a few fascinating 19th-century characters, including two young souls who led the world's most powerful empire while battling their own fears and insecurities.
British Heritage Travel: The second season starts off with the birth of their daughter, fairly soon after the wedding.
Daisy Goodwin: Actually, it was really close after the wedding. If you were to examine the dates, you might wonder what they got up to. She's only twenty-one years old. I think she really hoped to have a bit more time with Albert, more time before she became a mother. There's evidence that she had postnatal depression after the birth of her son a year later. She had that feeling of not being able to cope. I mean, even the Queen, you know?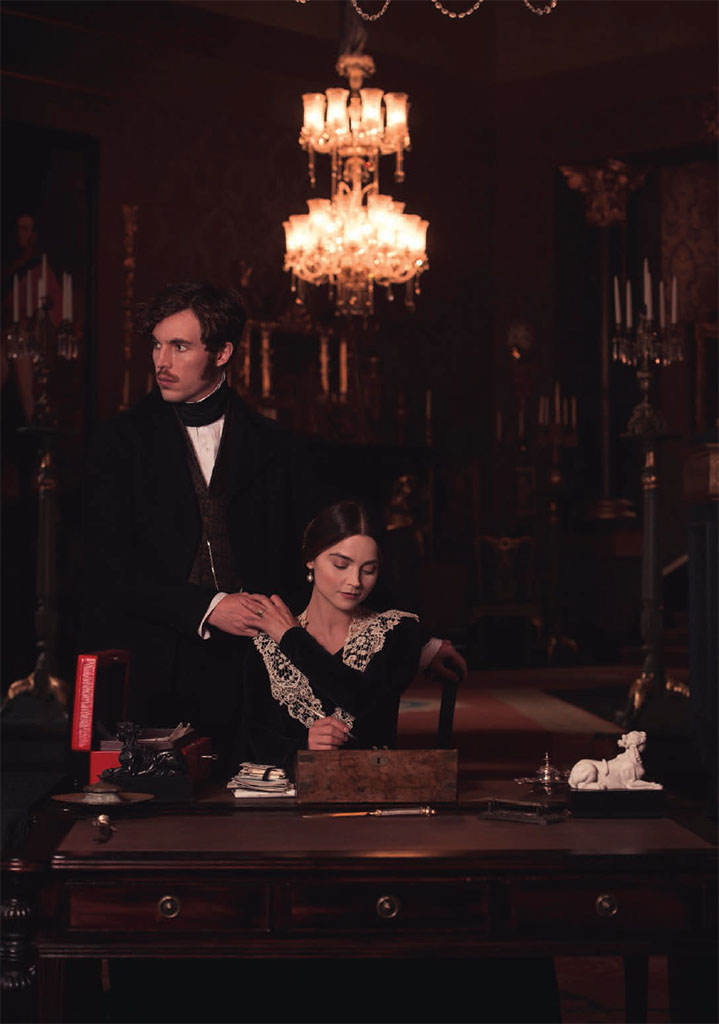 13
BHT: Is her Royal diary, of which you are a scholar, still your primary source?
DG: Well, I hesitate to call myself a scholar, and not everything is in the diaries because they were always public property. There was definitely her ambivalence about motherhood [in them], her concerns about losing herself, losing her position once she became a mother. Those are all there, hinted at in her diaries, and her letters.
BHT: How did you research their marital fights, which provide a lot of dramatic moments?
DG: Well, those weren't in her diary. Albert read her diary. Victoria used it as a way of signaling to him. When she goes, "My dearest darling Albert is so wonderful, etcetera," I think she's protesting too much. My evidence for the fights—there's lots of it. There's a scene where she throws a glass of wine over Albert and there are recollections of courtiers. There's also a letter that he writes to her, basically saying, "I'm writing to you because I can't talk to you when you're like this." He withdraws—and that infuriates her even more.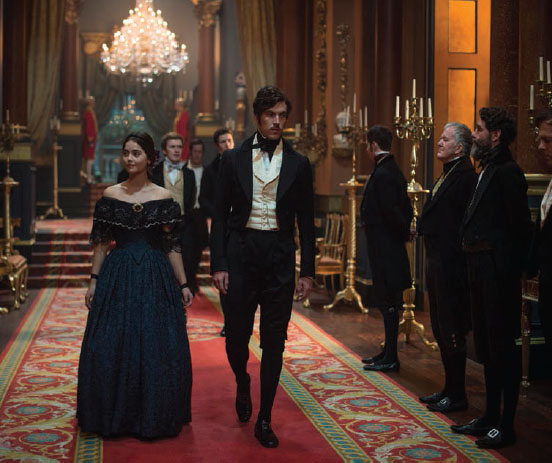 13
BHT: Albert comes across as intelligent and well educated, but Victoria intuitively understood that monarchy needs to inspire.
DG: Albert was just kind of a genius, but he was all about logic. Victoria had this instinctive understanding of, well, the theater, really—of what the monarchy is all about: displaying herself to her people. She had an innate sense of drama. You can see that she has a very good sense of the Royal brand. They were very good at appearing to have a sort of blissful, domestic life, but there were tensions under the surface. But they loved each other very much.
BHT: Of all the 19th-century figures that pop up, did you have a favorite?
DG: Obviously, I love Robert Traill [a clergyman who advocated for relief efforts during the Potato Famine]. He was my great-great-great-grandfather and was something of a hero, I think, at a very dark time. The British treatment of the Irish was truly appalling, so I was glad to be able to put in somebody who did the right thing.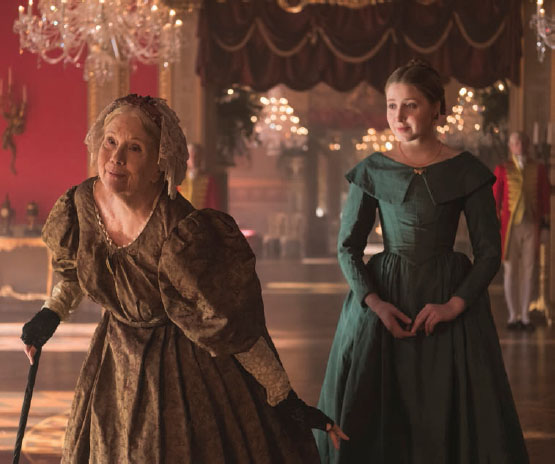 13
BHT: When those episodes aired in the UK, some British viewers were surprised by the intensity and horror of the Great Hunger, their own history.
DG: Well, I think that's often the way, isn't it? How much is the American treatment of the Native Americans taught in your schools? History is written by the victors. The 19th century is my subject, but it wasn't until I started researching that I realized how bad it was. I hadn't realized the extent to which the British government actually let it happen.
Basically, they were happy to let the Irish die, because that was a sort of self-correction to the fact that there were more people than the land could support. On the other hand, they had rigged the system so that Irish land owners would make a lot of money by selling their wheat in Britain.
A lot of the things that people say in that episode are actually taken from real papers, real documents and real letters.
BHT: Can you explain how the Corn Laws contributed?
DG: They were a tariff system, which meant that it was always for British farmers—the price of their wheat never dropped below a certain level, to give the British land owners a guaranteed source of income. When it was a completely rural society, that was one thing, but now there were lots of people working in the industrial heartlands of the North who didn't have a plot of land to feed them. They were having to pay much more for their bread, so there was no free market in food. It was becoming clear that that was no longer tenable. But the Tory Party didn't want to change it, because they had an economic self-interest in keeping things the way they were.
It was [Prime Minister] Robert Peel, a bit of a hero, really, who decided—partly because of the famine and partly because he thought it was the right thing—that he had to put his conscience and his beliefs before his castle. He knew that by repealing the Corn Laws, he would split the Tory Party forever, but he decided it was the right thing to do. I wish there were so many men of principle around today.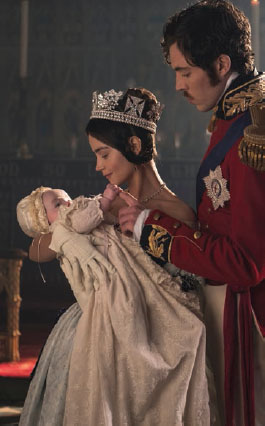 13
BHT: Albert is unnerved to find out his father might have been his and Victoria's uncle, King Leopold of Belgium.
DG: There are a couple of books about it—one called The Coburg Conspiracy. We'll never know whether it's true or not, but I found that it was entirely possible. Leopold was there in Coburg at the time that Albert was conceived. I'm not saying that makes him the father, but he was close to Albert's mother.…
BHT: Victoria's postpartum depression, her impostor syndrome, Albert's shaken sense of identity—it all makes a lot of sense when you see those young faces.
DG: Yes, we forget how young they were. We forget how vulnerable they must have been, how difficult it must have been, because we look at them through the lens of Victoria's widowhood, or at a time when they're more established. It must have been incredibly hard in those early years of their reign. It is the 1840s—the Hungry '40s, they were called. They're growing up in a time of real political lament.
This interview has been edited for size and clarity. Season two of Victoria premieres January 14 on MASTERPIECE on PBS. For more about the show's creator, go to daisygoodwin.co.uk.

13
Victoria & Albert: A Royal Love Affair (St. Martin's Press)
Between the series, last year's novel (Victoria: A novel of a Young Queen) and this new nonfiction coffee-table book, Goodwin is rapidly building an empire for Her Majesty—conquering different mediums and genres as it expands. She notes, "All the research for the show, you try and put all those details in, but you can't fit everything."

Who's Who: The 19th-century Edition: Just a few fascinating figures who appear this season

13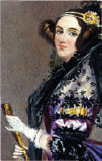 13

13
Ira Aldridge, the black American actor; Lord Byron's daughter and the founder of computer science, Lady Ada Lovelace ("I wanted to remind people that some great mathematicians were women") and the "Boy Jones," a 14-year-old lad who snuck into the palace to steal Her Majesty's underwear. "I mean, how could that have happened? He broke in three or four times! Sometimes there's almost too much to write about," says Goodwin.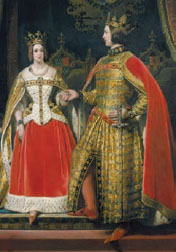 13
Queen Victoria and Prince Albert at the Bal Costumé of 12 May 1842

by Edwin Landseer

For this costume ball, which appears in the series, Albert went as King Edward III with Victoria as his Queen Philippa—in an amazingly expensive dress with a jeweled stomacher. "There was a lot of press criticizing her. I think she would have found that difficult," says Goodwin.
Three Places to Visit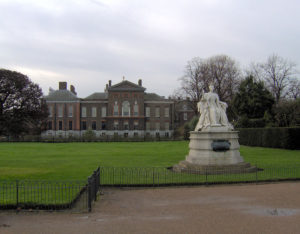 13
Daisy Goodwin tells us the three spots fans of Victoria (and of Victoria) need to go. "Kensington Palace, although the palace inside has changed, you can see the gardens, the view that she would have looked out on every day," says Goodwin.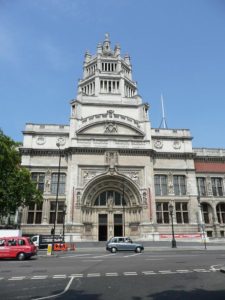 13
The Victoria and Albert Museum: "If you go up to the third floor, they've got a whole floor of stuff from their era. I always go there for inspiration. It's a really good place to go and have a look."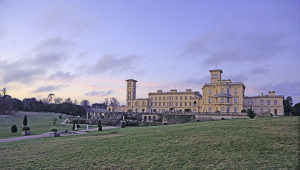 13
"If anybody's gonna visit Britain and they love Victoria and they've got a bit of time, they should go to Osborne House on the Isle of Wight. Designed by Albert, that's where Victoria and Albert went for their holidays. You really get a sense of them there. I mean, it's sort of, quite freaky, actually."