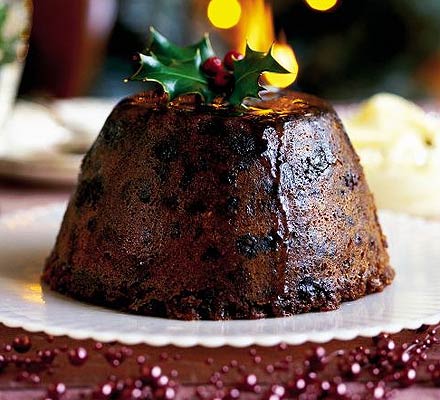 Few recipes are as iconic to Brits and Anglophiles than Christmas Pudding.
But while Christmas Pudding is as traditional as Christmas crackers, it wasn't always the case: The dish has been around since the 14th century, when it was called the delicious-sounding frumenty, a soupy beefy stew with raisins, prunes, and wine. At the end of the 16th century, it transformed into a sweeter plum pudding, with breadcrumbs and eggs added to the mix, and the beef was removed. Around 1650 it became part of the Christmas tradition, according to the website Why Christmas, and in 1714 King George I made it a holiday court fixture.
One of the great things about Christmas Pudding is you can make it weeks ahead, and its flavor and texture will only deepen. Just keep it in a cool dark place in your kitchen. You don't need a classic bowl or "basin" to cook it in, although if you want to be authentic, you can buy one from the English Tea Store.
Nigella Lawson's Ultimate Christmas Pudding
This is adapted from Nigella Lawson's Ultimate Christmas Pudding recipe. We've changed it up a bit, but it retains her spirit and her spirits!
Serves 8 to 10
Ingredients 
1/2 cup

 roughly chopped 

pitted prunes
14

 

tablespoons

 

coarsely grated vegetable shortening (freeze overnight to make it easier to grate)
1/2 

teaspoon

 

ground cinnamon 
1/2 

teaspoon

 

ground cloves
1

 

medium

 

apple, 

peeled, cored and grated
½

 

cup

 liquor (to flame the pudding)
Method
Put the currants, 

golden raisins

 and 

pitted prunes

into a bowl with the sherry. Stir and cover with plastic wrap. Let steep overnight or for up to 1 week.
Butter a ceramic or glass 1½ quart bowl and grease a lid or cover, too.
In a large mixing bowl, combine all the remaining pudding ingredients, except the liquor. Add the steeped fruits, and mix to combine thoroughly. Meanwhile, boil water in a large steamer pot, filling it halfway.
Transfer the mixture into the prepared pudding bowl, flatten it down and cover it with a lid. Enclose in foil, so that the bowl and cover are watertight, then carefully place it in the steamer and cook for 5 hours, checking every now and again that the water hasn't evaporated.
Remove the pot carefully, and unwrap the foil. Store in a cool dark place for up to four weeks, covered.
On Christmas day,  rewrap the pudding pot in foil and steam again, this time for 3 hours.
To serve, remove from the steamer, take off the lid, put a plate on top, turn it upside down and shake it to help unmould the pudding.
Place a sprig of holly on top, sprinkle with the liquor and light at the table for a flambé. (Be careful to not have any fabric or any other flammable materials nearby.)
Photo credit: BBC Good Food