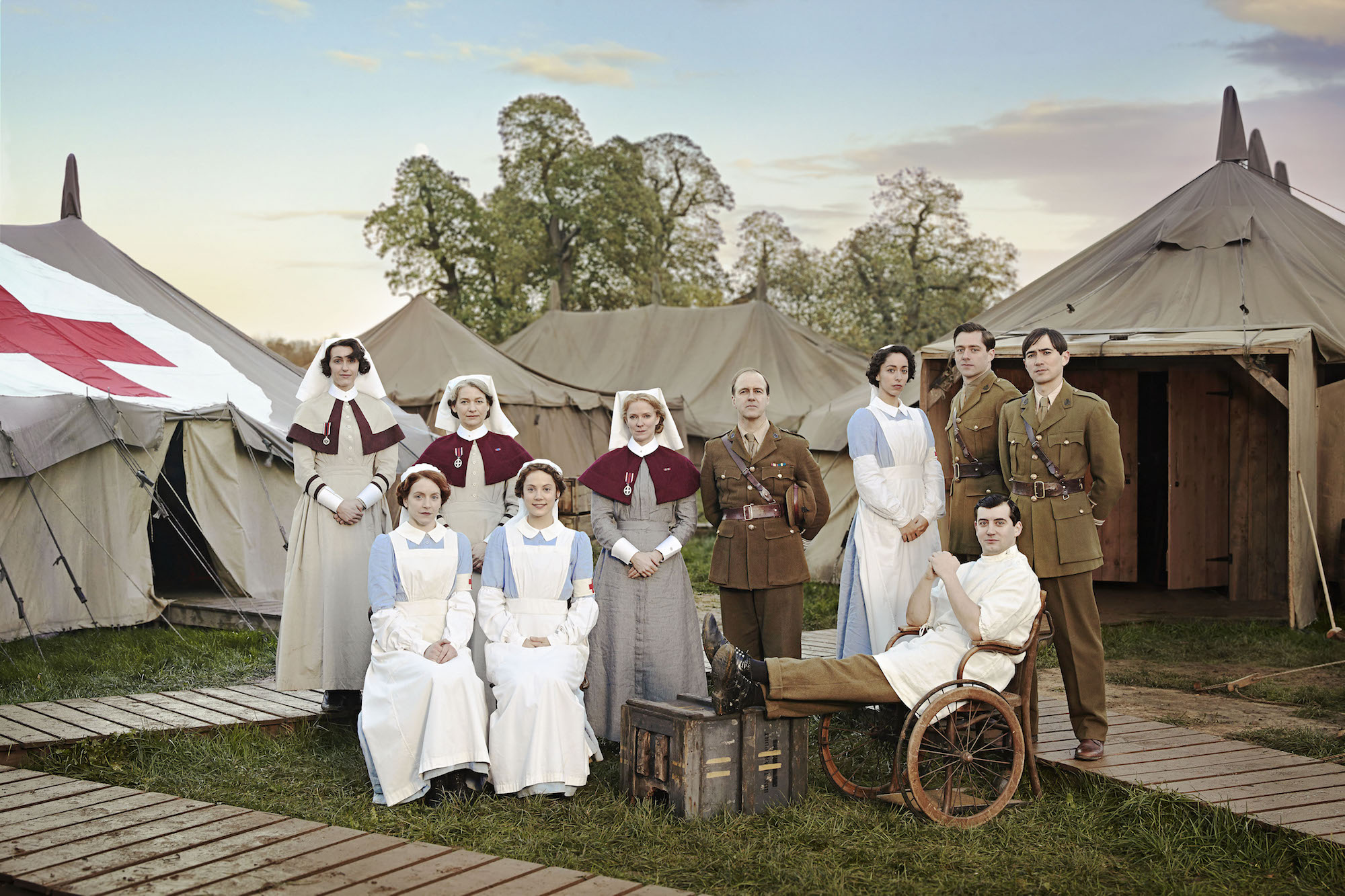 If you have any questions concerning British Army protocol --"the nuts and bolts side of the military"--Taff Gillingham is your man. 
When he explained the difference between an American and British salute to the producers of The Crimson Field, they appreciated the distinction. "With an American solider, the salute is with the palm of the hand facing down, which touches the cap, and the British salute is done with the palm facing forward and comes at an arch touching the cap," the London-based military historical advisor details, carefully and confidently.
But of course the soldiers didn't always salute the way Gillingham would like. "The producers would say, 'That's fantastic! But I'm not going to follow that. I don't want anybody saluting there because we need to see the faces.'" There were other lost battles, too. "It was 1915. [Officers] always wore their hats!" he insists, even though the men are often shown dressed casually. "But I understand," he concedes. "They're trying to appeal to a younger audience." Such is the tension between drama and accuracy, but although he lost a few battles, the overall quality of The Crimson Field means Gillingham definitely won the war.
Set in a tented field hospital on the coast of France, the BBC series, now airing on PBS, depicts the lives of doctors, nurses and volunteers during the early days of World War I. Gillingham helped producers add authenticity to the lives of these frontline medics and portray accurately a period surprisingly few understand.
"What is believed to be true is largely based on long-standing cultural myths," says Gillingham. "In this country, there's the 'Remembrance of the Great War,' a very British view. We have a skewed view in [Britain]. It's never really been taught as history. We were hoping through [the show] we might be able to correct that, but of course, drama is never really going to be the best vehicle to do that."
While it's true that some viewers may be tuning in for the sudsy drama, they're also absorbing history in the process. "My role was to look at the scripts and make it work in a believable way," says Gillingham. "The idea was to make them work without compromising the history. It wasn't an easy task." (Another historical advisor, Christine Hallett, worked with the producers on hospital practices and nursing during World War I.)
Luckily, they usually found a solution -- a way to make the compelling drama align with the facts. Such as the time a Dutchman was written into the script as a medicine salesman. "First of all, the British army didn't buy medicine from traveling salesmen and secondly, if someone with a Dutch accent had turned up in western France in 1916, the locals would have hung him up from the lampposts because they would have assumed he was a spy."
"The trick is to say, 'I see what you need to do,' and then find something that can make it believable. In that case, I suggested they have a Belgian refugee family. There were people who had left their homes in Belgium and were living in that part of France. My knowledge of the period allows me to say,  'You can't possibly do that because no one is going to believe it, but if you do it like this, it will work.'"
Gillingham also convinced the producers to add older characters to the mix. "I don't know if they planned for Reggie [played by Jeremy Swift] to be an older soldier at first. I told them the army was full of people like Reggie. The more seasoned soldiers knew a lot more and were the wheeler-dealers," he explains. "By 1918, Britain had upped the age limit to fifty-four."
However, when it came to the show's romances, storyline sometimes took precedence over history. "A nurse would have never run out onto a field to kiss a solider. That would have gotten her sent packing in 1915," observes Gillingham.
"With historical drama, the starting point is compromise because you know on a show like The Crimson Field you're criticized for showing a colonel making his own tea or something like that. The fact is, of course, he wouldn't, but what you're trying to do with twenty main characters is actually populate a hospital--which would have had a staff of six hundred. In real terms, you would have had all these other people to make it work, but with a drama the few cast members you've got have to be able to make things look right."
Some things, though, went smoothly. Gillingham applauds the producers' choice of location and set design for the series. Charlton Park, a grand country estate near Malmesbury, Wiltshire was transformed into the field hospital on the coast of France for fifteen weeks of shooting. Producers were taken with the estate's large wheat fields and stately pine trees. (Gillingham says they actually came to discover that "there had been a proper military facility on that site" -- a prisoner of war camp once stood on the same grounds where they constructed The Crimson Field's hospital tent, the wards and sets for the administration.)
"There was an extreme level of detail. You'd walk into one of the hospital rooms where they cleaned everything. The scrub brushes and everything you'd expect to see were there. The art department did a fantastic job bringing everything to life."
High praise from a man committed to a demanding level of historical truth.
But this wasn't Gillingham's first time in the fictional trenches. He was also the military historical advisor on series two of Downton Abbey, when Matthew and several other characters enlisted in World War I. "I remember Lord [Julian] Fellowes coming to the set and falling in the mud," Gillingham recalls of filming the Battle of the Somme. "We had a good laugh about that." Fellows, however, may have gotten the last laugh. "After that, there was that character Lord Gillingham! I've wondered about that."
Perhaps Gillingham's most shocking insight about World War I has never made it into the scripts of either shows. "[Producers] ask me how much time soldiers spent in the trenches. With few exceptions, the average [solider] would have never gone into combat more than three times. There was not nearly as much misery, death, and dying as you see in dramas. The truth is, the vast majority of men who served would have told you it was one of the best times of their lives."
Sometimes truth and history actually are stranger than fiction.
For more information, visit www.pbs.org.
* Originally published in 2015.