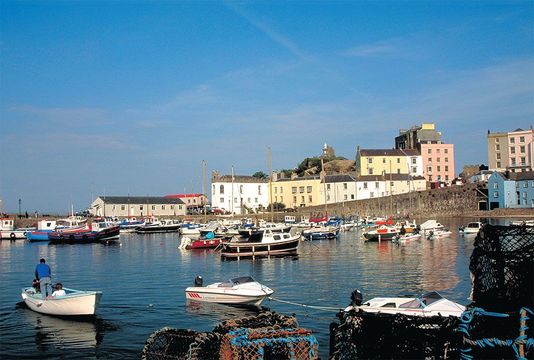 Three Popular Summer Playgrounds: Tenby, Llandudno and Abersoch
Mountains rise above a coast scalloped with enticingly cozy coves and elegantly curved beaches of sea-washed sand. Fishing boats and sailboats jostle in the harbors, and stone-towered churches rise from welcoming little towns where flowers nod from doorways and the occasional palm tree waves in the breeze. Although it sounds and sometimes looks like the Mediterranean, this is the Welsh coast where people have been summering since 18th-century doctors first recommended sea bathing as a cure for gout, rheumatism and general malaise.
In the 19th century, railways brought families in the thousands each summer from the industrial towns of South Wales and Northern England. And later still, 20th-century motorists were able to drive to spots beyond the railway's reach, discovering isolated villages with no more than a harbor and a pub or two.
Today, three of Wales' best-loved seaside resorts illustrate this touristic evolution: ancient Tenby in Pembrokeshire, 19th-century Llandudno on the north coast and the tiny and isolated Abersoch area perched on the very end of the Lleyn Peninsula in the northwest. Our journey begins with Tenby.
Tenby is Dinbych y Pysgod in Welsh—Little Fort of the Fish—reminding visitors that the town's 13th-century walls once guarded a prosperous port. Those walls now shelter a pretty warren of shops and eateries. Fishing remains as important as ever for Tenby, with boats hauling in the hake, lobster and crab featured on local restaurant menus.
The harbor is also home to the ferries that run to Caldy Island, which sits plonk in the middle of the bay. Its white and terra cotta monastery and yellowy sand sooner or later lure most of Tenby's visitors to its shores.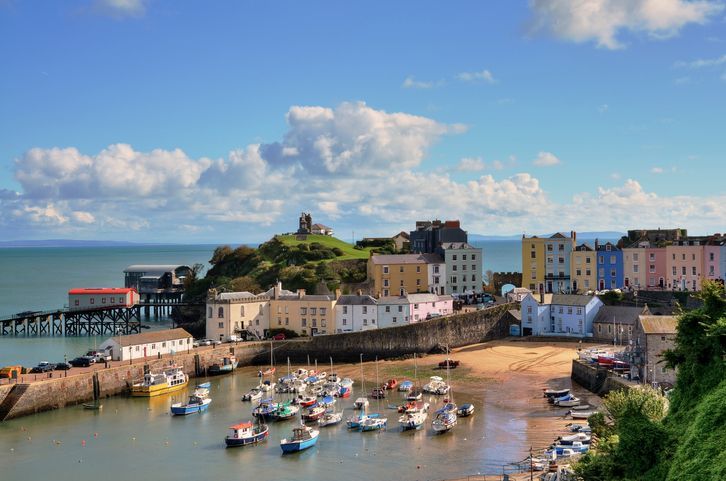 4
Celtic monks settled Caldy in the 6th century. Benedictines built a priory in the 12th century. Now the 1906 Italianate abbey is a Cistercian house. The Cistercian order demands self-sufficiency, so the monks make lavender water and chocolate. Visitors can walk up to the chocolate factory through sun-dappled woodland and past the remains of the priory. After a sample of chocolate or fudge, most walkers press on another quarter of a mile to the lighthouse and its panoramic ocean views. Back down near the harbor, some visitors will attend one of the abbey's public services: Sext at 12:15 p.m. or None at 2:20 p.m. Others pause to admire the herb garden or rose beds, then have afternoon tea with homemade cakes at the teashop.
Though Caldy is a "must" visit when in Tenby, the fine-grained tide-washed sand of the town's beaches has long been its star attraction. "The beauty of its situation and fine sands have exalted Tenby from an obscure sea port to a considerable public place," wrote Henry Skrine in 1796. Jane Austen and Lord Nelson visited in 1802, and George Eliot completed her first work, Scenes From Clerical Life, in Tenby. Today the lovely beaches are perfect for the sandcastle crowd, for dads supervising beach cricket, for teens racing into the waves and for anyone who just wants to loll in the sun.
When exposure to sun or the need to work off a big British breakfast demands another activity, nothing is more pleasant than a stroll through town and a stop at the Tenby Museum and Art Gallery. The museum reveals Tenby's history from its origins as a medieval port on the Tudors' path to the English throne to its decline after a 17th-century plague epidemic and finally to its revival as a popular spa. The Art Gallery houses the work of local artists, most notable among them Augustus and Gwen John, who grew up in Tenby.
Another interesting venue is the state-of-the-art lifeboat station where visitors can walk around and examine the boats close-up. Like the museum, the lifeboat station offers lovely sea views. In contrast, the stone Merchant's House is tucked inside the walled town and re-creates life in Tudor times, suggesting the simplicity typical of even prosperous citizens whose small boats traded with France, Spain and Portugal.
Among the notable places to visit just outside of Tenby is the Lovespoon Workshop at Cold Inn. Lovespoons are intricately carved from a single piece of wood, and in past centuries young men crafted them for the pretty girls they hoped to marry. The artisan-owner of the Lovespoon Workshop, David Thomas, revived this custom. He confesses: "I wanted to get out of buying an engagement ring, so in 1964 I made a lovespoon for my girlfriend." They married, and as their children were born he carved beautiful spoons for them. The workshop has dozens of lovespoons adorned with carved symbols such as hearts for lovers, seeds for children and boats for journeys. Visitors can also see what Thomas believes is the world's longest lovespoon, a 27-foot, symbol-packed display spoon.
And, while wine does not spring to mind as a Welsh product, at Martletwy the Cwm Deri Vineyard makes both grape and fruit wines. This is a lovely spot for a visit, especially if one orders lunch or a Welsh cream tea and sits overlooking the lovely valley where the food was raised.
Llandudno's history goes back even further than Tenby's, to around 2000 BC. Amazingly, this history was lost until 1986, when the town council ordered a survey of the headland at the southern end of Llandudno Bay, the Great Orme, where it was planning to create a car park. What the survey discovered was a 4-mile labyrinth of Bronze Age mining tunnels. Archaeologists have yet to explore 90 percent of the tunnels, but they believe the mine produced 1,700 tons of copper—enough for 10 million ax heads—making it probably the largest copper mine of antiquity. Though archaeological work is ongoing, many of the tunnels are open so visitors can kit up in a helmet and walk—or crouch—through the ancient passages, marveling at their narrowness. (Note: This is not for the claustrophobic.) The open-cast surface mine is even older than the tunnels, less threatening and almost as amazing.
Places to Eat and Stay
Welsh resorts have ample accommodation and many good eating places. In Tenby The Esplanade (www.esplanadetenby.co.uk) at 1, The Esplanade, has views over the beaches and a convenient location. The Buccaneer Inn on St. Julian's Street offers good pub fare. For harbor views and delicious food with Italian overtones, and especially for local fish, go upstairs at Nana's Restaurant, The Harbour, Tenby (www.nanasrestaurant.co.uk). The downstairs café serves light meals and ice cream.
Llandudno's Osborne House at North Parade, Llandudno, is lavishly decorated with elegant marine prints, chandeliers and a luxurious lounge. Accommodation is in pretty suites. Osborne's Café Grill has sophisticated cuisine and excellent service (www.osbornehouse.com). Nearby, St. Tudno's Hotel and Restaurant, also on North Parade, is where Alice Liddell stayed (www.st-tudno.co.uk). In neighboring Deganwy, The Quay Hotel has fine accommodation, spa facilities and stunning views across the estuary to Conway Castle. Badger's in the Victorian Arcade on Mostyn Street serves lunches and teas with Welsh specialties. The best of Llandudno's many fish and chips establishments is Tribell's Fish and Chip Restaurant on the corner of Chapel and Lloyd Street, while the Bengal Dynasty overlooking Mostyn and Gloddaeth streets has good Indian food.
In Abersoch, Goslings Restaurant with Rooms on High Street (www.goslingsabersoch.co.uk) offers vacation apartments as well as accommodation in the main building. Owners Jane and Micheal Gosling are friendly, and his fine cooking is a special treat. For something Italian try Angelina's on High Street.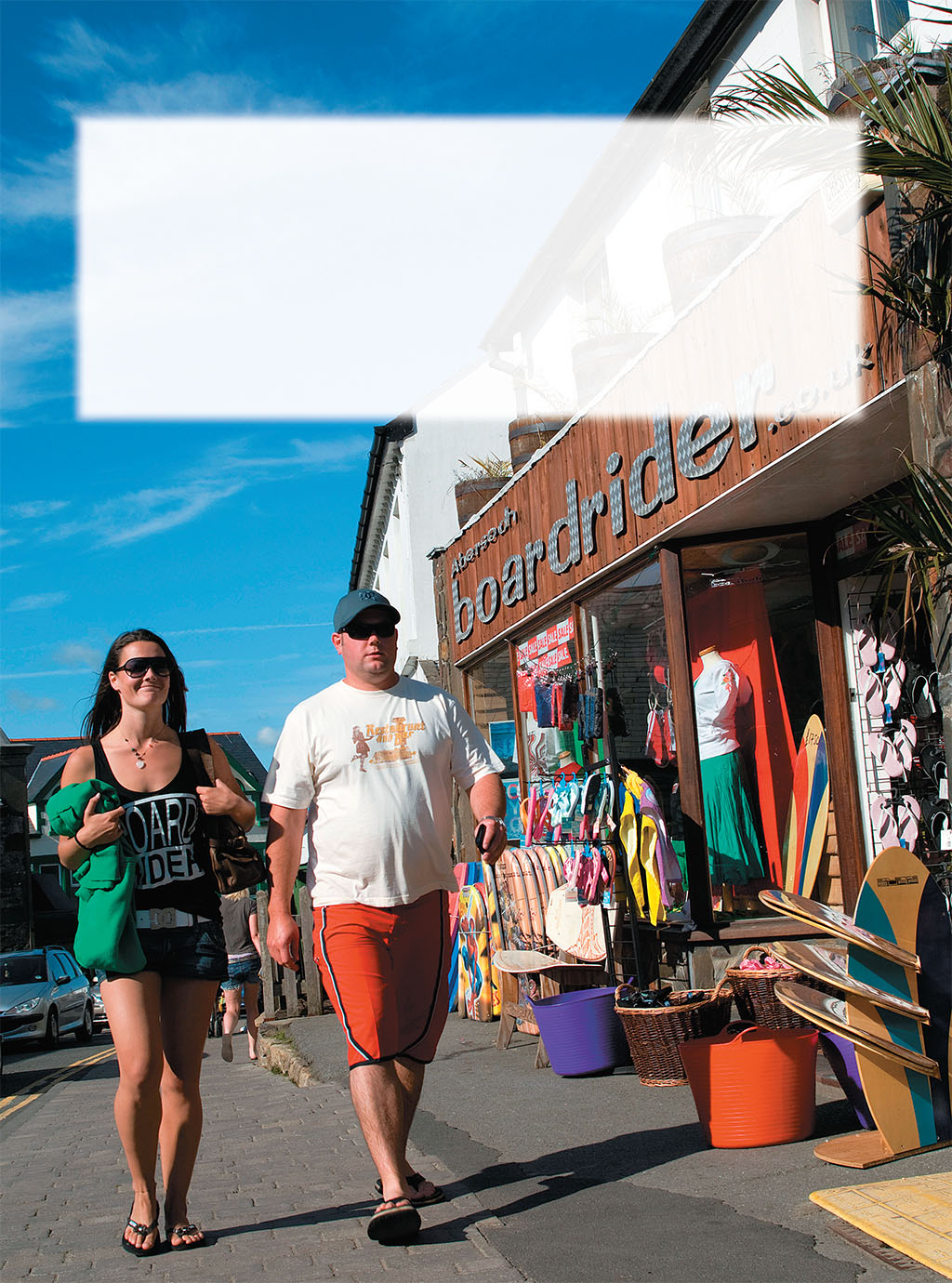 4
For centuries after the mine was abandoned, Llandudno was a marsh. But in the 19th century, Rhyl and other nearby towns began welcoming thousands of visitors taking their annual vacation from the factories of Cheshire and Lancashire. Seizing on this growing trend, the Mostyn family decided to create a resort for the more affluent and thus the planned town of Llandudno came to be, with wide avenues, attractive shops and a long promenade edging the bay. Among the new resort's first visitors were Dean Liddell of Christ Church Oxford and his daughter Alice, popularly believed to be the inspiration for Lewis Carroll's classic Alice in Wonderland.
The Mostyns still own the real estate, and they insist on limiting the height of buildings—thus Llandudno retains its grace. What it lacks is the splendid beach of many Welsh seaside towns. Llandudno's shore is shingle, so a pier built out into the sea offers rides and game machines along with shops selling T-shirts, shells, risqué postcards and sticks of candy rock. The pier offers a perfect vantage point to look back on the curving bay and the two headlands, Great Orme and Little Orme, that protect it, and beyond them to Snowdonia.
The headlands are great places for hiking. For those who don't want to scramble among the rocks, heather and sheep, though, there's the Happy Valley Gardens and the promenade for easy strolling and taking in the traditional Punch and Judy show.
Two North Wales not-to-miss venues lie just outside Llandudno. Conwy Castle, built by Edward I in the 1280s to hold onto the lands he had conquered in North Wales, stands on the estuary of the River Conwy. On approach to the town it is not hard to imagine how fearsome it must have looked to would-be attackers. Today, the castle guards the little town of Conwy, once a triangular garrison hemmed in by walls. A walk along these walls is still the best way to get an overview of the town and its boatfilled estuary, while the castle itself, built by the best masons from all over Europe, can enthrall for at least half a day (see British Heritage, May, P. 30).
Farther along the Conway River lies Bodnant Garden, which pours spectacularly down five Italianate terraces. Highlights there are the 1740 Pin Mill, situated with views of the water garden and Snowdonia, and the Dell, an informal English garden watered by the cascading River Hiraethlyn. The walk here is not to be missed for its beauty and the wide array of plants, including unusual specimens brought from the East by 19th-century botanists.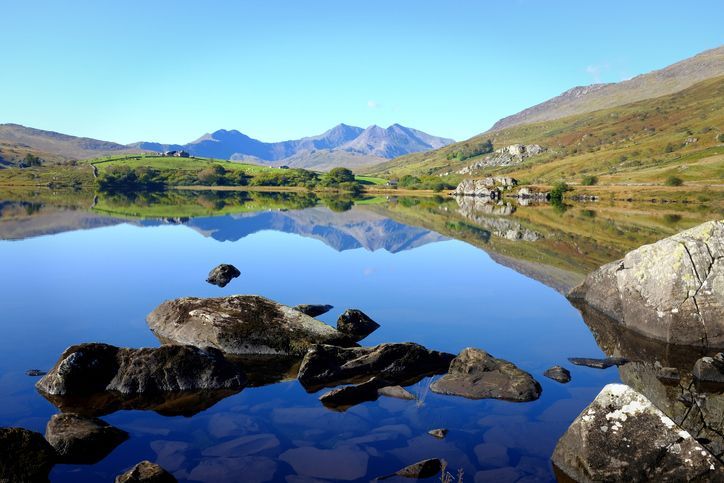 4
Both Llandudno and Tenby became immensely popular resorts when the railways began to bring city dwellers to their shores. Abersoch, at the far end of the Lleyn peninsula, was too tiny and too remote to warrant a train station, so it was largely unknown except to a few sailing enthusiasts until the automobile era. Now Abersoch and the neighboring small villages of Llanbedrog and Aberdaron are among the best-loved seaside towns of North Wales.
While they lack the tinselly amusement arcades and fairgrounds typical of many long-established seaside resorts, they need no piers because they have perfect beaches with delicious views across Tremadog Bay. Llanbedrog beach is particularly spectacular, with its prospect of Harlech Castle and a headland that has a nature trail leading to its peak. It is also home to Plas Glyn-y-Weddw, the oldest art gallery in Wales.
After Llanbedrog, Abersoch looks busy. Watersports enthusiasts throng here for sailing, surfing and water-skiing, and most of Abersoch's businesses are devoted to serving their needs for equipment, clothes, food and drink. This makes Abersoch a bustling place in summer, with activity revolving around the sea and restaurants offering a variety of cuisines.
In contrast, Aberdaron, which lies at the end of the Lleyn, is so tiny that its main street needs no name. Yet it has a long history. Bardsey Island, the fabled island of 20,000 Welsh saints, lies off its coast. The crossing was often treacherous, so pilgrims would wait for fair weather at Y Gegin Fawr—which means Big Kitchen—with its eating facilities and a communal dormitory. Now a whitewashed teashop, its extraordinarily low ceilings suggest both snugness and the stern lives of those ancient pilgrims. Some of the pilgrims are perhaps buried at nearby St. Hywyn's Church. Carved in Latin and dating from around AD 500, the tombstones record the burials of Veracius and Senacus and "many brethren."
Though the waves can pound Aberdaron, and nearby Hell's Bay is renowned for its surf, the Lleyn is balmy because the warm Gulf Stream bathes its shore. Often the idyllic beaches of Abersoch, Llanbedrog and Aberdaron bask in sunshine while rain clouds the inland hills. This mild weather combines with the superb beaches, mysterious islands, walled cities and ancient castles to capture the hearts of summer visitors who return year after year to play on the beaches, sail, lick ice creams and relax in one of Britain's loveliest regions.