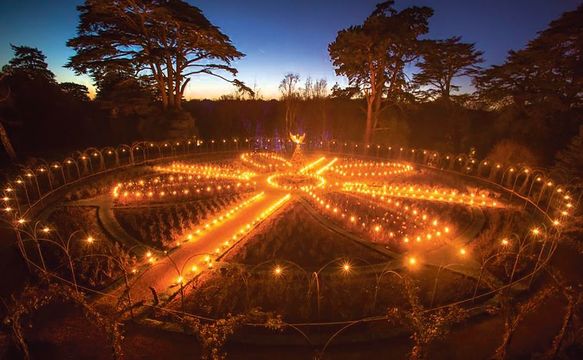 Join holiday revelry through the ages!
I
n 1848 the
Illustrated London News
published a woodcut depicting Queen Victoria, Prince Albert and their young family gathered around a Christmas tree at Osborne House, Isle of Wight. Many ordinary readers had never before seen such a beautifully decorated tree, and they leapt to follow—as we still do to this day—underlining how Royals and nobles have so often led the way in fashionable seasonal festivities.
Far from the cozy family affair of a traditional modern Christmas promoted by Victoria, medieval courtly gatherings were spectacular occasions for public demonstrations of wealth and power. William the Conqueror was crowned at Westminster Abbey on Christmas Day 1066, and the following year, at his Christmas Assembly in Gloucester, he commissioned Domesday and handed out land to his cronies. Norman nobles also loved a good seasonal hunt, a pursuit still indulged up and down the country by Boxing Day Meets suitably fortified by "stirrup cup" liquors.
Conspicuous consumption of food and drink was another extravagance that betokened power. A dip into the Tudor household book of Edward Stafford, 3rd Duke of Buckingham, shows how tables at Thornbury Castle groaned on The Feast of The Nativity 1507: "Dined 95 gentry, 107 yeoman, 97 garcons. Supped 84 gentry, 114 yeoman, 92 garcons."
Swans, geese, suckling pigs, rabbits, peacock, mallards, widgeons, beef and mutton were just some of the nosh on offer, all swilled down by copious flagons of ale and Gascony and Rheinish wine. Poor Buckingham later got above himself and was beheaded, but today Thornbury Castle, on the edge of the Cotswolds, is a luxury hotel where the deep-pocketed can splash out on a sumptuous Christmas in atmospheric historic surroundings (thornburycastle.co.uk).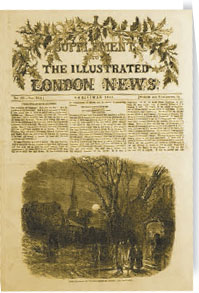 14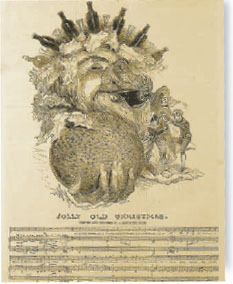 14
T
he Tudor and Stuart periods marked a dazzling high point of Christmas revels among royalty and nobility. Christmas Day was reserved for serious religious devotions, but frivolity reigned through the rest of the Twelve Days of Christmas with a Lord of Misrule to oversee entertainments that scattered normal order and created merry mayhem, echoing the Roman Saturnalia. Even in the upstairs, downstairs world of the Victorians and Edwardians three centuries later, Twelfth Night balls would see social hierarchies cast aside as the master of the house danced with the cook and the mistress took a step with the butler.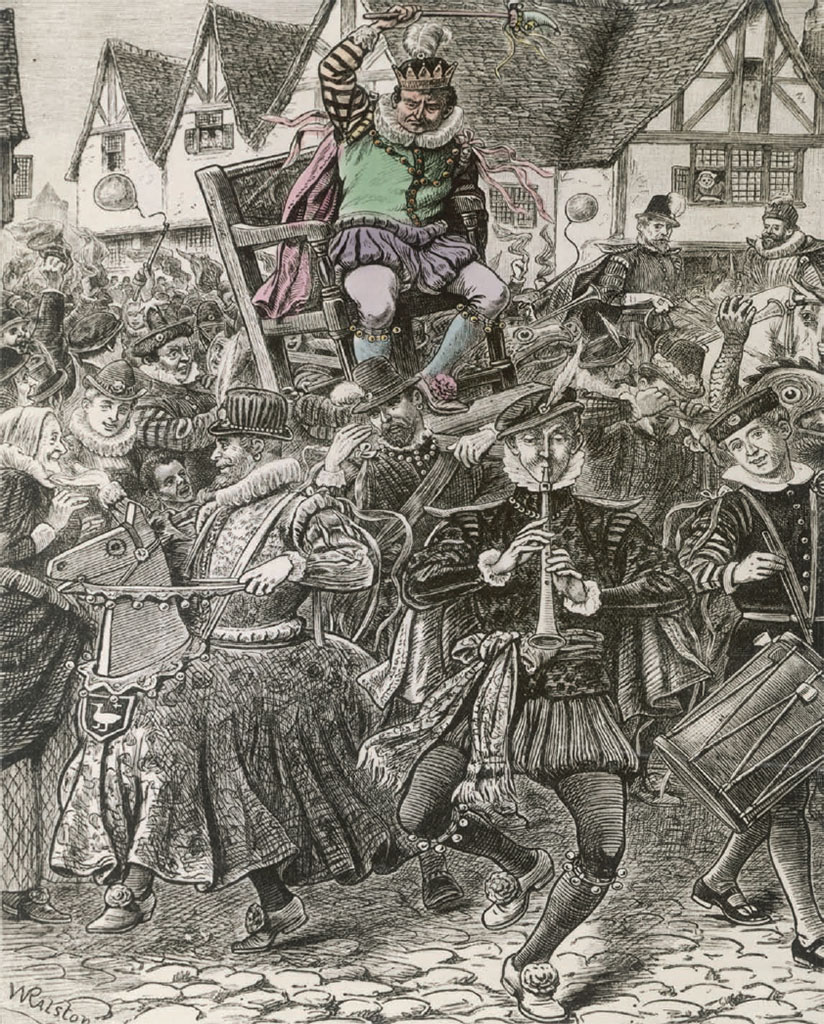 14
Henry VIII loved "disgysings," or fancy dress, costing him £584 over just one Christmas. His daughter Elizabeth I was even more boisterous, with one court observer recording in 1572 that she had been entertained by "certayne masters of defence, that did challenge all comers at all weapons, as long-sworde, staff, sword and buckler, rapier with the dagger: and here were many broken heads, and one of the masters of defence dyed… The challenge was before the quenes Majestie who seems to have pleasure therein…."
[caption id="ChristmasatCourtandCountryHouse_img3" align="aligncenter" width="878"]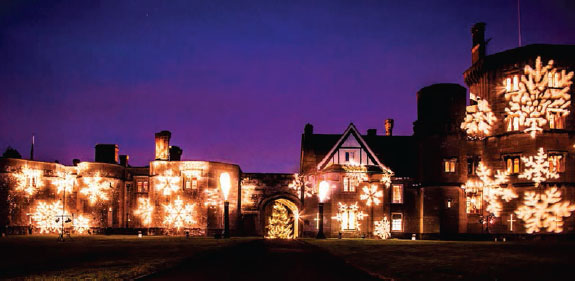 14
In Tudor times, the Duke of Buckingham held mammoth Christmas feasts at Thornbury Castle. While those days are past, the castle, now a luxury hotel, offers sumptuous Christmas packages for guests. No, swan, widgeons and peacock will not be on the menu.
[/caption]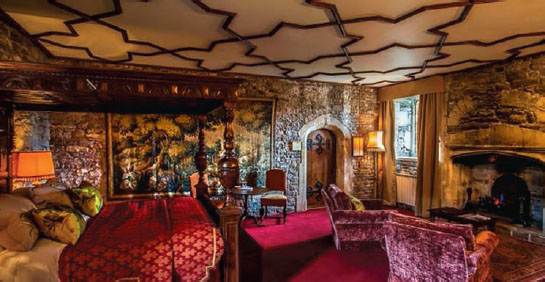 14
Gift giving in the politically fraught Tudor court, on New Year's Day rather than Christmas Day as now, could be another dangerous business as nobles curried favor, their presents to the sovereign displayed on sideboards for all to see (only the privileged few got anything in return). It was clear which way the wind was blowing in 1532, when Henry VIII refused a gold cup from his wife, Katherine of Aragon, but accepted an exotic set of richly decorated Pyrenean boar spears from Anne Boleyn. He married the latter the following year.
Sword fights aside, courtly culture entered a golden age, with Shakespeare and contemporary playwrights much in demand over Christmas—Twelfth Night, for example, was probably performed before Elizabeth I's court during the revels of 1601-2. The Stuarts enjoyed the great artistic collaborations between Ben Jonson and Inigo Jones, who wrote and staged elaborate masques—a blend of poetry, propaganda, music, dance and extravagant costumes—often performed on New Year's Day or Twelfth Night. But already the whiff of Puritanism was in the air: Jonson's Christmas, His Masque, performed for James I's court in 1616 and featuring characters like Mis-Rule, Minc'd-Pie, Caroll and Christmas, protested against anti-Christmas forces and appealed for "A right Christmas, as, of old, it was."
[caption id="ChristmasatCourtandCountryHouse_img6" align="alignright" width="360"]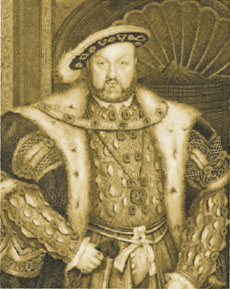 14
King Henry VIII always loved a good party. His Christmas Court lasted for several weeks and featured gifts, feasting and fancy dress balls.
[/caption]
Under Puritan rule, Christmas was banned and, although seasonal celebrations returned with the Restoration of the Monarchy (1660), it really took until the 18th and 19th centuries before people rediscovered and reinvented the traditional trappings we know today. Royalty led the way in the shape of German King George I, who insisted on plum pudding at his first English Christmas in 1714. More significantly, Queen Charlotte, wife of King George III, caused a sensation on Christmas Day 1800 at Windsor when she threw a party for children of the principal local families; taking an idea from her German homeland, its centerpiece was a yew tree decked in candles, sweetmeats and toys for her delighted young guests. "German trees" became all the rage in upper-class houses and, once the woodcut of Queen Victoria appeared in the Illustrated London News, ordinary families began decking evergreens too.
Queen Victoria cherished Christmas—"this happy, most blessed Festival"—as a family occasion, spent mostly at Windsor Castle or, after Albert's death (1861), at Osborne House, Isle of Wight. It is no coincidence that during her reign so many of today's seasonal features—trees, cards, crackers—came to prominence.
[caption id="" align="alignright" width="252"]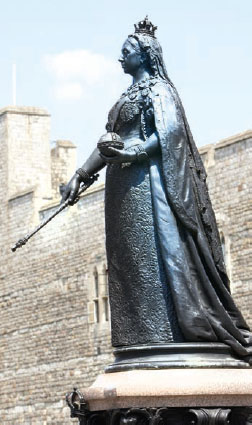 14
Queen Victoria reveled in Christmas with her family and introduced many customs and traditions still part of a British Christmas to this day.[/caption]
Gift giving now took place at Christmas rather than New Year, Victoria delighting in another German import, Bescherung, whereby presents were arranged around small individual trees for each family member on Christmas Eve. The Queen's journals joyously itemize every present given or received—jewelry, portraits, a sable muff, a silver lamp—and festive fun from ice skating to building a snowman. She loved tableaux vivants (costumed enactments of scenes from the Bible, myth, literature), even if sometimes the Royal children fell short in performances. Baron of beef, wild boar's head and brawn fueled the occasions.
Victorian Royals and gentry were duty-bound to give presents to household staff and dispense alms to the poor and needy. Emma Dent of Sudeley Castle, Gloucestershire, noted in her diary in 1865, "I attended services at Winchcombe and gave a dinner to all inmates of the Almshouses and tea and wine and soup to those who were too ill to attend." Meanwhile at the Digby family home of Sherborne Castle, Dorset, the 19th-century custom of distributing newly-minted pennies to local people who gather on Christmas morning continues to this day.
[caption id="" align="aligncenter" width="623"]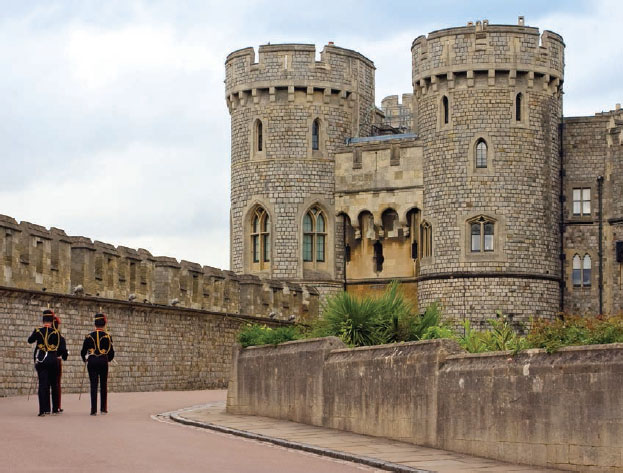 14
Windsor Castle has been the focal point of a Royal family Christmas at varying times in history. The present Royal Christmas, however, is a family affair at the Queen's Sandringham estate.[/caption]
The Victorian era and the Edwardian times of Downton Abbey sparkle with anecdotes of shooting parties, balls and lords, ladies and household staff gathered around Christmas trees. At Blenheim Palace there was tea in the boathouse, skating on the frozen lake, a band and torchlight processions through the park. At Highclere— the real-life setting of imaginary Downton— even in wartime 1914, wounded soldiers recuperating in the house-cum-hospital were served soups, roast goose and plum pudding by footmen, and Lord and Lady Carnarvon joined them in the library for a fireside brandy. Lady Baillie, who owned Leeds Castle from the 1920s, hosted magical parties for estate staff children, paying special attention to presents, which had to meet two golden rules: to be neither ugly nor indicative of "criminal pursuits" — ruling out cap pistols and rubber daggers.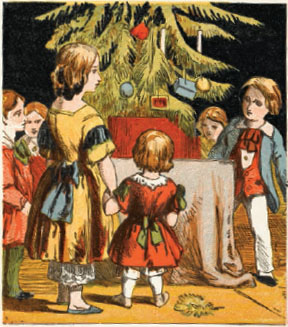 14
Our own Royal Family, attending church at Sandringham on Christmas Day before enjoying a festive lunch, sets the tone for many folk around the country today. Fortunately, the Queen no longer has to interrupt her celebrations to make her 3 p.m. Christmas Day Broadcast; since 1960 it has been prerecorded. "Joke" presents are reportedly de rigueur, with a leather toilet seat from Princess Anne to Prince Charles a hit one year, while it's said Prince Harry's gift of a shower cap to granny bearing the slogan "Ain't Life a Bitch" raised a royal smile.
In modern times, certainly with William and Kate keen to set their own agenda, Royal festivities continue very much as a family affair—a far cry from the public performances of Christmases past.

Join the Christmas Cheer
Throughout the festive season many castles and country houses put on a great show. Here are some highlights.
[caption id="" align="aligncenter" width="736"]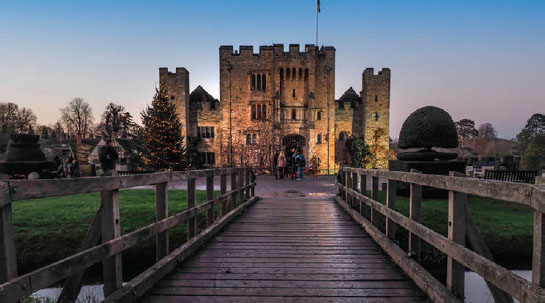 14
Hever Castle & Gardens, Edenbridge, Kent Twinkling Christmas trees, log fires and traditional decorations welcome you to the childhood home of Anne Boleyn. As dusk falls, the gardens become magically illuminated (November 28-December 24). hevercastle.co.uk[/caption]
[caption id="" align="aligncenter" width="736"]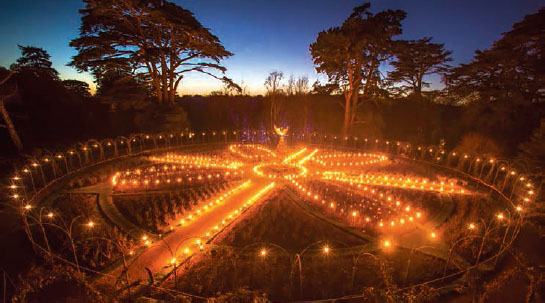 14
Blenheim Palace, Woodstock, Oxfordshire Decorations and music fill the Duke of Marlborough's home (November 11-December 31), while a spectacular trail of lights illuminates the Formal Gardens after dark, leading to a scented Fire Garden and singing Christmas trees.blenheimpalace.com[/caption]
[caption id="" align="aligncenter" width="775"]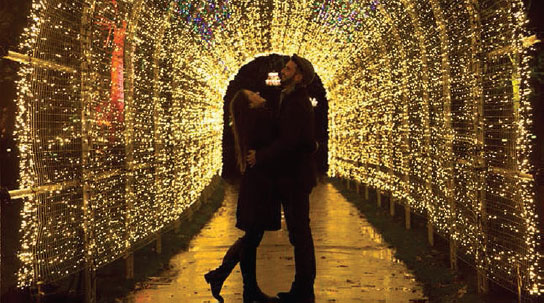 14
Victorian Christmas • Osborne, Isle of Wight Carousel rides, roasting chestnuts, entertainers, snowy courtyard—experience the spirit of a Victorian Christmas at Osborne (December 2-3). You might even meet Queen Victoria as you tour festively dressed rooms in the house. english-heritage.org.uk[/caption]
Traditions of Christmas Leeds Castle, Maidstone, Kent
The origins of Christmas crackers, Christmas trees and other seasonal traditions are revealed in decorated staterooms. Look out for gifts in the Thorpe Hall Drawing Room based on Lady Baillie's presents to staff children in the 1930s (December 2-January 1).
leeds-castle.com

Historic Royal Revelries Historic Royal Palaces, London
Step back in time at Hampton Court Palace as actors bring to life a Tudor-themed Christmas. For the full program of revelries at London's Historic Royal Palaces, check out hrp.org.uk.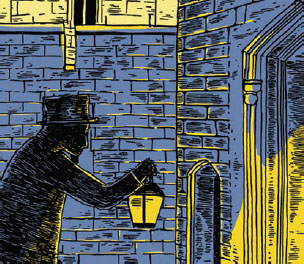 14
A Christmas Carol Windsor Castle, Berkshire
For the first time (December 16-30), you can enjoy an immersive Christmas performance in the state apartments as you follow Scrooge into the Waterloo Chamber (during World War II then-Princess Elizabeth and Princess Margaret entertained family and friends here with turns in Aladdin and Sleeping Beauty). Celebrations continue beneath the Christmas tree in St. George's Hall. royalcollection.org.uk