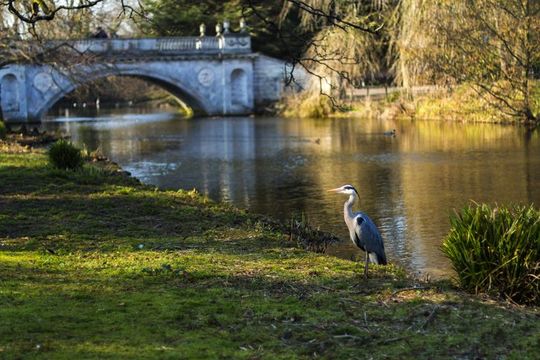 Chiswick is undoubtedly one of London's best kepy secrets. Let's stroll in this Georgian riverside neighborhood.
Anyone taking a taxi or bus from Heathrow Airport to central London passes through the neighborhood of Chiswick via the drab, nondescript, congested Hogarth roundabout.
Read more: Discover the Wild and Wondeful Wetlands
Come back, though, to explore this west London neighborhood that was once a fishing village. You will be pleasantly surprised to find its tree-lined streets, idyllic green spaces, beautiful period architecture, small local shops, historic pubs and a river walk that certainly seems more countryside than metropolitan London.
The opening scene in William Makepeace Thackeray's Vanity Fair has heroine Becky Sharp tossing a book from a coach window as she fees Miss Pinkerton's Academy for Young Ladies in Chiswick. 
Chiswick is only 20 minutes from central London
It takes about 20 minutes to reach the Turnham Green tube station from central London via the District Line. Cross wide Chiswick High Road, Chiswick's main shopping street, to the statue of William Hogarth, the painter, engraver and satirist.
Hogarth was closely associated with this neighborhood during the later years of his life. Just ahead is Devonshire Road with stylish shops, art galleries, restaurants and pubs. 
The Classic Image Café Gallery at 15 Devonshire Road offers hearty soups, tasty sandwiches and salads (and a delicious carrot cake). Footsteps away, La Trompette at 5-7 Devonshire Road is a good option for traditional French food in a pretty setting; it is often on lists of London's top restaurants. Beyond that busy roundabout is Church Street that seems like the High Street in any English village, with houses covered in wisteria and Virginia creeper.
Church Street winds down to the River Thames, where at low tide the long, narrow island known as Chiswick Eyot can be reached on foot via the gravel-filled riverbed. Back on Church Street to the left is St. Nicholas Church. It still has its 15th-century tower, though most of the church was rebuilt in the late 1800s. In the churchyard, a tall stone tomb topped with an urn marks Hogarth's grave. American artist James McNeill Whistler was buried here in 1903. 
3
 What else is there?
Fuller's Griffin Brewery is the largest and oldest brewery in London. There has been a brewery on this site for nearly 400 years. Today it services almost 400 pubs, and its London Pride ale is one of the city's most popular. Interesting and informative guided brewery tours must be booked in advance, and end with a tasting of their ales.
Chiswick House is one of the most beautiful houses in England. Its world famous gardens have been the inspiration for gardens around the world, including New York City's Central Park. The grand Palladian house was built in the 1720s by Lord Burlington.
He loved Italy so much that he designed a house recreating the villas and gardens of that country. In stark contrast to the building's simple exterior, an ornate circular hall and lavishly-furnished 18th-century rooms with intricate ceiling paintings are adorned with impressive art work. Gardens surrounding the house spread over 65 acres with a sea of seasonal colorful blooms.
The glass Conservatory houses a highly regarded collection of camellias that are at the heart of the Camellia Festival held in February and March each year. Hogarth's House dates from the early 18th century, complete with ancient mulberry tree still clinging to life in the front garden.
It is hard to imagine this as the quiet, rural country home of William Hogarth from 1749 until his death in 1764. Still, once inside the house there is a tranquil atmosphere (with free admission). The house was fully restored in 1997 to commemorate the 300th anniversary of the artist's birth. Most of his well-known engravings including "Marriage a la Mode" are on display, as well as a copy of "The Rake's Progress".
Read more: The White Cliffs of Dover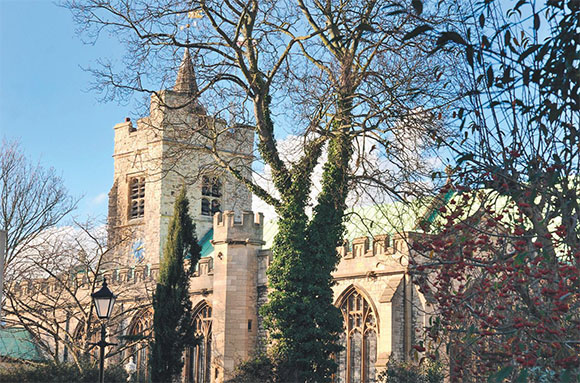 3
Chiswick Mall 
Finally, and best of all, walk along the elegant mile-long pedestrian walk known as Chiswick Mall, lined with grand old houses adorned with flowers and wrought-iron verandas, and dotted with some lovely pubs.
Walk one way and head toward Hammersmith Bridge; the other direction leads to Kew Gardens and Barnes. Canadian geese and occasionally swans can be seen making their way on the Thames.
While Thackeray's Becky Sharp wanted to get as far away from Chiswick Mall as possible, today's Londoners dream of making this neighborhood home—so they can have the feeling of village living while still being in a big city.
This then is Chiswick; where past centuries have been well preserved, where the local butcher (Macken Brothers) has been serving for more than 50 years, where the local baker (Gail's Bakery) makes dozens of breads and knows everyone by name—and where the feeling of life in an English village is still very much alive.
Read more: Iconic Britain: Our favorite places