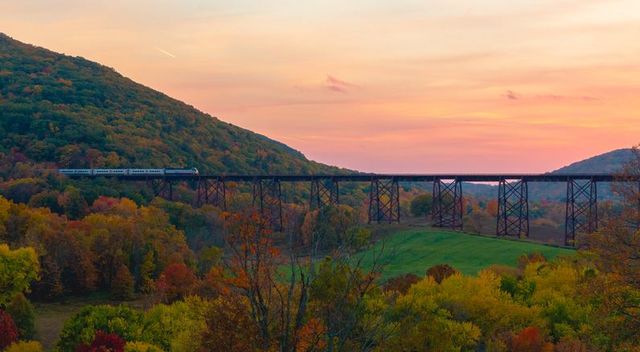 The West Country. Often heralded as England's most beautiful region, there are few better ways of seeing it than by train
There are many great rail itineraries that can be plotted through our green and pleasant land—to Edinburgh and York, through the Marches and the Severn Valley or along the south coast from Brighton to Bournemouth, for instance.
Rail is also an efficient way to make an expedition through the West Country of Devon and Cornwall, avoiding hours of driving down there, and affording a charming introduction to its landscapes and people. For on-again, off-again train travel, though, it is wise to travel light!
Day 1: Fast Train from Paddington
There are two ways of doing this itinerary by train, north-to-south or south-to-north. Heading south first provides the greatest flexibility to add or subtract a day or two. This is a perfect itinerary for a Britrail flex pass (www.britrail.com).
Catch a late morning train at London Paddington for Cornwall: destination Penzance. Sit back and watch the English countrywide glide by as you head west for Bristol and then turn south across Somerset and into Devon.
The West Country peninsula begins in Exeter. From there, the line hugs the coast through Dawlish and Teignmouth. Devon becomes Cornwall at the River Tamar crossing on the southwest side of Plymouth. Then, it's over the moors and farmland to Penzance, and your train stops at the very literal end of the line. There is a full range of accommodation in England's most southwesterly seaside resort. For the classic, old-fashioned Edwardian hotel experience, it's the Queen's Hotel right on the esplanade. For all the visitor bumph, go to www.purelypenzance.co.uk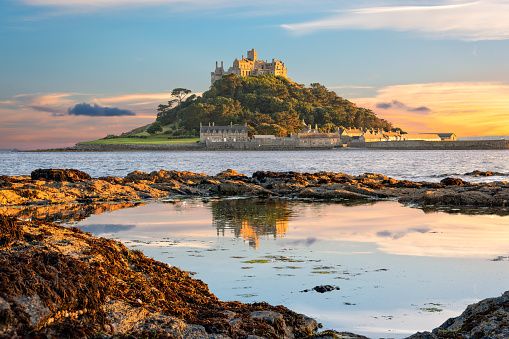 6
Day 2: Perambulating the Penwith Peninsula
No need to worry about driving the narrow lanes. Local bus transport goes everywhere, and organized excursions are easy to find. The tiny bubble of land east from Penzance is the Penwith Peninsula.
It's a dozen miles to Land's End, where signposts, ceremony and sundry tourist attractions mark Great Britain's southwest extremity, from where it is open Atlantic all the way to Canada.
The old abbey and stately home on St. Michael's Mount make a wonderful visit (with incredible views of Mount's Bay), whether you take a bus over to Marazion to walk the causeway at low tide, or catch a boat across at high tide from Penzance Harbor.
Penzance itself is a fascinating seaside town; stroll in the Morab Subtropical Garden and visit the National Trust's Egyptian House. Walk the esplanade along Mount's Bay even as far as the fishing village of Newlyn. The local specialty is Newlyn crab.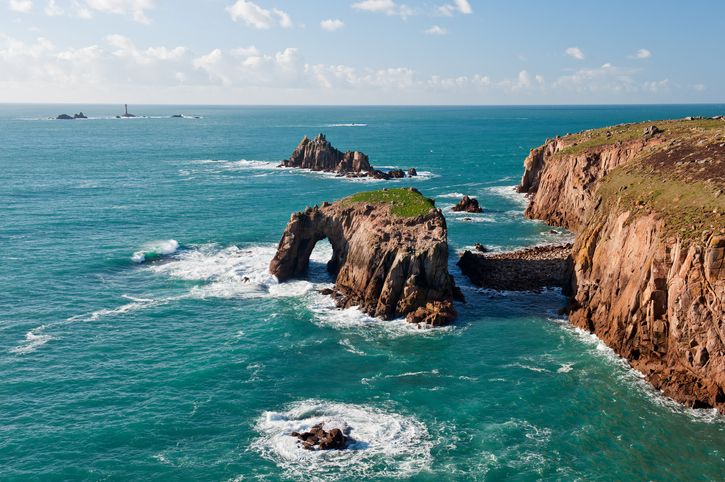 6
Day 3: Cornwall is a Frame of Mind
You might schedule a second day in Penzance—to see everything on Mount's Bay that you didn't get to do yesterday. Somehow, this is a place that invites you to relax the pace. Perhaps even take afternoon tea on the sun porch of Queen's Hotel. When it's time to leave, though, the only direction is northeast. How fast you progress back to London is completely flexible.
A good first stop would be Truro, Cornwall's cathedral city. In the heart of the pretty pedestrian downtown, majestic Truro Cathedral looks every inch the immaculately-maintained Gothic cathedral, despite its Victorian construction (built 1880-1910). You might stay in Truro, and take a short rail spur line south to Falmouth.
The working industrial port doesn't detract at all from the historic harbor, home to the National Maritime Museum Cornwall.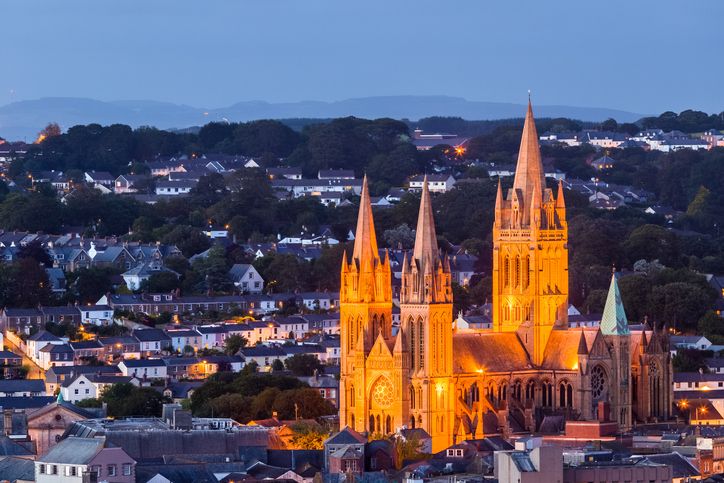 6
Day 4: Up the Peninsula
St. Austell is another ancient market town worth a look around. This is more the Cornwall of natives than tourists; the town history museum (enthusiastically run by volunteers) consists of two small rooms.
From St. Austell, make connections for an excursion to the amazing Lost Gardens of Heligan, or to the now-famous Eden Project with its huge biospheres recreating global climates.
You might also take a rail spur north to the bustling seaside holiday town of Newquay, now possessed with something of a party-town reputation and actual nightlife. Or, after a day stop or two, hop back aboard for the lights of Plymouth.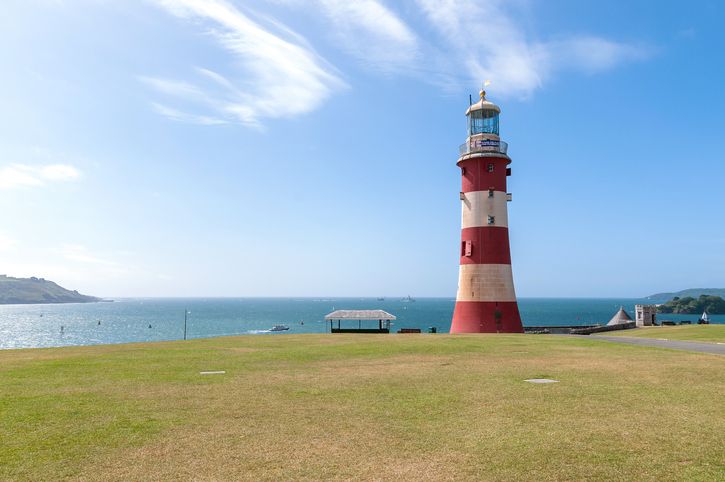 6
Day 5: Plymouth's Pride: The Ocean City
You pass from Cornwall on the rail bridge at Saltash, and pull into the peninsula's proper city (pop. 260,000). Plymouth is a deceptive place; it looks far too "modern" to be genuine. That's because the greatest part of the naval city was destroyed by German bombing in World War II; Plymouth is a phoenix.
What did escape 1940s destruction and rebuilding is the old waterfront, where everything you want to see is clustered around the harbor neighborhood called the Barbican, and on the rising plateau above it, Plymouth Hoe, where Francis Drake was famously playing bowls when news arrived of the Spanish Armada. Location really counts here; this is also where you want to stay. Best situated are the Holiday Inn and a cluster of B&B hotels around the Barbican.
The Tourist Information office is on the quay, for what's going on and where. It's right across the street from the Mayflower Steps, where the Pilgrim families made their final departure for the New World in 1620. There are suitable memorials, and the American fag flies. Just over the inner harbor footbridge, visit the National Marine Life Aquarium. From the quay, catch any number of boat excursions for sightseeing or fishing.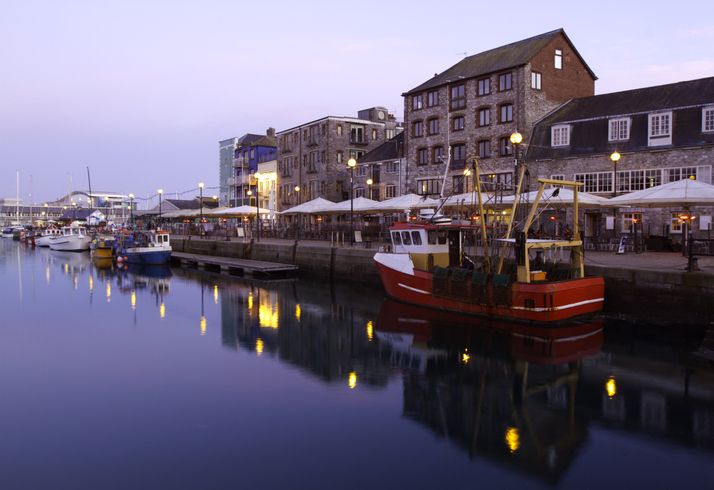 6
Day 6: Where the Track Divides
Plymouth deserves a day or more, but way leads on to way for all of us. It is a morning ride back to London. With a few extra days, take a spur line to Torquay, heart of the English Riviera, and Agatha Christie Country.
Add a stop in Exeter for a visit to the gorgeous Exeter Cathedral, or jump out at Bristol or Bath. From Exeter or Bristol, connections can be made to anywhere across the country. Yes, we are only spoiled for choice.