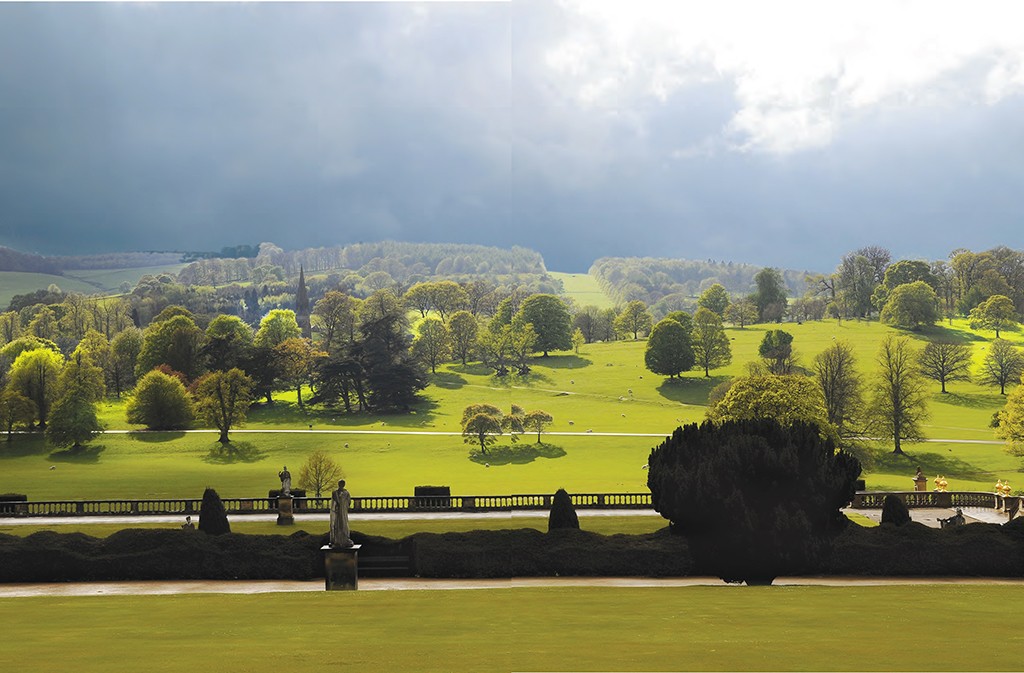 After 300 years, the legacy of history's greatest landscape architect remains.
Visitors to the country mansion of Croome Court near Worcester enjoy a remarkable treat. While the National Trust-owned house was undergoing a major restoration in 2015, anyone with a head for heights could climb the scaffold for a bird's eye view of the surrounding park landscaped by "Capability" Brown in the 18th century.
Below, in a magnificent panorama, lay the vision of England's green and pleasant land that the master conjuror created to beguile his fashionable Georgian clientele: undulating grass and gentle hills, romantically meandering river; cows and sheep nonchalantly grazing in meadows. Carriage drives and pathways sweeping like flamboyant brush strokes across a giant canvas; an eye-catching church standing high on the horizon, half-hidden buildings amid trees. All in a valley bowl with the Malvern Hills blurring the edge to the sky.
Of course, it's a fantasy; a rural idyll artfully constructed to delight. That the recipe succeeded is borne out by the fact that Brown's landscapes frame great houses around the country to this day, the very epitome of the English stately home look.
Employed at Croome from 1752, Brown was just starting out on his freelance career as a landscape gardener. The 6th Earl of Coventry, whose wealth matched his good taste, had a nose for fresh talent and also bagged designers Robert Adam and James Wyatt to work on the makeover of his home and estate. Croome was Brown's "first and favorite child," worked on 1752–6 and 1762–6, providing a template of signature features that he would repeatedly apply elsewhere.
"Below, in a magnificent panorama, lay the vision of England's green and pleasant land that the master conjuror created: undulating grass and gentle hills, romantically meadering river"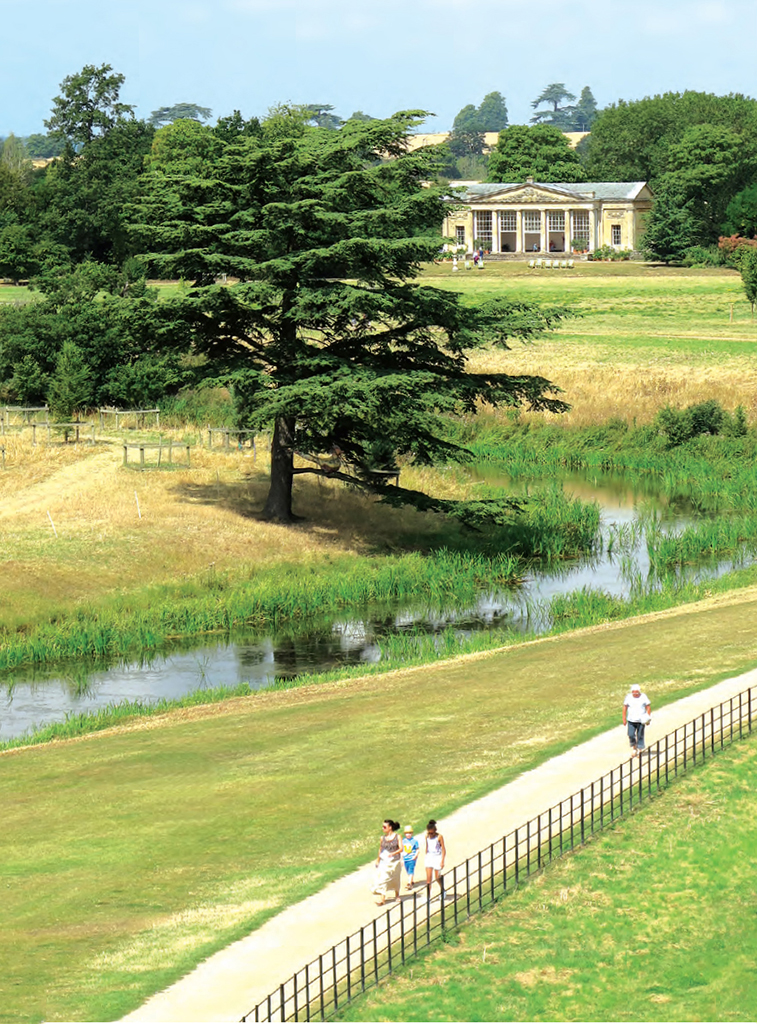 5
In this tercentenary year of Brown's birth many celebrations are planned throughout the country to honor the man and his work. Some 250 landscapes, mainly across England with a sprinkle in Wales, are attributed to him (he declined a commission from an Irish peer "as I have not finished England"). Many can be visited; simply think of a major country house or castle—Charlecote, Warwick, Petworth, Chatsworth, Blenheim Palace, Longleat, Harewood—and you will find Brown's green hands behind the scenes.
The nickname "Capability" derived from Brown's habit of advising potential clients that their estate or garden had "great capabilities" for improvement. Before him, the fashion was for heavy formality inspired by Tudor, Dutch and French traditions; the English landscape gardeners obliterated the parterres and rigid avenues in favor of "natural" Edens—once thousands of tons of earth had been moved, countless trees planted and rivers coaxed into serpentine flourishes. William Kent and Humphry Repton were great exponents of this revolutionary style, but no one was as prolific, nor left such a legacy, as Capability Brown.
This coming season the scaffolding at Croome is down in time for Brown's anniversary. You may no longer get the bird'seye view, but you can experience the parkland as he intended—on the ground, walking through a kaleidoscope of teasing vistas created by sculpted contours and cleverly placed clumps of trees.
Brown was initially employed to remodel the house in the bottom of the valley, which he did in Palladian style. More important in his thinking was the mansion's relationship to the landscape—for views out and as a feature to be looked upon. Brown called himself a "place maker," and it was the integration of every element of his designs into a harmonious whole that created the magic. Day after day his figure, clad in trademark green worsted jacket and notebook in hand, plotted and planned across what was then boggy marshland, trailed by an assistant with a pedometer.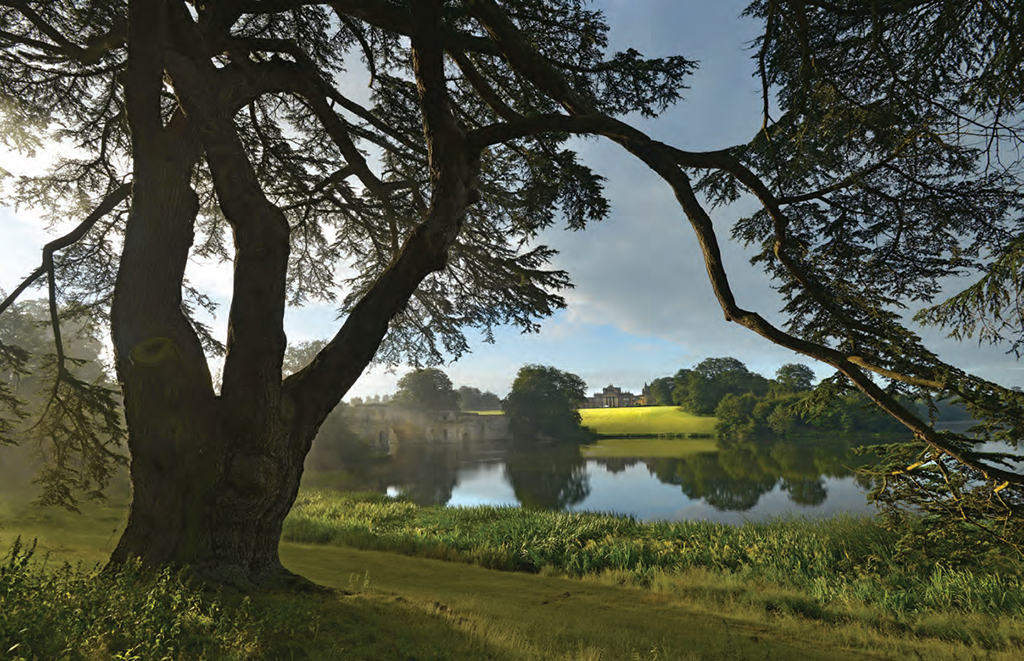 5
Pick up a tour map from visitor reception to explore the results, or, to be authentic, simply wander and be surprised. From Brown's Georgian Gothic church cresting the hill, discover the evergreen shrubbery—a village was relocated to make room for it—and winding paths to Robert Adam's Temple Greenhouse where the 6th Earl kept his renowned collection of exotic plants. Statues, bridges, a grotto and picnic pavilion spring up around the Pleasure Grounds, where the lake resounded to boating parties. Brown's engineering and drainage skills also extended the river in a 1.75-mile serpentine arc floating away into the distance—it took 12 years of hand digging.
It's quite a ramble around this artificial Arcadia, and Brown's Rotunda for garden banquets, encircled by his cedars, offers a welcome seat. There's also a fine ha-ha (sunken fence) here: without interrupting the flowing views, it kept sheep and cattle, essential to the bucolic idyll as well as to meet the needs of the house, from trespassing too close to buildings.
That Lancelot "Capability" Brown and the 6th Earl of Coventry became firm friends through the years and across the class divide speaks volumes for Brown's charming way with his aristocratic clients.
From humble beginnings—he was born in 1716, the fifth of six children of a Northumberland yeoman farmer—Brown left school at 16 to become apprentice gardener on the local Kirkharle estate. Now owned by John and Kitty Anderson, Kirkharle Courtyard has displays on Brown, including a plan he drew for the park.
"We found the original in 1980 in amongst papers in a chest of drawers. We were very excited," Kitty Anderson recalls. Whether a first-ever, youthful vision or drawn during a return visit in 1770, the plan was never followed but has now inspired a lake and lots of tree planting. Nearby is St. Wilfrid's Church where Brown was baptised—an anniversary festival weekend is planned this August.
By 1741, Brown had moved south to Viscount Cobham's Stowe in Buckinghamshire, where he worked with William Kent, and learned about architecture and the emerging style of landscape gardening—the impressive Grecian Valley framed by trees is a classic take. He also got married at Stowe, to Bridget Wayet, who gave him unwavering support and nine children in the years to come.
Emboldened by experience, Brown moved to London in 1751 and, using his Stowe reputation as a calling card, took the unusual step of turning freelance as a "place maker". He quickly got his major break at Croome—and also envisioned the Earl of Coventry's Broadway Tower folly (built by James Wyatt), now a favorite viewing platform for visitors to the nearby Cotswolds.
Over the next three decades Brown, despite asthma attacks and workaholic burnouts, crisscrossed the country as he juggled simultaneous projects remarkable for their ambition: introducing rivers and lakes, and swathes of trees; the former characteristically sinuous and snaking, the latter palettes of seasonal colour, with oak, beech, firs, and cedars aplenty. Huge engineering works underpinned operations.
He built at least 150 ornamental lakes and was not averse to flooding the odd village (having first removed its inhabitants) if it got in the way of the big picture—at Bowood in Wiltshire, for example. A "Terrestrial Delights" exhibition and monthly "Capability" Brown guided tours are among tercentenary activities at Lord Lansdowne's estate this year. Or drop into Elizabethan Burghley House in Lincolnshire, where Brown spent "25 years of pleasure" creating the huge Serpentine Lake, stables, a fashionable Orangery, and Gothic garden summerhouse.
For Brown's masterpiece of scale, explore Blenheim Palace in the Oxfordshire Cotswolds. The scene he brought together has been called "the finest view in England": damming the River Glyme and transforming the great lake to refine Vanbrugh's Grand Bridge, with the Duke of Marlborough's baroque palace off to the left, the poplared island in the foreground and hanging beechwoods beyond. Alongside a commemorative exhibition (February 13 to May 2) highlighting Brown's 11 years of labors from 1763, there are to be horse-drawn carriage tours of the grounds.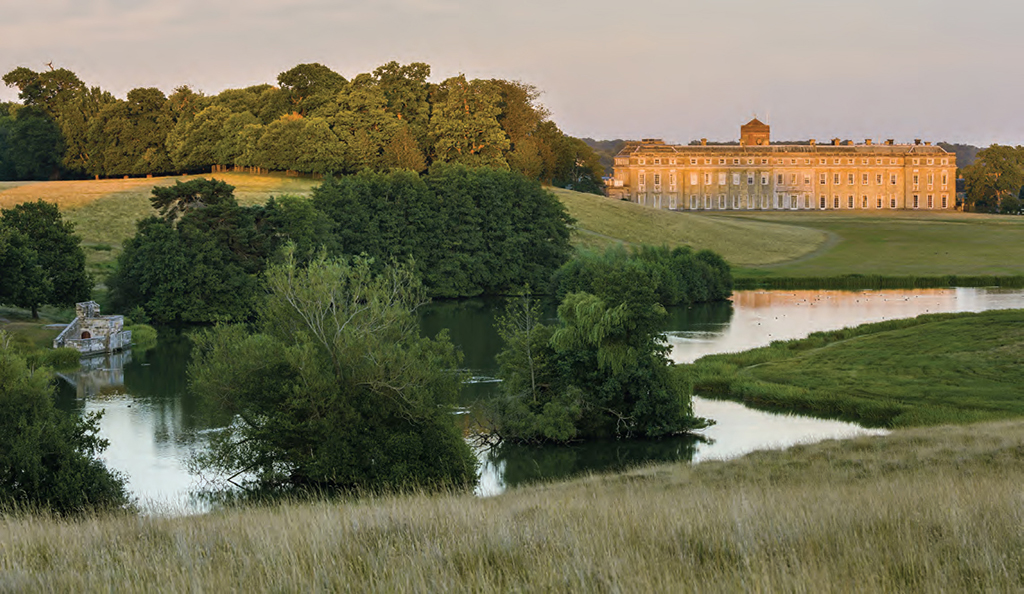 5
"His landscapes were designed to be seen on horseback or from a carriage, so that as you travelled the views continually changed, with trees strategically planted to hide then reveal glorious vistas," says Karen Wiseman, Head of Education at the palace. "We have lots of beautiful Brown lines of sight."
A fun immersion in a Brownian landscape can be experienced at Weston Park in Shropshire, where the Temple of Diana has been refurbished as a self-catering holiday let. It has views across Brown's rolling parkland to the redbrick 17th-century house—open to visitors and offering exclusive stays as well.
Not everyone admired Brown; some accused him of being a vandal, destroying all those formal parterres, grassing over the flowers, and planting trees that might take generations to mature. But his go-to status was put beyond doubt in 1764 when George III appointed him to look after the gardens at Hampton Court. Brown entered his new client under K for "King" in his account book, moved into Hampton's Wilderness House, planted the Great Vine, and tinkered at Richmond Park and Kew, but did no large-scale royal work.
Freelance grafting for 30 years would finally catch up with Brown, and in 1783 he collapsed on the way home from supper in London with his friend the Earl of Coventry. Placemaker to the aristocracy he may have been, but as with his beginning, so his end: Brown is buried off-the-beaten-track, in the Cambridgeshire village church of Fenstanton, where he owned the manor, acquired in advance of a retirement that never came.
Capability Brown at 300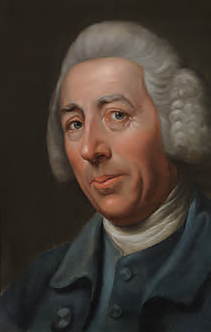 5
You'll find tercentenary events, a location map and details for Brownian landscapes to visit on the Capability Brown 300 website.
To visit Croome from London, it's a motorway drive along the M40, M42 and M5, leaving at junction 7 onto the A44. Then follow signs off the B4084. Croome is about a two-hour drive.
Special thanks to the Capability Brown Festival and the National Trust for these images.
* Originally published in Dec 2015.