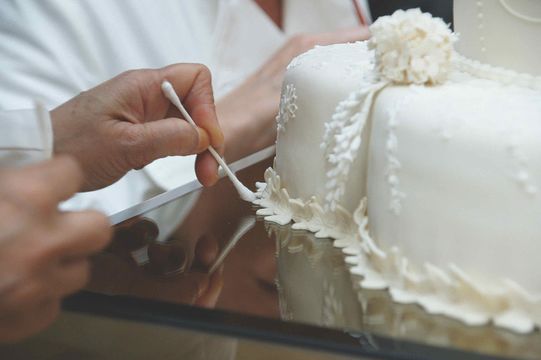 Fruited confections fit for a Queen! We take a look at the history of Royal wedding cakes - from Queen Elizabeth II to Prince William and down to Prince Harry and Meghan Markle.
The wedding cakes of the British monarchy are among the most iconic elements of Royal marriage celebrations, and their staying power often extends well beyond illustrations and photos—a slice of Queen Victoria's wedding cake from the 19th century sold for £1,500 at an auction in London in 2016, and another paper-wrapped sliver preserved in a glass receptacle was displayed at the Brooklyn Museum that same year.
The cake from Queen Victoria and Prince Albert's wedding in 1840 was described as "a great beast of a plumcake," weighing 300 pounds with a circumference of three yards. It was prepared by the confectioner's Gunter and Waud in London. "I struggle to think of what kind of oven they put it in… The logistics of baking a cake of that kind in that size are really daunting," commented culinary historian Stephen Schmidt. "I'd be curious to know how they got the inside baked without incinerating the outside because fruitcake has to be baked very slowly—it takes a very long time for heat to penetrate to the center."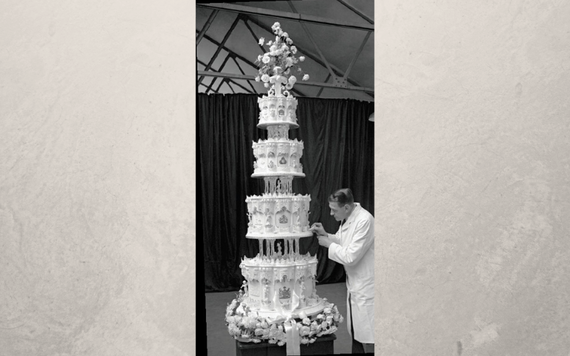 5
The single-round cake layer was covered in white icing, which came to be known as royal icing, and ornately decorated with sugar sculptures of the bride and groom, as well as cupids, turtle doves, orange blossoms and sprigs of myrtle. To supplement the enormous masterpiece, multiple additional cakes "of a more decent size" were cut up and distributed as mementos to relatives and friends.
Fruitcake has continued to reign supreme at British royal nuptials in more recent history. "One thing is that its tradition; another thing is the cake holds—you can eat it years later and it's still good," explained Darren McGrady, who served as personal chef to Queen Elizabeth II from 1982 to 1993 and then private chef to Princess Diana until her death in 1997. The customs of boxing up pieces of cake as favors for guests and saving the top tier for the first child's christening are typically still observed today.
Royal wedding cakes also have not diminished in size since the Victorian era. For the marriage of then-Princess Elizabeth and the Duke of Edinburgh in 1947, the official wedding cake was nine feet tall with four tiers. The fruitcake was prepared with ingredients sent to Britain from different parts of the world, including sugar from Australia, and therefore was dubbed "the 10,000-mile cake." It was intricately adorned with the arms of the bride's and groom's families, figures engaged in the couple's favorite activities and regimental and naval badges.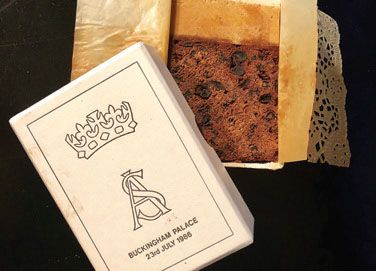 5
McGrady recalls being in the Buckingham Palace kitchen for the arrival of the five-tiered, rum-and brandy-soaked fruitcake prepared by cooks from the Royal Navy for the marriage of Prince Andrew and Sarah Ferguson in 1986. "Each tier was in a separate truck because if there was an accident they didn't want all of them to be ruined. And then they had a spare cake of each tier as well, in case one got damaged, so we actually had two cakes."
One aspect of the wedding cakes that has changed in modern times is the use of pliable fondant rather than hard royal icing. "It's like cement," quipped Schmidt. "To cover the whole cake with royal icing is not to contemporary taste," McGrady adds that fondant allows for softer, more feminine confections than those made solely with royal icing in the past.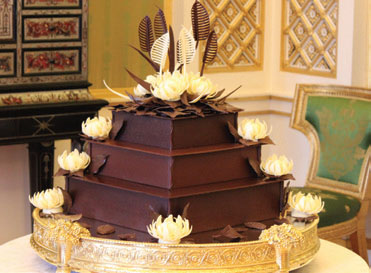 5
Prince William and Catherine Middleton opted for two distinct cakes at their 2011 wedding. The traditional eight-tiered wedding cake, created by Leicestershire-based baker Fiona Cairns, was made from 17 separate fruitcakes and decorated with 900 iced flowers, lace details from the Duchess's dress and garland that matched architectural elements of the room in which it was displayed. A team of six spent three days assembling the cake in a room above the kitchen in Buckingham Palace.
The second was a chocolate biscuit cake specifically requested by Prince William and created by McVitie's Cake Company based on a Royal Family recipe. McGrady frequently prepared a similar cake for the Queen, and Prince William was fond of it as well. "The Queen loves chocolate and so one of her favorite afternoon teacakes was the chocolate biscuit cake. Whenever Prince William would go to visit the Queen when he was at Eton College, he would request it, so we'd have to make one and travel it to Windsor," McGrady reminisced. "All the staff loved it, too; it was their favorite."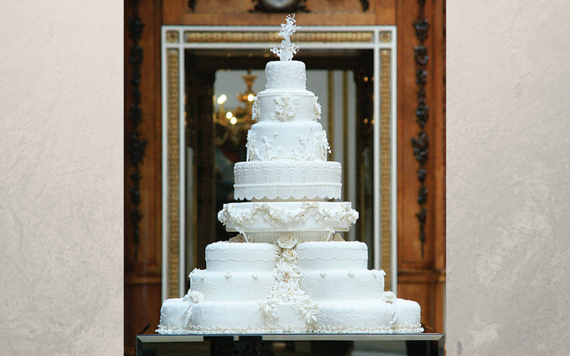 5
Speculation about the Royal wedding cake for Prince Harry's upcoming marriage to Meghan Markle has included rumors of a possible unprecedented banana cake. According to McGrady, the groom loves banana flan, banana ice cream, banana fritters and a caramel banana cake that the chef often prepared for Harry and William when they were home from school. But whether the couple will break with the longstanding fruitcake tradition remains to be seen. One thing is certain: No detail of their wedding will be left to chance. "It has to be run exactly to plan—the Queen is there. Everybody that plays a part in a Royal wedding knows what their job is," McGrady affirmed. "There are months of preparation, in the sense of guest lists and deciding on menus. And then it just runs to military precision, like all events at the Palace. But it's always fun when it's a wedding. Everybody's happy."
* Originally published in 2018.