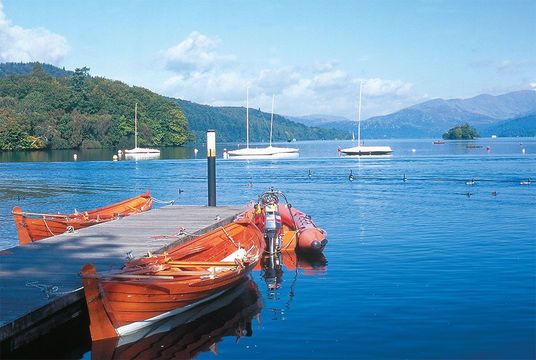 The Lake District's Capital Town
British tourists particularly favor three activities. The first is sitting and looking at beautiful scenery; the second is walking to get a better look at the beautiful scenery; and the third is messing about in boats—but always, of course, in the midst of beautiful scenery. So it's little wonder that Windermere, set in the center of England's Lake District on its biggest natural lake, is one of the country's premier vacation spots.
Windermere is one of two vacation towns within the stunning mountains that make up the Lake District National Park; the other is Keswick, toward the park's northern end. Both are much more charming than anyone from an American tourist center would expect them to be, and both are easily reached by good highways. Windermere, however, has some real advantages. The first is its central location, important for anyone wanting to explore the surrounding mountains—the roads into the mountains radiate from Windermere, and they are all narrow, twisting and very slow going. The second is its sister village, Bowness-on-Windermere, with a fine High Street and a wonderful lakefront, less than a mile away. Windermere's third advantage is (for some at least) the most important: You can get there by train.
In fact, you have a choice of up to 17 trains a day on a 20-minute spur line that passes through rolling rural scenery. Most are shuttles that connect you with the main line at Oxenholme, but two are direct from Manchester International Airport, with its numerous nonstop flights from America. The Windermere station lets you out at the upper edge of High Street, and hotels are just a block away. After a pleasant train ride to a comfy room in a quaint mountain town, jet lag drops off you like a heavy coat.
Country bus service in Windermere is good enough to do without a car; basically, any mountain road wide enough to take buses will have at least some sort of service, and nearly all of them converge on the train station. The double-decker that runs over the mountains to Keswick is worth trying just for the ride. Go to the upper deck and try to grab the first row; it's like taking a low-speed roller coaster, but with continuous 180-degree views. Along the way you can stop at two of William Wordsworth's houses—cozy Dove Cottage where he lived when he was young and struggling, and impressive Rydal Mount where he lived when he was old and successful. Farther on, the bus follows the shores of the long, deep lake known as Thirlmere for two miles, and comes within an easy half-mile walk of Castlerigg, an impressive Neolithic stone circle that's older than Stonehenge. At the end of the ride you get to poke around Keswick, easily done on foot, with its beautiful lakefront, busy market square and pencil museum (they used to mine graphite nearby).
From the train station, Windermere's High Street is only a block downhill, and jammed with hotels, B&Bs, cafes and shops, nearly all in old stone buildings made of the black local slate. From the lower edge of this High Street it's a mere half-mile to the upper edge of the next one: Bowness-on-Windermere. Bowness' High Street is even more appealing than Windermere's, and its narrow lanes, lined by stone terraces, push steeply uphill. At the bottom, a short walk will bring you to the public lakefront.
And what a lakefront! It stretches for more than a mile, with half of that foot-access only. The lake is more than 11 miles long and never as much as a mile wide, from England's highest mountains just north of the town southward into low rolling hills—big enough to have a measurable tide. Views are continuous and stunning; white sailboats sit quietly at anchor in front of a backdrop that ranges from green-covered hills to high, cliff-walled peaks. Along the first half-mile, a wide walkway is lined by docks and businesses; then these give way to a lakeside ramble that leads to a ferry. Walk onto the ferry, and you can connect with a country bus that takes you to Beatrix Potter's home at Hill Top. To see more of the lake, tours are offered at a number of these docks, on boats ranging from the sleekly modern to historic steamers.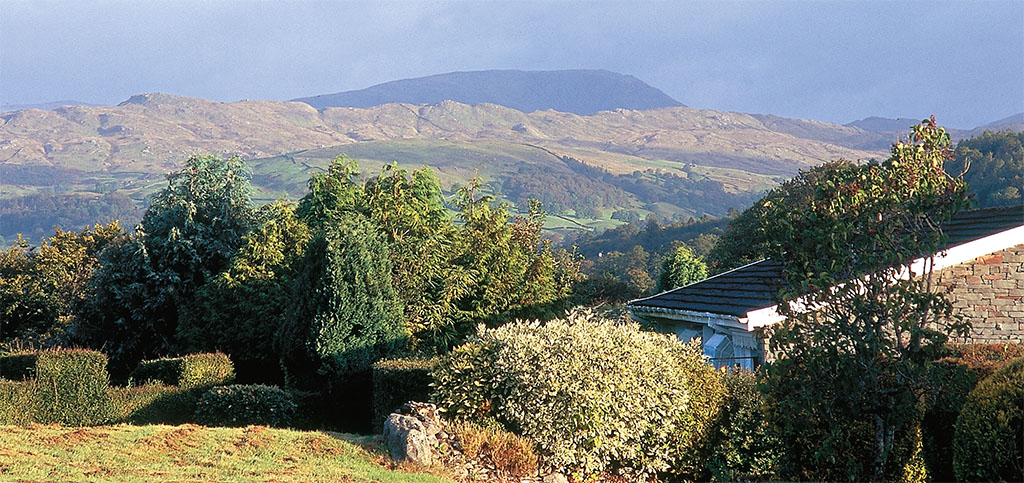 3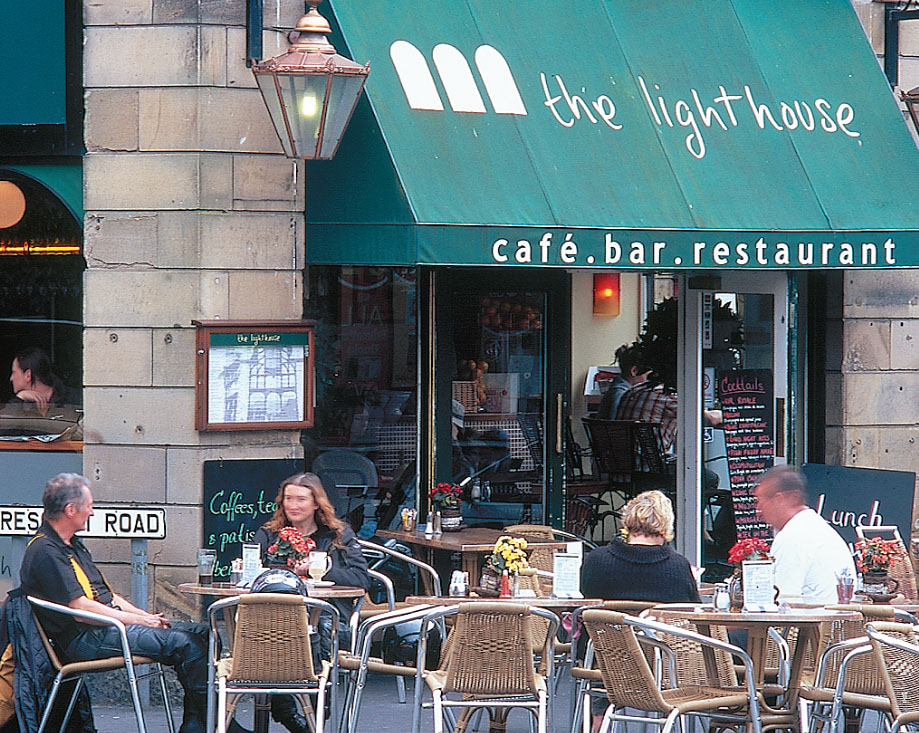 3
The best views, however, are only a short hill walk away. Diagonally across the main road from the railroad station, a footpath climbs a half-mile to the small cliff top of Orrest Head, one of Wordsworth's favorite spots for its bold view over the lake to the tallest mountains in the district. Behind it, the National Trust owns a small, but classically English, forest that's worth a detour.
If you wish to find a view over Bowness' lakefront, take the Windermere Way, a waymarked path that leads from the lakefront's northern end, up a narrow lane and then a footpath, to a rocky outcrop, named Post Knott, with wide views. From here, if you have the right map you can follow footpaths through farms and meadows directly above the two towns, connecting Post Knott with Orrest Head, with many surprises along the way. You won't find yourself alone, either; this is just the sort of experience that draws people from all over Britain.
Bits and Pieces
Getting around

: For train schedules and tickets, log onto www.nationalrail.co.uk. You can find national bus schedules at www.traveline.info, and specific information for the Lake District (including a detailed route map) at its county council's site, www.cumbria.gov.uk/roads-transport/publictransport.
Steamboating: Bowness' Steamboat Museum, housing a large collection of lake steamboats, has recently been closed so that its boats and buildings can undergo a major restoration; an opening date has not been announced. To keep up-to-date on the steamboat museum's reopening, check www.lakelandartstrust.org.uk/steamboat.

Hiking and walking

: If you want to explore the public footpaths in and around Windermere without getting hopelessly lost, you will want a copy of the Ordnance Survey's Explorer Map OL-7, "The English Lakes (South-eastern Area)," available from leisure.ordnancesurvey.co.uk. If you did all the Windermere walks mentioned in this article as a single loop starting and ending at the train station, you'd cover 7.3 miles with about 600 feet of total climb.