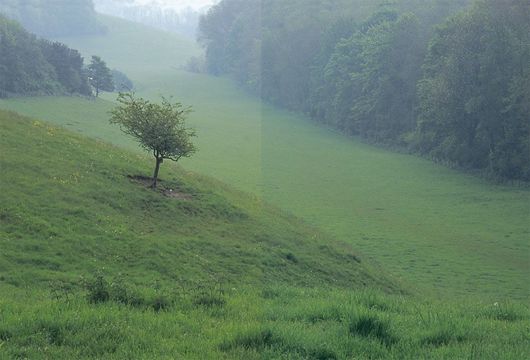 Flintwood Farm sits at the center of poet Alfred Tennyson's country, on a 500-foot hilltop in the middle of the Lincolnshire Wolds. It's a good place to start exploring the landscape that inspired Tennyson, the local rector's son, to become Lord Tennyson, poet laureate and friend of Queen Victoria.
The view is spectacular, a full half-circle from sunrise to sunset, over a deep and gentle valley nearly devoid of settlement or road. The farm's view is fairly close to the vista that Tennyson would have seen—and almost certainly did see, right from this spot. He was an untiring walker, and his home village of Somersby is only five miles away.
The view from Flintwood Farm is authentic because the farmer, Andrew Tuxworth, makes it so. A successful environmental designer and lifelong Wolds farmer, he is turning his little corner of the Wolds into the sort of farm he grew up on as a boy, the sort that existed before agricultural subsidies and governmental policies, tractors, and chemicals. He is restoring ponds and hedgerows, planting forests, converting plowed lands to grazing, and creating five miles of nifty paths and views for his guests. Mind you, all the Wolds are beautiful, but Tuxworth's corner of the Wolds is Tennysonian in its beauty.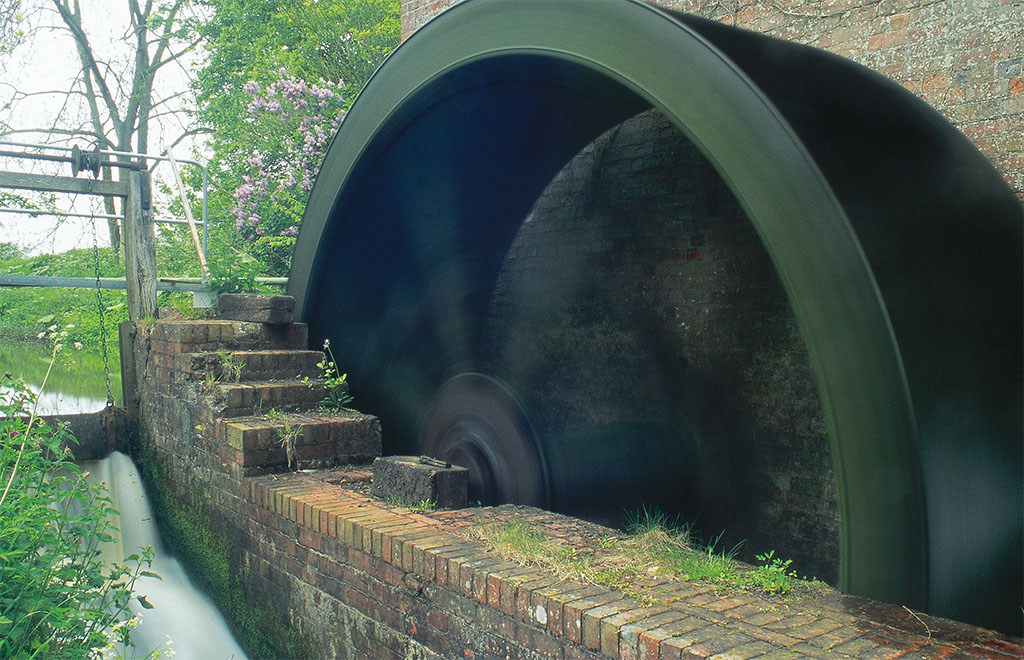 8
The Wolds occupy Lincolnshire's center, a 40-mile oval, typically 10 to 20 miles wide of 500-foot hills. On a highway map, you'll find it 130 miles north of London, where it appears as a large area of wiggly back roads to the east of Lincoln. On the ground, you will follow one or another of those back roads as it meanders through a valley, glides along a long, flat hilltop, then slides down into another valley. The landscapes you will see are both dramatic and easy.
During the last ice age but one, glaciers gentled the slopes, flattened the valley floors, and twisted the valleys this way and that. They also laid down a clay layer from which Flintwood Farm originally got its bricks, covering the chalk that forms the bulk of the Wolds.
Here, five miles from Flintwood Farm in the tiny hamlet of Somersby, Alfred Tennyson was born and raised, the son of the village rector. Alfred was part of a large and caring family, his relationship with his older and younger brothers so close as to almost exclude outside friendships. As boys, Alfred and his brothers spent their time in long walks through the countryside, building imaginary worlds out of the romance they extracted from the Wold scenery. Later, they would write poetry together, having their first volume published by a local bookseller while they were still in school.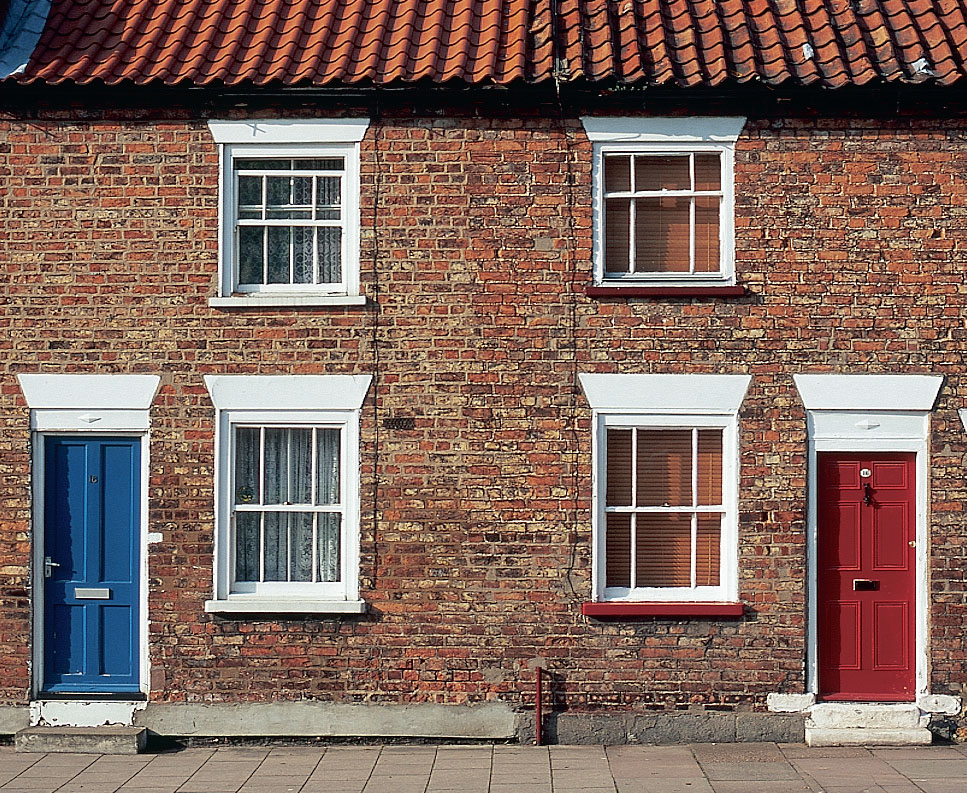 8
Charming, well-educated (Alfred was reciting Ovid at age 8), erudite and intelligent, Alfred and his siblings moved modestly and effortlessly through social circles rather more rarified than you might expect for an obscure rector's children. Alfred became engaged to Emily Sellwood, a family friend whom he had first met while walking in the woods behind Somersby with one of his brothers. Poets typically have a difficult time establishing steady cash flow from their career; Alfred and Emily had to postpone their marriage for 20 years, until he made enough money to support a family. Despite this impressive delay, the marriage was long and happy.
Like many such Woldean villages, Somersby is hard to find, tucked deep in a valley, down a maze of narrow lanes. It was hard to find in the mid-17th century as well, when Oliver Cromwell's troops tried and failed to destroy its medieval cross; they simply got lost and gave up the project. Once there, you will find Somersby a much shrunken place from Tennyson's time, little more than a half dozen cottages around a modest little church. The Tennyson house, the Old Rectory, still stands, but remains a private home whose owners shut it off from view with tall hedges. The church is more interesting, a tiny 15th-century structure dedicated to St. Margaret, where Alfred's father, George Clayton Tennyson, preached. It has a square stone bell tower, repaired and strengthened with brick, and a sundial over the entrance with the inscription "Time Passeth"—helpful advice to George Tennyson's simple country flock, who were confused and bored by his lengthy and intellectual sermons. The medieval cross stands tall and proud in front of the church entrance, a stone saint defying Cromwell's anticlerical legions from its top. In Alfred's time the church roof was thatched, and it's pleasant to stand in the churchyard and imagine what it looked like then. Inside are exhibits on Tennyson (supplied by the Lincolnshire Library) and a bust commemorating the hamlet's famous son.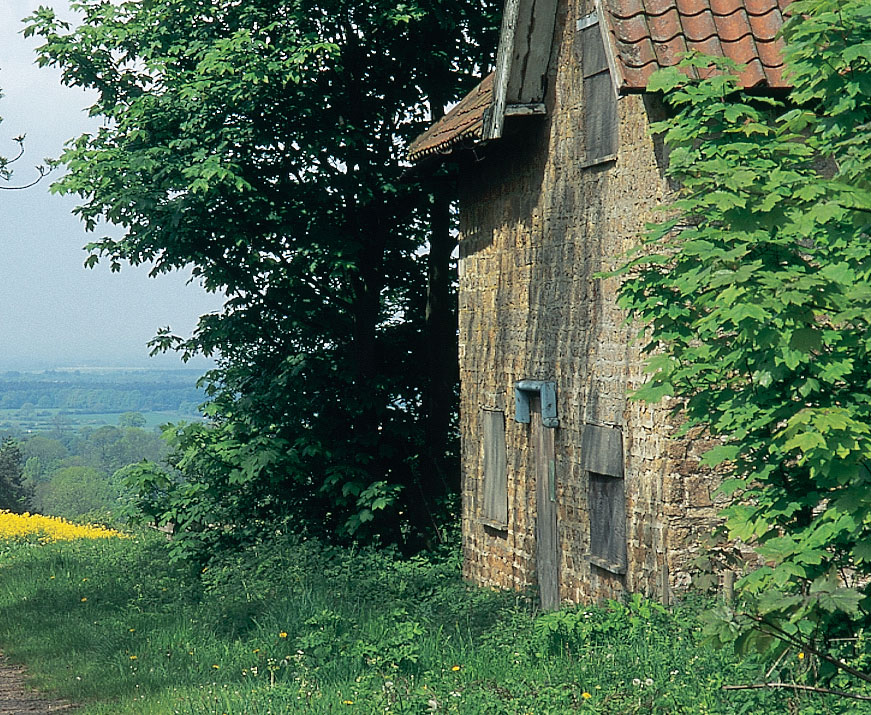 8
From a very early age, Alfred would take long walks in the countryside with his brothers. He acquired a deep love and knowledge of the Wolds, the simple nature of hedgerows, fields and village wood lots. He made a point of learning the plants and animals, and how they fit into the deep textures of the Wolds. His mother told of hearing young Alfred imitate an owl call so accurately that an owl flew into his open bedroom window; Alfred and the owl became companions, the bird perching on his chair. Alfred's love of the English countryside permeated his poetry throughout his life.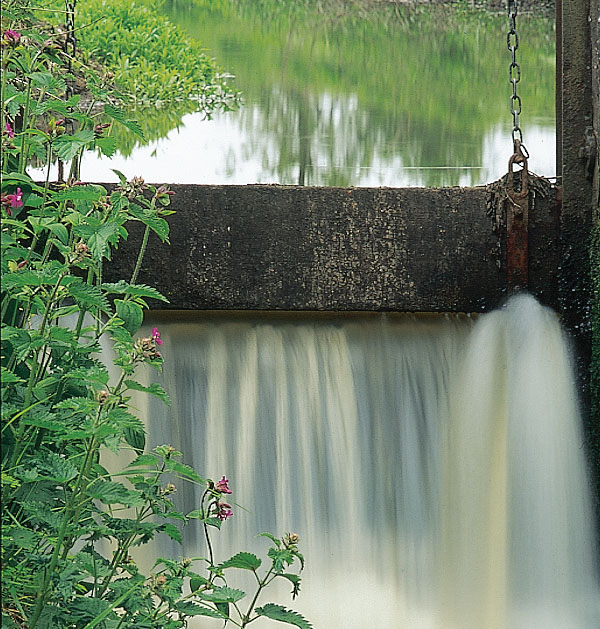 8
The countryside around Somersby remains worthy of deep exploration, although a few disappointments await. The woods where Alfred met Emily are now private and quite overgrown; the local stream, described by Tennyson in his poem "The Brook" and grandly called the River Lymm, runs through this forest, choked with mud and not clattering in the least. Do not despair—the mud is from hilltop glacial clays, and the river cleans itself and clatters most amiably as it enters the chalks downstream. A wonderful footpath wanders through farmland on the southern end of the hamlet, down the valley and past a thatched farmhouse to enter an equally tiny hamlet with the Tolkienesque name of Bag Enderby, also with a tiny stone church repaired in brick. From there, a farm lane (open to walkers) drops into the chalk bottom of the Lymm Valley, then rises to a hilltop overlooking Stockwith Mill. A working mill with an overshot wheel both in Tennyson's day and in ours, the Stockwith Mill now offers cream teas and local crafts. Tennyson may well have had it in mind when he wrote "The Miller's Daughter."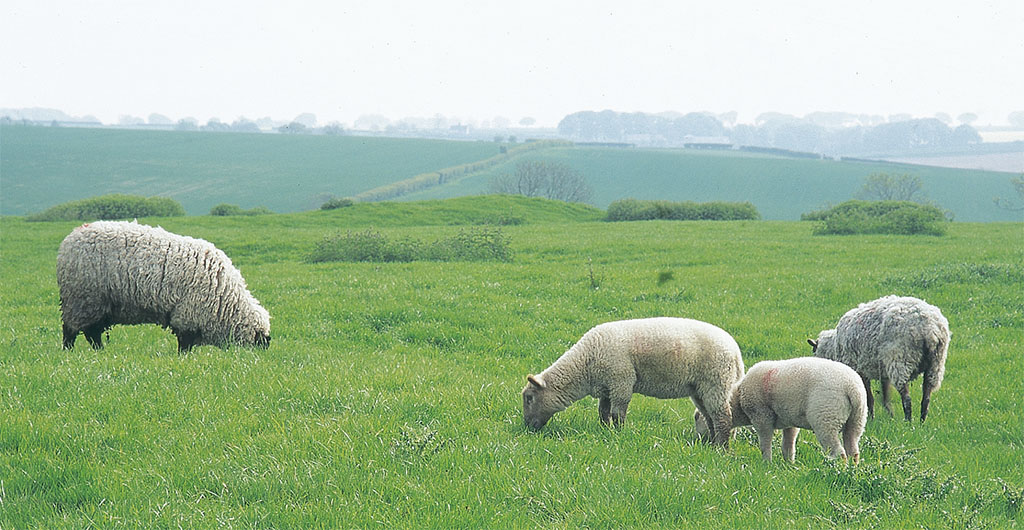 8
Alfred's love of the English countryside permeated his poetry.
Although Tennyson's immediate family may have been close-knit, strife within the wider Tennyson family blighted Alfred's young life and eventually drove him from the Wolds forever. Fifteen miles north, the senior branch of the Tennyson family lived in a manor house on the Wolds' steep western edge—an ancient sea cliff, only partially gentled by the glaciers. The conflict between these two halves of the Tennyson family would become legendary.
Alfred's father, George Clayton Tennyson, was the eldest son of George Tennyson, a very wealthy landowner in the village of Tealby, about 20 miles north of Somersby. Under normal English custom and law, Alfred's father should have been the family heir—but he wasn't; grandfather George managed to disinherit George Clayton in favor of his younger sibling, Alfred's uncle Charles Tennyson. It seems that grandfather George had made a pile of money as a country lawyer, and now aspired to become a nobleman, or at least the founder of a noble line. He believed that he needed a suitable heir to achieve this ambition, and considered his eldest son not in the least suitable. So he disinherited George Clayton, shunted him off to be raised by relatives, and finally forced him into holy orders so he could earn a living. George Clayton never forgave his father—and his father never accepted the Somersby family as social equals. Grandfather George did not stop at snubbing his eldest son and his family; he heaped open and public abuse on them.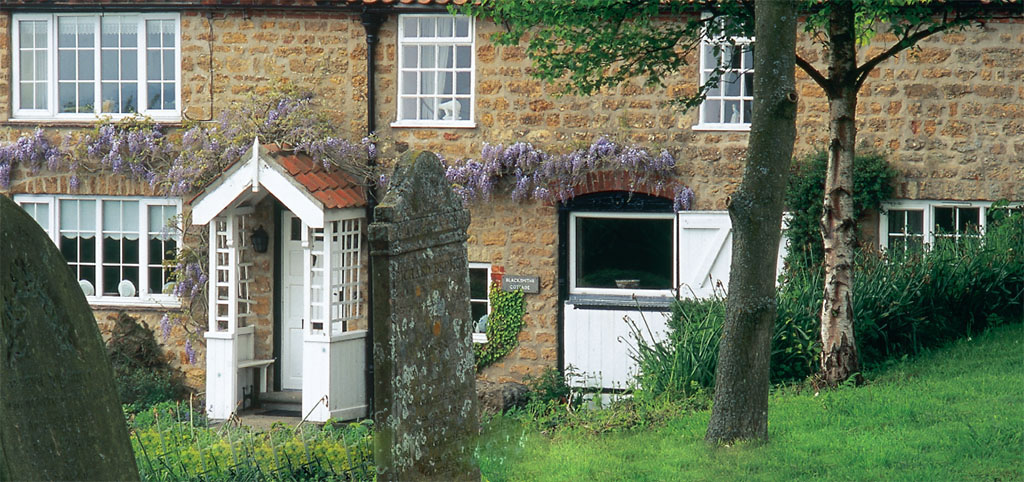 8
Grandfather George had retired to the life of a gentleman in an old post-and-beam manor above Tealby to its south, known as Tealby Lodge. Ever in quest of self-elevation, he discovered that the manor had anciently been known as Bayons Manor—and immediately changed its name. At the same time, he and heir Charles came up with a family tree that linked them to a distinguished Norman aristocratic family, the d'Eyncourts. Uncle Charles immediately changed his name to Charles Tennyson d'Eyncourt, a move that attracted so much ridicule in county society that Charles felt the need to explain it on his tombstone. Finally, George and Charles rebuilt Bayons Manor into a grand pastiche of a baronial hall, also much ridiculed.
Surprisingly, sites associated with that horrid grandfather are as rewarding as the Somersby locale. Modern Tealby is a handsome, prosperous village of full size, still retaining much of its vitality from 100 years ago. Its large and beautiful church sits on a hill overlooking the village. Grandfather George and Uncle Charles are buried within the church, memorialized by brass plates so effusively engraved as to be worthwhile destinations on their own. Grandfather George in particular covered his grave with praises so fulsome as to have attracted the printed contempt of Alfred:

Gone the tyrant of my youth,
and mute below the chancel stones,
All his virtues—I forgive them—
black in white above his bones.
It's not often you get to dance on the grave of an enemy in such a gloriously public way.
Of course, none of the Tennyson d'Eyncourts earned any noble titles, or even acceptance into county society, even as Alfred was becoming a friend of Queen Victoria and the first Baron Tennyson (a title still enjoyed by his heirs). The d'Eyncourt Tennysons abandoned Bayons Manor at the outbreak of World War II, never to return; its owners dynamited the decrepit remains in 1964. Today, its foundations sit by a public footpath, hidden by woods—a short walk made worthwhile by the excellent scenery and fine views toward the village. The d'Eyncourt Tennysons are mainly remembered in the name of the town hall, presented by one of the family in the 1920s.
Alfred had another cross to bear, apart from his awful grandpa and uncle. At age 8 he joined his brothers in school at the Wolds'market town of Louth, living there with his mother's family. Already well educated and imaginative, he went with great expectations—only to be bullied by classmates and abused by a sadistic schoolmaster. Today, Louth (which rhymes with south) is as busy as ever, a bustling town with a weekly market and four blocks of downtown shops. It's a fun place to stroll and shop, with some fine local art galleries and antique dealers in among the Boots and Poundsavers. The remarkable parish church looks like a misplaced cathedral, and frames views up and down the wandering streets.
Alfred's father died in 1831 at age 52, but the Tennysons continued to live in the Rectory for another six years, with Alfred as an unofficial head of the family. When the new rector finally insisted on moving into the Rectory in 1837, Alfred led the family to new digs in the London area—a good career move as it turned out, for Alfred could now move in London's literary society and widen his reputation as a poet. Although Alfred continued to draw inspiration from his memories of the Wolds, he would never return there to live.
We leave the well-beloved place
Where first we gazed upon the sky;
The roofs that heard our earliest cry
Will shelter one of stranger race.
I turn to go; my feet are set
To leave the pleasant fields and farms;
They mix in one another's arms
To one pure image of regret.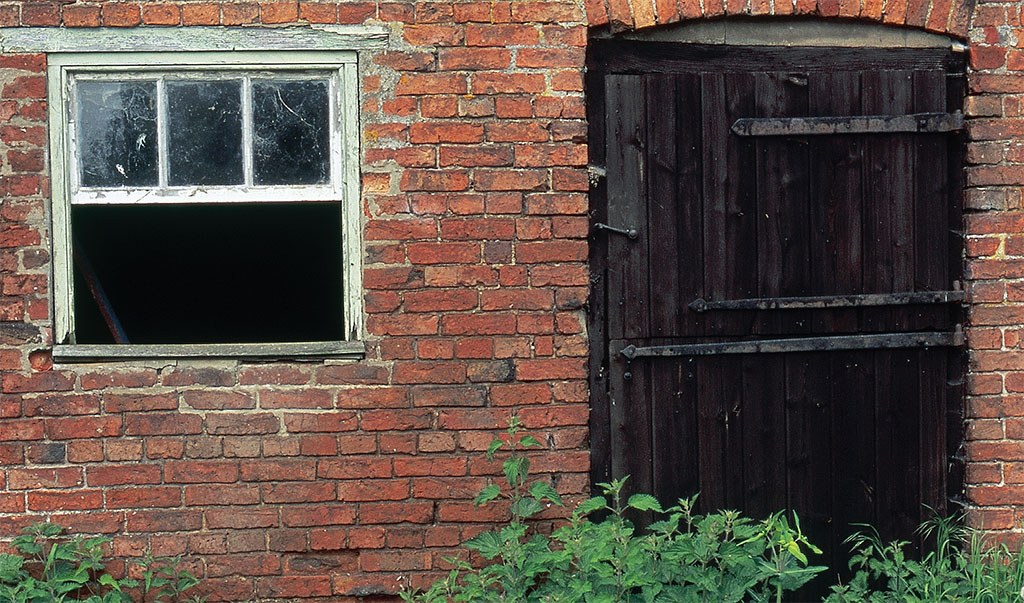 8
While visit...
The Poacher's Hideaway at Flintwood Farm has six self-catering cottages built into the old stable block, all very new and luxurious, nestling up to one of the finest views in the Wolds. Rated five stars by the English Tourism Council, it won the English Nature Farming for Wildlife Award for 2004. Web site: www.poacherscottages.co.uk.
The Tennyson Villages. Somersby, Alfred Tennyson's birthplace and home until age 28, is hidden in a valley about seven miles east of the Wolds market town of Horncastle, which is about 20 miles east of Lincoln. Tealby, home of the social-climbing d'Eyncourt Tennysons, is near the town of Market Rasen, 12 miles north of Lincoln. The center of the village, population 530, has a tea room and a lovely little pub. The old Bayons Manor site is reached on foot via the Viking Way, a waymarked path. Web site: www.visitlincolnshire.com.
* Originally published in 2016.