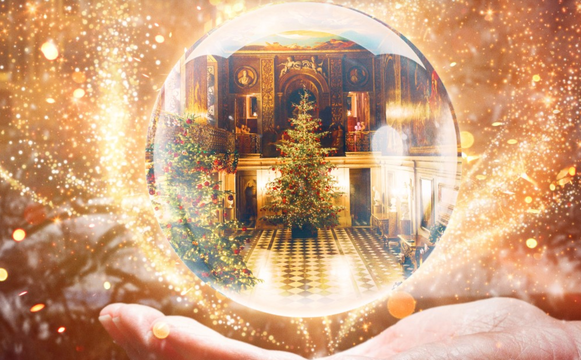 BHT writers Scott Reeves and Susie Kearley share their top picks for a stately Christmas experiences including wonderful Christmas light displays at historic houses around Britain.
Editor's note: Due to ongoing Covid restrictions we advise anyone planning a visit to any of these historic manors to check on their individual websites for details. 
Chatsworth House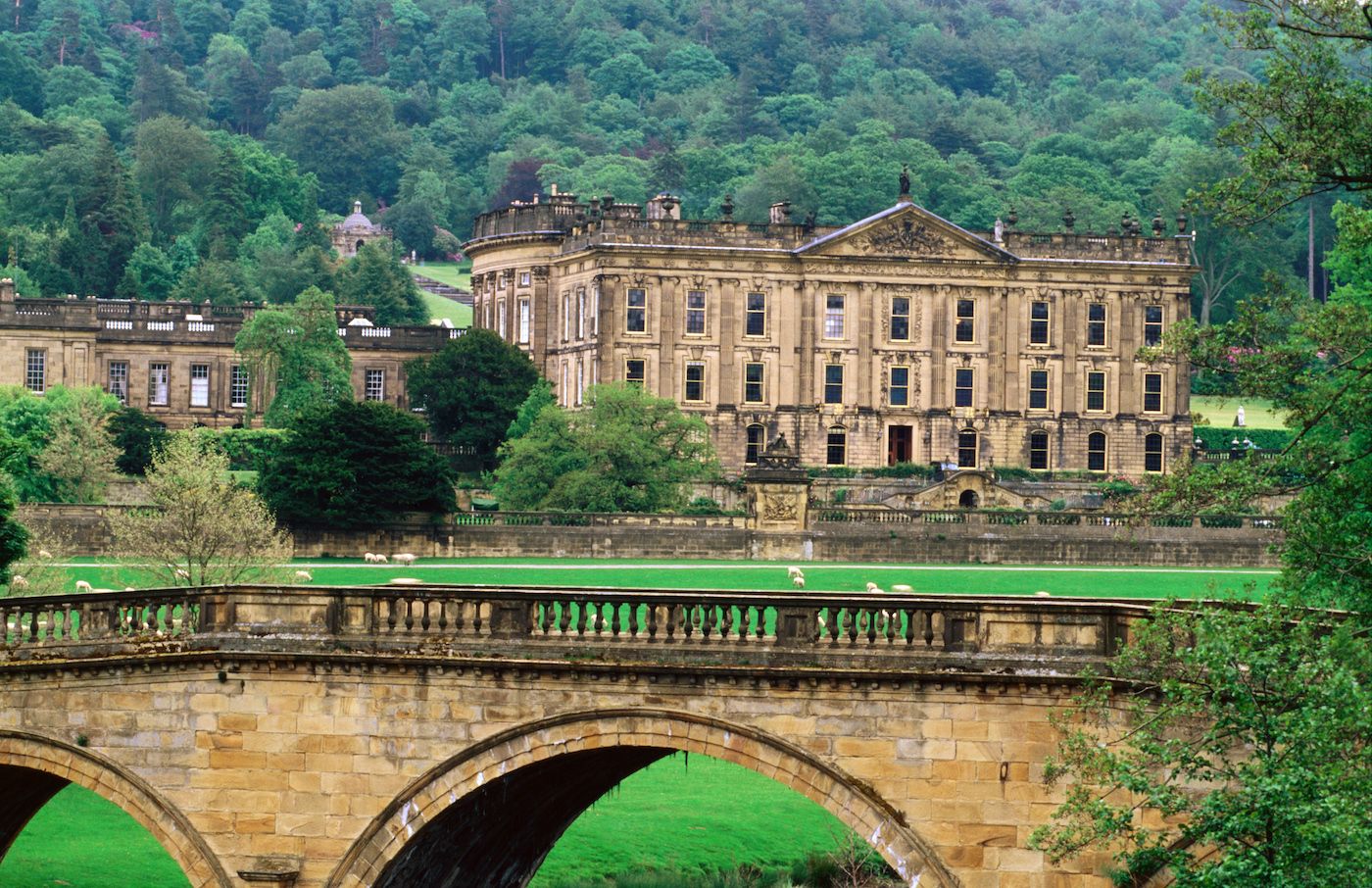 9
Chatsworth House really knows how to put on a show. Every December, the home of the Duke and Duchess of Devonshire is transformed beyond all recognition. Snow White in the sculpture gallery and Cinderella in the chapel? That would be 2018, when Chatsworth was dressed up to celebrate classic tales. A Dutch wedding feast in the dining room and Canadian maple leaf arches in the chapel corridor? That would be 2019, when the Palace of the Peaks was redesigned as a land far, far away. These are Christmas decorations like no other, sumptuous and elaborate designs in one of Britain's most lavish country houses.
"Christmas is so special for us and, to make it special for our visitors, we have a different theme every year," the Duchess of Devonshire told a film crew that recorded their preparations for the most recent festive season.  "Chatsworth was built to have a lot of people in it, so it's good of people to come."
It's a far cry from 2001 when the Dowager Duchess of Devonshire first had the idea of opening Chatsworth at Christmas. Until then the house was shuttered during the winter months, but the Dowager Duchess wanted to raise local spirits (and some much-needed income) after a summer that saw the countryside ravaged by foot-and-mouth disease and effectively closed off to visitors. The hastily organized first year saw little more than a few party hats on the statues and tinsel on the paintings, but it proved so popular that Christmas opening became a regular part of the calendar.
Christmas is now Chatsworth's busiest time of the year with 200,000 people descending on the Derbyshire estate to view the magnificent decorations. "It's grown and grown, it's got bigger every year, so for us it's a lot of preparation," said the Duchess. More than a year of planning culminates in a busy four-day blitz when a couple of dozen members of the estate staff must deck the halls with boughs of holly (and 30 Christmas trees, 60,000 baubles and a million fairy lights).
They are not the only ones putting up decorations in such elegant and elaborate surroundings. Hundreds of stately homes and country houses now follow the Chatsworth example and throw open their doors in December, although not all undergo such huge transformations. Many hark back to Christmases past, dressed to reflect a particular time period important to that property and recreating the festive celebrations enjoyed by their lucky residents.
The person most responsible for what we now think of as a traditional British Christmas was actually German. It was Prince Albert who popularized the Germanic tradition of carrying a fir tree inside the house; an 1848 engraving of him decorating a tree with Queen Victoria and their children made the Christmas tree a must-have for middle-class families who wanted to copy their monarch. Now a well-decorated tree is as much a symbol of Christmas as Father Christmas himself.
Cragside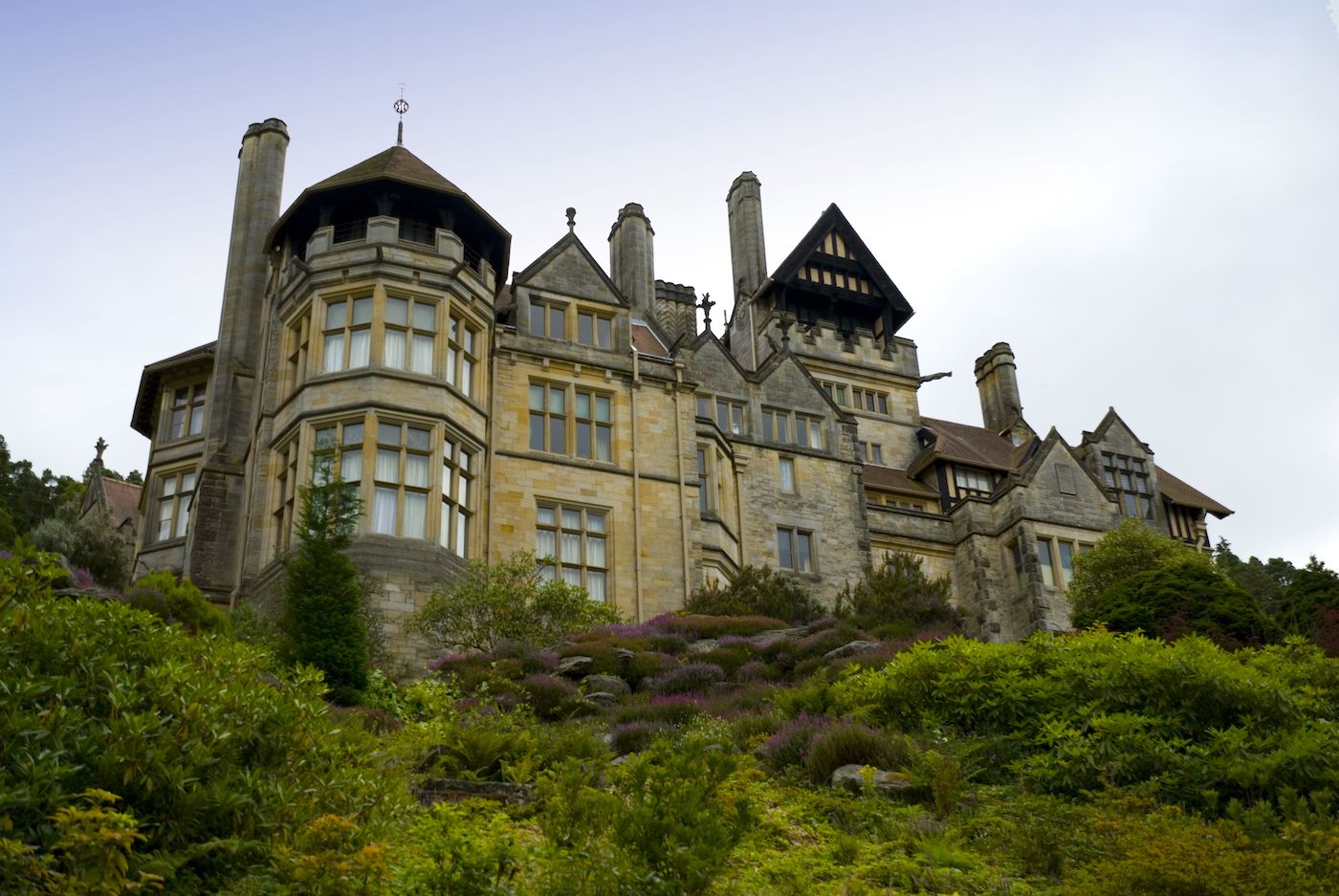 9
A traditional Victorian Christmas is celebrated every year at Cragside in Northumberland, a country house built for super-rich industrialist William Armstrong. Throughout December, parts of the house are decorated in a manner that the Armstrong family would recognize. Holly garlands wind through the balustrades as you ascend the stairs to the bedrooms where children are preparing to hang up their stockings in the hope of a present or two. Downstairs is a lavish Christmas tree festooned with lights and the kind of pretty paper decorations that Victorian children would have made with their governess.
Ightham Mote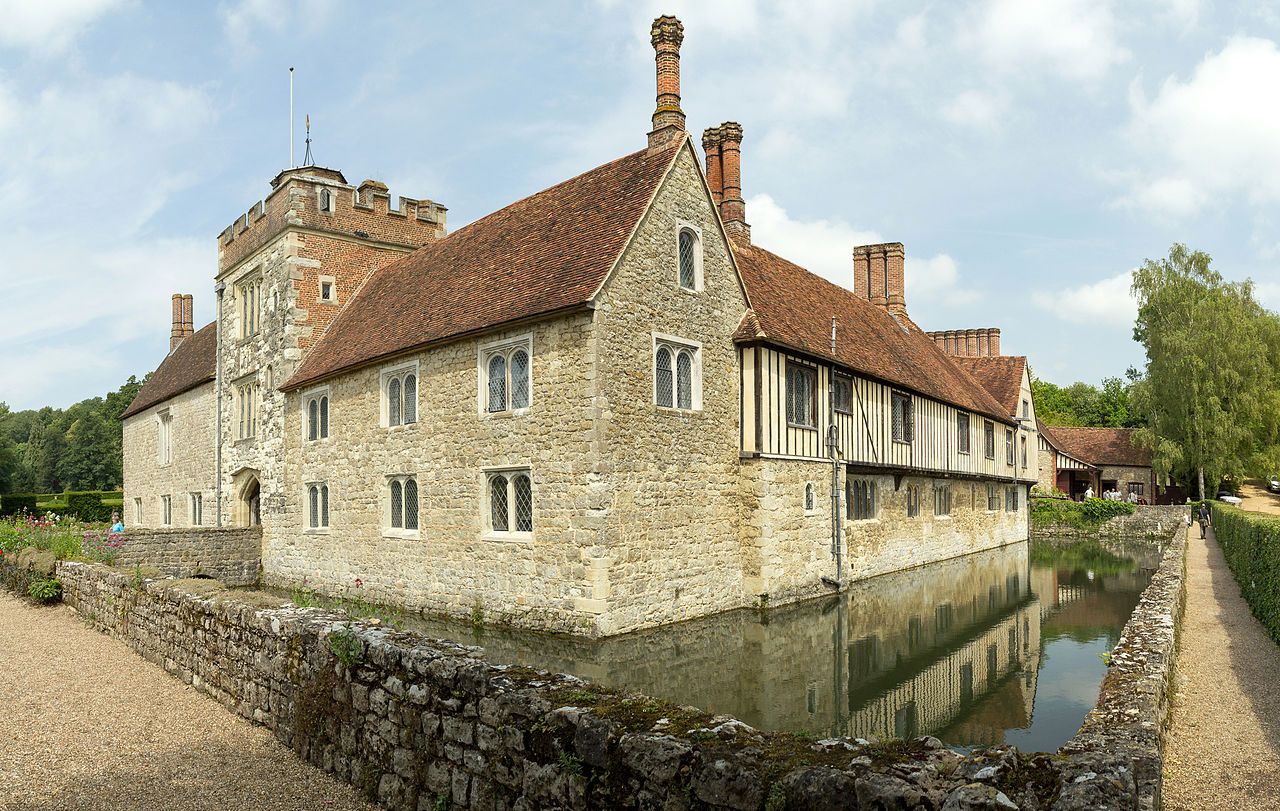 9
Victoriana is the order of the day at Ightham Mote in Norfolk too, despite it being a medieval manor. The moated house is usually decorated as it was in the time of the Colyer-Fergusson family, who acquired the house in 1890. Similarly, Culzean Castle in Ayrshire is presented as though the Marquess of Ailsa is enjoying a Victorian feast in the dining room while his servants do their best to mark the season below stairs.
Moseley Old Hall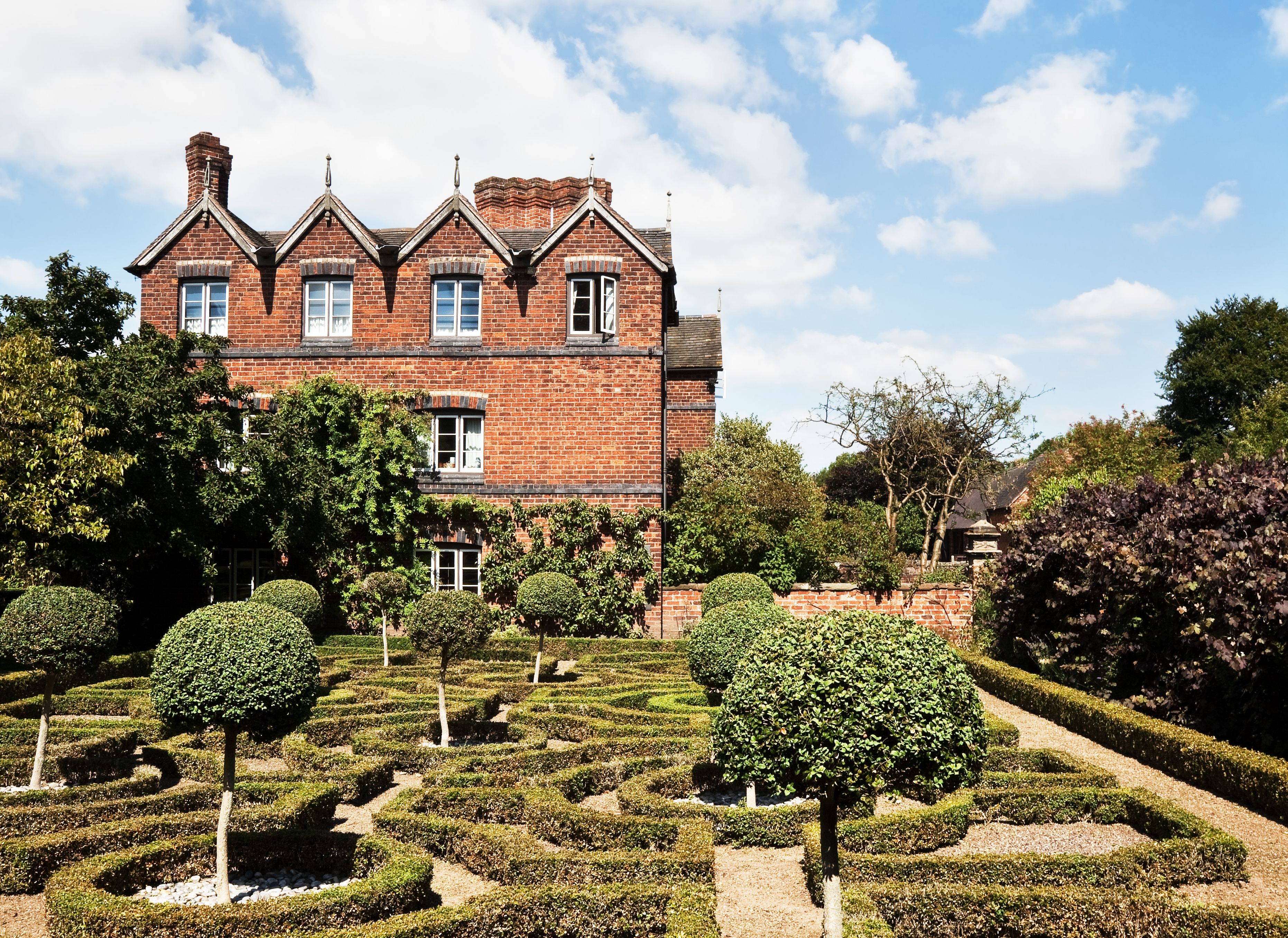 9
Moseley Old Hall in Staffordshire goes further back in time, keeping Christmas to the very best standards of 1651. This was the era when the Puritans waged war on Christmas, thinking it a wasteful festival that encouraged sinful activities, but the residents of Moseley Old Hall had little time for Oliver Cromwell's strict laws. Yet Moseley was unashamedly Royalist, one of the hiding places used by Prince Charles – the future Charles II – when he went on the run after the Battle of Worcester, so its residents did their best to mark Christmastide.
There are no anachronistic Christmas trees here, but expect Moseley to be dressed in evergreen garlands of holly and mistletoe. Costumed cooks work in the kitchen and encourage visitors to help stir the plum pudding (which doesn't actually contain plums – pre-Victorians used "plums" to refer to raisins) and mince pies (which, unlike today, do include minced meat, usually mutton, alongside fruits and spices). It's Christmas, but not as we know it – although a great many guests leave Moseley with a newfound respect for the simple traditions of the 17th century Christmas.
Tredegar House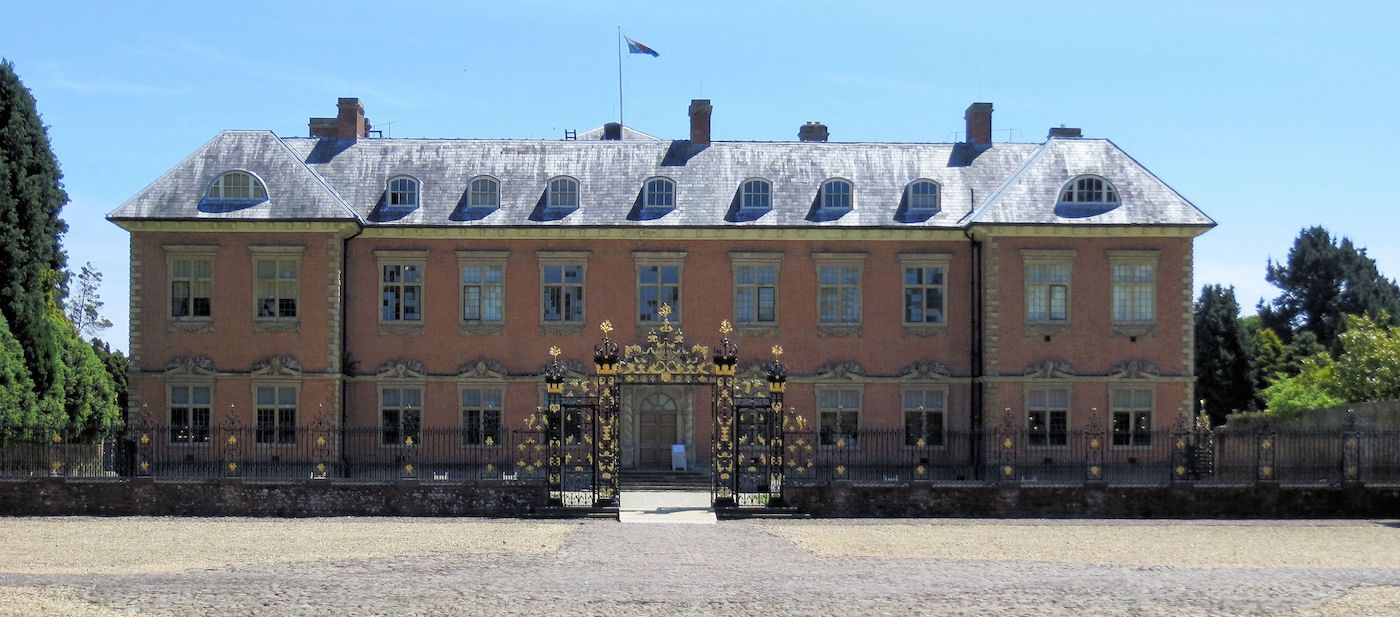 9
Things are a little different at Tredegar House in South Wales. This 17th-century mansion house was a family residence for 500 years, so it is apt that changing Christmas traditions are explored from room to room. It really brings home how some of what we think to be long-standing Christmas customs are actually relatively new innovations.
Chartwell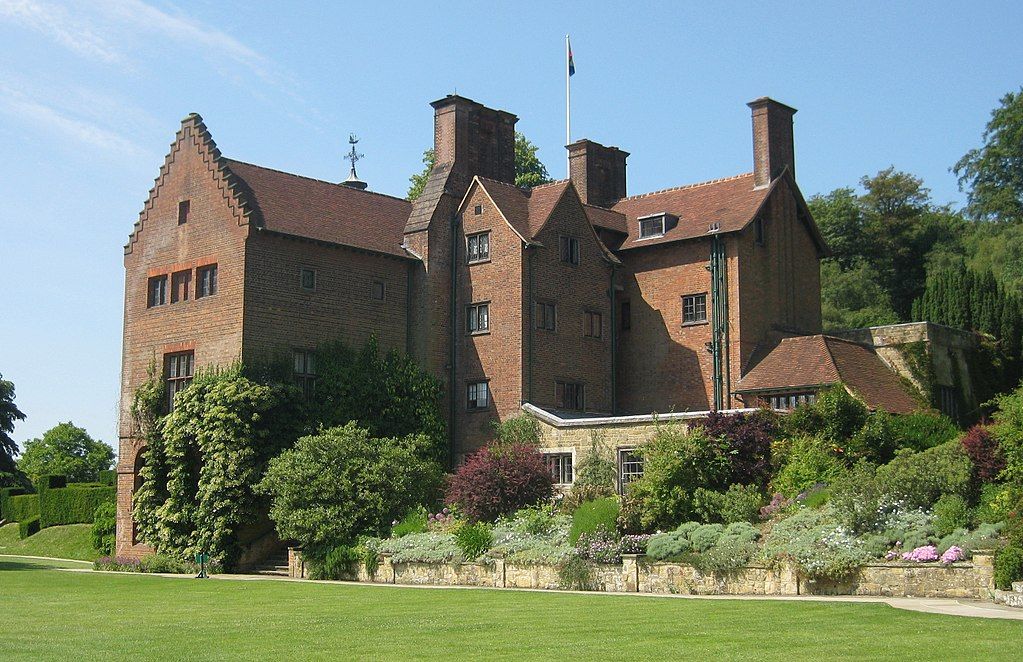 9
What about the more recent past? Why not celebrate Christmas with the Churchills at Chartwell in Kent, family home of the wartime Prime Minister who faced down Hitler. Interior decoration wasn't really Winston's thing so most of the festive touches were left to Clementine, who chose the classy gold and glass baubles and picked greenery from the estate for the mantelpieces. Vintage cards hang on the wall; the list of well-wishers was a who's who of the world's greatest and most powerful leaders.
Chartwell's décor varies from year to year. Sometimes presented as though the Churchills are celebrating Christmas in the interwar years; most recently the house was dressed as it was in 1947, a year that Winston left the family behind for a painting holiday in Marrakech. That enabled the focus to shift towards how Clemmie, her daughter Mary and son-in-law Christopher celebrated Christmas without the overbearing presence of the house's most famous resident.
Churchill lived at Chartwell but he was born at Blenheim Palace in Oxfordshire, another property that makes a special effort for Christmas. A one-mile illuminated trail winds around Capability Brown's parkland and gardens, and there is no better place to enjoy a hot chocolate or warm mulled wine on a crisp winter evening. The magical after-dark experience features illuminated trees and waterfalls, a tunnel comprising more than 100,000 lights and lasers that shoot into the sky and project onto the house.
Blenheim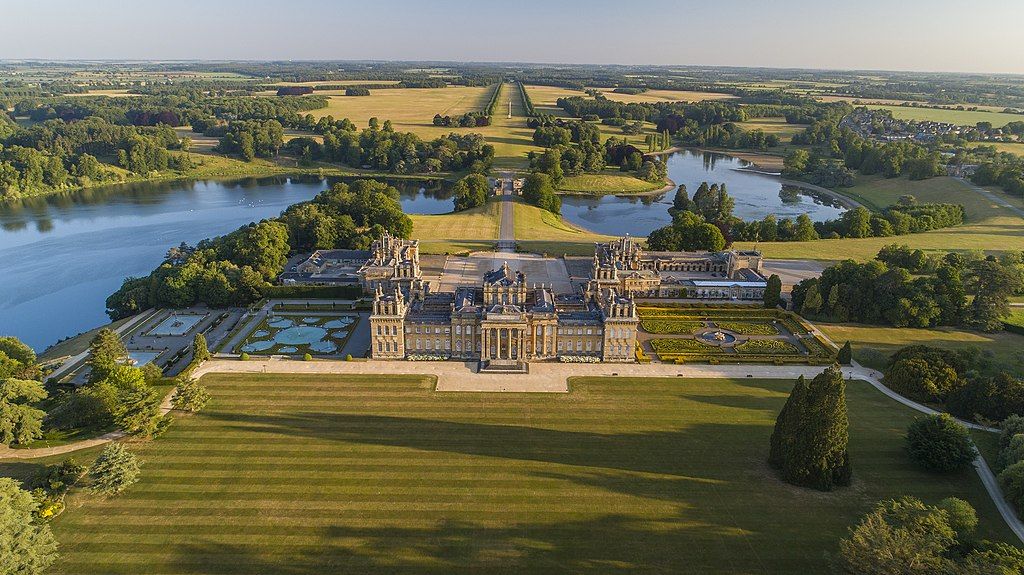 9
The Blenheim illuminations have become an annual tradition, but the displays inside change every year in the manner of Chatsworth. Recent themes have included transforming the house into Alice's Wonderland, complete with rabbit-hole corridor and the Mad Hatter's tea party, or exploring the tale of Cinderella from the unhappy servant's bedroom to a glass-inspired ballroom.
A touch of fantasy has become a key ingredient of Castle Howard's festive decorations too. "Many people return year after year to get their festive fix, whether to take inspiration back for their own home designs, or simply just to marvel at how an already beautiful property can be transformed into this magical place, a veritable festive film set that you can walk through and admire," explained Castle Howard's Abbigail Ollive. "Each year's designs are totally different, and the jewel-like sapphire blues, ruby reds and golden amber bring a whole new color palette to this year's displays."
Castle Howard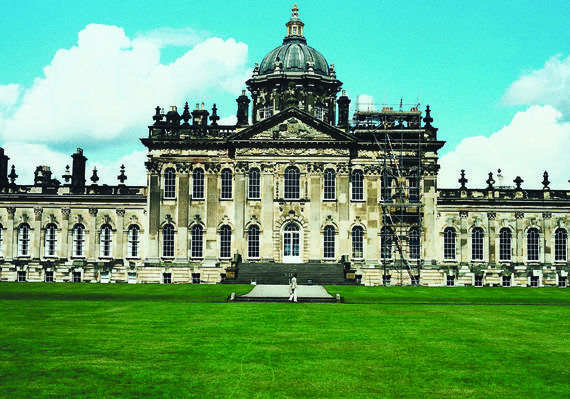 9
You may know the North Yorkshire home of the Howard family as the fictional Brideshead in both television and cinema adaptations of Brideshead Revisited. However, Castle Howard's design team was inspired by its Italian baroque architecture to host a Christmas masquerade in 2019. A troupe of mischievous pantomime actors provided live entertainment as they wandered the rooms and corridors and the long gallery became a festive version of Venice's Grand Canal. A year earlier, the long gallery was the culmination of the Twelve Days of Christmas. Each room moved visitors through the song, with swans-a-swimming across the Crimson Dining Room table and the obligatory partridge in a pear tree at the top of the staircase.
It may take three weeks to decorate Castle Howard for Christmas, but the 67,000 visitors through the door appreciate the effort that dozens of decorators, designers, engineers and artists go to. It's similar at Chatsworth House, where planning begins 18 months before the doors open for the Christmas rush. "For the visitors it's a very special time and we're thinking about next year already," revealed the Duchess of Devonshire. Why not join her for Chatsworth's next artistic interpretation of the festive season, or hunt out a historical Christmas at one of Britain's other magnificent stately homes?
Other Options 
Waddesdon Manor, Buckinghamshire
Christmas at Waddesdon is back in 2020, with magical lights and the gardens aglow. As darkness falls, the trees will be drenched in colour, with enchanting fairy lights, illuminations and decorations. A Christmas fair will keep the gardens buzzing. Visitors can soak up the sights, smells and sounds of Christmas with artisan foods and crafts in wooden chalets.
At the Stables, two giant twinkling baubles each standing over 20ft tall will offer the perfect festive photo opportunity. This year's light in motion attraction at the Coach House is 'a creation of colourful light pipes that twist and tip in an immersive installation' accompanied by music.
The Pleasure Gardens around the Aviary will be bathed in dramatic colour. The Winter Light Trail will offer new, playful installations. Beneath illuminated trees and bushes draped in sparkle, visitors will stroll under the stars and spot dazzling light features such as a valley of flickering flames and a walk-through musical light show. Once again, the Manor's distinctive architectural features and roof line will be illuminated as coloured lights playfully dance across the façade, all in time to music.
Afternoon teas will be served in at the Manor Restaurant and festive treats will be available at the Stables, Woodland Cafe and in the Christmas market. Booking essential.
Christmas Market: 14 November to 23 December 2020. 
Illuminations: 14 November 2020 to 3 January 2021. 
Dunham Massey, Cheshire
At Dunham Massey in Cheshire the gardens will be aglow this Christmas. Follow the path lit with sparkling illuminations, as it winds through the woods to gardens bathed in a kaleidoscope of colourful lights. See snowflakes and sparkling baubles hanging from the trees, and admire the spectacular water feature as it dances in the chilly night air. Enjoy toasted marshmallows and roasted chestnuts by the fire, or indulge in your favourite seasonal tipple. 
Dunham Massey's Christmas lights event is now in its fourth year, with a 'brand new bright lights for winter nights' experience in 2020. You'll enter the gardens beside giant glittering deer, into a world festooned with seasonal cheer and festive music. Wander beneath stunning tree canopies, drenched with Christmas colours. Immerse yourself the festive experience, and admire giant luminescent sculptures rising into the night sky.
The colour-changing lights will be reflected in the lake, under illuminated trees. Huge snowflakes and a tunnel of light return with twinkling splendour. Pause for a moment of quiet reflection at the crystal and fire garden, aglow with hundreds of flickering flames.
Mulled wine and hot chocolate will be available to complete the festive experience, and keep an eye out for Santa on your tour of the garden!
From 20 November to 30 December 2020
Leeds Castle, Kent
Leeds Castle always celebrates Christmas in style. This year they plan to have a Christmas market, selling seasonal gifts, toys, festive decorations, and specialist food and drink. Subject to COVID-19 restrictions, they hope to offer nostalgic fairground rides on the Victorian carousel, or a fun trip on the big wheel. Live music performances will take place on the band stand. Christmas Murder Mystery Dinners in the Henry VIII Banqueting Hall are planned for 5 December and 19 December. There's also a Christmas Party, choir, and brilliant New Year celebrations with fireworks. Check online for full details and updates. These plans may change depending on government advice in November and December.
Christmas Market: Weekends between 28 November to 20 December
Kew Gardens, London
Christmas at Kew is always incredible. This year they have an enchanting new winter light trail, which will lead you through the beautifully illuminated Rose Garden, past the glorious cascade, and to the glowing glass houses. 
Old favourites stand alongside brand new light installations. The illuminations will sparkle and glow as you take in the stunning displays. The experience this year includes a tunnel of bells, giant illuminated seed heads, and tall trees bathed in light. The treetop waterfall will take your breath away, as beams of light dance in the darkness, creating an incredible show. 
A tunnel of light takes you to an enchanted landscape with hypnotic displays, a fire garden of flames, and a tumbling waterfall. The Temperate House will be bathed in colourful Christmas lights, and visitors can see a kaleidoscopic laser show. The Palm House comes to life every year with festive projections and a stunning light show to Christmas music. A delicious traditional Christmas dinner can be booked at Kew's Botanical restaurant. For refreshments under the stars, you can enjoy some spiced cider, mulled wine or hot chocolate.
Dates: 18 November 2020 to 3 January 2021
Hever Castle, Kent
Hever Castle has a lot of plans for Christmas, including a Christmas market, seasonal crafts, and illuminations. Early plans include a carousel, vintage fairground stalls, and the Castle will be illuminated in glorious technicolour after dark. On 12 November, they'll hold a Christmas market, where you can buy gifts, gadgets, textiles, and decorations. Inside the Castle, log fires will be burning and there will be beautiful trees and decorations. Expect a Christmas trail for the kids, and perhaps the chance to see Santa! To top it all, they have winter walks and willow weaving workshops. Some activities may change depending on government advice, subject to COVID-19 restrictions.
Dates: 1-23 December 
Cogges Manor Farm, Oxfordshire
Fans of Downton Abbey might recognise Cogges Manor Farm as the film location for Yew Tree Farm in the popular series. This Christmas they will have their annual Christmas Market on the first weekend in December. They invite you to explore the house and grounds of Cogges, while shopping for locally made crafts, arts, and gifts. Nordman Fir Christmas trees can be bought from the festive forest. Seasonal treats to enjoy include home-made mince pies, and you can warm up with a spicy mulled wine in the kitchen. Soak up the Christmas spirit of Cogges, with festive music.
Dates: 4-5 December 2020
Hughenden Manor, Buckinghamshire
Hughenden Manor celebrated the season with a 1940s Christmas last year, reflecting its period as a bomb-mapping base, codenamed 'Hillside', during the Second World War. In Victorian times, Hughenden Manor the home of British Prime Minister Benjamin Disraeli, so prior to 2019, they always celebrated a Victorian Christmas at the Manor.
The switch to a 1940s theme last year was well received by visitors. Vintage Christmas decorations brought the era to life. Visitors saw handmade 1940s ornaments and garlands, paper chains and pom-poms, lametta and rag-wreaths! Re-purposing and re-using materials was the order of the day. There's an exhibition about the map-makers and their work inside the manor! 
"We hope that we will be able to offer a dressed house and outdoor Christmas trail in 2020," said a spokesperson, but they are unable to confirm anything at the time of writing, so do check online.