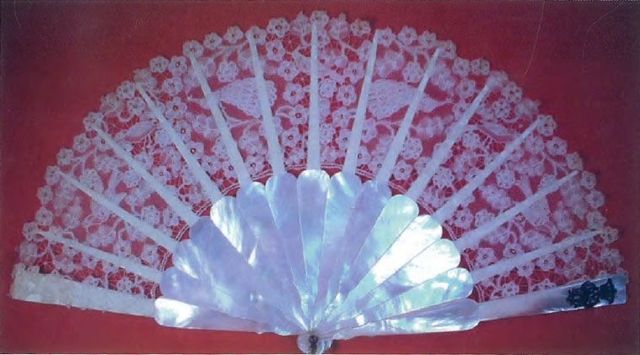 East Devon became a center for lace-making in the 16th century, possibly in response to the beautiful products of Italy or Flanders—though this has yet to be substantiated.
Whatever the source of their inspiration, Devon's workers, already experienced in cloth production, quickly took up lacemaking and began producing highly desirable fashion accessories. Their new enterprise benefited from good access to the materials needed for lace; weavers already produced quality wool, and locally grown flax yielded the required fine spun yarns.
The market town of Honiton became Devon's main lace center. It had a developed network of merchants and out workers, and it enjoyed good trade links to London—where the rich gentry provided the main market. Lace was also made in the nearby towns of Axminster, Beer, Branscombe, Ottery St. Mary, Seaton, and Sidmouth. In all, 5 , 299 lace-makers worked in the East Devon area by 1676—a third of them living in Honiton. Devon's lace took the name of the dominant town and became known by the generic name "Honiton." (While all Devon's lace-making villages produced Honiton lace, in the mid-19th century Branscombe developed its own distinct variety—a tape lace incorporating braids and a needle-point technique.)
Although there are many different types of lace, all are made by one of two methods—using a bobbin or using a needle. Honiton lace is made by bobbin: numerous threads are held on small handles made of bone or wood, and the various patterns are created by a miniature form of weaving. The thread used is particularly fine, so each piece of Honiton lace takes a long time to make and is very expensive.
Honiton lace is renowned for its intricate beauty and designs that often depict delicate flowers and leaves, and sometimes animals or other natural objects. Although accomplished artists designed the large pieces, individual motifs were made by poorly paid home workers and then assembled by specialists to produce items such as collars, cuffs, edging, flounces, handkerchiefs, and wedding veils.
Indeed, Honiton veils became extremely popular after Queen Victoria commissioned one for her own wedding in 1840, as well as lace for her wedding dress; 100 workers are said to have produced the lace at a cost of £1,000. Many of Victoria's extensive family also used Honiton lace, and today's Royals still use a Honiton lace christening gown commissioned for Victoria's eldest son (later Edward VII).
Queen Victoria's interest in Honiton lace boosted its popularity, but the introduction of cheap machine lace during the 19th century's industrial revolution led to a decline in hand production. Machine-made lace flourished particularly in Nottingham and Ireland, but Devon, too, had a part to play. John Heathcote, an inventor who abandoned his Midland factory after attacks by the Luddites, brought lace-making machines to Tiverton. In the decades that followed, making lace by hand became increasingly uncompetitive, and by 1940 no one in Honiton made their living from it. Nowadays, however, it is still produced as a hobby by enthusiasts all over the world. Local interest remains strong, too. Honiton's Allhallows Museum estimates that more than a thousand local people still make lace, and some will work to commission (though this is expensive).
You can find examples of Devon lace in the county's antique shops and centers such as the one at Topsham Quay, but the best-known supplier is the Honiton Lace Shop. It has a wide selection of antique and modern lace and specializes in pieces from the local area. Prices for a small sample of antique Honiton range from £2 to £20, while pieces made up into such items as edgings, flouncing, collars, stoles, and handkerchiefs go from a few pounds to thousands for the finest quality. Large bridal veils go from about £500 and small ones from under £ 100. The shop's owners, Jonathan and Jane Page, say that while earlier lace is rarer, it is not always the most expensive, and many of the 19th-century examples have the added attraction of still being wearable.
The best advice when buying lace is to simply choose something you like. Then if you get hooked, there are reference books to help you learn the subtle differences and decide what type you'd like to concentrate on. As with any antique or vintage item, condition, design, and the quality of the workmanship are all important.
Look for authenticity too. When buying a lace handkerchief, for example, check that the surround and the lawn ground are original and have not been adapted from some other form. You should also be aware that it's not always easy to differentiate between handmade lace and less valuable machine-made imitations, so buy from a reputable dealer. Finally, do store your lace carefully: keep it in the dark, interleaved with acid-free tissue, lying flat or rolled (not folded), and do not keep it inside plastic bags. 
WHERE TO SHOP
Suppliers • The Honiton Lace Shop, 44 High Street, Honiton, Devon EX 14 8PJ. Tel: 01404 42416. Website: www.honitonlace.com. Antique and modern lace, lace-making equipment, and books. Mail-order service.
Topsham Quay Antiques Centre, The Quay, Topsham, near Exeter, Devon EX3 0JB. Tel: 01392 874006.
Auctions • Phillips Auctioneers and Valuers hold regular costume sales including lace. For further details, tel:020 7629 6602.
Exhibitions • Allhallow's Museum, High Street, Honiton, Devon EX 14 IPG. Tel: 01404 44966. Website: www.allhallowsmuseum.co.uk. An outstanding collection of Honiton lace.
Displays of Devon lace can also be found at: Fairlynch Museum, 27 Fore Street, Budleigh Salterton, Devon EX9 6NP, tel: 01395 442666; and at Sidmouth Museum, Hope Cottage, Church Street, Sidmouth, Devon EX 10 8LY, tel: 01395 516139.
Further Information • The Lace Guild, The Hollies, 53 Audnam, Stourbridge, West Midlands DY8 4AE. Tel: 01384 390739. Website: www.laceguild.demon.co.uk. International membership £29.
* Originally published in July 2016.