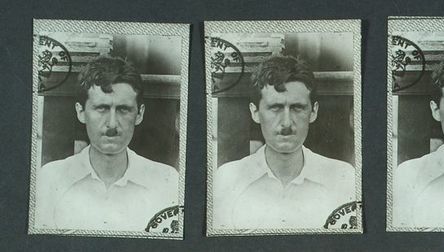 On this day in 1950, George Orwell died of Tuberculosis
The esteemed writer battled the illness for 3 years before succumbing to it. 
His most famous works, 1984 and Animal Farm remain astoundingly relevant today, and are consistently held up as modern classics.
As it is the 70th anniversary of one of Britain's best writer's death, we thought it best to share this incredible footage from the premiere of 1984, courtesy of British Pathe. The footage is in black and white, and provides real insight into what life was like for the rich and famous of the time.
Read more: The best cathedrals in England
Orwell's dystopian novel is a defining work that was ahead of its time. Totalitarianism, government surveillance, and the horrors of war are all omnipresent themes in 1984. The book remains a mainstay in schools all over the UK. Relevant indeed.
In this footage from 1956, Hollywood stars gather for the film premiere at Leicester Square in London. An enthusiastic crowd can be seen being held back by policemen as the stars enter the theater.
Fans of vintage fashion will have plenty to look at as the high end fashion from the 50's is on full show in London. There are even some 'Thought Police' scattered around the theater for effect. 
Have a look at the footage below, courtesy of British Pathe
Read more: 10 Free things to do in London