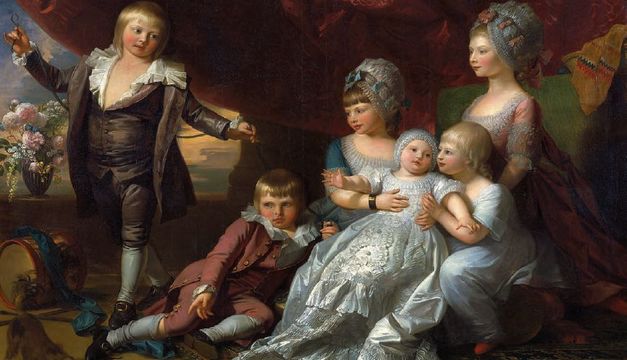 Caroline, Charlotte, and Augusta, who had never visited Britain before taking the on Royal duties, played a major role in developing royal palaces, and gardens hugely promoted their own personal interests.
Dressed in blue, red, and gold satins, cloaked in ermine and primped with lace and jewels, three women gaze out of their portraits hanging on the wall. They gesture—almost absentmindedly—to the crowns sitting nearby to remind us that they are princesses. Two of them, Caroline and Charlotte, became British Queens. The third, Augusta, would also have become Queen, but her husband died, so she remained Princess of Wales, taking the title of Mother of the King when her son became George III.
Though they held the highest female positions in 18th-century Britain, Caroline, Augusta, and Charlotte were German. None had visited Britain before assuming their royal duties. Neither Augusta nor Charlotte spoke English when they arrived. Nonetheless, all three princesses created refined courts, where music, art and books were valued and artists, thinkers and scientists were welcomed.
They played major roles in developing royal palaces and gardens. Each also promoted a myriad of personal interests. Together their lives spanned more than a century from 1714, when Caroline came to London, to 1818 when Charlotte died—a period of extraordinary changes that made Britain powerful. The princesses contributed to these revolutionary changes, and the effects of their work are with us still.
Caroline was born in Ansbach in 1683. Orphaned early, she spent her teens in the Berlin court of Frederick III of Prussia and his wife, Sophia Charlotte of Hanover. It was a perfect home for her. Previously she had had little education. Her husband, George II, said she wrote "like a cat," and her spelling always remained impressionistic. But Sophia found and nurtured Caroline's talents, introducing her to such luminaries of Frederick's vibrant court as the philosopher and mathematician Gottfried Leibniz and composer Agustino Steffani. Caroline blossomed so much that Sophia said Berlin was a "desert" when she was absent. Caroline was equally distraught without Sophia. At her death, she told Leibniz, "Only the hope that I may soon follow her consoles me."
Caroline married Sophia's nephew George Augustus of Hanover. When his father became King George I of Great Britain in 1714, the young couple followed him to London, and 13 years later became King and Queen in their turn.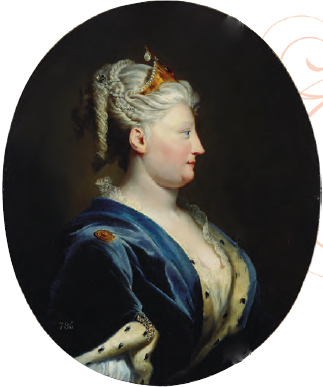 5
In London, Caroline hired George Frideric Handel to teach her daughters. She had known his work in Germany, and her patronage helped him become an enduring power in British music. At Caroline's request, he composed the anthems for the coronation in 1727. Of these, Zadok the Priest has been performed at every coronation since. Caroline also championed his operas, though she did not live to hear the first London performance of his Messiah at the Foundling Hospital, whose chapel she had financed. Her husband, George II was present, however. He stood during the "Hallelujah Chorus." Protocol obliged the audience to stand also, thus starting a tradition that still continues at Messiah performances.
Caroline's enthusiasm reached widely. She was curious about history, especially the Tudors, and owned several cameos depicting them. She discovered some drawings by Holbein, painter to Henry VIII, in a drawer in Kensington Palace, and hung them in her rooms at Richmond Lodge. She displayed her collections of artifacts and natural objects in her Wunderkammer, a room designed to exhibit curiosities. She also built a library at St. James's Palace to house her book collection, which included both learned works on philosophy and religion, as well as popular plays, operas and poems. Always keen to emphasize royal continuity, she decorated the library with terracotta busts of monarchs going back to Alfred the Great and including her favorite—Elizabeth I.
Caroline died in 1737, a year after her daughter-in-law Augusta of Saxe-Gotha had arrived in England, aged just 17, to marry Frederick, Prince of Wales. Apart from learning to play the harpsichord, Augusta had little education, yet Prime Minister Sir Robert Walpole spotted evidence that "spoke strongly in favour of brains that had had but seventeen years to ripen." Certainly, she learned English quickly. She was equally quick to adopt her husband's passion for collecting paintings and objets d'art. Like Caroline she furnished a Wunderkammer with treasures such as her camera obscura, Meissen porcelain, Japan boxes, and her medal collection.
Augusta also collected birds, housing them in her Aviary Flower Garden at Kew. Her accounts show payments for a parakeet, canaries, and cardinals (then known as Virginia nightingales)—and equipment to look after them. Knowing Augusta's interests, Eliza Lucas Pinckney of South Carolina brought an indigo bunting, a painted bunting, and an American goldfinch as gifts when she visited. The dawn songs of this "feather'd Choir" were evoked by George Ritso in a 1763 poem dedicated to Augusta:
By Heav'n's indulgent Care securely kept; From their warm Wings their nestled Heads remove, And charm with mattin Song the listning Grove…
The tuneful birds notwithstanding, Ritso reserved his highest praise for the princess:
August in person, as August in Name. Her cheerful presence brightens all the Scene; The Flow'rs look fairer and the Grass more Green.
Augusta was responsible for many of those flowers. She took great delight in the new plants that botanists were bringing from America and Asia, and she spent freely on landscape designers, plant materials, and books of botanical drawings. When she died in 1772, James Boswell, Dr. Johnson's biographer, noted that "The only expense in which she indulged herself was her garden at Kew … which is considered a real ornament to this country."
Augusta's gardening passion had been shared by Caroline, who had improved the gardens at Kensington Palace and hired landscape designers at Richmond Lodge in projects she described as "helping nature, not losing it in art." Charlotte of Mecklenburg-Strelitz, who married George III in 1761, continued the work at Kew, adding animals—most famously a zebra—to the menagerie. She also created gardens at Frogmore and studied botany, hiring James Edward Smith to teach herself and daughters, and reading back her notes to him to make sure she had taken them correctly.
Such a scholarly approach was typical of Charlotte. She had been taught art, music and fine needlework as well as Latin, French and Italian. She loved reading, especially theology, and she interested herself in numerous topics including history, scientific instruments and music. She held regular concerts at court, some with her family performing, others with the Queen's Band, which she had created. Mozart, who dedicated six sonatas to her, was among the traveling virtuosi she invited to play with it. "A love of music to distraction runs through our family," noted her eldest daughter.
Charlotte and the industrial revolution
As well as supporting musicians and botanists, Charlotte promoted the products of Britain's Industrial Revolution. Though German potters had discovered the secret of porcelain-making in 1709, English manufacturers were still developing their own forms. Charlotte encouraged them by her purchases, including the lavish flower-and-bird-patterned Mecklenburg service from the Chelsea factory, which she gave to her brother. The Worcester Porcelain Company was renamed Royal Worcester after she visited it, and a red, white and blue pattern called Queen Charlotte was created for her. Similarly, when she bought creamware from Josiah Wedgwood, he changed its name to Queen's Ware, which ensured its popularity into the 20th century.
Charlotte had 15 children, so not surprisingly she was interested in obstetrics. Notably, she had Dr. William Hunter to deliver her fourth child. Allowing a man to do this was a revolutionary step prompted by Hunter's pioneering work on the anatomy of mothers and embryos published in the groundbreaking volume The Gravid Uterus, and dedicated to the King. Like Caroline before her, she had her children inoculated against smallpox, though it was still considered an adventurous procedure. She shared her husband's interest in astronomy and owned numerous technical instruments.
Their varied activities show how much Caroline, Augusta, and Caroline loved being involved in the exciting scientific, artistic and industrial developments of their era. Though their marriages were arranged, all the princesses forged affectionate relationships with their husbands. George II trusted Caroline as his regent, nursed her in illness, and ordered that their coffins have removable sides so they could be together in death. Their son Frederick commissioned an opera for Augusta from which comes the famous chorus "Rule Britannia."
Writing about Charlotte and George III, the novelist Fanny Burney, who was Charlotte's Keeper of the Robes, noted that he seemed "to covet her participation in everything," and their behavior together "speaks the most cordial confidence and happiness."
Yet why had these German Princesses been chosen to become British Queens?
Their vital qualification was that they were Protestants. After many decades of religious rivalry, persecution and civil war, the 1689 Bill of Rights determined that British monarchs and their consorts must be Protestant. In 1701, Sophia of Hanover, granddaughter of James VI of Scotland and I of England, had been chosen over many Catholic claimants as heir should Queen Anne die without living issue. Sophia predeceased Anne, so the succession passed to her son, who became George I.
For most of the two previous centuries religious differences or the monarch's childlessness had put the succession in doubt. Caroline, Augusta and Charlotte ended this anxiety by having large families. Caroline already had four children when she arrived in England and was to have four more. Augusta had nine, and of Charlotte's brood, two became Kings: George IV and William IV. Her granddaughter Victoria was Queen for 64 years. Queen Elizabeth II, the direct descendent of Caroline and Charlotte, is the only monarch to have reigned for longer.
Not only did the three Princesses establish a dynasty that has survived for three centuries, but they also significantly influenced British music, painting, and gardens. Their work can be spotted at Kew Gardens, Kensington Palace, and Buckingham Palace (originally called the Queen's House because Charlotte lived there). In America, their memory survives in such place-names as Caroline County, Virginia; Augusta, Georgia; Charlotte, North Carolina; and Charlotte Harbor, Florida. It seems that once we start looking at Caroline, Augusta, and Charlotte, we see their influence everywhere.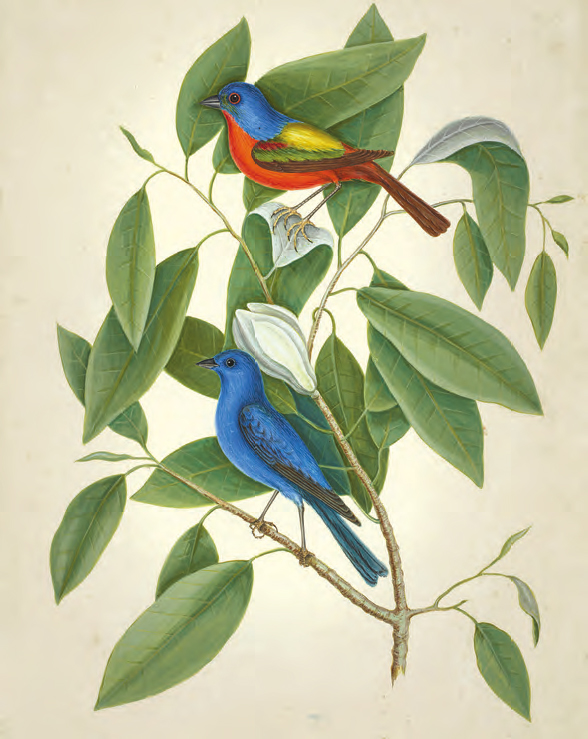 5
Princesses on display at Kensington
Billed as the first exhibition to explore the lives and impact of three Royal women on British history and culture, "Enlightened Princesses: Caroline, Augusta, Charlotte, and the Shaping of the Modern World" was jointly organized by the Yale Center for British Art (YCBA) and Historic Royal Palaces. After running from February 2 to April 30 at YCBA, New Haven, the exhibition moves to London from June 22 to November 12 at Kensington Palace, where Caroline and Charlotte once lived.
The exhibition features work by painters Hans Holbein, Allan Ramsey, Thomas Gainsborough, George Stubbs, and Joshua Reynolds, among others. The works include numerous portraits of the Princesses and their children, many lovely botanical drawings, and Stubbs' sensitive paintings of the kangaroo and zebra housed in the royal menagerie. The exhibition also displays elaborate court costumes, musical and dance manuscripts, scientific instruments, architectural and botanical drawings, and personal belongings such as Caroline's cameos and examples of Charlotte's china.
More than 80 of the items on display have been lent by the Queen. This is the largest Royal loan ever made to any exhibition.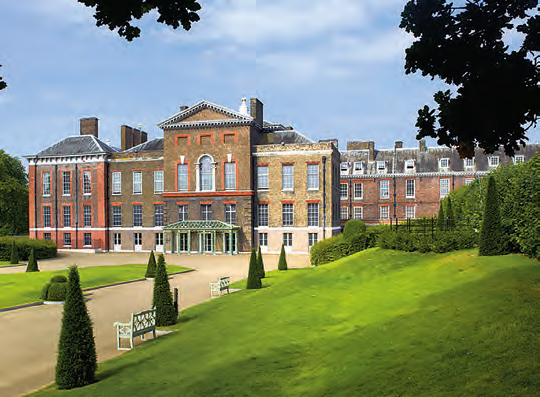 5
For details about the exhibition's sojourn at Kensington Palace, check hrp.org.uk. Tickets for Kensington Palace can be booked online.
* Originally published in April 2017.