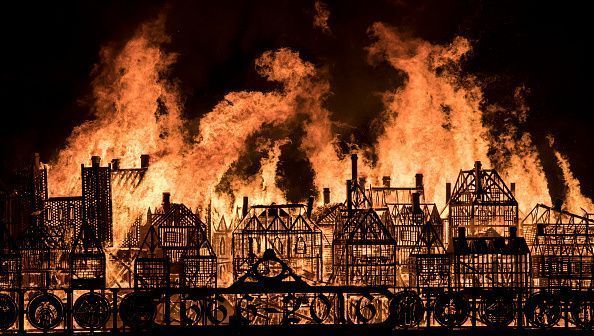 On Sept 2, 1666, the Great Fire of London was ignited and burned for four days gutting the medieval city.
Over 350 years later, London's landscape still shows evidence of the Great Fire of 1666, which started down a bakery in Pudding Lane.
Thomas Bloodworth, Lord Mayor of London at the time, was unimpressed. "A woman could piss it out," he huffed, readjusting his nightcap and pulling the sheets over his head. Even Samuel Pepys, London's greatest diarist, went back to bed after noting a minor blaze across town in his journal for Sunday, September 2, 1666. Fires were common in a city of wooden buildings and open hearths.
The dawn revealed this was no common fire, however. A little bakery in Pudding Lane had entered history for all the wrong reasons, despite its owner Thomas Farynor's insistence he'd damped down properly. Unfriendly winds had blown a simple oven fire into riverside warehouses full of oil and tallow.
What kind of damage did the fire cause?
Over the next four days, seven-eighths of the City just disappeared into smoke, including 13,000 houses, 87 churches, St. Paul's Cathedral and London's only bridge, itself covered in shops and dwellings.
The capital had not seen devastation like it since Boudicca's revolt against the Romans in AD 60 and would not see devastation like it again until the Blitz.
Just six lives were claimed, though many died afterward during violent retributions. Generally, though, the fire moved slowly and people had time to escape.
Eventually, the wind changed and the fire burnt itself out—a few yards before reaching the Tower of London, home to 600 tons of gunpowder.
The ground was so hot it couldn't be walked on for days, but the arguments had already begun. Some 65,000 people were homeless, and since there was no insurance, as ruined as their houses. The Royal Surveyor, Christopher Wren, was asked to oversee the City's resurrection. Many hopeful architects submitted plans. Most adopted a radical, no-nonsense grid plan. Wren's own suggestion saw a peacock's tail of boulevards fanning out from a monument erected on the spot where Thomas Farynor's oven had started all the trouble.
What survived?
Nothing above ground survived intact. One or two stone churches clung to a few blackened walls, but on the whole, it was a blank canvas—with caveats. Major caveats.
There were just far too many individually-owned parcels of land dotted around higgledy-piggledy alleys, courtyards, and passageways, usually only a few feet across.
No one was going to give up their square inch without a fight. Fire judges were appointed to keep the peace among angry people that had lost everything. The 22 referees were painted to avoid impersonation fraud—one portrait, of Sir Hugh Wyndham, survives in the Guildhall.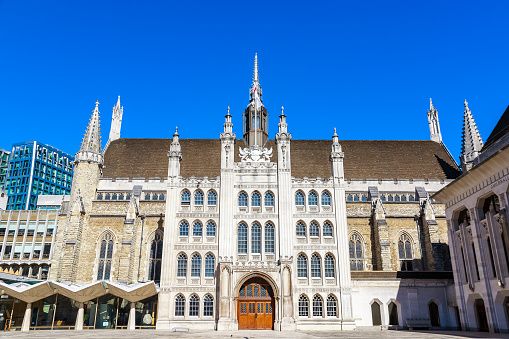 3
The rebuild 
With the exception of one new road, the City was rebuilt on more or less the same chaotic street plan it had originally. Strict rules were enforced. Houses had to be built in brick; wealthier owners were allowed stone around doors and windows, but in return, they had to create a first-floor balcony with a sloping "penthouse" to protect pedestrians from rain. Thatched roofs were outlawed, a ban still in place today. When Shakespeare's Globe Theatre was built in 1997, special permission was required for its circular thatched roof.
Very few original post-fire private buildings survive. Thrown up by bad builders with poor quality materials, they collapsed almost as quickly as they were built. What we do have are public and semi-public buildings. One of the first rebuilds, a stone's throw from St. Pauls, is the Royal College of Arms, built in handsome, dark brick with gilded gates. Most livery halls had been rebuilt by the 1670s; surviving examples include the Skinners', Vintners' and Apothecaries' halls.
Wren may have lost his building plan, but he got his Monument. He and his friend, City Surveyor Robert Hooke, both fanatical astronomers, sneakily built the column as the secret casing for a zenith telescope, with spiral steps coiling around the instrument and a hinge-lidded urn at the opening to the sky. Sadly the rumble of traffic on Fish Hill rendered it unusable. The Great Fire's other monument is much smaller. High on a building on Pye Corner in Giltspur Street where the fire stopped, lives the Golden Boy, a symbol of the Sin of Gluttony, the "cause" of the fire.
Wren rebuilds the churches
Wren had 51 parish churches to rebuild, and although, thanks to the Luftwaffe, just 23 remain, they are instantly recognizable. Each Wren church, built using a new, very unpopular tax on coal, had its own distinct flavor, lending the City its unique skyline.
Taking the original ground plans and anything left—crypt, tower or parts of wall, for example—Wren created something new, evening-out wonky lines to create regular interiors. He preferred the baroque style, radical in its day, but he wasn't philistine. If enough of a Gothic church remained, he'd build and ornament in that style instead.
Wren worked with Hooke, but he snaffled St. Paul's Cathedral for himself. After being told there was no way he would be allowed to have a "popish" dome, Wren put up giant hoardings so no one could see him constructing exactly that. Happily, he wouldn't touch the cheap Blackheath gravel everyone else was using, and the cathedral was built to exacting standards. It was declared finished in 1711 and remains one of London's most striking buildings.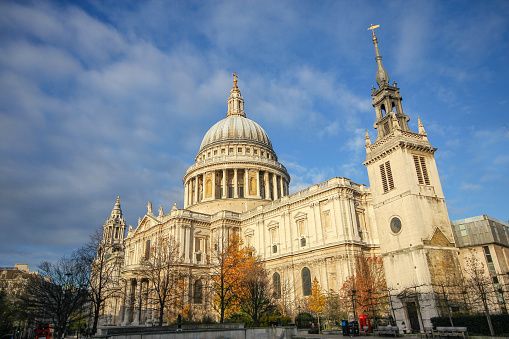 3
Survivors throughout the city 
There are some true survivors in the city. Outlasting both the Great Fire and the Blitz, they form quite an eclectic mix of styles and purposes.
Although All Hallows by the Tower dates back to 675 when fire broke out it was virtually brand new after being rebuilt following an explosion. Samuel Pepys climbed its tower to watch the fire.
Built in 1411, the Guildhall needed repairs to its roof, but since it was at the edge of the fire, it didn't suffer too badly. Unfortunately, its roof was hit again during World War II.
The only private house to survive the flames was 41-42 Cloth Fair, built between 1597 and 1614, and sheltered behind the high walls of a nearby priory. St. Katherine Cree church was very new when fire broke out. There was enough of it left afterward, however, to house a soup kitchen for builders. Its rose window was based on the lost old St. Paul's Cathedral.
Most fire survivors are just outside the City. The black-and-white Tudor frontage of Staple Inn straddles the boundary. Along Fleet Street, Prince Henry's Room is another Tudor building and Middle Temple, in the legal labyrinth behind its great wooden gate, has been a liberty (not controlled by the City) since the 13th century.
Unexpected consequences
The fire had a number of unexpected consequences, not all of them bad. A year after the Great Plague, the disease was on its way out, but the fire killed it off for good. Displaced people moved west, hastening the development of the West End, and not long after the fire, Edward Lloyd, on opening a new-fangled coffee house in one of the medieval passageways, found himself host for another innovation—insurance.
There's a commemorative plaque in Lombard Street, where the coffee house really took off. Insurance companies began tentative fire brigades. They would only attend blazes at insured premises, many of which still carry metal identification marks today.
In the Great Fire's aftermath, a Frenchman, who hadn't even been in London at the time (but had the misfortune of being Roman Catholic), was executed for arson. Thomas Farynor, the baker, must have been very relieved. His livery company, however, the Worshipful Company of Bakers, did get an attack of guilt and apologize for starting the fire—in 1986. Better late than never.