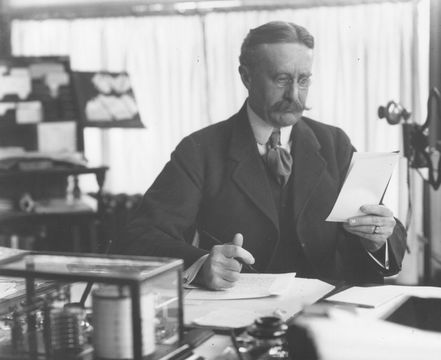 Stephen Roberts visits the places made famous by Harry Selfridge, yes, that Mr. Selfridge.
"Only (so many) shopping days to Christmas." This particular seasonal gem was first coined by Harry Gordon Selfridge or Mr. Selfridge of TV fame. To be fair to the US retail entrepreneur and catchphrase maestro, he didn't realize that nowadays we'd be bombarded with this from August onwards.
So, Selfridge was the first retailer to promote Christmas sales, the above ditty born into an unsuspecting world when he was working his way up at the Chicago-based department store Marshall Field. Selfridge was employed there for 25 years before launching his own bid for fame and fortune.
American Background
Great Lakes America was Harry's world, as a youngster, then as an aspiring retailer, as he worked his way up from humble stock boy to junior partner. Born in Ripon, Wisconsin (11th January 1858), he'd gravitate to Michigan, when his father acquired a general store in Jackson, and then to Illinois, when his association with Marshall Field began. When Selfridge's father disappeared at the end of the American Civil War, the key figure in Harry's life became his mother, Lois, 'the soul in all the world that her son loved best,' according to society architect Philip Tilden.
Marshall Field, a wholesaler, was happy to let the ambitious Selfridge take over the retail side of the operation (1887). He wasn't yet 30 but was clearly going places and had already been dubbed, Mile a Minute Harry. He would also soon marry Rose Buckingham, who came replete with means and business expertise. They married in 1890. One of their wedding presents was the land on which they built their new mansion, Harrose Hall. When I married, I got a few towels and a toaster and thought I'd done OK, the Selfridges clearly moved in rather more rarefied circles.
Moving to London
Selfridge's Damascene Moment came in 1903, when he lobbied to get his name above the door (Marshall Field and Selfridge or such like). MF was having none of it. Harry left in a huff, set up his own rival-department store in the same city, sold it after a few months, at a profit, and retired in his mid-40s. 
A steam yacht and a game of golf were never going to be enough for our Harry, however, and a holiday in London in 1906 persuaded him that what the city lacked was a Selfridges. It duly got one in March 1909, a flagship store Harry would lead for 30 years.
The rules of retailing changed once Selfridge was in town. He immediately set new standards, introducing us to shopping for pleasure, rather than tiresomely doing it from necessity. Extensive advertising brought the punters in, as Selfridge became the self-styled showman of shopping, inspired by the story of Phineas T Barnum, who'd also known a thing or two about self-promotion and was happy to spin a yarn along the way.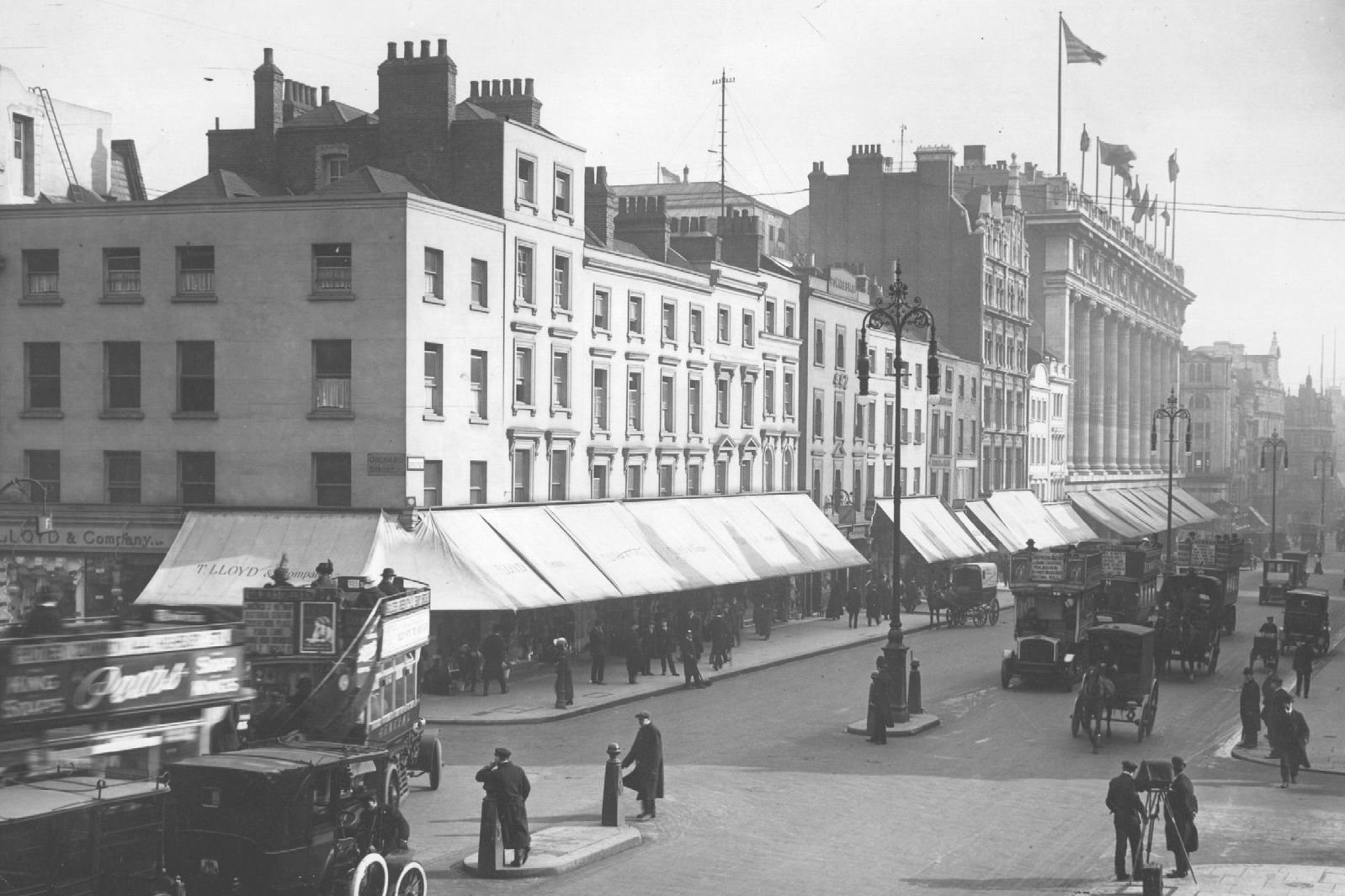 3
Upping sticks to Highcliffe
But my journey wouldn't start at Oxford Street's west end, but at Dorset's east end. Highcliffe Village is a part of Christchurch, a venerable borough of some 40,000 souls dating to the times of Alfred the Great. It has England's longest parish church, measuring in at 311 feet; a ruined castle, courtesy of Oliver Cromwell, and a hotel, The Kings Arms, mentioned in Bradshaw's Railway Guide of 1863. It wasn't always in Dorset either; up until 1974 it was in the county of Hampshire and so it would have been when the Selfridges arrived. If you explore the High Street, have a gander at HSBC (the former Midland Bank), you'll see the exterior is rather grand. It was jazzed up around 1920 because Selfridge had become an important account holder. It was a case of the bank matching the client.
Selfridges was doing well but, come 1914, Britain was at war. Harry's justification for moving to Highcliffe Castle, an 1830s nouveau castle, built jigsaw-style from imported French stone, was to protect his family from Zeppelin attacks. The capital had been targeted from 1915. Late in 1916 Selfridge took the lease of the castle and began forking out £5,000 per annum in rent. Whether the entrepreneur was unfaithful to his wife has never been proven, but some sources claim he was having an affair with petite French singer, Gaby Deslys, from 1910, so he may have had an ulterior motive. Did shipping his family to Highcliffe give him much-needed wriggle room?
A country squire
If Harry lived the high life in London, he also imagined himself a bit of a country squire in Highcliffe. Not content with paying all that rent, Harry embarked on serious 'improvements' that cost him another £25,000 (that's about £1,000,000 in today's money). The family took the train down from Waterloo, alighting at Hinton Admiral, the small country station nearest to the castle. Harry, of course, preferred to be motored down by his chauffeur. 
Walking the grounds, one is acutely aware of the happy times and tragic times that stalked the Selfridge story. When her country joined the war in 1917, Rose opened a tented retreat in Highcliffe for wounded American servicemen. She wouldn't live to see the end of the war though, taken away in May 1918 by the influenza pandemic. The Highcliffe Fete of 1921 was attended by 5,000 and was presided over by Harry, and in Rose's absence, Lois.
The castle is open to the public, although we're lucky it is, as it survived two near-calamitous fires, and is gradually being restored to its former glory. It has the essential tea room and gift shop, where you can buy a facsimile copy of Harry's philosophy of retailing, his Romance of Commerce. There are tours, indoor and outdoor events, and a Mr Selfridge Experience, where a special guided tour informs about this period in the castle's history (1916-22), but also lays on a high tea and a walk across the road to St Mark's Church to see … but no, I'm getting ahead of myself.
Hengistbury Head
Harry was only renting the castle, of course, and he fancied having something more permanent where he could entertain his many friends. Now, if Christchurch is venerable, Hengistbury Head is ancient. It's a promontory that overlooks (and protects) Christchurch Harbour. Evidence of human habitation has been found dating to the Stone Age, and during the Iron Age, the Head was reputedly home to the most important port in Britain, which traded across the Channel.
Now, the Head is a lovely walk, with fantastic views from the high point atop Warren Hill. Perchance Selfridge walked up here, because he bought the Head in 1919, announcing his intention of building the largest castle in the world. Big ideas and Selfridge went together like Oxford Street and shopping. 
Harry's castle proved illusory, a Castle in the Air, and the land was finally sold to Bournemouth Council, with the handy proviso it should never be built on. The Head is more about its nature though, home to a bewildering array of fauna and flora. It has a visitor centre, with shop, and a pair of cafés, one of which is cheek by jowl with those huts.
On the Slide
Selfridge was a self-made man, a 'rags to riches' story, but he lost two of his guiding lights when firstly Rose died, then Lois, from pneumonia, in 1924. He seemed to lose all sense of proportion and began to gamble (literally) with his own business, aided and abetted by those American-Hungarian twins and socialites, the Dolly Sisters. Then came the Wall Street Crash and the Great Depression, which severely hit Harry's spending power.
In the TV series a causal link is established between Harry's troubled acquisition of Whiteley's, in Bayswater, and his ousting from his own beloved store, but it wasn't so. The Whiteley's debacle occurred in 1927, a full dozen years before Harry's denouement. He'd end up on a reduced pension, living in a rented flat in Putney, where he died of bronchial pneumonia, on 8th May 1947. He was 89.
3
St Mark's Highcliffe
I mentioned earlier that the Mr Selfridge Experience walks you across the road to St Mark's Church. Here you'll find the remains of not one, but four Selfridges. Rose was the first to be buried here in 1918, followed by Lois in 1924. The grieving Harry had flowers placed each week on these two graves where the women in his life lay. Harry himself joined them in 1947, although his grave is noticeably less showy, a sure sign the money had been hemorrhaging. Finally, there was the youngest daughter, Beatrice, whose ashes were scattered in her mother's grave, after she passed away in 1990.
St Mark's is a beautiful little church, but it's modest and understated about its links with the Selfridge family. There's a simple little sign pointing to 'The Selfridge Graves'. Leaves flutter across the memorials, here one moment, gone the next, just like Selfridge's fortune.
* Originally published in July 2020.