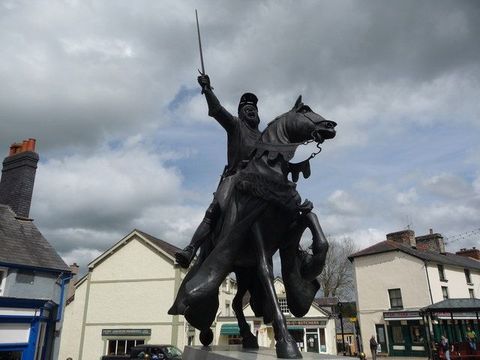 Welsh prince Owain Glyndwr led a successful people's rebellion against England's iron-fisted rule in the early 15th century and arguably became the most famous and highly regarded figure in Welsh history.
Since Owain Glyndwr's rise to power and even swifter decline, his has been glorified in myths and legends, even playing a role in Shakespeare's Henry IV. Glyndwr's exploits in the course of 12 short years are worthy of legendary praise, but unlike other British epic heroes such as King Arthur and Robin Hood, his accomplishments are historical facts.
Edward I invaded Wales in 1277 and within five years had conquered its fiercely independent people. To ensure his dominance over the region, Edward set out on a hugely ambitious plan to build a ring of impregnable castles from Builth in mid-Wales, to Caer-narvon in the north-west, to Flint in the north-east. These ten castles became the physical embodiment of the power of English rule, designed to intimidate and subjugate the people of Wales.
A century later, England remained in control under the rule of Richard II. Burdened with onerous taxation and restrictive land policies, the Welsh people chafed under English domination. Welsh myths and legends foretold a national redeemer, and the Welsh prayed for a man who would rise up against England and restore Welsh independence. From out of these rumblings of discontent, Owain Glyndwr emerged.
Despite England's massive military strength at the beginning of the 15th century, the Welsh, under the charismatic leadership of Glyndwr, drove the English from their land and enjoyed a hard-earned--albeit brief--independence. With the resurgence of Welsh nationalism since the 19th century, Glyndwr's exploits are once again heralded.
Glyndwr (rhymes with 'endure') hardly seemed a likely candidate for the role of freedom-fighter. Born probably in 1354 into an upper-class family descended from the princes of Powys on his father's side, and heir to the lands of Rhys ap Gruffydd on his mother's, he enjoyed the privileges due to one of the most powerful lords in Wales. As befitting an upper-class gentleman, Glyndwr studied law at the Inns of Court in London, became a squire to the Earl of Arundel, and served with distinction in the Scottish campaigns of King Richard II. In 1383, he married Margaret, daughter of Sir David Hanmer, an important justice on the King's Bench. He took up residence in his family's homes in Sycharth and Glyndyfrdwy.
With a generous income and a fine moated mansion, Glyndwr lived the life of a wealthy nobleman. His home at Sycharth become a cultural centre frequently visited by itinerant bards. Events soon brought this comfortable life to an end, however, and not only disrupted Glyndwr's family circle but altered the course of Welsh history. In 1399, Henry Bolingbroke deposed Richard II. As King Henry IV, he levied even harsher taxes against the Welsh. This happened at the worst possible time for the Welsh, who were already suffering from recurring outbreaks of the Plague. The new taxes added to the hardships and resentment of the common people and made them ripe for rebellion.
The situation ignited when an influential member of King Henry's Council--Reginald Grey, Lord of Ruthin--seized a disputed tract of land bordering on Glyndwr's estates. Glyndwr sought legal redress, but Parliament rebuffed him, calling him a 'bare-footed Welshman.'
At the same time, the King entrusted Grey to deliver a summons for Glyndwr to join Henry in preparing a military campaign into Scotland. Grey either did not deliver the message or withheld it until it was too late to respond. When Glyndwr failed to answer the King, Henry labelled him a traitor.
On 16th September, 1400, Glyndwr met with a small group of supporters at his home in Glyndyfrdwy, between Corwen and Llangollen.
Corwen and Glyndyfrdwy lie within a few miles of each other on the A5. Corwen brims with Glyndwr lore, epitomized by the Owain Glyndwr Hotel and a statue that greeted us in the town centre. A gentleman working at the hotel perked up when we mentioned Owain Glyndwr, and he brought out a stack of books and maps and showed us the way to Glyndyfrdwy. About a mile and a half from Glyndyfrdwy, a mound marks the site of Glyndwr's home.
The group that journeyed here in 1400 included Glyndwr's eldest son Gruffydd and his brother-in-law, Philip Hanmer. They declared Owain Prince of Wales. Four days later, Glyndwr and his supporters attacked and burned the town of Ruthin, crowded for a fair. Then they pillaged Denbeigh, Rhuddlan, Flint, Hawarden, and Oswestry before retreating in the face of Royal forces. The English declared Glyndwr an outlaw and gave his manor and lands to John Beaufort, Earl of Somerset, though the Earl wasn't able to take possession since Glyndwr still controlled North Wales.
The news of the uprising travelled fast. Welsh students at Oxford and Cambridge reportedly dropped their books and headed home to join the fight. Anti-English sentiment grew so strong that Welsh labourers in Shropshire and Herefordshire left their jobs to support the cause. Parliament didn't take these events lightly, immediately passing even harsher anti-Welsh laws. Henry then marched a large army across North Wales, burning and looting without mercy. Confronted with strong English opposition, Glyndwr and seven supporters headed for the safety of the mountains and bided their time.
Glyndwr won his first great victory against the English in the summer of 1401. Camped with fewer than 500 men at the bottom of the Hyddgen valley, he found himself surrounded by 1500 enemy troops. With no option other than to fight, he amazingly defeated the English, though about 200 of his followers died as well.
This success inspired legions of new supporters, many from the higher ranks of Welsh society. Glyndwr received further support from England's enemies: Scotland, Ireland, and France. In the meantime, the English continued their offensive, fanning the flames of Welsh ire by attacking and defiling the Cistercian monastery of Strata Florida.
A great comet appeared in 1402, and the Welsh believed it was a sign that the ancient legends would come to pass, portending a sweeping victory for Welsh independence. And in fact, the tide of battle swung dramatically in Glyndwr's favour. First, the Welsh captured Grey in the north and held him for ransom, eventually bringing in 10,000 marks for the rebels' coffers. Then on 22nd June, Glyndwr won his greatest victory. Sir Edmund Mortimer led an army of 2,000 Englishmen from Ludlow along the marshy floor of the Lugg Valley. He encountered the Welsh forces assembled on a hillside above the Church of St. Mary at Bryn Glas near Pilleth. The English cavalrymen carried Welsh longbows, and the foot soldiers wielded spears, axes, metal clubs, swords, and sharpened stakes. The Welsh, though not as well-equipped, had a similar array of weapons.
Rhys Gethin (the Fierce) from Cwm Llannerch in Conwy led the Welsh forces. Glyndwr himself may have been present at the battle. Mortimer, underestimating his enemy, drove his forces uphill toward Rhys. The highly mobile Welsh army charged downhill, engaging the English in hand-to-hand combat. At the end of the day, Rhys' troops had killed nearly 1,100 of the English and captured Mortimer and several of his knights and squires.
Today, the beautiful view from the battlefield belies the carnage of six centuries ago. The site lies south of Knighton, about a mile and a half off the B4356. A dirt road leads up the hill to the Church of St. Mary (Church of Our Lady of Pilleth). Glyndwr burned this 13th-century building, but part of the original tower still stands behind the present church, which dates from 1911. Beneath three large pine trees, the dead of the Battle of Bryn Glas lie in a mass grave up the hill from the church.
After the battle, Henry refused to pay the ransom for Mortimer, possibly because Mortimer had a legitimate right to the throne himself. As a result, Mortimer and Glyndwr became allies, a bond strengthened when Sir Edmund married Glyndwr's daughter Catherine. Through Mortimer, Glyndwr made friends with Sir Henry Percy (Hotspur) and later made peace with Grey, who also married one of Glyndwr's daughters.
After Bryn Glas, Glyndwr took control of Glamorgan and Gwent. The King sent in three armies from Shrewsbury, Hereford, and Chester, but heavy storms and dense mists forced their early retreat. Rumours spread that Glyndwr used powerful magic to control the weather.
With many of King Henry's forces occupied in the Scottish war, Glyndwr continued his military advances, and by the end of 1403 he controlled most of Wales. In 1404, English castles along the coast at Harlech and Aberystwyth fell and became strategic bases for Glyndwr's forces.
Glyndwr failed to storm massive Harlech Castle, so he decided to starve out the inhabitants. After many months, disease broke out, finally forcing the English to leave. Glyndwr held the castle for several years. Today CADW (Welsh Historic Monuments) maintains Harlech castle. It stands dramatically atop a crag, providing visitors with spectacular views. Originally built by Edward I to control the troublesome Welsh, it remains a fine example of his concentric designs, best appreciated by walking along the walls that repulsed Glyndwr.
Aberystwyth Castle proved vulnerable to attack and in fact suffered repeated onslaughts during its turbulent history, most recently during the Civil War. Today it lies in ruins but is still worth a visit, along with many other local attractions: the University of Wales, the Arts Centre, National Library of Wales, Camera Obscura, and the Vale of Rheidol Railway.
With his power at an apex and French ships along the coast adding support, Glyndwr surmised that the time was right to receive a formal declaration in support of his title of Prince of Wales. Summoning four men from every 'commote' (Welsh administrative district), he convened a parliament at Machynlleth. Before a vast assembly that included envoys from Scotland, France, and Spain, Glyndwr was indeed proclaimed the Prince of Wales.
Glyndwr's association with the historic town of Machyn-lleth still echoes down its lanes. Maengwyn Street features the Owain Glyndwr Centre--believed to be the actual site of the parliament, though the building dates from the late 1400s. It houses a museum dedicated to Glyndwr's memory, with exhibits, books, artwork, gifts, and two dramatic murals by Murray Urquhart in the Reading Room. One depicts a scene from the battle of Hyddgen, and the other an assault on an English-held fortress. Tegwyn Griffiths, the Centre's curator, is wonderfully colourful and talkative.
After the parliament, Glyndwr appointed clerics to help administer the independent state of Wales, and in July he signed a treaty with the King of France. The following year, however, Glyndwr suffered two costly defeats on the battlefield. The first was near Grosmont in the south, and the second and more serious occurred at Pwll Melyn, near Usk. An overwhelming attack by the English army on 15th March caught Glyndwr's forces unprepared. The English captured Glyndwr's son Gruffydd and 300 Welsh soldiers. They took the prisoners to a nearby castle and executed them, except for Gruffydd, whom they took to the Tower of London to be tortured.
Later in the year, 2,500 French forces landed at Milford Haven and joined Glyndwr's 10,000 men. This considerable army proceeded to take Haverfordwest, Tenby, Carmarthen, and Cardigan and marched through South Wales into England. As they approached Worcester, Glyndwr feared he had overextended his army, and he withdrew. Many historians consider this a decisive point in Welsh history; had Glyndwr continued his advance and engaged Henry's forces in battle, he quite probably would have won.
In 1406 Glyndwr called another parliament, this time at Pennal, at which he advanced his most progressive policies. He supported the establishment of Welsh universities so citizens would not be dependent on England for their education. He also established an independent Welsh church, apart from England and Canterbury, and decided that Wales would support the disputed papacy in Avignon.
In the famous 'Pennal Letter,' Glyndwr wrote to the King of France, offering his support of the French Pope Benedict XIII in exchange for the independence of the Welsh church, a guarantee that only men who spoke Welsh would be appointed bishops and priests in Wales, and an agreement that all Welsh monetary grants to English monasteries and colleges would end.
The Pennal Letter has been preserved in Paris, and for the first time in 600 years, it has travelled back to Wales. For six months the letter was displayed in Aberystwyth in connection with a major exhibition on the life of Owain Glyndwr.
After this parliament, Glyndwr's luck changed. King Henry had defeated the Scots and turned his full attention to the Welsh uprising. English forces, with their dominance of the sea and numerical superiority, inevitably overpowered the Welsh rebels. Glyndwr's ally, the Earl of Northumberland, was defeated, and soon Prince Henry retook many of the castles in South Wales. In the cruel winter of 1407, Edmund Mortimer died. Glyndwr fended off the first siege of Aberystwyth, but in 1408 it finally succumbed to English cannon. Harlech fell next, in 1409. Glyndwr's wife, four children, and Mortimer's family were captured and taken to London.
His forces diminished, Glyndwr nevertheless continued the uprising throughout North and Central Wales for a few more years. From the sanctuary of the Welsh mountains, he and his band of warriors employed guerrilla tactics to unsettle the English. Many of his most loyal supporters died in 1410 in a battle in Shropshire. In 1413 Prince Henry took the throne, ruling as Henry V, and offered Glyndwr and his supporters a pardon if they would submit. Twice they refused. Glyndwr himself, his cause lost, vanished from history. It is believed he died in 1415 at Monington in Herefordshire, where his daughter Alice lived with her husband, John Scudamore.
The harsh anti-Welsh laws remained until 1485 when Henry VII, a Welshman, took the throne. The truths and legends of the uprising led by Owain Glyndwr have smouldered for centuries, and he remains a powerful symbol of the frustrated dreams of an independent Wales.
* Originally published in June 2006.