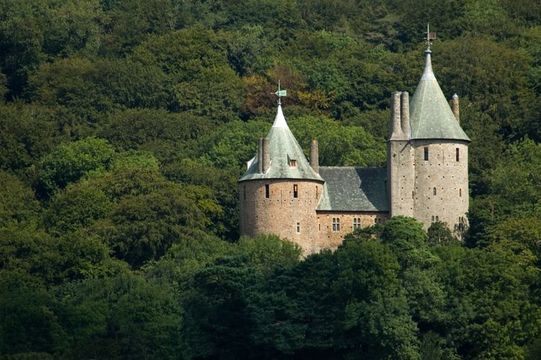 From Cardiff to Castle Coch the most stunning historic castles to explore in South Wales.
Curving around Cardiff on the M4 motorway in South Wales, you suddenly glimpse, to the north, the ethereal vision of conical towers peeping from beech woods like some fairytale Bavarian castle or secret Swiss château.
Forsaking the rush of the motorway and following signposts, within three miles you are in the middle of the woods, the turreted castle now looming before you, complete with a working drawbridge and portcullis.
Stepping inside, you enter an enchanting galleried courtyard with winding stairs to rooms fabulously decorated with murals, saints, sculptures, and exotic creatures.
Castle Coch
This is Castell Coch, named after the 13th-century Red Castle that once occupied the commanding site overlooking the Taff Gorge.
Look closely and you can see where medieval masonry blends into the later, 19th-century building that grew from the original blueprint in a tour de force of High Victorian romantic medievalism: the creation of the reputedly richest man in the world, John Patrick Crichton Stuart, 3rd Marquess of Bute (1847—1900), and his eccentric architect, William Burges (1827—1881).
It's a curious thing. Victorian Britain, the pioneering workshop of the world with its clattering machines and smoking chimneys, could also indulge in such unfettered cultural nostalgia. Fiery furnaces were countered with chivalric fantasy; for every progressive leap of the industrial revolution there was a hankering for an idealized past.
You find it in the Arts & Crafts movement, prizing individual craftsmanship in reaction to mass production. And you see it in Victorian architecture whose bewildering diversity of styles—Greek, Norman, Gothic, Italianate—is underpinned by nostalgic historicism and revivalism.
Leading Victorian architects looked to the Middle Ages for inspiration, and William Burges, with the deep-pocketed Marquess of Bute in generous accord, pulled off two of the greatest Victorian triumphs of neo-Gothic magic, at Castell Coch and down the road at Cardiff Castle.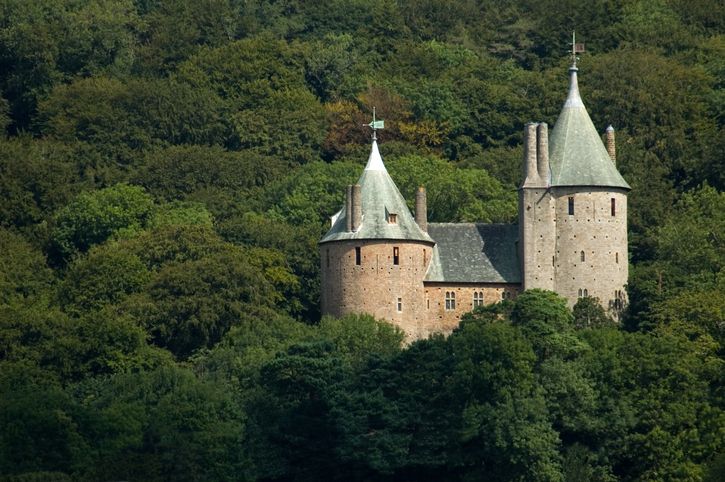 5
The Stuarts of Bute
The Stuarts of Bute were of Scottish royal lineage, but it was in the 18th—19th centuries, through a combination of astute marriages and business savvy, they were propelled into the front rank of Welsh landowners.
A leading figure of the Industrial Revolution, John, 2nd Marquess of Bute (1793—1848), became the "maker of modern Cardiff," acquiring much of the land on which today's city is built and developing the docks to enable the "black gold" of the south Wales coalfields to be shipped around the globe.
When the 2nd Marquess suddenly died in 1848, his son, John Patrick, was just six months old, in line to inherit the greatest landholding, mineral and property rights in Scotland, Wales and England. But while family business went from strength to strength, the 3rd Marquess would incline to the life of a scholar and recluse.
He mastered several languages and immersed himself in antiquarian passions, archaeology, heraldry, theology, and psychic research. 
By this time, Bute had already found the marriage of minds for which he is most remembered because in 1865 he had met William Burges, the architect son of the engineer responsible for the construction of the Bute East Dock in Cardiff. Where Bute was shy and reserved, Billy Burges, 20 years his senior, was raffish and clubbable. Both were learned travelers, collectors and antiquarians.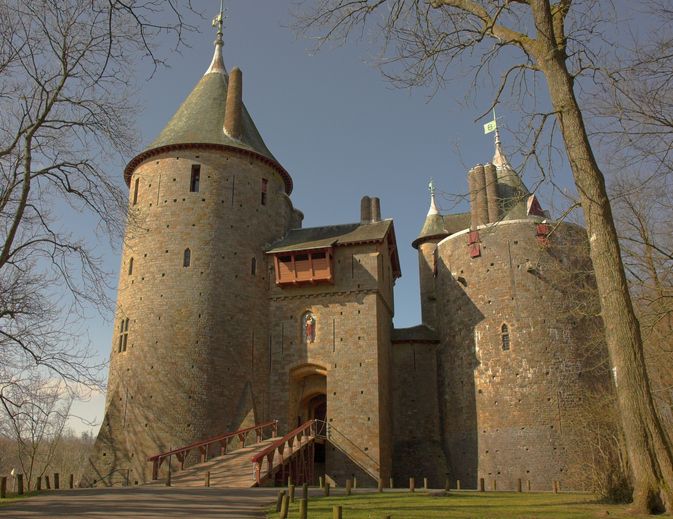 5
Bute's work
Over the coming years, Bute would prove himself arguably Britain's greatest individual architectural patron, embarking on some 60 projects. Thanks to his 16-year collaboration with Burges, Cardiff Castle and Castell Coch would out-dazzle all (Bute's Scottish home, Mount Stuart, is also a masterpiece of domestic Gothic Revival).
Cardiff Castle, in the heart of the Welsh capital four miles south of Castell Coch, was the Bute family's main residence in Wales until they gifted it to the city in 1947.
Built on the site of a Roman fort, it boasts a fabulous 12-sided Norman stone keep whose perch on a grassy motte affords superb views over the city. The subsequent history of nobles and royalty who owned the castle is retold today by information boards dotted around battlements and green, and audio guides you can pick up on your way in.
The real visual treat, though, is the castle lodgings that Bute commissioned Burges to restore, transform or add, creating opulent interiors resplendent with murals, sculptures, marquetry, ornate chimneypieces, gilding and stained glass within chivalric Gothic towers.
You do have to pay an extra £3 (on top of £12 entrance) to get a house tour with an expert guide, but you see more rooms than on a solo wander, spiced with tales like Burges parading in medieval court jester's attire with a parrot on his shoulder. There are specialist Clock Tower tours too (£4).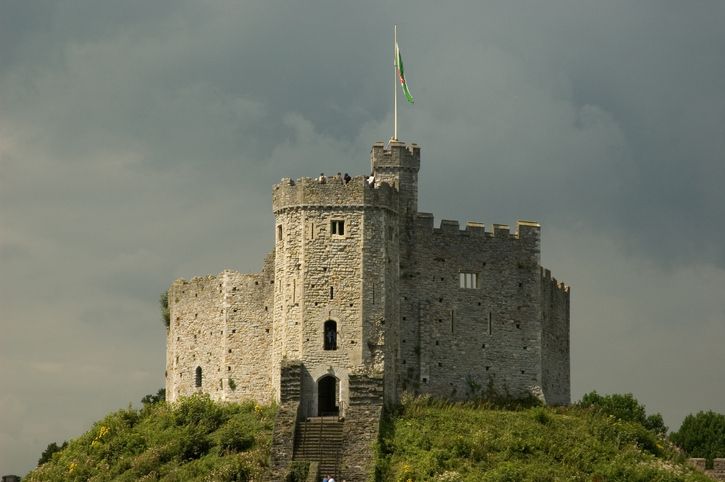 5
A complement 
Castell Coch, which you might visit as starter or dessert, was intended to complement Cardiff Castle as a picturesque summer retreat, though it was scarcely used, explained perhaps by Bute's one-time comment, "I have comparatively little interest in a thing after it is finished."
For today's visitor, the castle is in a class of its own for intimate woodland charm; more informal and half the price of Cardiff. Explore at will and unpack stories via handheld audio guides and the fine exhibition on the castle history, Bute, and Burges.
The fortress was built in the 13th century by Gilbert de Clare, Earl of Gloucester, but by Bute's time was just another ruin to remind of the troubled past on the Marcher borderlands between Wales and England. Nevertheless, the Marquess and Burges raised a reconstruction from the remains, if not exactly of the original Castell Coch, then an authentic representation of a working medieval castle.
Again, detail was obsessive—the timber fighting gallery over the drawbridge; red wooden flaps to protect archers firing from embrasures; machinery for the portcullis and drawbridge. Rather comically, Bute still had a bell pull installed for contemporary visitors!
Inside, lavish detail continues, though perhaps more in the spirit of Victorian fantasy: Early Christian imagery, including a statue of St. Lucius (reputed first Christian king of Britain) in the Banqueting Hall; painted monkeys cavorting around the domed ceiling of Lady Bute's bedroom, where miniature crenelated towers on the washstand craftily hide cisterns for hot and cold water—mod cons were de rigueur.
The pièce de résistance, though, is the Drawing Room decorated with scenes from Aesop's Fables (including a monkey with Victorian side-whiskers). Dazzling stars, butterflies and birds cascade below a golden sunburst in the vaulted ceiling, hinting at nature's fertility and transience; the Three Fates preside over the great chimneypiece.
For amid all the fairytale, Castell Coch whispers a moral message—of our fragile humanity determined by the hands of fate: a humble acknowledgment, indeed, from the world's richest man, in an era that glanced backward as well as hurtled forward on its path of material progress.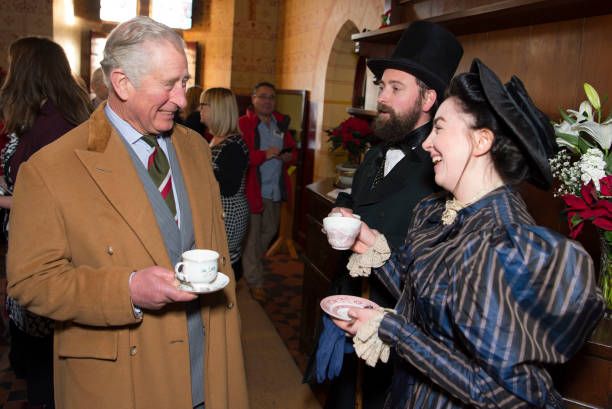 5
Keys to the castles
Getting there: Take the M4 from London to South Wales, leaving at Junction 32 onto the A470. Go north and follow signposts for Castell Coch; south and follow signs for the city center for Cardiff Castle. Circa 160 miles from London.
Cardiff Castle: Spanning 2,000 years of history, the site features Roman wall remains and the Norman keep, as well as the Victorian apartments. Also explore tunnels within the walls that were used as World War II air-raid shelters and unpack the story of the Welsh soldier in the Firing Line exhibition, cardiffcastle.com.
Castell Coch: The Bute family relinquished the castle in 1950 and the heritage body Cadw now cares for it. For visitor information, see cadw.gov.wales.
Caerphilly Castle: Gilbert "the Red" de Clare, who built Castell Coch in the 13th century, also created moated Caerphilly Castle four miles to the north. The 3rd Marquess of Bute began preservation work on the ruins but was largely diverted by other projects. Wales' largest castle is an awesomely atmospheric visit. cadw.gov.wales
Cardiff: There's accommodation for all budgets in and around Cardiff (visitcardiff.com). Explore the smart civic center largely built by coal wealth on land given by the Butes, plus swanky Cardiff Bay (as the docklands area is now known), home to The Welsh Assembly, Wales Millennium Centre, cafés, restaurants and other attractions. cardiffbay.co.uk
* Originally published in March 2017.