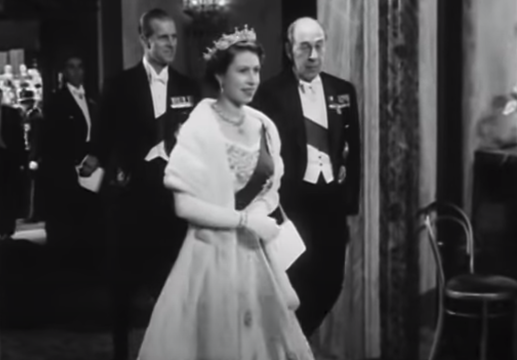 1953 was a fantastic year for Queen Elizabeth. The year of her Coronation saw her establish herself as one of the leading figures worldwide.
Gloriana, Op. 53 was written by Benjamin Britten and was first performed in 1953 for Queen Elizabeth II herself.
Composed for Queen Elizabeth II's Coronation, the opera is based on the relationship between Queen Elizabeth and the Earl of Essex. 
Despite the apparent hype around the opera and Queen Elizabeth II's attendance, the show would go on to be regarded as a critical failure. Critics believed the show to have been underwhelming. Gloriana was described as 'one of the great disasters of operatic history'.
We wonder what Queen Elizabeth thought of the whole thing?
Have a look at the footage below, courtesy of British Pathe
British Pathé describes the footage as "Several members of the Royal Family, including Queen Elizabeth II herself, attend the 1953 premiere of the opera 'Gloriana' at the Royal Opera House in this spectacular archive footage."
Their reel description continues including the mention of:
- Guests in Foyer. SV. Queen Salote of Tonga arriving.
- Clement Attlee shaking hands.
- Guests from the Commonwealth in their traditional costumes.
- Lord Woolton.
- Mr Louis St. Laurent, Prime Minister of Canada in foyer.
- Mr Sydney Holland, Prime Minister of New Zealand arriving.
- Mr Robert Menzies, Australian Prime Minister in foyer, talking to Sir John Anderson.
- Pan, Pandit Jahawarlal Nehru, Indian Prime Minister walking through foyer, he is accompanied by his daughter Indira Gandhi.
- Field Marshal Viscount Harold Alexander, British Defence Minister.
- Home Secretary, Sir David Maxwell Fyfe talking to woman in foyer.
- Sir David Eccles, Minister of Works talking to woman in foyer.
- Crown Prince Olav and party arriving, being greeted.
- Duke and Duchess of Gloucester arriving and being greeted.
- Duchess of Kent and Princess Royal arriving and talking to Crown Prince Olav, of Norway.
- Duchess of Kent. SV. Earl and Countess of Athlone, walking through foyer.
- Princess Marie Louise alighting from car. MV. Pan, Countess of Harewood being greeted in foyer.
- Earl of Harewood being greeted. SV. Lady Edwina Mountbatten and daughter, Pamela shaking hands with Sir John Anderson and Lady Anderson.
- Lord Waverly (Chairman of the Port of London) escorting Queen Mother and Princess Margaret. They are greeted in foyer by woman and man. LV. Queen Mother and Margaret, chatting to officials.
- Princess Margaret shaking hands and chatting. She then walks behind Queen Mother.
- Queen Mother and Margaret.
- Prince Philip, Duke of Edinburgh being greeted. Sir John Anderson introducing woman to Queen Elizabeth II. Queen then walks over and talks to Queen Mother. 
* Originally published in Sept 2019.