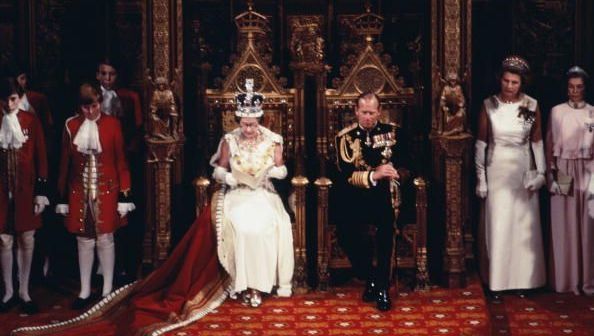 It is rare that footage from 1966 will come in full technicolor. Now, thanks to British Pathe, we can see exactly what it looked like.
1966 was a momentous year for Great Britain, and Queen Elizabeth was certainly kept busy. She was more than 10 years into her reign as Queen and was well-liked by the British public.
England would win the World Cup, and spirits were high throughout the nation.
Fans of Queen Elizabeth will be enthralled as they look upon footage from this year, which shows the Queen and Prince Philip strolling through Westminster before taking her throne and making a powerful address to Parliament. 
During her speech, Queen Elizabeth can be heard outlining the government policies for the following year. The then Prime Minister Harold Wilson and opposition leader Edward Heath can be seen at the front of the crowd listening intently.
Have a look at the footage courtesy of British Pathe below
A detailed description of the footage, provided by British Pathe, is as follows: 
"Queen Elizabeth II and Prince Philip, the Duke of Edinburgh in the Irish coach, followed by guardsmen on horseback moving slowly through crowded street towards Houses of Parliament. Closer shot of the Queen in the coach. Coach stops and Queen and Prince Philip are greeted at the door by the Lord Chamberlain.  
Queen and Prince Philip entering, Ear Marshal (Duke of Norfolk) and Marquess of Cholmondeley walking backwards as the Queen enters the building and walks towards Chamber of the House of Lords. 
Lords waiting for the Queen in their ceremonial robes. Various Commonwealth dignitaries seated. Princess Margaret, Princess Marina Duchess of Kent and Duchess of Gloucester seated. 
Queen and Prince Philip walking towards and entering the Chamber of the House of Lords from the robing room, fanfare played, house standing. Queen seated at Throne of Great Britain, Prince Philip sitting on his chair. 
Several shots of the House of Commons with MP's seated. Several shots of the part of ceremony in which the Gentleman Usher of the Black Rod knocks on the door of House of Commons after the door have been slammed in front of him - to protect the commons from the Black Rod. Black Rod enters, bows three times in front of Speaker and calls the House to attend the Queen's address at House of Lords. Procession moves, at front are Prime Minster Harold Wilson and Leader of the Opposition Edward Heath. 
Various shots of the Queen reading her speech (natural sound). She outlines the government policies for the following year. More shots of the ceremony. Queen stands up, house stands up, Queen and Prince Philip getting ready to leave."
* Originally published in Sept 2019. Updated in 2022.