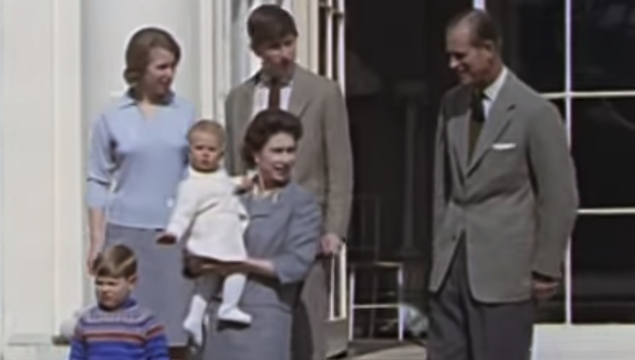 This footage of the Royals at Windsor really is special.
Windsor Castle is the oldest and largest occupied castle in the world. Known as the spot in which Queen Elizabeth usually spent her weekends, the castle is as popular with tourists as it is with the Royal Family themselves.
The Queen would take up official residence in Windsor for a month over the Easter period and hosted many events for politicians and guests alike in the castle.
In this clip from 1965, courtesy of British Pathé, we can see the Royal Family enjoying a beautiful day at Windsor Castle. Prince Edward is doted over by Queen Elizabeth and Princess Anne, while Prince Charles and his father, Prince Philip look on stately.
Have a look at the footage below, courtesy of British Pathé:
British Pathé describes the footage as "Selected originals (offcuts, selected scenes, out-takes, rushes) for story "Royal Family at Windsor" - 65/33. Various shots of White Lodge, M/S gardens. M/S as Queen Elizabeth II, Prince Philip, Prince Charles, Princess Anne and Prince Charles emerge from the house, the Queen is holding Prince Edward. Good shots of the family on the steps. M/S as the Queen and Anne cover Edward up in the pram. Various shots of them walking in the gardens. Various shots of the royal family together. M/S as Queen carries Edward and Anne pushes pram. M/S as Philip wheels it back to the house. M/S Queen and Anne. M/S as Anne gives Edward daffodil which he drops on floor. M/S family. Good M/S Anne, Edward and Queen. Various good shots of the family they all wave before going back into the house."
* Originally published in Jan 2020. Updated in 2022.