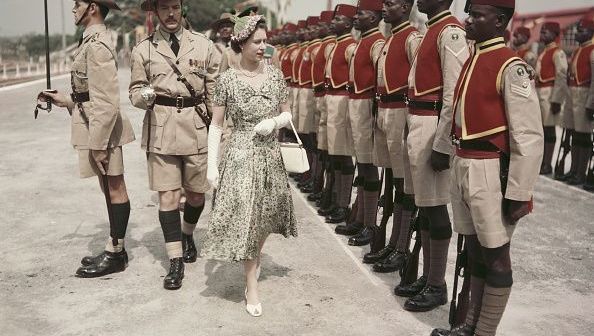 The year was 1961, and Queen Elizabeth II was establishing a reputation for herself as a real jet setter. Watch this British Pathé footage of the Queen in Ghana, West Africa.
In 1961, Queen Elizabeth visited several countries around the world, but perhaps what was most notable was her very first trip to Ghana, a country in West Africa. The young Queen showed during this trip that while the Royal's family's powers were limited the monarchy could still have an impact.
Ghana is a former British colony that gained its independence in 1957. British members of Parliament and the public did not want the Queen to take the trip due to rising tensions in a country where President Kwame Nkrumah was well on his way to becoming a dictator.
Five days before Elizabeth's trip was to begin, bombs went off in the capital city of Accra. A statue of Nkrumah was hit, which showed the president was a target.
The Queen was not deterred. One reason she was reluctant to reschedule was that he had previously canceled in 1959 when she was pregnant with Prince Andrew. As the head of the Commonwealth, the Queen did not want to insult Ghana by postponing the visit.
The other reason being that the Queen was aware Nkrumah was getting closer to the Soviet Union, which wanted to expand its foothold in Africa amidst the Cold War. The Ghanaian leader had even traveled to Moscow that October.
At one point Queen Elizabeth declared "How silly I should look if I was scared to visit Ghana and then [Soviet leader Nikita] Khrushchev went and had a good reception."
She also told the Prime Minister "I am not a film star. I am the head of the Commonwealth — and I am paid to face any risks that may be involved. Nor do I say this lightly. Do not forget that I have three children."
However, the Queen's trip went well. HRH Elizabeth was met by President Kwame Nkrumah in Accra, the nation's capital. Huge crowds gathered to greet Queen Elizabeth as she met with dignitaries and several government ministers.
Have a look at the footage below, courtesy of British Pathe
* Originally published in March 2020. Updated in 2022.