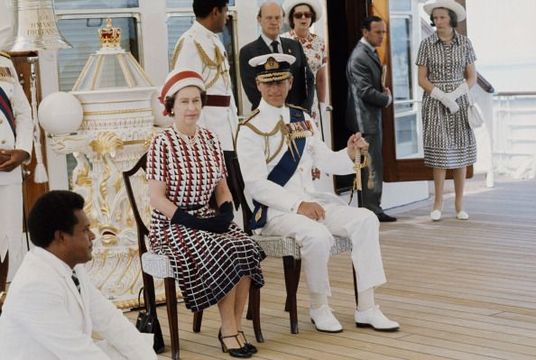 The Royal Yacht Britannia served the Queen for 44 years from its launch on April 16th, 1953 until it was decommissioned in 1997.
It seemed very fitting that, just as Her Majesty Queen Elizabeth was celebrating becoming the longest-serving monarch in British history, I should be visiting one of her most faithful and loyal servants. 
The Britannia was actually commissioned by the Queen's father, King George VI. Sadly, he died on February 6, 1952, just two days after the order to build a new Royal Yacht had been given to John Brown & Company in Clydebank. This meant, however, that the Queen was given the opportunity to play an important role in the design and fitting out of the ship to reflect the personal tastes of Her Majesty and Prince Phillip.
The yacht
The Royal Yacht has been described as two ships in one, with the operational side of the ship, where the naval personnel lived and worked, in the area forward of the mainmast, and the Royal Apartments occupying the rear.
Yet, if Britannia was thought of as two ships it also served a dual purpose. The Royal Yacht has been described by the Queen as the place where she could "truly relax." The Queen had said that "Britannia is to be at times the home of my husband and myself and of our family." This was achieved partly in the understated design of the Royal apartments and also by the use of personal photographs and items from previous Royal Yachts, all giving a country house atmosphere to the whole experience.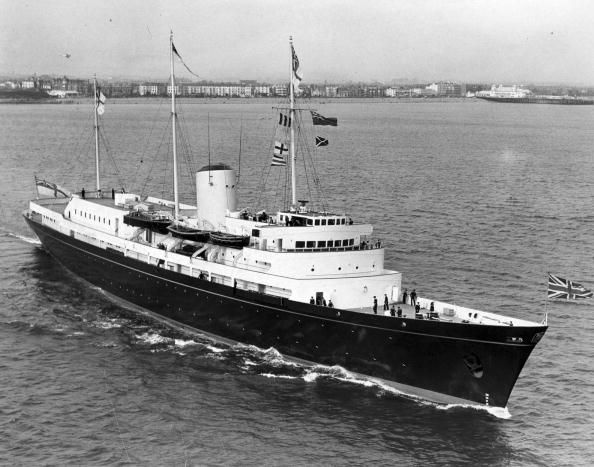 4
In addition to being a home for the family, however, it also had a diplomatic role, serving as a base for state visits and later for trade missions. Indeed, the State Dining Room, the grandest room onboard, was the scene of numerous formal banquets involving many illustrious guests, ranging from Prime Ministers Winston Churchill and Margaret Thatcher to Presidents Reagan, Clinton, Mandela, and Yeltsin, who were all entertained there. Very few people, of whatever nationality, ever refused an invitation to dine on Britannia.
Even though being on board Britannia allowed Her Majesty to relax, she was still faced with affairs of state, and would spend several hours each day working on official documents, ferried to wherever the Royal Yacht was in the world in their distinctive red dispatch boxes. The Queen's sitting room on the ship was also her office. Prince Phillip had his own sitting room, a much more masculine design, although he referred to it as his study.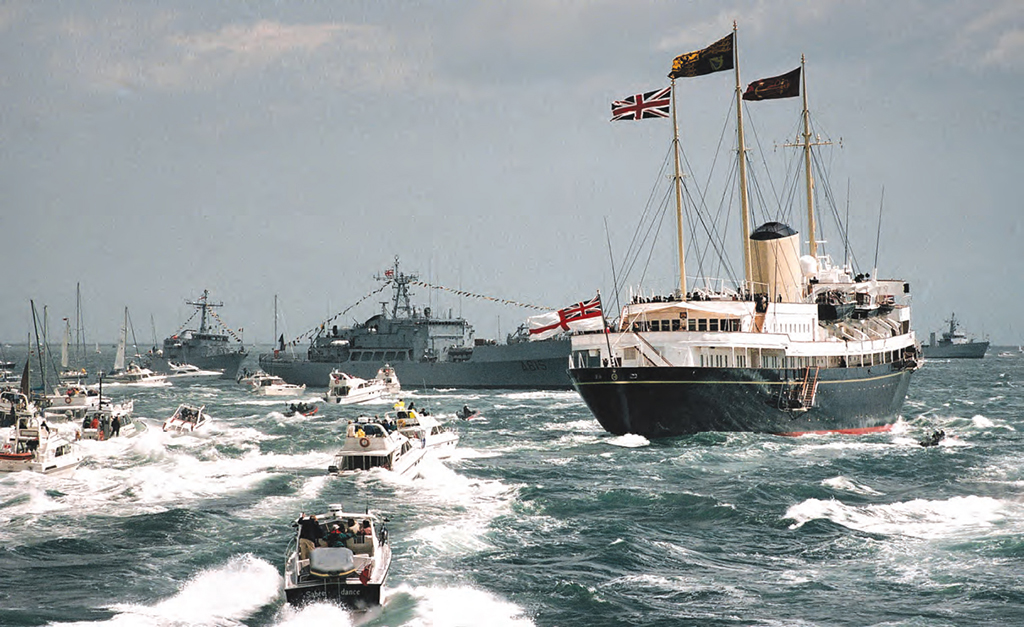 4
How many bedrooms are on the ship?
The Queen's bedroom and Prince Philip's have a connecting door and both had buzzers by the bed so that they could summon a steward at any time. Each room had a bathroom, equipped with a thermometer so that the Royal bath water was always at the correct temperature.
Although both bedrooms are quite modestly decorated and fitted out, Her Majesty's bedroom, described as having "floral charm," included a silk panel, specially commissioned in 1953, above her bed. Prince Philip's, as one might expect from a former Navy officer, was finished in darker timber, again giving it a slightly more masculine look.
There are two further bedrooms on the Shelter deck, including one known informally as the honeymoon suite which houses the only double bed on board. Four newly married Royal couples have used the room; Princess Margaret and Anthony Armstrong Jones in 1960, Princess Anne and Captain Mark Phillips in 1973, Prince Charles and Lady Diana Spencer in 1981 and the Duke of York and Sarah Ferguson in 1986.
Just along from the Royal bedrooms is the Verandah Deck, which also served a dual function as a leisure area for the family or a reception area during official visits. Among its furnishings is an impressive binnacle—a receptacle for a compass. The binnacle, originally carved from a single piece of teak, was one of several items rescued by Prince Philip from the previous Royal Yacht, Victoria & Albert III, having originally been part of Queen Victoria's yacht, Royal George. Beside the Verandah Deck is the Sun Lounge, described as the Queen's favorite room, a place where Her Majesty could really relax with the family, take tea or perhaps enjoy a drink.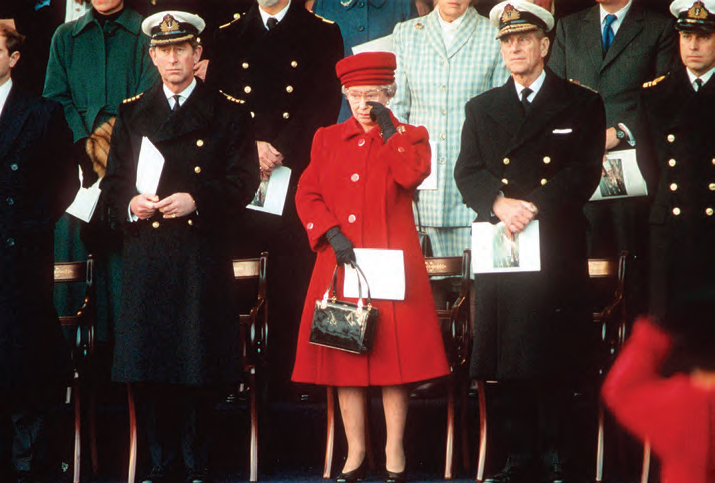 4
The crew
Britannia carried a crew of 21 officers and 220 yachtsmen (known as "yotties"), who were required to carry out their duties in a way that allowed Her Majesty to relax completely. This regime, known as "unobtrusive excellence," meant that most orders were given using sign language and crew members wore sneakers to further minimize noise.
In Britannia's ambassadorial role, during its working life, the ship made more than 700 visits to countries in the British Commonwealth and across the world. Nevertheless, it was difficult in the modern world to justify the existence of a Royal Yacht.
In 1994, the decision was finally taken to decommission Britannia. Just three years later the British Government announced that it would not be replaced. It was decided, however, that unlike its predecessors, the yacht would not be scuttled, but would go on show as a tourist attraction at a location to be decided. There was stiff competition to host the Royal Yacht, but the port of Leith, near Edinburgh, was successful.
The decommissioning of Britannia in Portsmouth on December 11, 1997, was an emotional moment for all concerned, with Her Majesty, Prince Philip and members of the crew all striving to keep their feelings in check.
Her Majesty's loss has been the public's gain, presenting a unique opportunity to get a fascinating glimpse of the life of the Royal family and their relationship with this amazing ship.
* Originally published in March 2016.