In days gone by and still today, a resident of Wales lives under a slate roof, walks on pavement made of slate and lies at last under a slate tombstone.
The heart of the slate business beat in Blaenau Ffestiniog, an enclave in the mountains of Snowdonia that became renowned as "The Town That Roofed the World." A Welshman who had quarried slate in a 19th-century slate mine, such as the Llechwedd Slate Caverns at Blaenau Ffestiniog, would have spent his days in an ill-lighted, cold, dirty and dangerous space, emerging at end of day bent and white-faced, covered in slate dust and gunpowder. For this, he might earn about 12 pence a day.
Slate is the lowest grade of metamorphic rock, put under pressure beneath the earth some 500 million years ago. It consists chiefly of quartz, clay, chlorite, mica, feldspar, and pyrite. As it cooks within the earth's crust, the clay reverts to mica and develops a "slaty cleavage"—meaning it can be split into thin layers. These slates can become everything from roofing tile, electrical panels, hearths and paving stone to memorial plaques, flooring, billiard tables and whole buildings—and items sold in gift shops such as candle holders, wine racks, coasters and picture frames.
In a bygone era Welsh slate was used as blackboards and handheld writing tablets. It can be blue, purple, green or, most commonly, several shades of grey. The local ancient Romans knew its properties well, and used it to roof and floor their 3rd-century forts nearby.
Slate mining became Blaenau Ffestiniog's chief industry in the 1760s, thanks to Methusalem Jones who recognized that the slate there split perfectly. He opened a quarry, and other quarries followed. One, the Oakeley, became the world's largest underground slate mine, with 50 miles of railroad on various levels. At the industry's peak, more than 4,000 men worked in Blaenau Ffestiniog, which was the first town in Britain to have electric street lights.
Our miner worked from 6 a.m. to 5 p.m. Monday to Friday, with a half-day on Saturday, with Sunday and religious holidays off. If he had the misfortune to arrive five minutes late for work, the steward would send him home, and his earnings for the day would be nil. If he survived death by falling rock, the mine would have been done with him at age 40 or so, since he would be coughing his lungs out from silicosis. He would buy and maintain his own tools, ropes and candles—lamps would have given better light, but oil was expensive.
Perhaps his father or brothers would work alongside him, with an 8-year-old son or nephew to make the tea. When the lad reached the age of 18, he would become an apprentice. The miner's tea break, in a cabin that he had constructed out of odd pieces of slate, lasted 15 minutes, with another 15 for "refreshment of the brain." He and his colleagues might discuss, for example, religion or the welfare of a sick colleague. Welsh was the principal language, but there were some English and Irish speakers among the workers.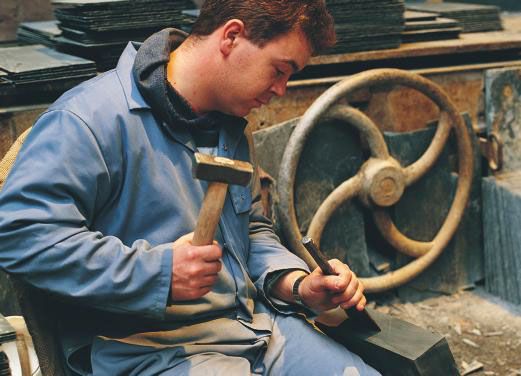 6
The miners' workplace was an underground "chamber"— an opening in a slate deposit solidly packed with slate and supported by pillars built to separate it from the chamber next door. It would take about 15 years to work it out. A team of four men would haggle with the surveyor for a price for the chamber. Having come to an agreement, they could call themselves rock men and the chamber theirs, and begin work. They might have ridden in via a little carriage that visitors use today, but more likely they pushed their equipment in a hand cart. Only coal mines had the luxury of pit ponies.
They started by inserting a "jumper," a long weighted rod, into the rock and hammering it firmly into place to make holes in the rock face. It would have taken these strong and fit men four hours to accomplish this.
[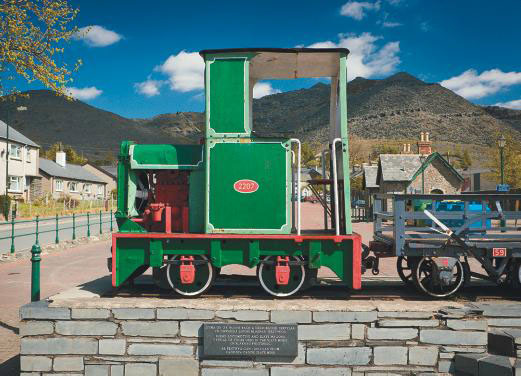 6
Next, they put gunpowder into the holes; there was no such thing then as dynamite or gelignite. A fuse made of string dipped in tar and gunpowder was put into the holes, packed with newspaper, hammered in firmly with a wooden mallet and set alight. With luck, everybody ducked around the corner as the blast went off. It would not have been a very loud explosion, since the point was to crack and split the slate, not shatter it.
Then it was time to re-enter into the smoky, dusty chamber and break the slate into chunks. They levered them out with crowbars, looking for big cracks and splits to make the job easier.
Having achieved a mighty pile of slate, two of them went up to the mill on the surface to wait for the others to load the slate on the carriages and haul it up. They staked out a cutting table and made sure their name and chamber number were on it (since everyone was named Jones, Evans or Williams). There, the slate was split into roofing shingles, 1,000 of them per day if the men expected to earn any money.
Meanwhile, another worker, called the danger man, climbed a precarious ladder, a candle in one hand and iron bar in the other, 100 feet above the cavern floor with only a chain around his leg as a safety precaution, to check the ceiling for loose rock. He might see a bit more pay in his packet on the weekly "Day of the Big Pay" if the mill owners liked what he was doing. He ensured that workers arriving in the morning wouldn't find a surprise dropping on them from above. A rock fall at Blaenau Ffestiniog in 1882, known as The Great Fall, buried valuable slate under 6 million tons of rock.
When the Ffestiniog Railway began using steam trains to haul slate from the quarries to the port of Porthmadog 14 miles west, Welsh slate could be shipped to England, Ireland and the Continent at much less cost than sending it overland. It was the first railroad in the world to use narrow gauge steam locomotives over a significant distance. That paved the way for passenger traffic and articulated locomotives, and spiked the growth of such railways around the world. Today, visitors can travel on the Ffestiniog Railway from Porthmadog to the Llechwedd Slate Caverns and Victorian village at Blaenau Ffestiniog on restored cars pulled by restored engines, past gorgeous scenery, enjoying onboard catering. Then, they can descend (warmly dressed, one hopes) into the slate mines and enjoy an excellent demonstration of slate cutting.
At the mill, a sturdy man splits the slates by hand just as it was done for generations. Some of this process is mechanized now. Most become roofing slates, their sizes distinguished by quaint titles such as Empress, Princess, Broad Countess, Wide Lady and Broad Lady. Slate miners no longer work underground, and their working conditions are considerably safer than of old, as compressed air has replaced gunpowder.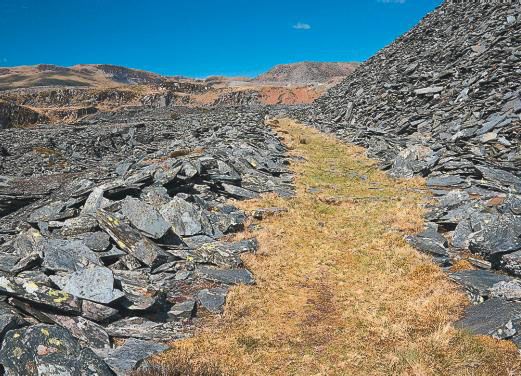 6
Snowdonia and the Slate Mountains
Take the train from London Paddington to Porthmadog. Change at Birmingham. Porthmadog has many types of accommodations. Buses go to nearby attractions, including Portmeirion, Carnarvon Castle, Betws-y-Coed and Mount Snowdon, with gorgeous scenery throughout. Porthmadog taxis are cheap and drivers helpful. The Ffestiniog steam railway runs from Porthmadog to the slate mines of Blaenau Ffestiniog, from April through Christmas. www.festrail.co.uk
The slate mines open at 9:30 a.m., first tour at 10. One tour takes visitors on the Miners Tramway to the informative underground tour. Buy old-fashioned sweets in the Victorian village, where crafters and musicians perform (April-September). Other shops and cafes are a short walk away. www.llechwedd-slate-caverns.co.uk.
6
During World War II, a Blaenau Ffestiniog slate mine was put to another use. Trucks with chocolate company logos could be seen making their way up a single-track road to Manod Quarry. Sometimes their tires had to be deflated and then re-inflated to allow them to pass under bridges, or a whole section of road had to be dug up and lowered. Their cargo was not Cadbury's but works of art by Michelangelo, Da Vinci, Reubens and such. They came from the Tate, the National Gallery and Buckingham Palace, from the Tower of London and from Cambridge, where the precious stained-glass windows of Kings College Chapel were carefully disassembled and wrapped.
The art traveled to North Wales by order of Prime Minister Winston Churchill, who wanted to keep the country's art treasure safe and out of enemy hands. Operations began in 1940, when the Luftwaffe was determined to do its worst to London. A tunnel 1,200 feet long, 200 feet high and 1,000 feet underground, heated and ventilated to simulate museum conditions, protected the pictures behind steel and timber doors. Meanwhile, slate mining went on as usual.
Nearby Caernarvon Castle and other Welsh castles sheltered more British art as well as other artwork from European nations that had fallen to the Germans. After the war, some 2,000 works were returned to their homes undamaged. It was said that some of the paintings emerged in better shape than when they went in due to the superior conditions in their temporary home. There was much speculation among the locals as to just how much chocolate the mine required, and some of them caught glimpses of the hidden treasures, but the drivers were sworn to secrecy, and the enemy never caught wise. By government order, the ventilation system stayed in place years after the pictures were removed.
Unfortunately, there is no chance of touring the Manod mine. The roof has begun to collapse, and it still keeps its secret of how it saved Britain's masterpieces.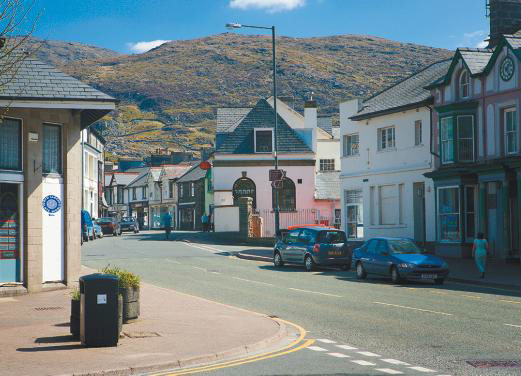 6